Olaplex 3 Review with Before and After Pictures
This post may contain affiliate links, which means I may earn a commission if you decide to make a purchase through our links, at no cost to you. You may view the disclosure here.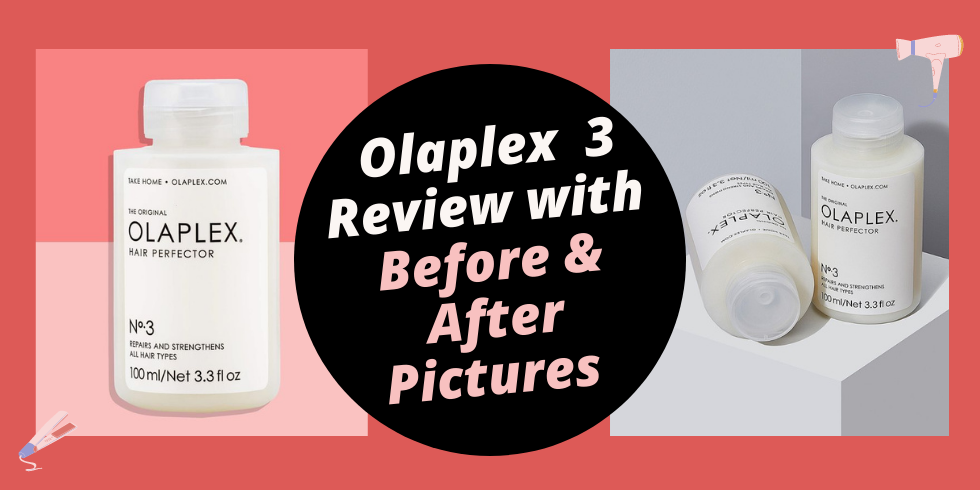 Olaplex 3 Review
If you have damaged hair, you have likely heard of Olaplex No. 3 to make your hair shiny and healthy again.
If you are searching for a detailed Olaplex 3 review with before and after results, you have come to the right spot.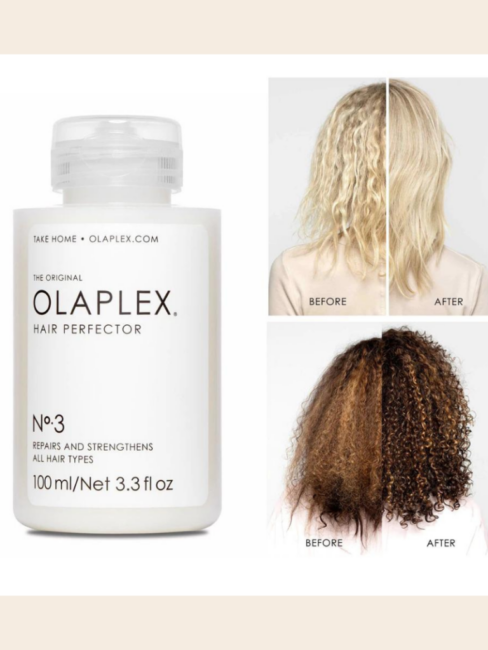 This review of Olaplex 3 includes:
Olaplex 3 before and after results
Olaplex 3 instructions: how to use Olaplex 3
My personal review of Olaplex 3
Olaplex 3 reviews (what other women say about Olaplex 3)
Who should use Olaplex 3, according to the reviews
YouTube video with Olaplex 3 review
FAQs about Olaplex 3
More hair guides (at the end of this Olaplex 3 review)
Olaplex 3 Deep Conditioner Review
Alright, to get straight to the point. Olaplex 3 is great.
You need Olaplex 3 if you have damaged hair, frizzy hair, or bleached blonde hair.
I LOVE Olaplex!
Olaplex 3 is the one and only deep conditioning treatment I've found that works (and I've tried a lot!).
I've tried other deep conditioning treatments (like Argon hair masks), and none of them work as well as Olaplex 3. They don't even come close!
It's totally worth the $30 to pay for Olaplex 3 and get the good stuff. Think about it. You already spend at least $60 for a haircut and probably $150+ if you go to a salon to get your hair colored.
In comparison to $150+, spending $30 for shiny and healthy hair is just a drop in the bucket.
Olaplex 3 Deep Conditioner Before and After Results
Below are Olaplex 3 before and after results.
After using Olaplex 3, my hair is silky smooth. Plus, Olaplex makes my hair shiny and easier to brush!
Olaplex 3 Review: Before Pictures
Before using Olaplex 3, my hair was damaged at the top (see the fly-away hairs).
Olaplex 3 Review: After Pictures & Results
After using Olaplex 3, my hair was smooth all over!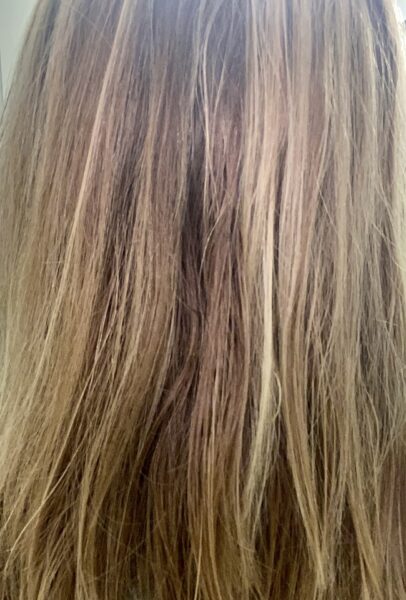 As you can see, my hair is less frizzy, and it looks a look smoother and shinier.
Thankfully, my hair wasn't too damaged before using Olaplex 3, so it's hard to see the difference in the pictures. But I can definitely feel the difference!
Below are some additional Olaplex 3 before and after pictures to really show the results of Olaplex 3 when used on damaged hair.
More Olaplex 3 Before and After Pictures
The pictures above and below are from Olaplex itself.
Olaplex 3 Instructions: How to Use Olaplex 3
Olaplex 3 is super easy to use.
Below are instructions on how to use the Olaplex Hair Perfect No 3 Repairing Treatment.
1. Wash your hair with shampoo and conditioner
Start by giving your lovely locks a good wash with your favorite shampoo and conditioner to ensure they're clean and ready for some Olaplex magic.
2. Towel dry hair
Gently towel dry your hair to remove excess water. Remember, we want it to be damp but not dripping wet for the best application.
3. Apply a generous amount of Olaplex 3 from scalp to ends until hair is thoroughly saturated
Now, it's time to unleash the power of Olaplex 3! Take a generous amount and work it through your hair from the scalp to the ends. Make sure every strand gets some love and gets thoroughly saturated with the treatment.
4. Wait 10 minutes (I recommend 30-60 minutes if you have the time)
Give Olaplex 3 some time to work its wonders. The instructions say to wait for 10 minutes, but if you can spare the extra time, I highly recommend leaving it on for 30 to 60 minutes for even more intensive repair and nourishment.
5. Rinse Olaplex 3 out of your hair
Once the waiting time is up, hop back into the shower and rinse out Olaplex 3 from your hair.
6. Shampoo and condition your hair like normal
Finish off your Olaplex experience by shampooing and conditioning your hair as you usually would.
This step helps to seal in the benefits of the treatment and leaves your hair feeling fresh and fabulous.
Note: Do NOT leave Olaplex 3 in your hair. You need to shampoo it out!
Want to see pictures? Check out these detailed Olaplex 3 instructions by OLAPLEX.
Olaplex 3 Reviews: What Other Women Say about Olaplex 3
Olaplex 3 has over 103,000 positive reviews on Amazon (yes, you read that right!).
Here's a summary of what women say in the Olaplex 3 reviews on Amazon.
1. Worth Every Penny
One woman said, "Worth every penny. (Olaplex 3) is the best product for damaged hair I've ever used (and I've used almost all of them— all salon grade, expensive, well known quality brands). – Khenn
2. Makes a Huge Difference
One woman said, "HUGE DIFFERENCE between how it looks post-Olaplex and my frizzy puffball from yesterday pre-Olaplex." – Adriene
3. Makes Hair Soft and Silky
It (my hair) looks nicer, softer, and healthier. It feels like silk to the touch, as if I never dyed it to begin with." – Erin
Should You Use Olaplex 3?
Do you need to use Olaplex 3? If you are reading this article, probably "yes!"
Olaplex 3 is great if you have damaged hair, frizzy hair, split ends, or bleached hair.
You should use Olaplex 3 if you…
✓ Have frizzy hair
✓ Have split ends
✓ Want softer hair
✓ Want shinier hair
✓ Have over-processed hair
✓ Have color-treated hair
✓ Have damaged hair
YouTube Video with Olaplex 3 Review
Pictures are great. Videos are even better. Below is a YouTube review of Olaplex 3.
FAQs about Olaplex 3
P.S. – Have a question about Olaplex 3 (or hair in general), that's not answered below? Leave a comment and I'll help you out!
How often should I use Olaplex 3?
Use Olaplex 3 1x per week. For damaged hair, use Olaplex 2-3x per week.
What does Olaplex 3 actually do?
Olaplex 3 repairs damaged hair by repairing broken bonds with Bis-Aminopropyl Diglycol Dimaleate.
If you are a science person, you can read all about how Olaplex 3 works on their website. Or, check out this nifty video by Olaplex 3.
Can you leave Olaplex 3 on too long?
No, but you won't get much more benefit after leaving Olaplex 3 on your hair for longer than 60 minutes.
Do I have to shampoo after Olaplex 3?
Yes! You have to shampoo after Olaplex 3.
Olaplex 3 is not a leave-in conditioning treatment.
Does Olaplex 3 repair split ends?
Yes! Absolutely. Olaplex 3 repairs split ends.
Does Olaplex get rid of frizz?
Yes, Olaplex 3 gets rid of frizz for up to 72 hours.
If you have frizzy hair, you'll need to use a different hair product for frizzy hair.
Can you put Olaplex 3 on dry hair?
Yes, you can put Olaplex 3 on dry hair – but it will be a waste of an expensive product.
It's best to apply Olaplex 3 to towel-dried hair.
Does Olaplex 3 lighten hair?
No, not at all. Olaplex 3 does not lighten hair.
However, you should use Olaplex 3 if you lighten/bleach your hair blonde. The bleaching process damages your hair and Olaplex 3 restores damaged hair.
Is Olaplex worth it for natural hair?
Yes, absolutely! Olaplex 3 is worth it for natural hair.
I'm all about saving money and buying beauty products from TJ Maxx, Dollar Tree, and Amazon, and I splurge on Olaplex 3.
What's the difference between Olaplex 3 and Olaplex 6?
Olaplex 3 is a deep conditioning treatment that you use once per week. Olaplex 3 is for damaged hair and you need to shampoo out Olaplex 3 after using it.
Olaplex 6 is a leave-in hair cream that you use daily (after each hair wash). Olaplex 3 is for frizzy hair and you leave it in your hair.
Should I use Olaplex 3 or Olaplex 6?
For bleached, damaged hair, use Olaplex 3 once a week.
For frizzy hair, use Olaplex 6 after each wash, or as needed for styling.
More Guides to Keep Your Hair Shiny and Your Skin Glowing
Check out these hair guides to keep your hair looking shiny and healthy.
Hair Product Reviews & Guides
Review of The Best Purple Shampoo for Brassiness
The Best Drugstore Deep Conditioner for Women
The Best Hair Products for Frizzy Hair in Humidity
Beauty Product Reviews & Guides
The Best Tinted Moisturizers with SPF
How to Get Rid of Acne on Forehead
Review of the Tidal Brightening Cream by Sunday Riley
Review of the Red Earth Clay Cleansing Mask