10 Short Fall Nail Designs You'll Love!
This post may contain affiliate links, which means I may earn a commission if you decide to make a purchase through our links, at no cost to you. You may view the disclosure here.
Ready to level up your nail game with some fancy fall designs for short nails? Look no further!
I've got all the trending short fall nail designs and ideas you need to rock the season with style. From chic autumn-inspired patterns to bold and unique nail art, get ready to unleash your creativity and make a statement with your fingertips.
This post contains affiliate links. View the disclosure here.
Short Fall Nail Designs You Can Try at Home
These fall nail designs for short nails are so, so cute!
1. Animal Print
Roar! Animal print nails are the fierce and fabulous trend you need for fall. They bring out your wild side, adding a playful and adventurous touch to your look. Get ready to slay the fashion jungle with these sassy and stylish nail designs!
2. Fall Leaves
Fall leaves on brown nails? Oh, leaf me obsessed! This design captures the essence of autumn, adding a whimsical and nature-inspired vibe to your nails. Get ready to show off your love for fall with these adorable and Instagram-worthy nail art.
3. Floral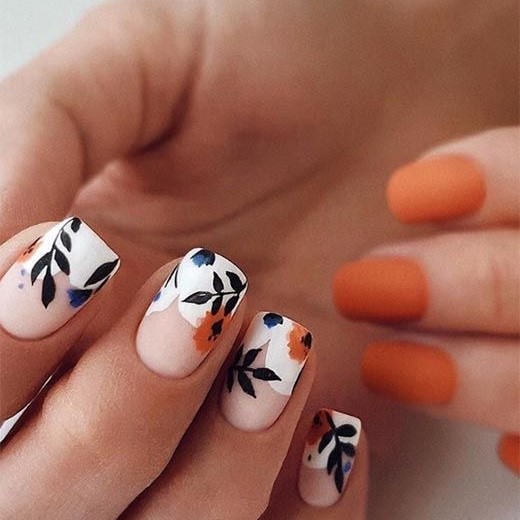 Blooming gorgeous! Floral nail designs are the perfect way to keep the spirit of summer alive in the fall.
These whimsical and colorful patterns add a touch of freshness and femininity to your nails, making them a delightful accessory for the season. Get ready to embrace the flower power and let your nails bloom with these fabulous fall floral designs!
4. Stripes and Plaid
Time to get geometric, babe! Plaid and stripes nail designs are the ultimate fall fashion statement. They bring a touch of sophistication and trendy vibes to your fingertips, making your nails the talk of the town. Get ready to rock these bold patterns and show off your fall fashion prowess!
5. Glitter (Of Course!)
Who doesn't love a little sparkle? Simple glitter on nails is the perfect fall nail design idea to add some glam and pizzazz to your fingertips. It's an effortless way to make a statement and shine bright this season, whether you're cozying up by the fireplace or hitting the town with friends.
6. Cheetah Print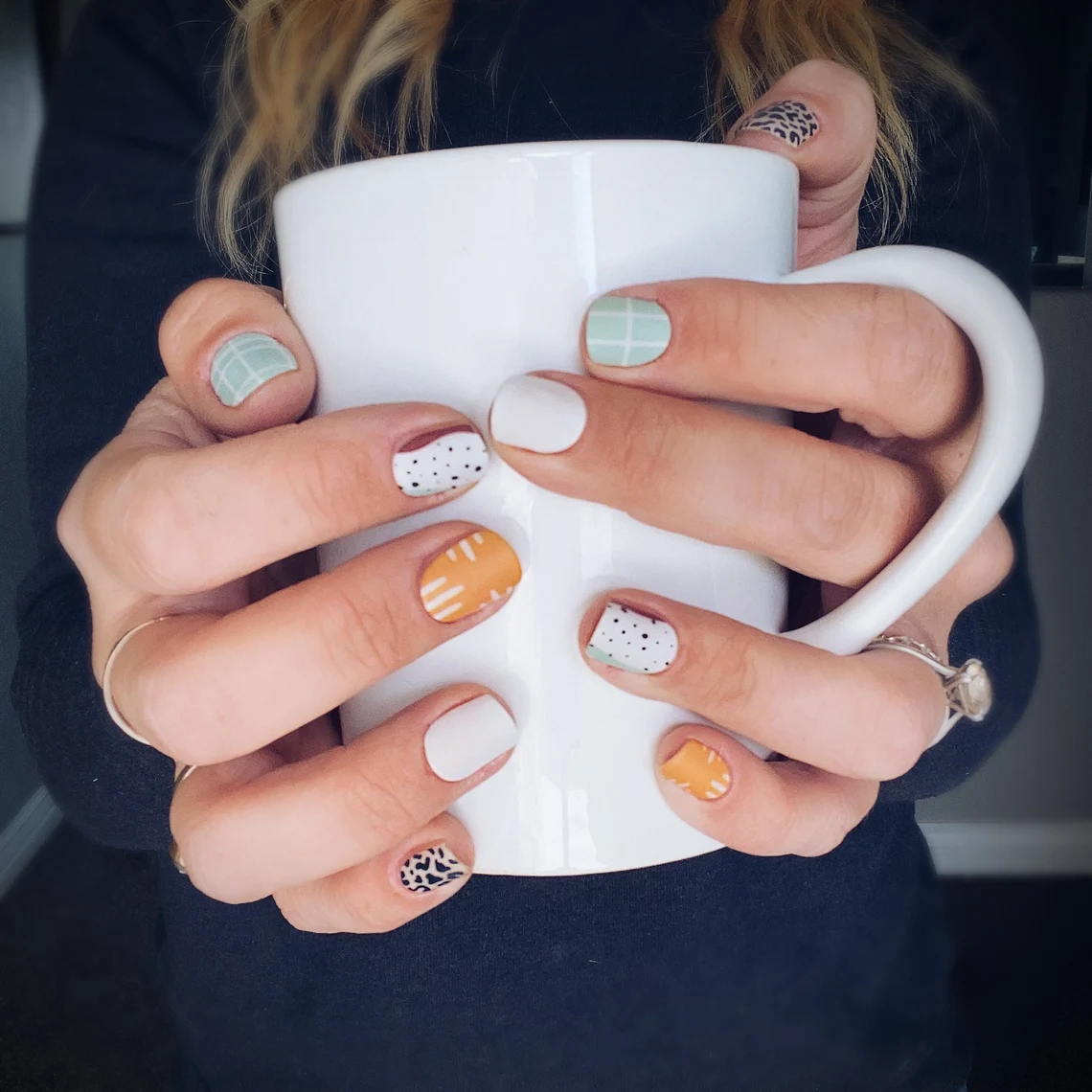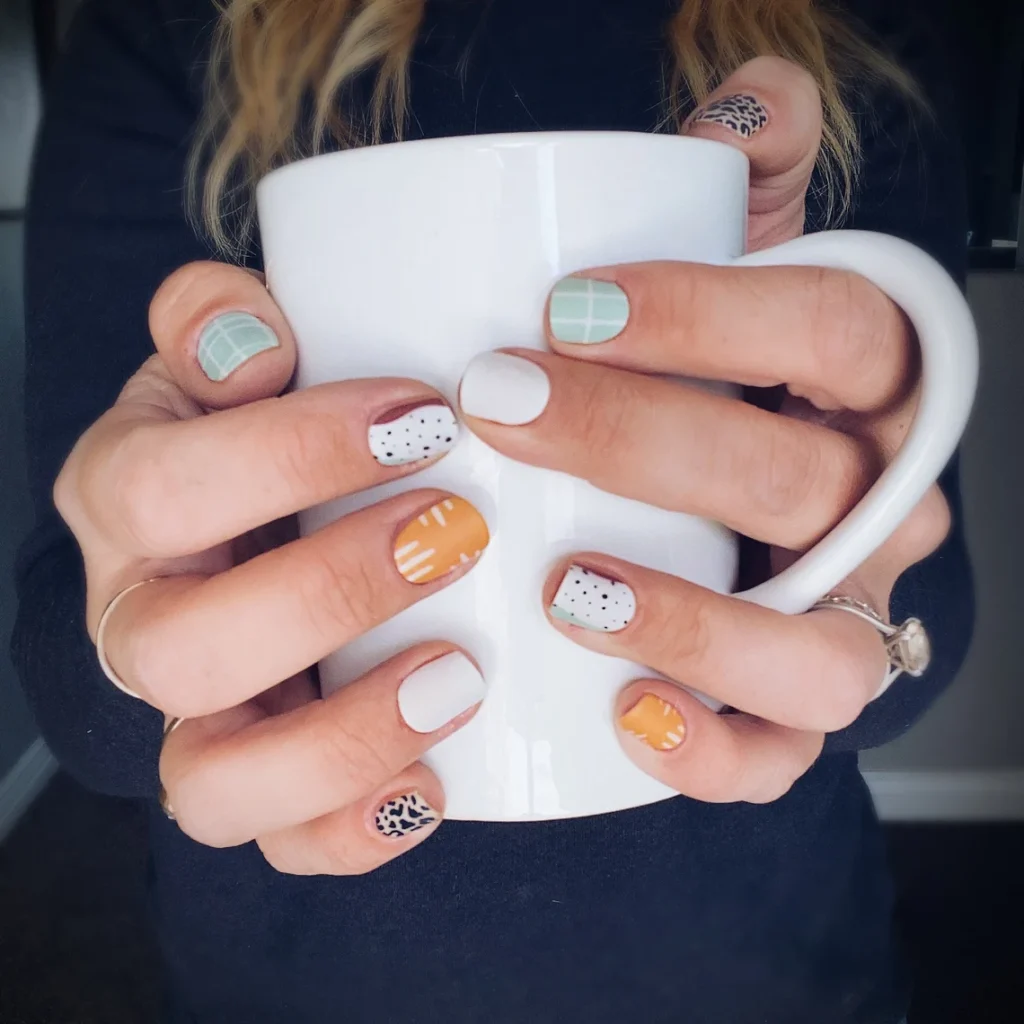 Unleash your inner wildcat with cheetah print nails, the purr-fect fall nail design idea! It adds a playful and sassy touch to your look, making your nails the fiercest accessory this season. Get ready to channel your inner queen of the jungle and slay the fall fashion game with this trendy and fun fall nail design idea!
7. Checkered Print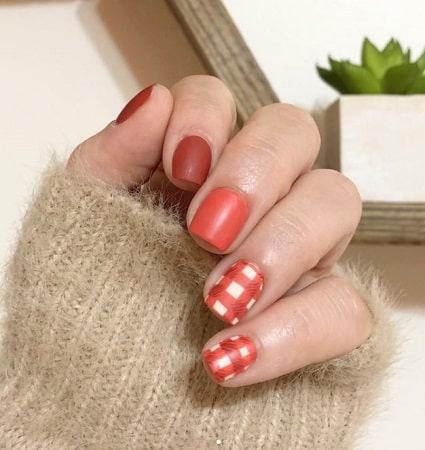 These checkered nails are perfect for fall! Wear a cozy sweater and jeans with these fall nails. So cute!
Fall nail polish colors: Be There in a Prosecco (Opi), Orange: At the Helm (essie), Rust: Heat to Topozas (essie).
8. Pumpkin Patch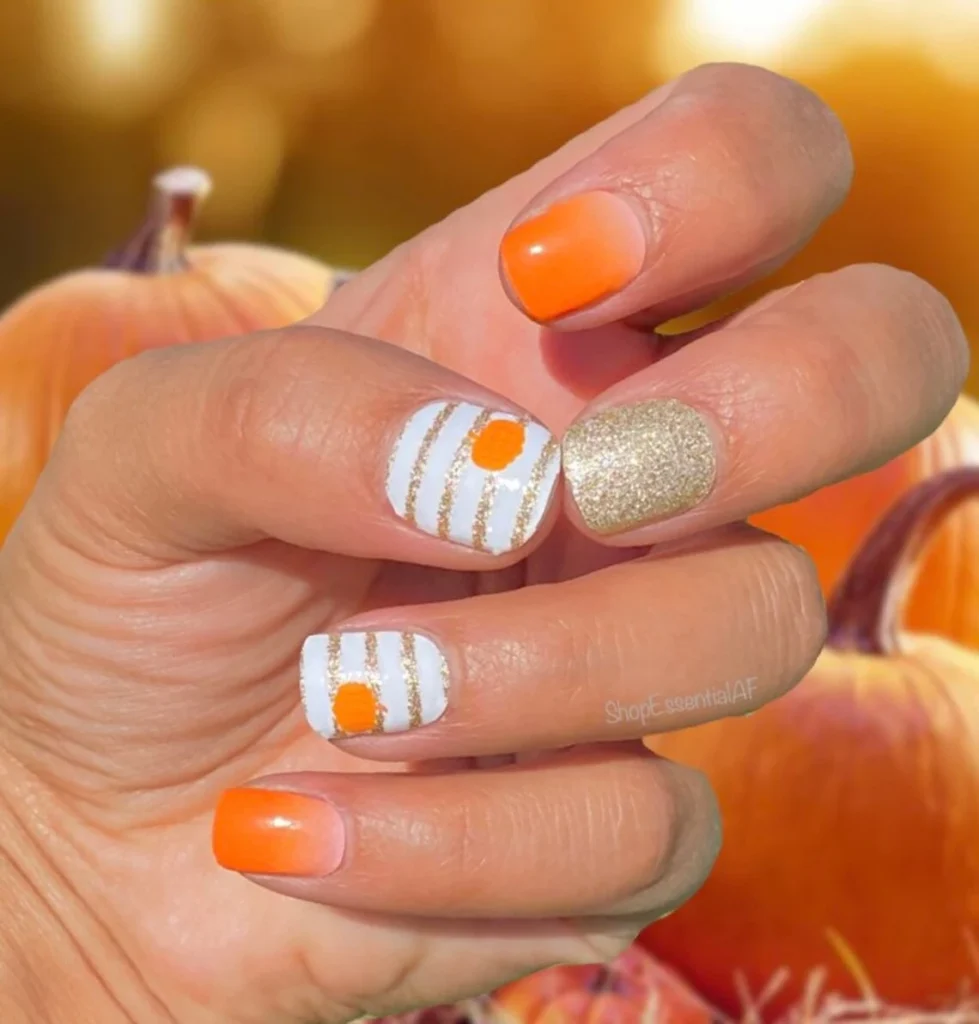 These pumpkin nail wraps are perfect for short fall nail designs! So, so cute and vibrant!
9. Spooky Glitter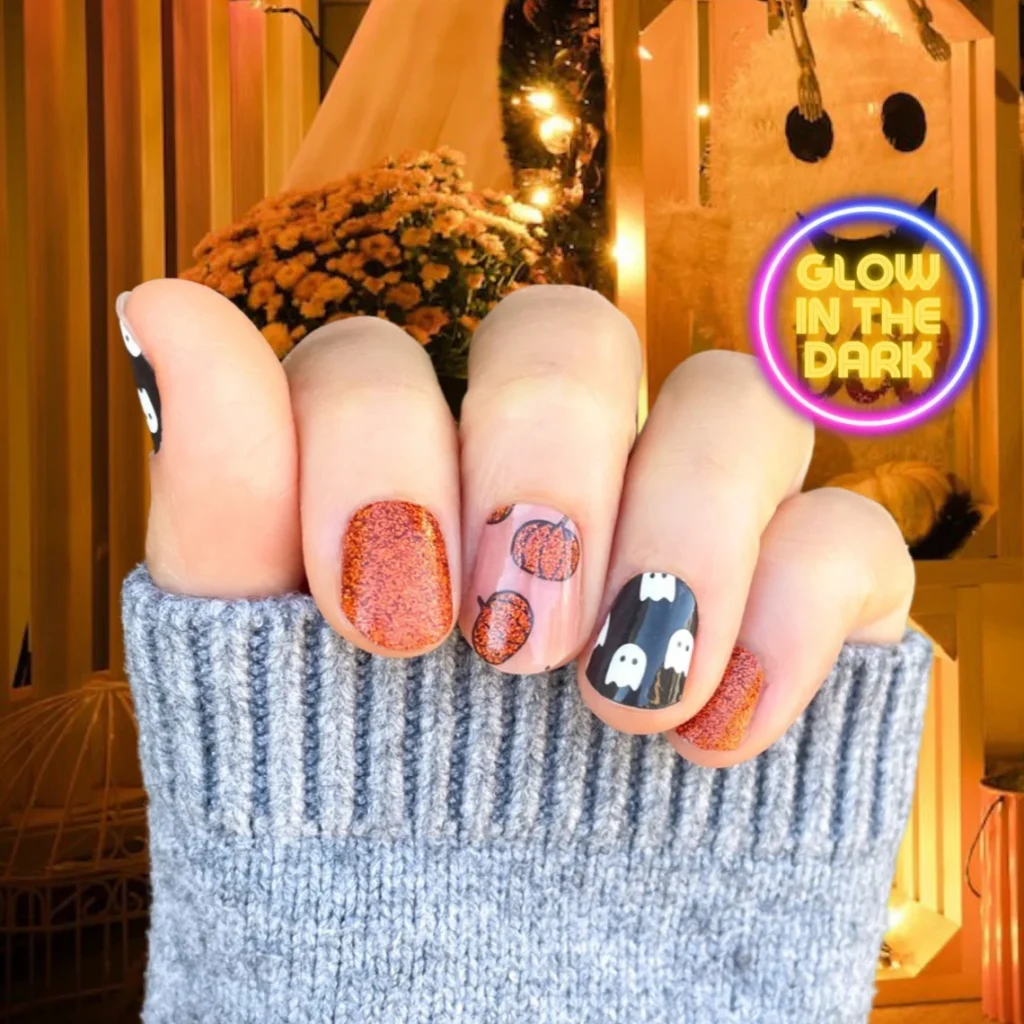 If you are ready for Halloween nails, then you will love these short fall nail designs with glitter, sparkly pumpkins, and cute ghosts!
10. Leopard Print with a Touch of Blue and Coral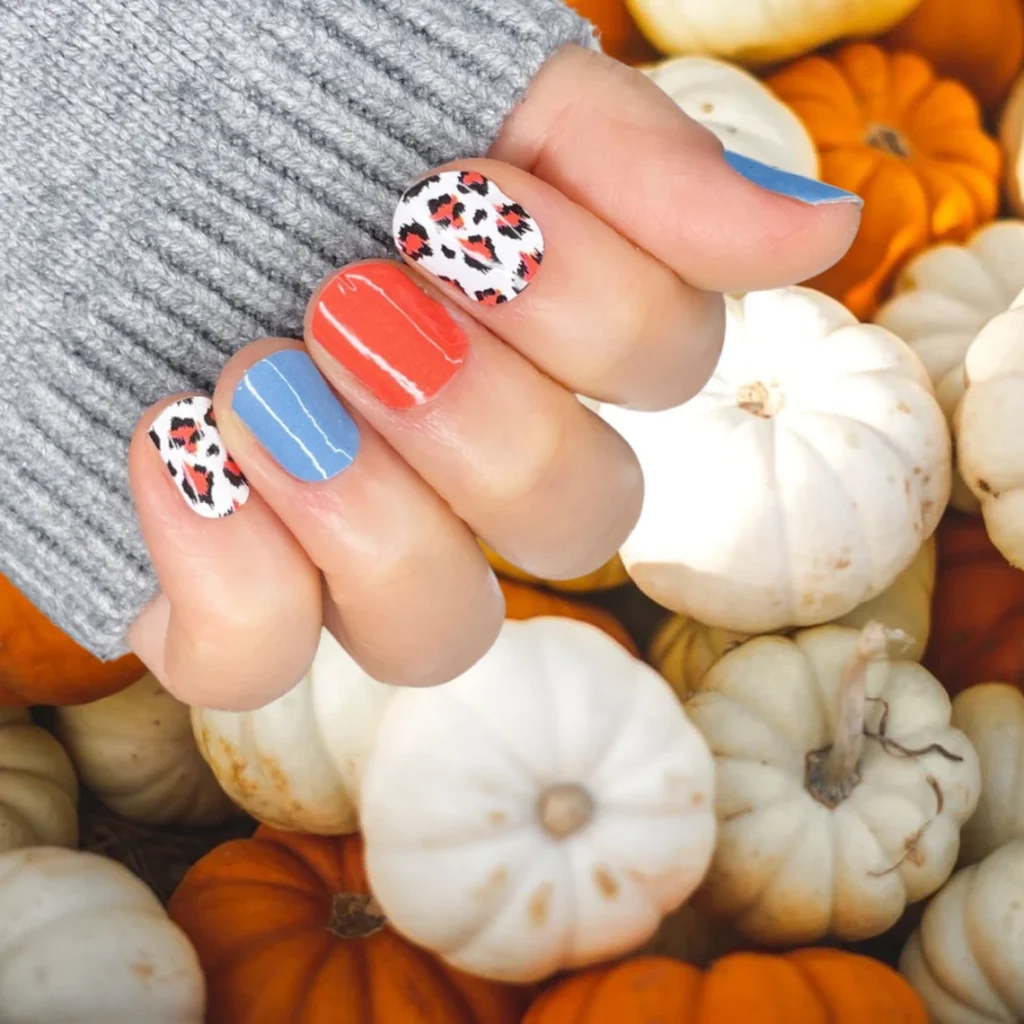 These fun short fall nail designs are unique and vibrant! Perfect if you love a little bit of leopard print too!
Conclusion
In conclusion, there are so many cute and fun fall nail designs to choose from! If you love short nails (like me!) then you can go with a cute nail wrap in a fun, full design to embrace the cooler weather and the autumn season!
More Nails Ideas
Halloween Nail Colors You'll Love