10 Must-Try Halloween Nail Colors and Designs
This post may contain affiliate links, which means I may earn a commission if you decide to make a purchase through our links, at no cost to you. You may view the disclosure here.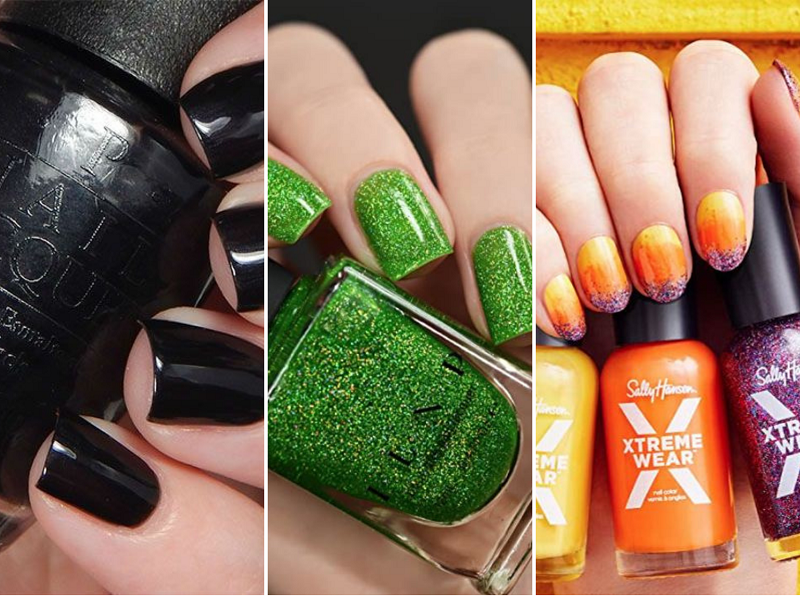 Best Halloween Nail Polish Colors!
Want easy and cute Halloween nails that you can do easily at home?
Check out these fun Halloween nail colors for Halloween 2023.
This post may contain affiliate links. View the disclosure here.
10 Best Halloween Nail Colors for Easy DIY Halloween Nails
Choose the nail polish color that catches your eye and then go from there!
These Halloween nail colors make doing your own Halloween nails at home EASY!
You may also want to check out these cute Halloween nail stickers for easy DIY Halloween nails at home!
1. Orange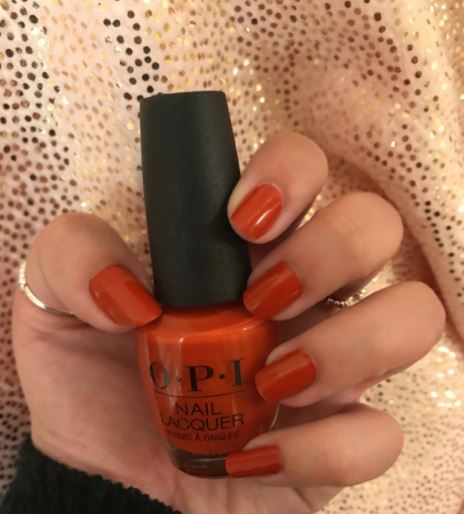 When I think of Halloween colors orange is my go-to. This orange nail polish color by OPI is called "Suzi Needs a Loch-Smith." This polish goes on smoothly and is a great burnt orange color for Halloween.
Get These Orange Halloween Nails
2. Black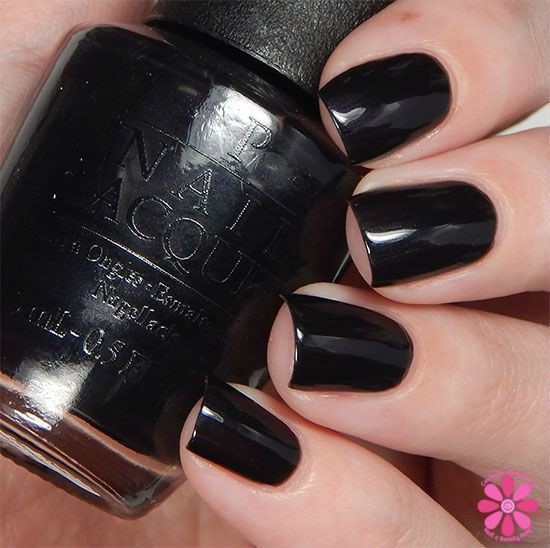 OPI (and Essie) have some of the best black nail polishes. The OPI black nail polish in "Black Onyx" is a great nail color for Halloween.
It's a great solid black color and is perfect for Halloween!
Get Black Nail Polish for Striking Halloween Nails
3. Black and Orange with Sparkles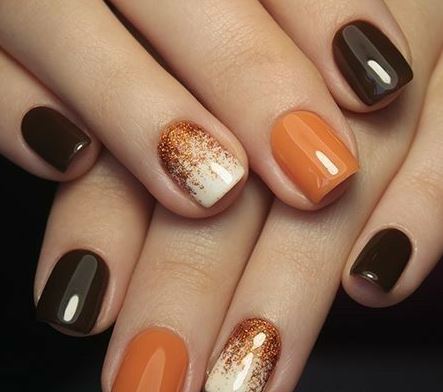 There are many complicated Halloween black and orange nail designs on the internet, but you can keep it simple! Just paint every other nail black or orange!
Get These Fun Orange and Black Halloween Nails
4. Black and Red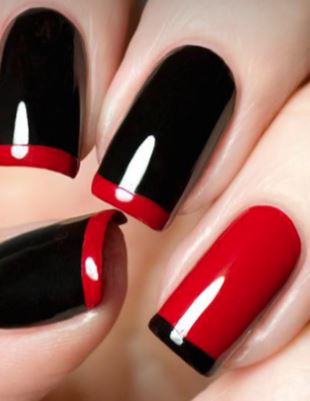 Paint the tips of your nails red (or black!) for this fun Halloween nail color idea.
OPI has so many red polishes to choose from! I personally like the "Color So Hot It Berns" nail polish color for a Halloween red.
Get These Bold Halloween Nails in Red and Black
5. Black and White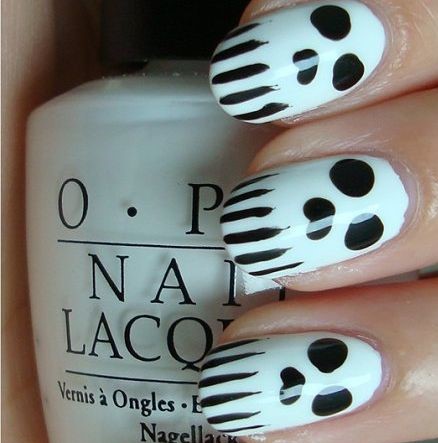 If you want to go with a Halloween design for your nails, paint on stripes or ghosts. It's one of the easiest DIY Halloween nail design ideas.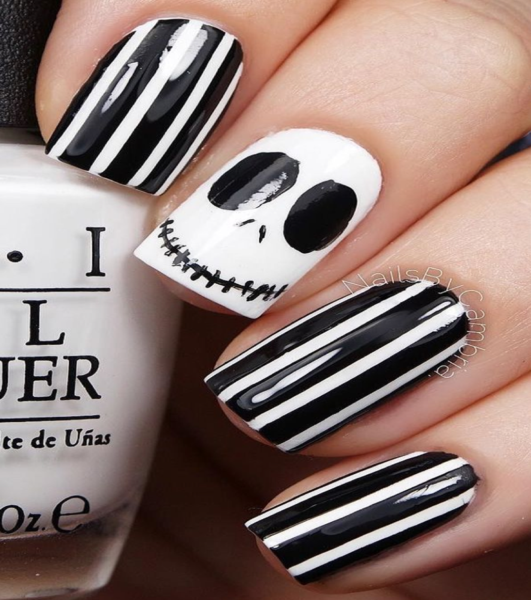 Get Black and White Nail Polish for Spooky Halloween Nails
6. Orange, Yellow, and Purple for Halloween Candy Corn Themed Nails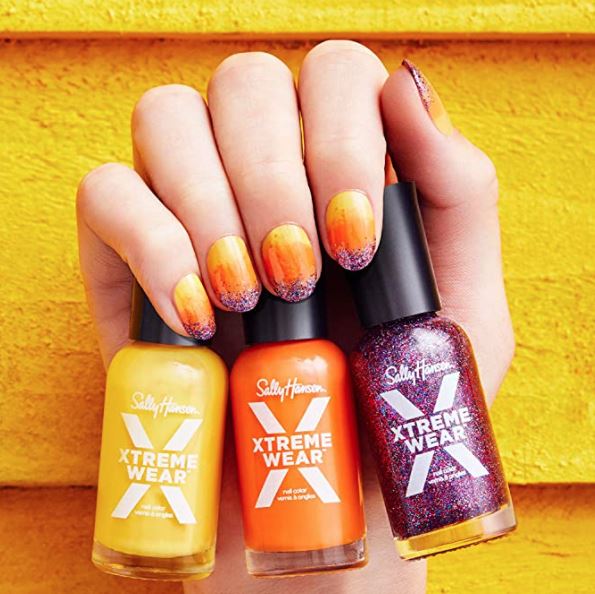 These candy corn nail polishes make having candy corn-themed nails EASY! Just buy the Sally Hansen nail polish colors in Mellow Yellow, Sun Kissed, and Supernova.
Unlike other candy corn nail designs, you don't have to be perfect when combining these nail polishes.
Get These Bright Halloween Nail Polish Colors
7. Sparkly Green
This sparkly green nail polish color by ILNP is called "Juicy Lime Green." It's holographic and has fun sparkles for look-at-me Halloween nails.
Get Nail Polish for Halloween Green Nails
8. Glow in the Dark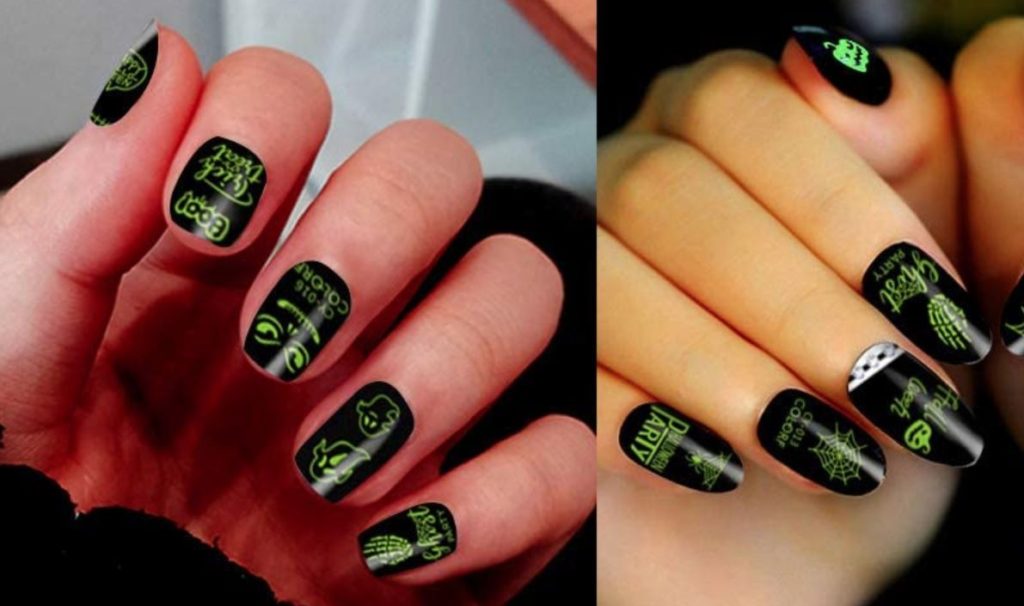 Want glow-in-the-dark nails for Halloween? Just paint your nails black and apply glow-in-the-dark nail stickers.
Get Halloween Glow in the Dark Nails
9. Black Glitter
Why have plain nail polish when you can have glitter?
This black, sparkly, glittery Halloween nail polish by ILNP is non-toxic and a true black. Apply two coats and you'll love this nail polish for Halloween!
Get Glitter Halloween Nail Polish
10. Candy Corn Glitter
This fun Candy Corn glitter nail polish is perfect for Halloween!
More Fun Halloween Nail Polish Colors
You may also LOVE these Halloween-themed nail polish colors.
Base Coat and Top Coat Nail Polish for Halloween Nails
Before using ANY of the nail polish above, it's helpful to use a base coat of nail polish and a top coat of nail polish.
Base Coat Nail Polishes for Halloween Nails
A base coat of nail polish makes your nail polish last longer, protects your nails, and it vents staining.
You don't need to use an expensive base coat. I stick to the base coats by OPI.
Top Coat Nail Polishes for Halloween Nails
A top coat makes your nails look shiny and helps to prevent chipping of the nail polish.
It is crucial to use a top coat of nail polish when using nail decals or stickers, as it helps prevent the nail art from peeling off.
I personally use the OPI or the Sally Hansen Miracle Gel top coat nail polish.
Health Note: Don't get the Seche Vite top coat nail polish. It gets AMAZING reviews and women LOVE how it looks. My hairdresser who knows all things beauty said that all of her clients swear by it.
BUT…Seche Vite nail polish has a toxic ingredient in it (toluene), which is bad for you.
Conclusion
In conclusion, there are so many Halloween nail colors that are just perfect for easy DIY nails. Whether you prefer the classic allure of burnt orange, the boldness of solid black, or the vibrancy of candy corn-themed nails, these nail polishes set the stage for a spook-tacular Halloween look. From playful ghost designs to holographic greens and bewitching glitters, the choices are endless. Which nail color is your favorite for easy DIY Halloween nails? Please leave a comment below. I'd love to hear from you!
More Nail Ideas
Cute Disney Nails Ideas You Can Copy