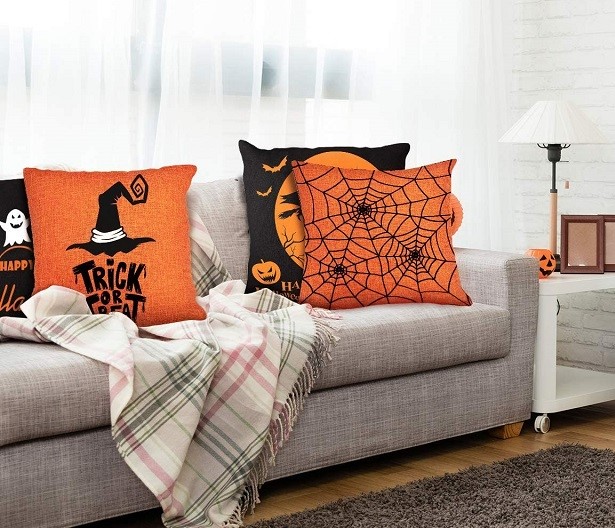 Halloween Decorations for Apartments
I absolutely LOVE Halloween, but I live in a small condo/apartment…which means limited space for Halloween decorations. If you want to get in the spirit of Halloween and decorate your small living space – there are actually TONS of cute and festival Halloween decorations for apartments to choose from.
7 Easy Halloween Decorations for Apartments on Amazon
Below are a few easy and fun ways to decorate your apartment for Halloween. These Halloween decorations for apartments are affordable, EASY to set up, and so so cute! You'll be in the Halloween spirit after decorating with any of these cute Halloween decorations for apartments.
1. Flying Bats
These bat decorations are so cute for entryway decor or above a mirror in your bathroom or bedroom for Halloween.
2. Halloween Wreaths
The Halloween wreaths on Amazon are a bit expensive, but they are so cute! Hang one outside your front door and everyone will get into the Halloween spirit when they enter your apartment.
3. Halloween Table Decorations
4. Spider Webs
If you REALLY want to get in the Halloween spirit, just cover the outside of your apartment with spider webs!
5. Ghosts
Add some ghosts for a spooky apartment kitchen.
6. Halloween Tree
This Halloween tree fits on small tables or can be placed on top of your dresser for Halloween apartment decor.
7. Halloween Pillows
Pillows are the easiest way to decorate your apartment or condo for any season. These Halloween pillows are perfect for apartment Halloween decorations.
Related Articles by Very Easy Makeup
Liked this article with easy Halloween decorations for apartments? Check out these related articles too!
Fall Outfits with Thigh High Boots
Connect with Very Easy Makeup
I'd love to connect with you!
Follow Very Easy Makeup on Facebook to get notified of new beauty, makeup, and fashion posts!
Please subscribe to the Very Easy Makeup YouTube channel. You'll find how-to tutorials for very easy makeup and bleaching hair blonde at home.
Sign up for the Very Easy Makeup Newsletter.
This post contains affiliate links. View the disclosure here.