19 Spooky Halloween Decoration Ideas for Apartments
This post may contain affiliate links, which means I may earn a commission if you decide to make a purchase through our links, at no cost to you. You may view the disclosure here.
I absolutely LOVE Halloween, but I live in a small condo/apartment…which means limited space for Halloween decorations.
If you want to get in the spirit of Halloween and decorate your small living space – there are actually TONS of cute and festival Halloween decorations for apartments to choose from.
This home decorating guide is all about easy Halloween decorations for apartments. Whether you're a fan of ghouls, ghosts, or pumpkins, here are some wickedly awesome ideas to help you decorate your apartment for the most hauntingly delightful Halloween ever.
This post may contain affiliate links. View the disclosure here.
Fun and Easy Halloween Decorations for Apartments
Below are a few easy and fun ways to decorate your apartment for Halloween. These Halloween decorations for apartments are affordable, EASY to set up, and so so cute! You'll be in the Halloween spirit after decorating with any of these cute Halloween decorations for apartments.
1. Hang Up Flying Bats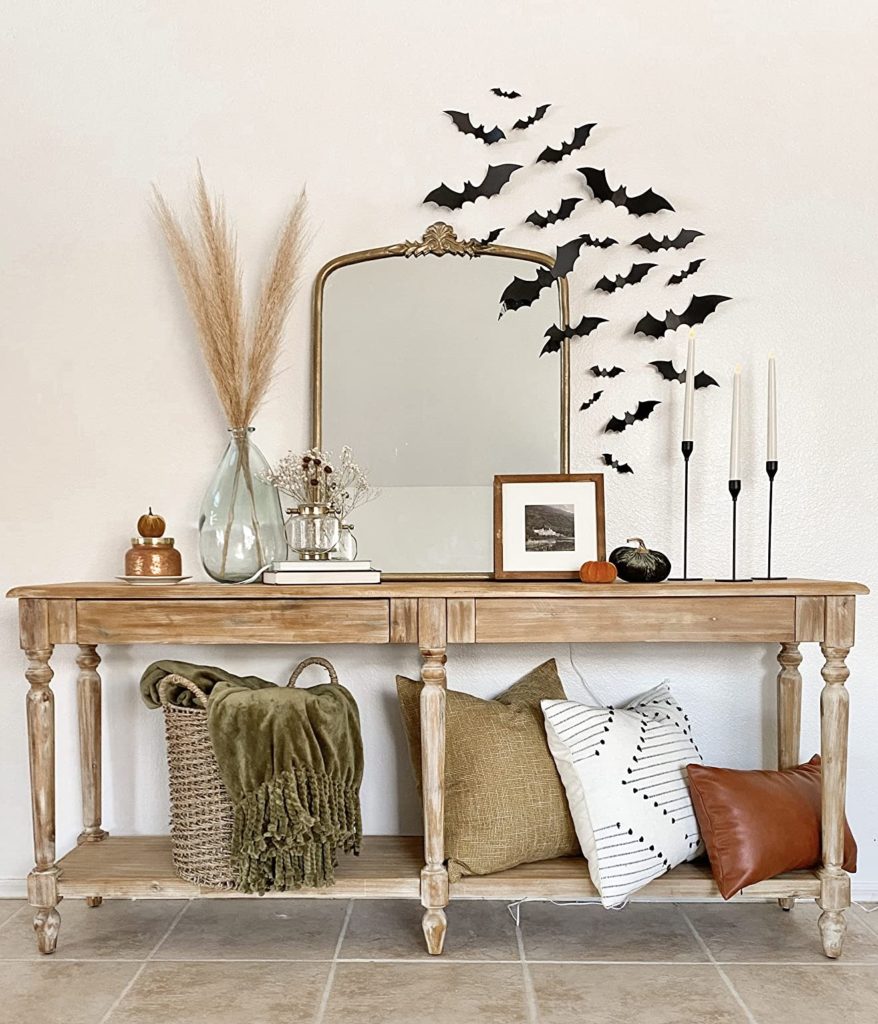 These bat decorations are so cute for entryway decor or above a mirror in your bathroom or bedroom for Halloween.
2. Embrace Halloween Wreaths
The Halloween wreaths on Amazon are a bit expensive, but they are so cute! Hang one outside your front door and everyone will get into the Halloween spirit when they enter your apartment.
3. Use Halloween Table Decorations
These table decorations are less than $15 on Amazon and so cute! To make your dining room table Halloween-ready, cover the table with a Halloween themed tablecloth or a bright and orange tablecloth.
4. Go All Out with Spider Webs!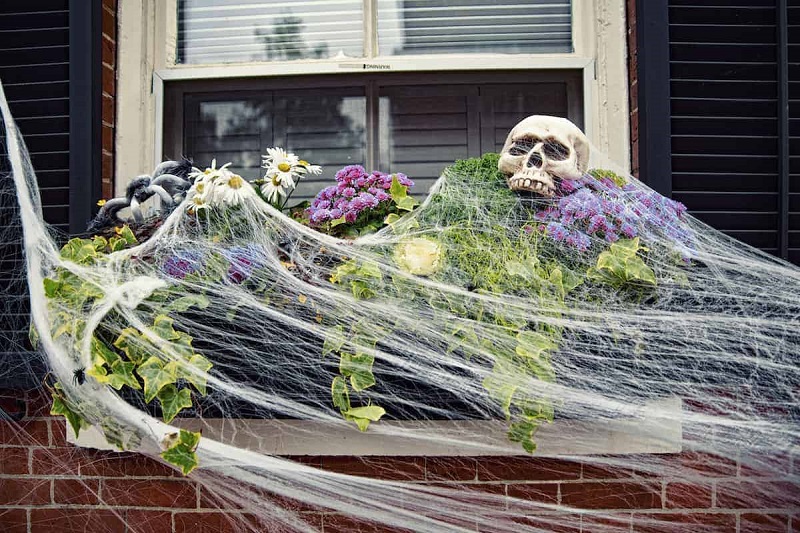 If you REALLY want to get in the Halloween spirit, just cover the outside of your apartment with spider webs! You can even hang up spider webs INSIDE your apartment for Halloween. Putting spider webs on your lights or in the kitchen will really turn your apartment or condo into a haunted house!
5. Display Ghosts
Add some ghosts for a spooky apartment kitchen.
6. Get a Small Halloween Tree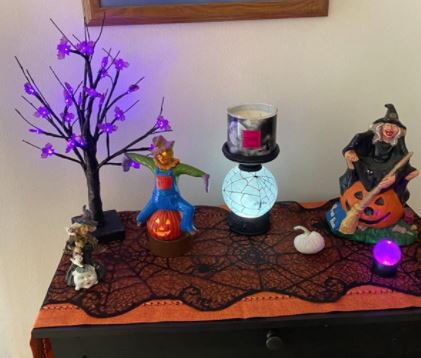 This Halloween tree fits on small tables or can be placed on top of your dresser for Halloween apartment decor.
7. Buy Lots of Halloween Pillows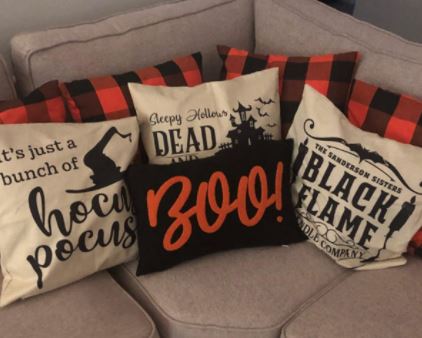 Pillows are the easiest way to decorate your apartment or condo for any season. These Halloween pillows are perfect for apartment Halloween decorations.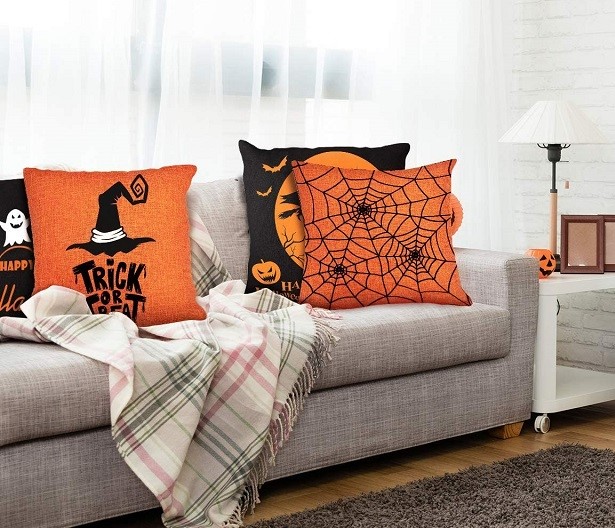 8. Hang Halloween Fairy Lights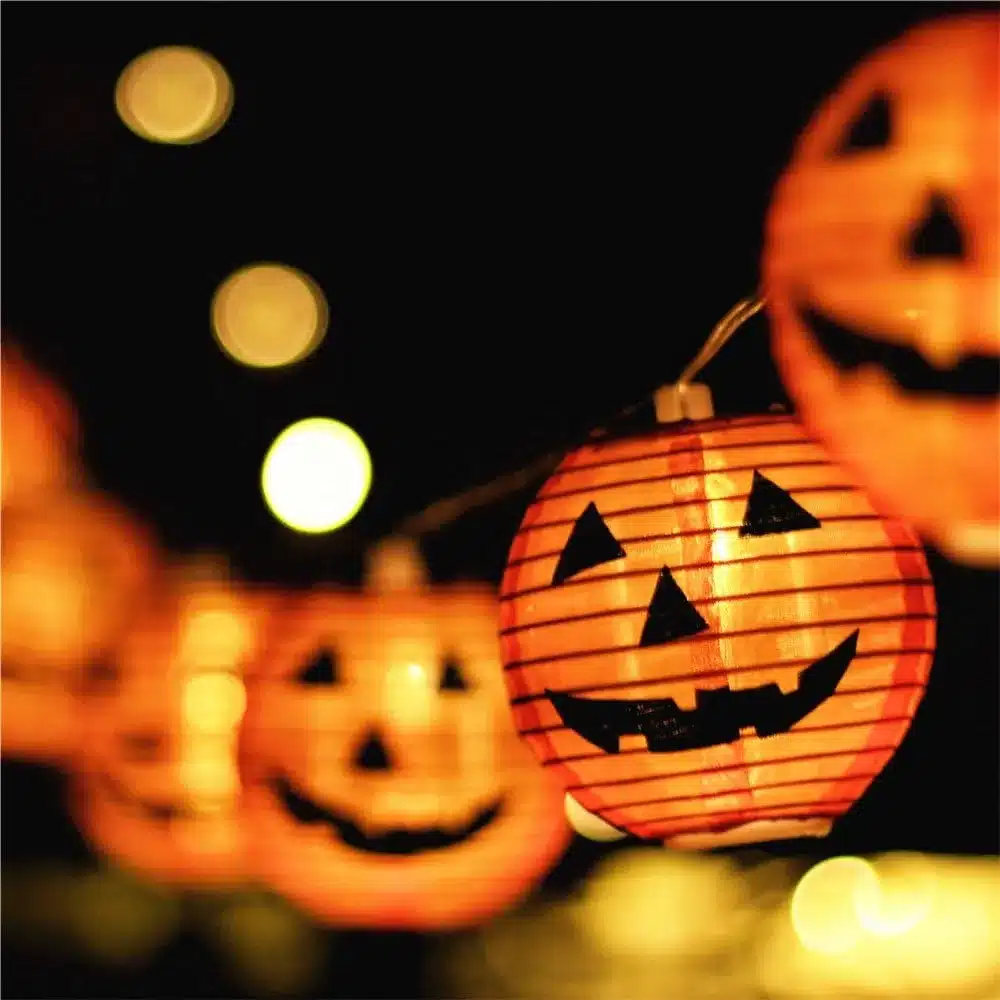 Fairy lights aren't just great for decorating college dorm rooms...they are also PERFECT for Halloween! If you have a balcony outside your apartment/condo, Halloween fair lights are just perfect for Halloween decorations! Alternatively, you can string fairy lights on your TV entertainment console, around your fireplace, or around your at-home desk.
9. Go All Out! Pumpkins Galore
Pumpkins are just perfect for Halloween (and for fall apartment decorations!).
Adorn your apartment with a variety of pumpkins (both real pumpkins and plastic or yarn pumpkins!). If you buy real pumpkins, you can do a fun art project and paint them vibrant colors or decorate them with glitter, sequins, or even lace. You can create a pumpkin patch on your windowsill or scatter them throughout your living room.
10. Use Mystical Lighting
Creating lighting can really transform your apartment for Halloween! Ditch the regular bulbs and opt for orange, purple, or green lights to cast an enchanting glow in every room. Hang string lights along your hallway or wrap them around stair banisters for an ethereal effect. And don't forget to place some flameless candles inside carved pumpkins to create a flickering, spooky atmosphere.
Halloween Lighting for Your Apartment:
11. Make a DIY Halloween Wreath
Halloween wreaths are an easy way to instantly get your apartment ready for Halloween! Both Amazon and Etsy have a LOT of cute Halloween wreaths (check out these Halloween wreaths on Etsy), but you can also make your own DIY Halloween wreath. You can craft one using a foam wreath base and an assortment of creepy elements like fake spiders, bats, or miniature skeletons. Add a splash of color with orange and black ribbons, and voila! You have a bewitchingly beautiful wreath to greet your visitors.
12. Terrifying Tablescapes
If you host people at your apartment, then a Halloween-themed tablecloth is just what you need! Then, add Epine-chilling tablescapes. Use black tablecloths or spiderweb-themed runners as your base, and then arrange a mix of Halloween-inspired centerpieces. Think miniature haunted houses, black cat figurines, or skull-shaped candle holders. Add some themed tableware and eerie-looking drinkware to complete the look.
Copy this Halloween Idea:
13. Spooky Wall Art
An easy DIY Halloween decor idea is to print out spooky quotes and hang them up around your apartment (all you need is a printer and tape!). You can also get creative by cutting out silhouettes of bats or witches from black construction paper and sticking them on the walls. It's an easy and affordable way to decorate your apartment for Halloween.
14. Haunting Window Displays
You can really go all out for Halloween by decorating your windows. Hang fake spiderwebs and attach plastic spiders to the corners of your windows. Add some window clings featuring ghosts, witches, or bats for an extra spooky effect. To finish out the effect, place candles or string lights on your windowsills.
15. DIY Potion Bottles
You don't have to dress up as a witch for Halloween to unleash your inner witch! A creative Halloweeen decor idea for apartments is to scatter potion bottles around your apartment. Collect empty glass bottles and vials, and fill them with colored water or small objects like eyeballs, plastic bugs, or glitter. Label them with spooky names like "Witch's Brew" or "Zombie Serum" using calligraphy or printed labels.
16. Put Pumpkins on Your Desk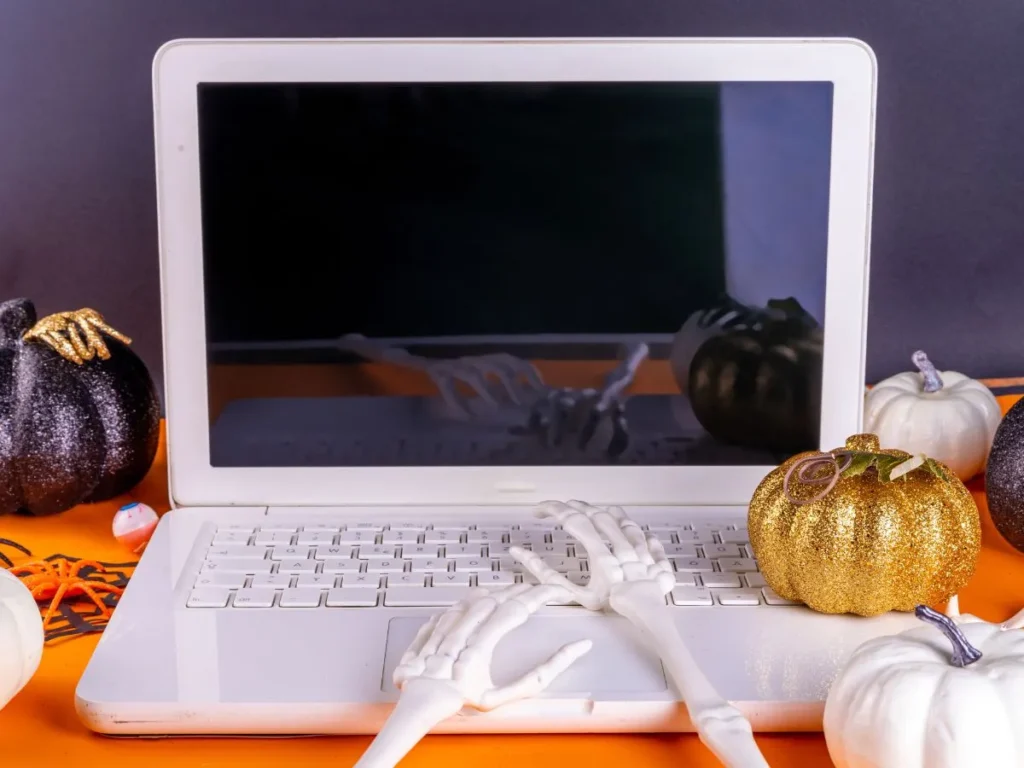 Make your home office look like Halloween! All you need are small pumpkins and maybe a fake skeleton body too!
These glitter pumpkins on Amazon would be perfect for putting on your desk!
17. Get a Halloween Candy Jar!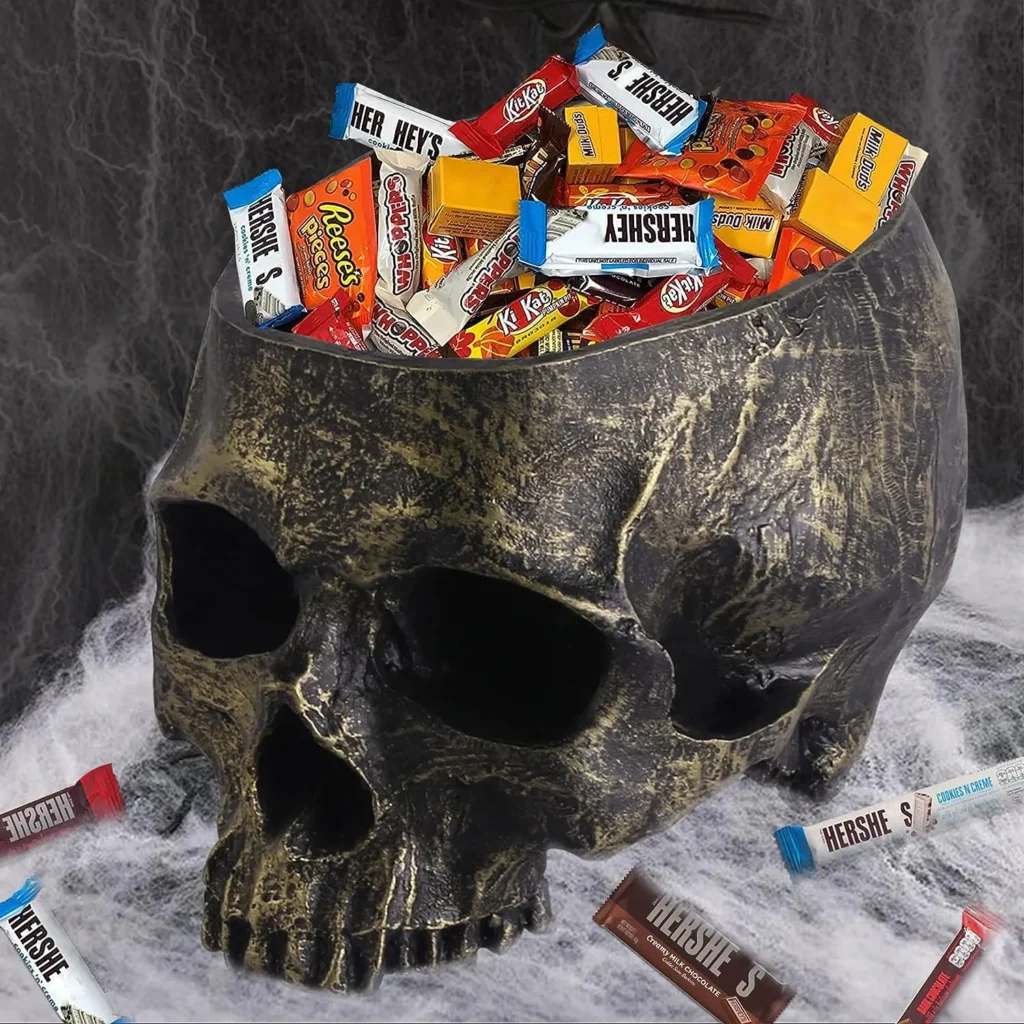 Of course, you need to have a Halloween candy jar out on your kitchen counter!
18. Light some Vampire Candles
For scary and spooky Halloween decorations, get some black candles that look like they are bleeding. Yikes!!
Complete this Halloween decorations idea for apartments by getting this metal candelabra on Amazon!
19. Write in Red Lipstick on Your Mirrors (and Toilet!)
Get creative and write some spooky messages on your bathroom mirrors. Or, on the side of your toilet seat, write something creative like, "I am watching you!"
DIY Halloween Decorations for Apartments
Want to get crafty with your Halloween decorations? Here are a few DIY Halloween decorations for apartments you can do at home.
1. DIY Halloween Ghost Garland
For this DIY Halloween decor idea, cut out ghost shapes from white construction paper and then use a black marker to draw spooky faces. Punch holes at the top of each ghost and string them together with a ribbon. Then, hang your DIY ghost garland across your mantel, a bookshelf, or around your windows!
2. Haunted Picture Frames
If you are a fan of thrift store shopping, this DIY Halloween decor idea for apartments is perfect for you! Find old or inexpensive frames and paint them black or gray. Then, print out eerie vintage photos or spooky illustrations and place them inside the frames. If you really want to go all out, you can lightly brush white paint over the glass to create a misty appearance. Then, hang your new DIY haunted frames on your walls or display them on tables.
3. Potion Station
This DIY Halloween decorating idea is perfect if you are hosting a Halloween party! Set up a table or corner (it could be a kitchen corner) with various glass bottles and jars, and then fill them with unique ingredients like herbs, spices, small plastic insects, or gummy words. Create custom labels for each bottle, indicating what it contains. And voila! You have a potion station.
If you are hosting any college parties, you could fill each bottle/jar with an alcoholic drink too!
Many thrift stores (like Salvation army) may have glass bottles, but if not, check out these cheap clear glass bottles from Amazon.
4. Spooky Silhouettes
I love this DIY Halloween idea because it is so incredibly cheap! For this DIY Halloween decor idea, get black construction paper and then cut out shapes of bats, witches, and cats. Then, tape them onto your windows or walls.
6. Glowing Ghost Jugs
I discovered this DIY Halloween decorating idea online and thought it was so creative!
For this idea, clean out empty plastic milk jugs and then draw ghost faces on them using a permanent marker. Place battery-operated tea lights inside the jugs, allowing them to shine through the ghostly faces. Then, place your DIY ghost jugs on your windowsill, porch, or along your pathway for trick-or-treaters!
7. Scary Mirror Messages
Give your apartment a touch of dark magic by creating sinister mirror messages. Using lipstick or washable markers, write eerie messages or draw creepy symbols on your bathroom or hallway mirrors. When your guests catch a glimpse of their reflection, they'll be in for a spooky surprise. Just remember to use washable markers if you're in a rental!
8. Wicked Witch Broomstick Display
Summon the spirit of witches by crafting a bewitching broomstick display. Gather a bundle of twigs or branches and tie them together with twine or ribbon. For an extra touch, attach a personalized name tag to each broomstick with the name of a famous witch or a spooky phrase. Lean these broomsticks against a wall or display them in a corner to add a touch of enchantment to your apartment.
9. Mystical Crystal Ball Centerpiece
Add a touch of mysticism to your Halloween table with a DIY crystal ball centerpiece. Find a large glass or plastic orb and fill it with water. Drop in a few drops of food coloring to create an eerie hue, such as deep purple or emerald green. Float tea lights or small LED candles inside the ball, and place it on a decorative plate or in a shallow bowl.
10. Pumpkin Candy Bowl
Craft a unique candy bowl that doubles as a Halloween decoration.
Select a medium-sized artificial pumpkin and decorate the outside of the pumpkin with fun and spooky designs. Then, fill the bowl with your favorite Halloween treats and place it on your entryway table or coffee table, inviting guests to grab a sweet surprise.
Summary
In summary, there are so many cheap and easy ways to decorate your apartment for Halloween....and Amazon makes it super easy!
How do you usually decorate your apartment for Halloween? I'd love to hear from you! Please share your favorite Halloween decorations for apartments below or a link to your Instagram with photos!
More Halloween Ideas
Love all things Halloween? Me too! Check out these related Halloween posts.
Explore All Halloween Guides (Halloween costume ideas, group Halloween costume ideas, and more!)