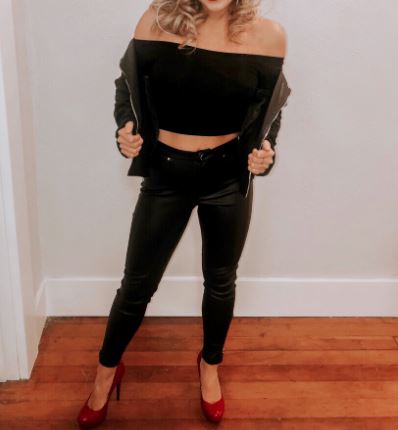 DIY Sandy Grease Costume
Want to dress up as Sandy from Grease for Halloween?
This Halloween costume guide is all about what you need for an easy DIY Sandy from Grease costume.
Dressing up as Sandy Olsson from Grease is a sexy and easy last-minute Halloween costume idea, and you only need to buy a few things from Amazon!
This post may contain affiliate links. View the disclosure here.
DIY Sandy Grease Costume
Here's exactly what you need for a DIY Sandy Grease costume.
What You Need for a DIY Sandy Grease Costume
Once you've got your Sandy Olsson costume, don't forget to get your hubby a Danny from Grease costume too! All he needs is a leather jacket.
1. Black Crop Top
For a DIY Sandy Olsson from Grease costume, you'll first need a sexy off-the-shoulder crop top.
2. Pink Lady Jacket for DIY Sandy from Grease Costume
This Pink Lady jacket on Amazon has over 1,000 positive reviews and is super cute!
2. Faux Leather Leggings for Sandy DIY Costume
These faux leather leggings get AMAZING reviews. You'll want to wear these leggings after Halloween too!
3. Belt for Sandy DIY Grease Costume
Add a belt around your waist for a sexy DIY Sandy from Grease costume.
4. Red Pumps/Heels for Sandy DIY Halloween Costume
These sexy red pumps are perfect for a DIY Sandy Olsson costume for Halloween.
5. Sandy from Grease Wig
If you want to go all out, you can buy a wig to dress up as Sandy Olsson for Halloween!
6. Pink Lady Jacket + Scarf + Glasses for Sandy from Grease DIY Costume
If you just want to dress up as a Pink Lady for Halloween, all you need is this Pink Lady accessory kit! The Pink Lady jacket is included too!
Sandy from Grease Halloween Costume on Amazon
Or, you can buy the Sandy Halloween costume on Amazon. It looks super sexy!
This Sandy Olsson costume on Amazon gets decent reviews. I'd personally recommend buying the tights, shoes, belt, shirt, and jacket all separately.
Connect with Very Easy Makeup!
Please subscribe to the Very Easy Makeup YouTube channel. You'll find how-to tutorials for very easy makeup and bleaching hair blonde at home.
Very Easy Makeup Newsletter
Sign up for the Very Easy Makeup Newsletter
Very Easy Makeup on Facebook
Give Very Easy Makeup a Like on Facebook