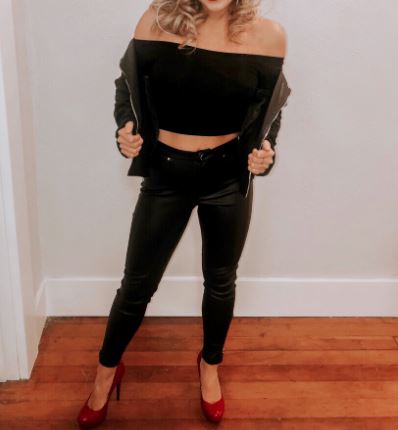 DIY Sandy Grease Costume
Want to dress up as Sandy from Grease for Halloween?
Here's exactly what you need for a DIY Sandy Grease costume.
What You Need for a DIY Sandy Grease Costume
1. Black Crop Top
For a DIY Sandy from Grease costume, you'll first need a sexy off the shoulder crop top.
2. Pink Lady Jacket – Grease
2. Faux Leather Leggings for Sandy Costume
3. Belt for Sandy DIY Grease Costume
4. Red Pumps/Heels for Sandy DIY Halloween Costume
5. Pink Lady Jacket + Scarf + Glasses for Sandy from Grease DIY Costume
Sandy from Grease Halloween Costume on Amazon
Or, you can buy the Sandy Halloween costume on Amazon. It looks super sexy!
Connect with Very Easy Makeup!
Please subscribe to the Very Easy Makeup YouTube channel. You'll find how-to tutorials for very easy makeup and bleaching hair blonde at home.
Very Easy Makeup Newsletter
Sign up for the Very Easy Makeup Newsletter
Very Easy Makeup on Facebook
Give Very Easy Makeup a Like on Facebook
(This post contains affiliate links. View the disclosure here.)