15 Tips to Fix Damaged Hair ASAP
This post may contain affiliate links, which means I may earn a commission if you decide to make a purchase through our links, at no cost to you. You may view the disclosure here.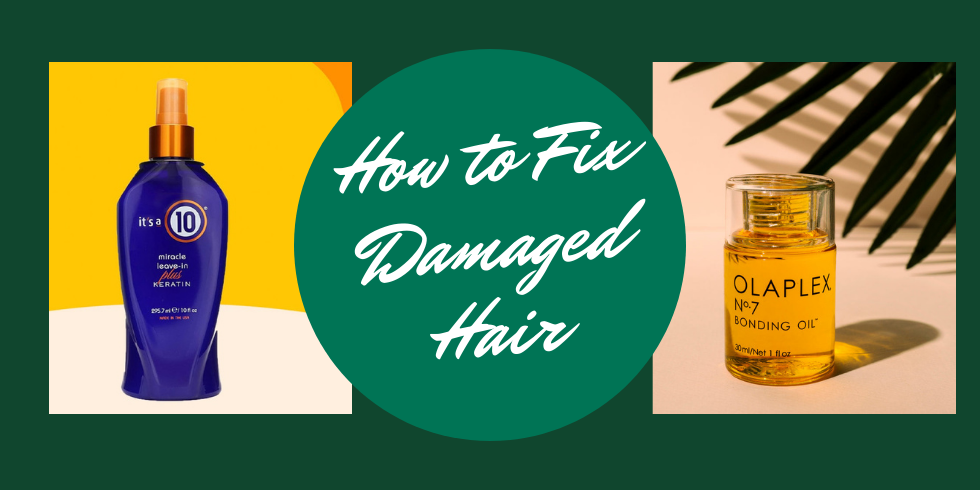 How to Fix Damaged Hair
If you follow me on YouTube (please subscribe), you know that I'm constantly changing my hair color. Sometimes I'm platinum blonde. Sometimes I'm medium blonde. And sometimes I have dark brown hair.
Unfortunately, bleaching and toning my hair every month has damaged it. (oops!) And I've been bad and haven't been using any hair treatments or sprays to protect my hair. So it's time that I invest the money again.
Thankfully, you can easily fix damaged hair...if you know the right products to use!
This hair guide is all about the best hair products for damaged and bleached hair. You'll also find tips on how to fix damaged hair.
What Causes Damage to Hair?
Curious what causes hair to be damaged in the first place?
The 3 main causes of hair damage are below.
Main Causes of Hair Damage
1. Chemical Damage
Examples: Straightening your hair, highlighting or coloring your hair
2. Physical Damage
Examples: the sun, pollution, seasonal change
3. Mechanical Damage
Examples: hot roller, flat iron
How to Fix Damaged Hair and Bleached Hair
Here are quick tips to fix damaged hair.
1. Use Olaplex No. 3 Repairing Treatment for Damaged Hair
This is the BEST conditioning treatment for damaged hair. You can leave it on overnight.
Seriously – everyone loves Olaplex.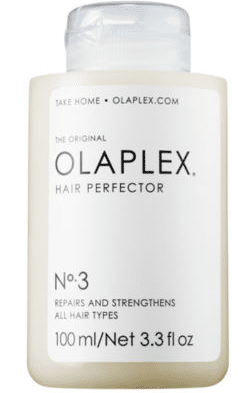 ✓ Best deep conditioning treatment for damaged hair
This is the #1 best hair product for damaged blonde hair.
2. Use It's a 10 Haircare Miracle Treatment
I used to use the "It's a 10" leave in spray, and then I stopped using it because it's not cheap. Unfortunately, my hair has suffered as a result! So I sucked it up and purchased It's a 10 again last night.
It's a 10 has a few varieties. I like the one with keratin in it. Spray this in your hair each morning and before using any hair dryers or curling irons.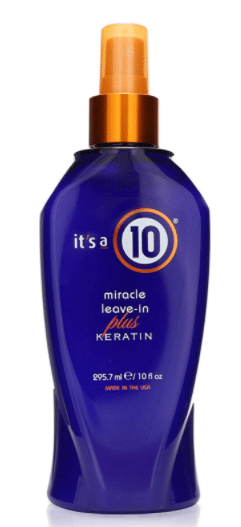 ✓ Great hair product for heat protection before styling
✓ Great hair product for spraying before brushing through knotted hair
3. Use Olaplex No. 7 Bonding Oil
You honestly can't go wrong with Olaplex No. 7.
I've tried the cheaper hair oils from TJ Maxx, and nothing compares to Olaplex. This bonding oil protects damaged hair ends and you only need a little bit of it.
Unlike other hair oils, Olaplex doesn't have any alcohols or other ingredients that temporarily add shine, but long term dry out your hair. Plus, Olaplex No. 7 doesn't look greasy.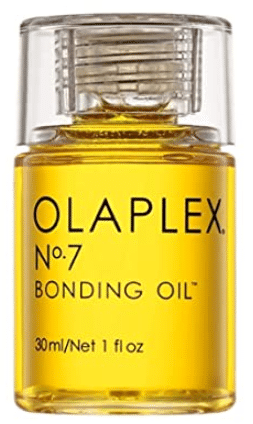 ✓ Best hair product for split ends
4. Use a Keratin Treatment
You can also try a Keratin treatment for hair damage.
Keratin treatments last 6-7 weeks.
A Keratin treatment is an easy way to prevent hair damage. A keratin treatment also helps to keep your hair healthy and thick.
5. Limit how often you color and bleach your hair
Of course, the best thing to do is to prevent hair damage in the first place.
Limit how often you color your hair to keep your hair healthy and thick.
The bleaching and coloring process weakens and damages hair.
6. Brush your hair in the shower (with conditioner)
Don't go rough with the hairbrush!
Brush your hair in the shower when you have a repairing conditioner on it. It will be easier.
Tip: Brush your hair from the bottom and work your way up. That way, you get rid of the knots in your hair at the bottom first vs. starting at the root of your head.
I love the Wet Brush the most.
7. Limit the use of curling irons and hair straighteners
The heat from curling irons and hair straighteners damages your hair.
Want beachy waves or voluminous hair?
Put your hair in two space buns at night and take them out in the morning for beachy vibes, heat-free!
Or, put foam curlers in your hair at night and let them work their magic.
8. Use a Heat Protectant Before Using Curling Irons and Straighteners
If you aren't willing to give up the curling irons and/or hair straighteners, apply a heat protectant to your hair.
The TRESemme Thermal Creations Keratin Smooth Leave-In Heat Protectant Spray is the best drugstore heat protectant. For the best heat protectant of all time, use Olaplex No. 7 bonding oil.
9. Starting Using a Deep Conditioner 2-3x/week
You'll want to use Olaplex No. 3 to repair damaged hair, but to prevent damaged hair in the first place, use a good deep conditioner 2-3 times a week.
I love the love Aussie 3 Minute Miracle Deep Conditioner and the L'Oreal Total Review 5 conditioner.
10. Use a Sulfate-Free Shampoo
Some shampoos and conditioners are harsher on your hair than others.
Use a sulfate-free shampoo like the L'Oreal Paris EverPure Repair and Defend Sulfate Free Shampoo.
Sulfate free shampoos don't dry your hair as much as a regular shampoo.
11. Schedule Your Next Haircut Appointment
Split ends are like weeds – they get worse and worse, causing more breakage over time.
Get a haircut every 6-8 weeks to keep your hair healthy and to prevent more hair breakage and split ends.
12. Give Silk Scrunchies a Try
Seriously – silk scrunchies are softer and easier on your hair.
13. Buy a Humidifier
Humidifiers aren't just a fix for dry skin in the winter.
Dry air can also dry out your hair!
Use a humidifier to prevent your hair from becoming too dry or damaged, especially in the winter.
14. Let Your Hair Hang Loose
And by loose, I mean don't pull it back into a ponytail.
Ponytails don't just contribute to a receding hairline; they are also harsh on your hair.
If you HATE having hair in your face, wear a cute headband to pull your hair back when you wear it down.
14. Add collagin peptides to your coffee
Want to keep your hair super healthy?
One final tip for keeping your hair lush and luxurious looking is to take a collagen supplement daily.
Collagen work wonders for your hair, nails, and overall health.
I personally add the Orgain Collagen Peptides Protein Powder to my coffee each morning.
It has no taste, it's affordable, and it is high in protein too.
15. Take Hair Vitamins
Seriously, vitamins help! Amazon has lots of great hair vitamins.
Summary
In conclusion, it is possible to fix damaged hair quickly and easily at home! The right hair products and a few tweaks to your diet can really make a difference!
Related Beauty and Fashion Articles to Look Your Best
If you enjoyed this article, check out these similar articles and pages.
Beauty & Hair Guides
The Best Products for Blonde Hair
All Things Hair by Very Easy Makeup
5 Simple Makeup Items to Use Daily (and Makeup for Beginners!)
The Best High SPF Tinted Moisturizers
Fashion Guides
Amazing Dresses on Amazon Under $30
DIY Stitch Fix Outfits and Stitch Fix Outfit Ideas