How to Regrow Thinning Hair (for Women)
This post may contain affiliate links, which means I may earn a commission if you decide to make a purchase through our links, at no cost to you. You may view the disclosure here.
How to Fix Thinning Hair
Thinning hair (and hair loss!) can be extremely stressful and disheartening to women.
Whether you recently started postpartum hair loss, lost hair due to surgery or cancer, started to get thinning hair due to unexpected weight loss or stress, or another reason – losing hair is no fun!
Want to know how to regrow thinning hair as a female?
Fortunately, you are not at a loss if you have thinning hair. It's actually quite common for females to have thinning hair around their hairline or at the crown of their head at some point in their lives.
You can regrow thinning hair and get back your thick, beautiful hair with the right shampoo, vitamins, and treatments.
Continue reading to learn what to do for hair loss and thinning hair as a female.
Summary of What to Do for Hair Loss: My top recommendations are Zenagen and Rogaine for women with thinning hair.
This post may contain affiliate links. View the disclosure here.
How to Stop Thinning Hair and Regrow Your Hair
This hair guide on how to regrow thinning hair includes:
The best treatment shampoos for hair loss
Daily shampoos for thinning hair in females
The best vitamins to regrow hair
Daily hair growth treatments to fix thinning hair
The best foods to eat for healthy hair
Hair growth supplements for women
The causes of thinning hair
The Best Shampoo Treatments for Hair Loss in Females
An easy fix is to buy a shampoo specifically made for thinning hair. The top two rated shampoos are by Zenagen and Viviscal.
I belong to a Facebook group where women share beauty advice with each other, and multiple women raved about Viviscal Professional.
I have an older coworker who had thinning hair, and she swore by Zenagen. It's expensive, but she noticed a drastic improvement in the thickness of her hair after using it.
1. Zenagen Revolve Thickening Hair Loss Treatment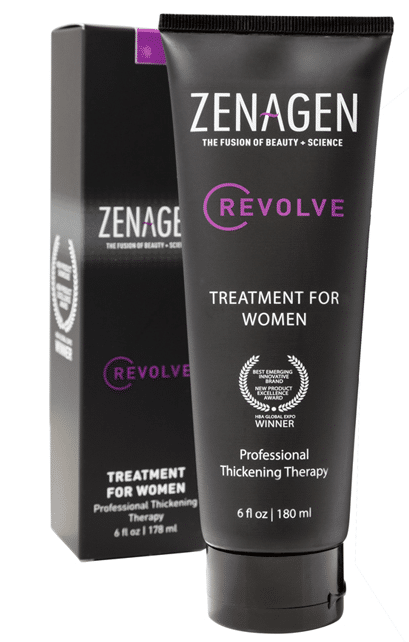 The Best Hair Growth Treatments for Thinning Hair in Women
Thinning hair around the hairline (think receding hairline from pulling your hair into a ponytail for all those years!) is very common in women. Start looking at pictures of women in their 30s and you will notice it!
Fortunately, you can use hair growth treatments to fix this.
You can't go wrong with the Rogaine or Nioxin growth treatments for females. You may also want to check out Target or Walmart for generic versions of Rogaine if you want to save some money.
Both these hair treatments have minoxidil as the active ingredient, which helps increase the size of hair follicles to promote the growth of thicker, stronger hair.
1. Rogaine for Women to Treat Hair Thinning and Hair Loss
It's not well advertised online, but Rogaine makes a hair growth treatment for women.
You can also check out the Target Up & Up brand of Rogaine if you are looking for something a little bit less expensive for thinning hair.
Tip: It doesn't matter if you get the Rogain Men's Hair Treatment or the Women's Rogaine 5% Minoxidil Foam. Both men's and women's Rogaine treatments include minoxidil (the active ingredient for hair loss). The important thing is to look for the Rogain with 5% minoxidil vs. 2% minoxidil.
2. Nioxin for Women for Regrowth after Hair Loss
Nioxin is a popular shampoo for men with thinning hair.
Nioxin also makes a great hair growth treatment for women with thinning hair and a receding hairline from pulling your hair back in a ponytail too much.
The Best Daily Shampoos to Regrow Thinning Hair for Females
You can also try a daily shampoo for hair loss.
These three shampoos get GREAT reviews by women. I personally know a lot of people who use Nioxin to help with thinning hair and to stop hair loss.
1. Nioxin Daily Shampoo for Thinning Hair in Women
Nioxin gets great reviews for thinning hair and Amazon sells a few shampoo and conditioner sets with biotin, which promotes thick hair.
2. Botanic Hearth Biotin Shampoo and Conditioner Set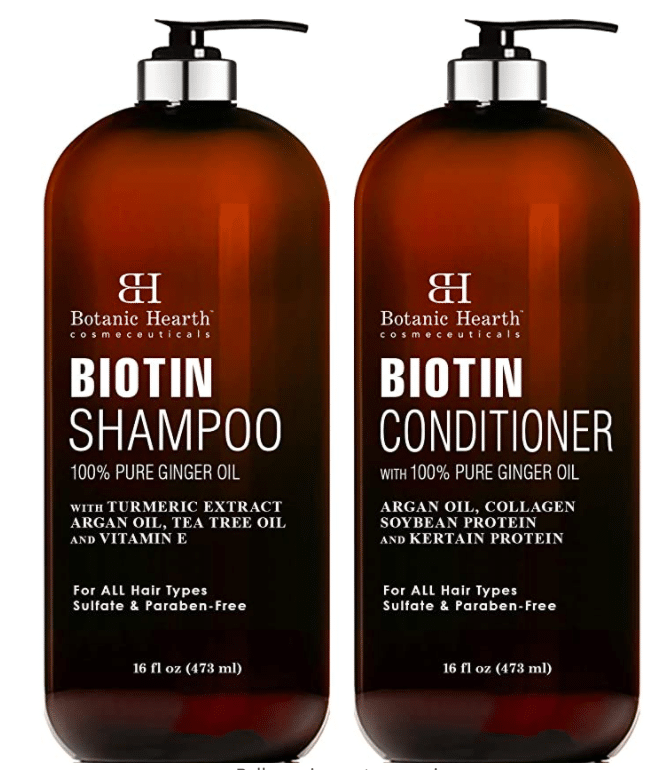 This shampoo and conditioner set has biotin, ginger oil, and keratin to fight hair loss. It is also sulfate free and gets great reviews for smelling great.
3. PURA D'OR Biotin Original Gold Label Anti-Thinning Shampoo & Conditioner Set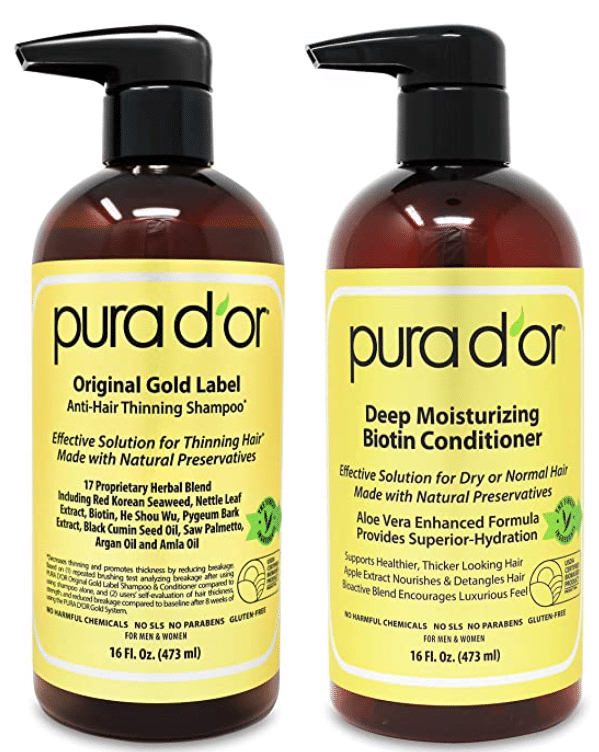 Women love this shampoo and conditioner because it leaves hair looking "shiny, smooth, and glossy" and because it helps with hair regrowth.
The Best Vitamins with Biotin to Grow Thick and Healthy Hair Naturally
You can't go wrong with biotin.
Women who take daily vitamins with biotin swear that it helps them to grow thicker hair naturally.
1. Nature's Bounty for Hair, Skin, and Nails
Nature's Bounty gets the best reviews on Amazon.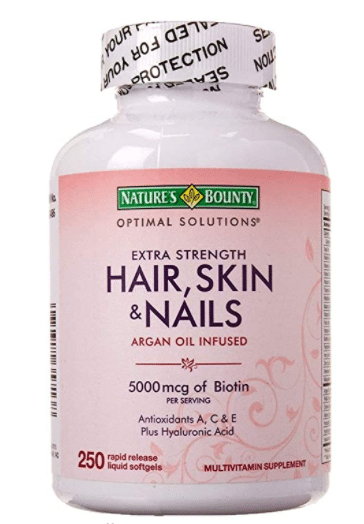 2. Nature's Bounty Gummies with 2X Biotin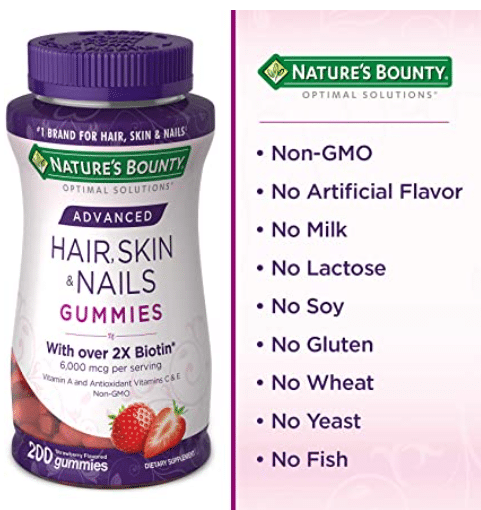 What to Eat and the Best Diet to Grow Thicker Hair in Women
An easy (and natural!) fix to hair loss and regrow thinning hair naturally is to change up your diet.
Add more biotin-rich foods to your diet like eggs, nuts, bananas, mushrooms, and whole grains.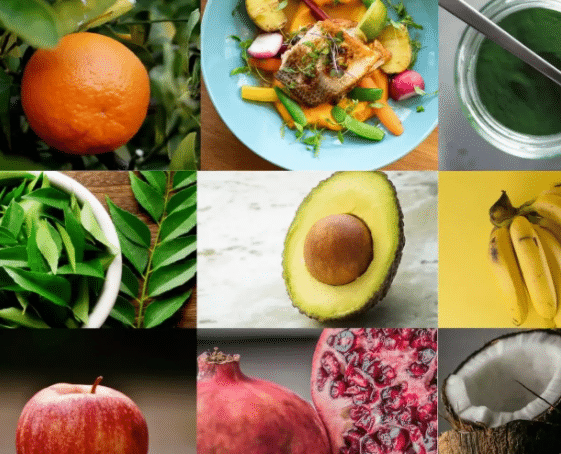 Weight Loss and Thinning Hair
I've also noticed that my female friends get really bad hair loss after losing weight too quickly and becoming underweight. Please don't do that!!
If you are super thin and have hair loss, consider putting on an extra five pounds. You will notice that your hair will start to grow back again as your body gets enough nutrients and calories again. (You will look healthier too!)
The Best Female Hair Growth Supplement for Thicker Hair to Regrow Thinning Hair
Lastly, many women in a beauty group I belong to suggested Nutrafol for regrowing thinning hair in women. It's an expensive hair supplement, but it's worth a shot.
The reviews on Amazon aren't the best, but Nutrafol worked for the women in the Facebook group I belong to where we share advice.
Nutrafol Hair Growth Supplement for Females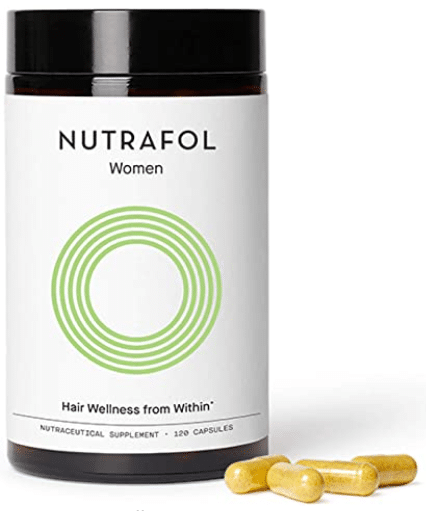 What Causes Thinning Hair?
So what causes thinning hair in the first place?
Lots of things can cause you to have thinning hair, including lifestyle changes, stress, sickness, or a sudden loss in weight.
More Hair Guides for Women
Liked this article with tips on how to stop thinning hair and regrow thinning hair naturally? Then you may like these articles by Very Easy Makeup.
The Best Products for Damaged Hair
Review of the Best Purple Shampoo for Blondes
The Best Hair Products for Frizzy Hair (and Humid Climates!)
Connect with Very Easy Makeup
I'd love to connect with you! Please leave a comment below and give this post five stars if you found it helpful.
Follow Very Easy Makeup on Facebook to get notified of new beauty, makeup, and fashion posts!
Please subscribe to the Very Easy Makeup YouTube channel. You'll find how-to tutorials for very easy makeup and bleaching hair blonde at home.
Sign up for the Very Easy Makeup Newsletter.