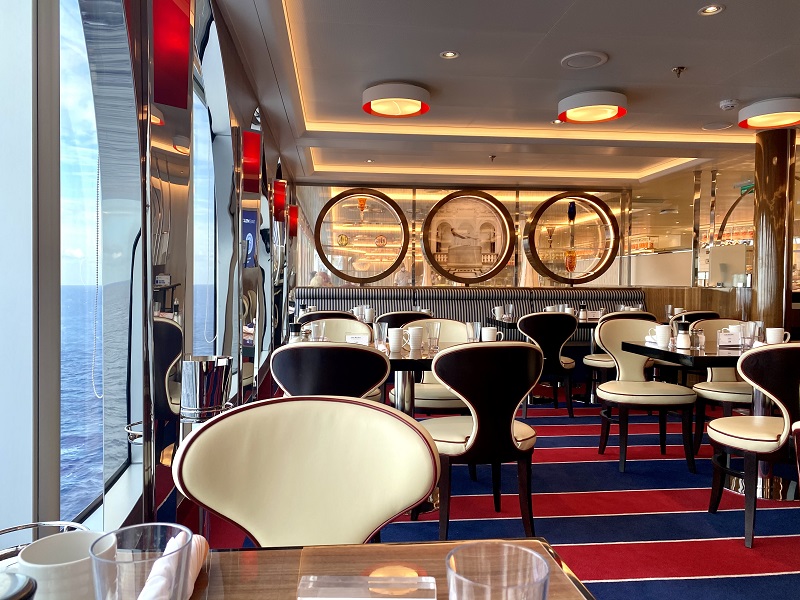 My mom and I cruise a LOT on Holland America crseiu line. And by a LOT – I mean 2-3 times a year. That's not a lot if you are a loyal member of the Holland America fan club who cruises for 2-3 months out of a year, but I'd say it's enough to qualify me as a seasoned and well-traveled Holland America cruiser.
If you want tips and tricks to make the most out of your Holland America cruise, then continue reading.
This Holland America Cruise Tips & Tricks guide includes:
Tips on how to get the best dining room experience
The best cabins on Holland America ships
Tricks to avoid crowds on Holland America cruises
How to save money on a Holland America Cruise
This post may contain affiliate links. View the disclosure here.
Tips and Tricks for Cruising on Holland America Ships
Alright, let's dive right in! These tips are a few of the insider's secrets for cruising on Holland America ships.
P.S. – Have a Holland America cruise ship tip and trick you are willing to share? Please scroll down to the bottom of this post and leave a comment. 😊
1. Board Early Around 11:30 am
The official time to board Holland America cruise ships may be around 12 pm, but you can actually board early.
If you get to the cruise port before 12 pm, you'll avoid all the lines and be able to walk on board the ship without waiting.
Plus, you'll be able to make your way to the Lido for your first free meal of the day without any lines.
2. Pay for Unlimited Laundry
My mom and I get the unlimited laundry on the ship (a benefit of being a 4-star mariner), but it may be worth it to pay the $50 for unlimited laundry on a 7-day cruise.
You can even get on board and have dirty laundry washed! (Not recommended – but I have heard of cruisers doing this).
The laundry service on Holland America is amazing. They hang your clothes on hangers for you and neatly fold your underwear and socks.
Plus, it's kind of nice having fresh-smelling laundry every day on a cruise.
3. Get Coffee at the Crow's Nest (Explorations Lounge, Deck 11)
The coffee in the Lido isn't very good. It's gotten better over the years, but it's still not that great. Some may say it is horrible.
Instead, head up to the Crow's Nest and get a coffee, cappuccino, or latte from the Exploration Lounge.
If you are willing to pay $4-5 for a coffee, I highly recommend going to the Crow's Nest each morning for coffee. The ladies are always really nice up there, and they will deliver your coffee to you while you take a seat…and usually give you a nice glass of water and a biscotti too.
Or, bring your own packets of instant Starbucks coffee and a coffee mug to make your own coffee each morning.
4. Eat on the OTHER Side of the Lido
Depending on the time of day, it can get crowded in the Lido!
Grab your food and then walk to the other side of the Lido, where they aren't serving food, and sit there.
It will be quiet and you'll get excellent service from the Lido staff.
My mom and I usually sit in the area for the Canaletto for breakfast and lunch. It's quiet and very cute!
5. Enjoy the View in the Crow's Nest
It's so nice to get an unobstructed view of the ocean, and the quietest and most relaxing place on a cruise ship is on one of the leather seats in the Crow's Nest.
It's usually pretty empty up there, very quiet, and quite relaxing. It's also a great place to read a book.
6. Go to the Pool at 4pm
Holland America ships aren't as crowded as other cruise ships, especially when it comes to the pool (there are generally fewer kids on Holland America ships), but the pool can still be a bit busy at times.
Wait until 4pm to go to the pool. You'll avoid the crowds, and your skin will thank you too.
RELATED:
What are the Best Sunscreens for Your Face?
7. Get an Assigned Dinner Table vs. Open Dining
You have the option to eat anytime on Holland America ships, but I find it to be much, much nicer to get an assigned table each night.
That way, your waiter will get to know you, you get excellent service, and you get to eat with the same folks every night, should you decide to pick a table to eat with others.
8. Ask for a Dinner Table by the Window
My mom and I always request a table in the back of the dining room, right by the window. These tables are usually for 4-6 people, so you need to be okay eating with others, but the view is spectacular!
9. Choose Your Dining Time Wisely
The later dining time (around 8 pm vs. 5 pm) is very popular on Holland America cruise ships. If you enjoy going to happy hour, seeing a show, and then eating – go ahead and get the later dining time. People also tend to dress up fancier on the gala night if they have a later dinner reservation.
If you want to eat when the dining room is less crowded and see the show after dinner, go ahead and get the earlier dining time.
My mom and I personally prefer to eat early, go on a stroll around the deck, and then go to the show in the evening. Do what works for you!
10. Get a Cabin Mid-Ship Mid-Level
To avoid any rockiness in your stateroom at night, you ideally want to be mid-ship at mid-level. So if you are on a 12-deck Holland America ship, you probably want to be on deck 5 or 6.
But honestly…it doesn't really matter much in my opinion.
Last cruise, my mom and I were at the very back of the ship by the dining room, and it didn't bother me at all. Similarly, many of the fancy staterooms are on Deck 10 or 11, so it can't be that bad!
RELATED:
Review of the new Rotterdam Ship with Photos
11. Get Good Water in the Relaxation Lounge (Deck 9)
A little hidden secret is that there is a relaxation lounge outside the gym for people waiting for a spa treatment. If you want the best water on the ship, go there!
You'll find cucumber or lemon-infused water and a selection of teas and hot water as well. Plus, it is usually empty and quiet there.
12. Ask for Turn Down Service
Holland America cruise ships used to always provide turn down service at night. I personally love it! Turn down service includes turning down your sheets (literally), a really cute towel animal, a chocolate on each bed, the curtains closed, and your night light turned on.
To save money, many cruises (including Holland America) have stopped the turn down service. This is such a shame, as the towel animals are the best!
Simply ask your state room attendant for turn down service and you won't be disappointed. It feels so luxurious!
RELATED:
The BEST Silk Pajamas for Women (and these silk PJs are under $25 on Amazon)
13. Put Décor on Your Stateroom Door
It can be a bit tricky to know whether to turn left or right when you exit the elevator, and to find your room!
Make your life easy by adding a magnet or a small ribbon on your cabin door. It will help your fellow passengers find their rooms as well!
14. Leave a Comment on the Navigator App
One thing that I love about Holland America is that they take customer satisfaction seriously. In my opinion, Holland America is better than Disney when it comes to excellent customer service!
If your stateroom attendant, dining room server, or another staff member goes above and beyond – go ahead and leave them a positive review within the Navigator App. It's not the most logical place to go…you need to click on "Connect" within the app, and then click on the thumbs up icon that says, "Let Us Know."
Similarly, if you are dissatisfied with something while on board, leave a comment. A crew member will fix it right away!
15. Get to Know the Lido Staff
The Lido staff are absolutely wonderful on Holland America cruise ships, and they are even better if you give them a smile each morning!
I personally LOVE blueberries, but the Lido only had strawberries each day. I told a staff member that I love strawberries each morning, but that what I really love it blueberries too.
The next day, she had a huge bowl of strawberries and another bowl of blueberries below the counter waiting for me.
So you never know…the Lido staff are really good and sweet and make your whole cruise incredible if you smile each day and get to know them.
16. Buy Shares of Carnival Stock for a $100 Credit
If you buy 100 shares of Carnival stock, you get a $100 on-board credit to spend on the ship. It's totally worth it! All you have to do is buy the shares and them mail it to Holland America 3-4 weeks ahead of time.
It's a bit tricky to know where to send proof of stock ownership to, so I included the detailed instructions below.
Holland America Cruise Credit Instructions for Owning Carnival Stock
Carnival Corporation offers the following benefit to shareholders holding a minimum of 100 Carnival Corp. or Carnival plc shares.
Per cabin onboard credit offer is:
$250 for sailings 14 nights or longer
$100 for sailings 7-13 nights
$50 for sailings 6 nights or less
To redeem shareholder benefit, Holland America must receive the required info at least three weeks prior to the sail date.
The traveling shareholder must provide:
Their name
Reservation number
Ship and sailing date
Proof of ownership
Mail to Holland America at:
Holland America Line
World Cruise Reservations
450 Third Ave. W.
Seattle, WA 98119
You can also email Holland America at shareholders@carnival.com.
17. Buy Jewelry at the Shops on the Last Sea Day
The shops on Holland America cruise lines are always fun to look at. If you wait until the last day, the cheaper jewelry (priced under $30) usually goes on sale for half price.
From this last cruise, my mom and I got blinging necklaces for only $4.88. Yes, you won't find real diamonds for under $10 – but you will find fun jewelry that makes you smile for super cheap!
You can also buy the jewelry earlier on in the cruise, and then wear it to Gala night and feel like a princess.
RELATED:
The Best Long Sequin Dresses (Perfect for Gala Night on a Cruise)
18. Go to the Flower Arranging Lecture
My mom and I skipped the flower arranging lecture during one of the Sea Days, but we should have gone!
We talked to two different ladies who each won a beautiful flower arrangement while attending the lecture. Not many people show up, so you have a pretty good chance of winning some beautiful flowers for your room.
19. Pack a Tupperware Container
I get hungry at night, but the midnight snacks are usually fried food and some fruit. If you get hungry at night and want to eat healthy, pack a small Tupperware container in your suitcase.
After dinner, I usually go up to the Lido and fill mine up with eggs, tomatoes, garbanzo beans, and feta cheese.
If you want to be super healthy (or are just a weird eater, like me!), then pack a container to store healthy food in your fridge for any late-night cravings you may have.
20. Don't Pay for Club Orange
I'm really not sure what you get for Club Orange…but it seems like a bit of a rip off in my opinion. You get a special line for guest services, which isn't really necessary.
You get a separate dining room for Club Orange members on some ships, but it's not any nicer (I actually like it less!) than the normal dining room.
You may get priority for getting off the ship at each port, but you don't really need that benefit on Holland America cruises.
Holland America also has a special colored menu for Club Orange members, but it's exactly the same as what normal folks get!
21. Review the Wine and Beverage Packages
My mom and I don't drink, but I will say that those that get the wine package on Holland America ships do seem to really like it. Holland America has a lot of options to choose from.
A common choice seems to be 4 bottles of wine per week. It's enough alcohol that you can enjoy a glass at dinner each day (and some more), but it's not so much alcohol that you will feel like you are wasting your money if you don't get 6+ drinks a day.
RELATED:
The Healthiest and Lowest Calories Wines to Drink on a Cruise
22. Book Your Spa Treatments Before You Board the Cruise Ship
Many of the spa treatments get filled early, so book before you board the ship if you don't want to be stuck with a spa treatment on a day while at port – or at a time that conflicts with your dinner time or a show.
I'd personally recommend booking your appointments for around 10am on a sea day.
If you like the hydrotherapy pool, it's also cheaper if you book before boarding the ship. Just make sure to book a week ahead of time, as Holland America stops selling spa treatments online about 3 days before departure.
RELATED:
5 Affordable Presents to Treat Yourself and Feel Like a Princess
23. Go to the First Gala Dinner in the Main Dining Room
Most Holland America 1-week cruises have two Gala nights (usually on a Sea Day).
Recently, I've found that they only have filet and lobster on the first Gala night. So if you are going to skip one of the Gala nights, make sure it is the second one and not the first.
I also find that more people tend to dress up for the first Gala night, and then get more relaxed when the second one rolls around.
RELATED:
The Best Plus Size Formal Dresses for a Cruise Gala Night
24. Get the Hydrotherapy Pool Package if You Love Hot Tubs
The hot tubs on Holland America ships (and most cruise lines) aren't particularly hot, and they are usually crowded. If you love hot tubs and relaxing, it's definitely worth it to get unlimited access to the hydrotherapy pool for a week.
I personally don't go, but my mom goes every day, and she loves it! She has joint problems and bad arthritis, and 15-20 minutes of running the hot water over her joints and muscles per day works magic. Really. My mom has had foot problems and the hydrotherapy pool has worked wonders for her.
RELATED:
The Best Plus Size Swimsuits to Hide Belly Pooch
The Best Swimsuits for Big Thighs
25. Ask for Fresh Fruit at Dinner for Dessert
If you don't want to gain weight on your cruise, then you can order a fresh bowl of fruit or berries for dessert. It's not on the dessert menu, but your dining room server can accommodate the request.
Each night, my mom and I order bowls of mixed berries for dessert, and it's such a popular thing to do that our dining table guests usually follow our lead and start doing the same!
Weight Loss Tip: Order the salmon at dinner each night with steamed veggies for a low-calorie and healthy dinner. Make sure to ask for no butter and no oil, as the cruise ships add those to most foods.
26. Pack Your Own Beach Bag
Holland America usually gives guests a free beach bag in their rooms, but it is bright and blue with "Holland America" on the side, and it screams tourist!
Instead, I always pack my own beach bag with a zipper for carrying onshore. The best beach bags have a zipper (for your cash, cabin key card, and ID) and are plenty big to hold a big beach towel, sunblock, and a bottle of water.
RELATED:
The Best Beach Bags for Cruises
27. Keep Your Phone on Airplane Mode
Unless you want to accidentally be stuck with a high cell phone bill, remember to put your phone on airplane boat while at sea.
You'll also want to check your cell phone plan before traveling. My mom and I have T-Mobile and it's usually $0.25/minute to talk while at the cruise ports and free to text.
Just don't count on getting internet on your phone while at port. Unless you can connect to a local free wi-fi, your internet connection may be so slow you can check email, but that's about it.
28. Ask the Room Steward to Empty the Fridge
If you aren't a fan of paying for bottled beverages and what-not, you can ask your room steward to empty the fridge.
My mom and I request this right away when we first board the ship, and then there is plenty of room to keep fresh fruit and any snacks you have picked up in the Lido.
29. Read the Reviews Online Before Booking an Excursion
Some of the excursions on Holland America cruises are good, and some are mostly riding around in a semi-hot bus for 2-hours seeing the local town, which sometimes doesn't include much to see.
You can't read the reviews for the excursions while on the ship, so make sure to do your research ahead of time.
I'd also highly recommend seeing how far away the attraction is from where the ship will dock. One time I signed up for a 45-minute cave tubing adventure, but little did I know (as well as everyone else on the excursion) that the cave was a 2-hour drive away on a bus with no bathrooms. We were all so miserable on the way home!
30. Look Up Pictures of Your Cabin Before Booking
You can sometimes find pictures of the cabins online. Make sure you know what you are getting!
My mom and I personally always book a Verandah. We really like having a balcony where you can open the door and let in fresh air.
31. Go to Tea Time – And Arrive on Time
One fun (and unique) thing about Holland America ships is tea time! It's usually around 3 pm on Sea Days. But make sure to show up no later than 3:20 pm. Tea time starts at 3 pm and usually ends promptly at 3:45 pm so that the waiters can start preparing for early dinner.
Additionally, they sometimes run out of a dessert or two later, so make sure to show up on time so that you get the complete experience with three plates of different sandwiches and delicious treats.
32. Go to the Gym Around 4 pm
Like the pool, the gym starts to get empty around 4pm. The good thing about Holland America ships is that the gym is almost always empty, but this is especially true around 4pm. You'll have the whole gym to yourself, except for maybe some of the crew members (like the dancers, or a singer from the band) working out.
RELATED:
The Best Foods to Eat to Lose Belly Fat
33. Get a View of the Sunset on the Outdoor Jogging Track
For a spectacular view of the sunset at night, head up to Deck 11 on the jogging track for a beautiful view of the sunset!
34. Carry Your Own Luggage Off the Ship
You have the option to leave your luggage outside your door the night before arriving at port to get off the ship, but I find it MUCH easier to just bring your luggage off with you.
If you carry your own luggage off the ship, you can get off the ship when the ship is cleared, you don't have to wait for your zone to be called, you avoid the long lines at customs, and you can pack easily pack your toothbrush, toothpaste, and your favorite comfy pajamas in your suitcase vs. doing it at the cruise terminal when you do pick up your luggage.
35. Catch at Flight Home Between 10:30 am and 1 pm
If possible, try to schedule your return flight home around 11 am.
Most of the time, Holland America cruise ships are cleared by 7:30 am (although last cruise we weren't cleared to get off until 8:05 am). Customs is usually very quick with Holland America cruises (10 minutes max) and an Uber/Lyft from the cruise port to the Fort Lauderdale airport is usually 15 minutes.
For my last cruise, my mom and I got off the ship at 8:05 am, got to the airport by 8:35 am, and were at the gate by 8:45 am.
Summary – Holland America Tricks and Tips for the Best Cruise Experience
In summary, cruising with Holland America is a great, stress-free vacation. The Holland America crew will take care of you…REALLY good care of you and go above and beyond to ensure you have a 5 star experience aboard their ship.
But if you know a few of the extra tricks and tips, you can make your Holland America cruise even better.
FAQs about Sailing with Holland America Cruise Lines
Have a question about cruising with Holland America? Leave a comment below (scroll down to the bottom of this post) and I'll happily help you out!
How much is tipping on Holland America?
Holland America automatically adds a gratuity of about $16-$18 per person per day. You can adjust that dollar amount up or down once onboard at the front desk.
You can also give your dining room attendant or dining room server additional tips in cash.
Is Holland America sailing at full capacity?
As of January 2022, Holland America is NOT sailing at full capacity. Our ship had a capacity of about 2,600 passengers, and only 1,600 were on board.
Is Holland America owned by Carnival?
Yes, Carnival purchased Holland America cruise lines in 1989.
Is Holland America a good cruise line?
Yes! I like it. I've sailed with Carnival, Viking, and Royal Caribbean cruise lines, and Holland America has the best customer service by FAR in my opinion.
Holland America is also a very chill and relaxed cruise line. If you want to party or want a cruise ship with lots of activities, I would not recommend Holland America cruise line.
Is the Holland America website down?
No, the Holland America website works…it's just horribly designed! I personally find it easier to find which sailings are available by heading on over to VacationsToGo.com
Is Holland America better than Celebrity cruises?
According to Cruise Critic reviews, Holland America is generally preferred by frequent cruisers over Celebrity cruises.
Some people say that Celebrity is a little bit better if you are paying for a premium cabin or if you want slightly nicer food at each meal.
What are the COVID rules for Holland America cruise lines?
If you are sailing with Holland America cruise lines, you will need to show 1) proof of vaccination and 2) a negative PCR or rapid test within 2 days of sailing.
Tip: CVS is great for rapid tests. Just make sure to sign up for your appointment a week in advance. Spots fill up quickly!
Is Holland America cruise line safe for traveling?
In my opinion, Holland America is the safest of all the cruise lines. Staff members are constantly wiping down surface areas, the ship gave everyone KN95 masks on our last cruise, and everyone wore their masks the entire time (and properly!).
What should I pack for a Holland America cruise?
You'll want to pack a good book (even though the newer Holland America cruise ships have a library now), warm clothes for the morning/evening (sometimes it is cold on the ship), and plenty of cash for taxis in port.
Check out this master list of what to pack for your next cruise.
Related Cruise and Travel Articles
Love all things related to cruising, travel, and beach vacations?
Check out these related cruise and beach travel articles.
Reviews of the Holland America Rotterdam Ship
How to Not Gain Weight on a Cruise
Beach Vacation Outfit Ideas for Women