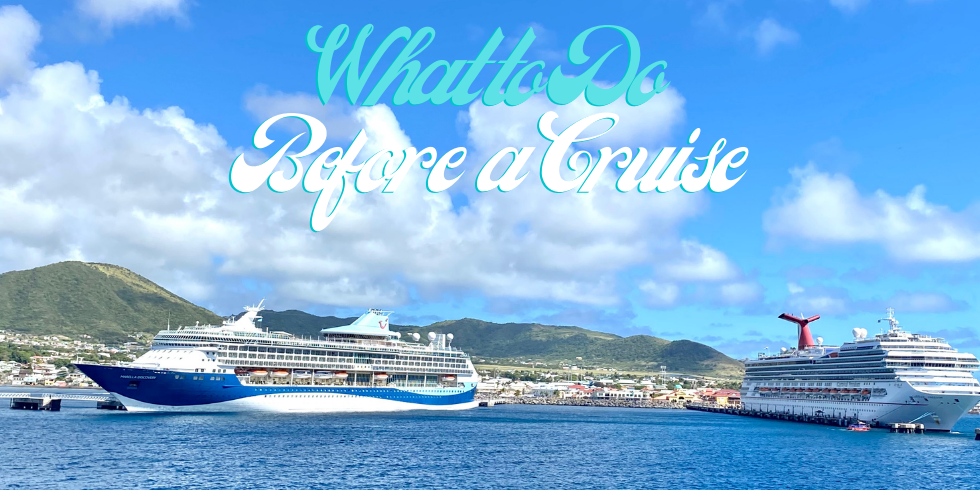 What to Do Before a Cruise
You booked your cruise, have a cute new vacation outfit, and packed a flattering swimsuit (or two!) to wear around the pool and at the beach. 🏖️
You are all set and ready to go, right?
Not quite!
There are a few things to do before a cruise.
What to Do Before a Cruise
This guide on what to do before a cruise covers the essential things to do before a cruise.
This post contains affiliate links. View the disclosure here.
What to Do Before a Cruise: 20 Things to Do Before a Cruise
Let's get straight to it. Here are 19 things you need to do before a cruise.
P.S. Why trust me? Because I cruise a LOT! Seriously. My mom and I cruise on Holland America 2-3 times a year, if not more. 😉
1. Schedule a COVID Test
Most cruises require proof of vaccination and a negative COVID test 2 days prior to departure.
Schedule your rapid COVID test ahead of time.
2. Get Cash
Most DIY excursions and taxis are cash-only. To be safe, plan for $100 per person per day.
A private taxi tour around an island can be about $60. Many local businesses also sell their souvenirs (hats, t-shirts, mugs) at a discount if you pay in cash.
3. Book a Pet Sitter if Needed
The best pet sitters book up in advance!
If you have a furry friend at home, make sure to book your pet sitter early.
4. Hold Your Mail with the Post Office
You can ask the post office to hold your mail. This will prevent packages from piling up outside your house.
5. Put on an OOO Email Response
You likely have an OOO message on for work, but what about your personal email?
You will likely get WIFI at each port, but you will be MIA in the middle of the ocean on a cruise ship.
6. Buy a Portable Cell Phone Charger
You can quickly run out of cell phone battery at each port, especially if you are using Uber to get around an island.
Buy a portable cell phone charger for emergencies.
7. Download WhatsApp onto Your Cell Phone
Does your cell phone plan charge for phone calls in other countries?
Texting may be free, but phone calls may be $0.50 per minute.
Download WhatsApp onto your phone. It allows you to make free phone calls via WIFI.
8. Get 2 Weeks of Prescriptions…to Be Safe
You never know what will happen on a cruise. To be safe, pack two weeks of any prescription medications.
9. Paint Your Toenails
Okay, I'm being half-serious…but go ahead and treat yourself to a pedicure before your next cruise. 😁
You'll likely be wearing sandals on the cruise ship, so why not have fun and pretty toenails?
RELATED: The Best Cruise Nail Polish Colors
This applies to men too. 😉 Or at least, get your calluses removed and your toenails clipped.
10. Check-in Online Ahead of Time
Many cruises prevent you from checking in within 24 hours of departure.
To be safe, check in to your cruise 1 week ahead of time.
11. Print Your Boarding Pass and Luggage Tags
Once you check in to your cruise online, make sure you are near a printer to print your boarding pass and luggage tags.
12. Research the Best Excursions/Things to Do in Each port
Some excursions are overpriced on a cruise ship, while others are cheaper than doing it on your own.
It can be difficult to figure out which excursion to take once on the cruise ship (WIFI is limited for doing any online research), so it's best to sign up for excursions before you get on the ship.
Plus, some excursions sell out ahead of time.
13. Check Your Closet
Many cruise ships have a Gala night.
Although people don't get dressed up as much as they used to, you'll still want to have a nice cocktail dress or a formal dress.
If you don't own a formal dress that you like (or that fits!), check out these best-selling formal dresses on Amazon for under $50.
RELATED: Best Formal Dresses that Hide Belly and Tummy
14. Get an RFID Credit Card Holder
Keep your credit cards safe when you travel. If you don't have an RFID credit card holder, you can buy a cheap one on Amazon for under $10.
15. Call Your Credit Card Company
You don't want your credit card company to de-activate your credit card!
Give them a quick call to let them know you'll be traveling.
16. Buy a Beach Bag with a Zipper
Many cruise ships will give you a complimentary plastic beach bag in your stateroom.
However, these beach bags are cheaply made and scream "tourist!"
Instead, pack a nice beach bag with a zipper. A beach bag with a zipper will keep your items secure. Plus, you won't have to worry about things accidentally falling out of your bag.
RELATED: Cutest Canvas Beach Bags for Vacation
17. Make Sure Your Passport Isn't Expired
Don't wait until the last minute to pack your passport. It's essential for most cruises, and it must not be expired!
Save yourself any last-minute stress and double (and triple check!) that you 1) know where your passport is and 2) confirm that your passport is not expired.
18. Download the Cruise App
Many cruises are moving their daily cruise activities to online apps vs. paper guides. (Not my preference, but what can one do?)
If your cruise ship has an online app for viewing daily activities, go ahead and download it ahead of time.
19. Double Check Your Dining Time
When you sign up for your cruise, you probably requested your dining time to be early or late.
Sometimes, however, you get assigned to "dine whenever."
If you want to eat at a designated time, call the cruise ship to confirm your dining time before you get on the cruise.
If it's too late, make sure to check in with the dining stewards right away when you get on the cruise ship.
That is one of my tips and tricks for cruise travelers to get the best table possible. 😊
20. Get Uber and Lyft on Your Phone
My mom and I always take Uber or Lyft to get to/from the airport (or hotel!) to the cruise ship terminal.
Taking an Uber/Lyft is MUCH cheaper than a shuttle, and more convenient.
Download both Uber and Lyft onto your cell phone in case one is unavailable or has a long wait.
Summary: What to Do Before a Cruise
In summary, there are a few easy and quick things you'll want to do a week before you leave for a cruise.
If you are traveling with others, make sure to share this article with your family and friends to help them plan too! 😊
Caribbean Cruise Guides to Check Out
Are you heading off on a Caribbean cruise?
Check out these detailed guides for popular Caribbean ports of call. You'll find out what to do on each of these islands. 😊
Bridgetown, Barbados Cruise Port Guide
St. George's Grenada Cruise Port Guide
Cruise Outfit Guides to Explore
Are you in need of a new outfit for your cruise?
You'll want to have a cute swimsuit, a nice beach and swimsuit cover up, and comfortable cruise-friendly dresses.
These guides will help you find a new cute and affordable outfit for your next cruise.
Super Cute Plus Size Beach Vacation Outfits
These plus size beach vacation outfits are PERFECT for wearing on a cruise.
Beach Vacation Outfits for Women
Find 35 cute beach vacation and resort-wear outfits. These affordable beach vacation outfits are perfect for wearing on a cruise. 😊
Find matching swimsuit and swimsuit cover up outfits that are perfect for a day at the beach!
Connect with Chic Lifestyle for Travel Tips and Tricks
I'd love to connect with you!
Follow Me on Facebook to get notified of new beauty, makeup, and fashion posts!
Please subscribe to my YouTube channel. You'll find how-to tutorials for very easy makeup and bleaching hair blonde at home.
Sign up for the Chic Lifestyle Newsletter.
Lots of love!
Christina Marie from Chic Lifestyle (offering beauty product reviews, very easy makeup tips, and affordable outfit ideas for women)