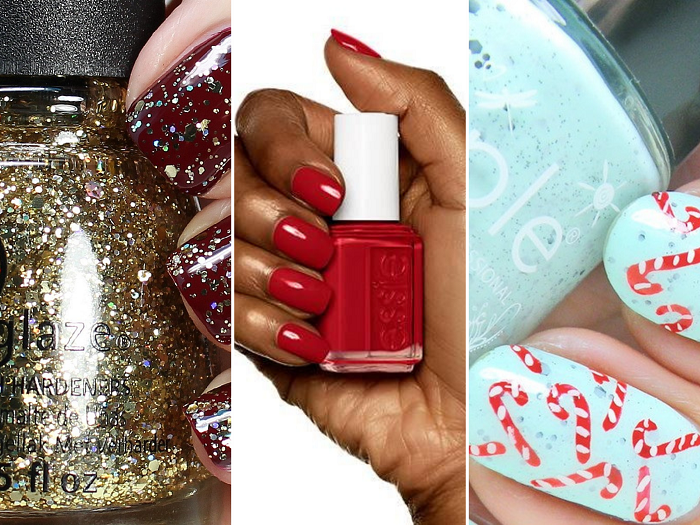 Christmas Nails
Happy holidays!
As you are getting ready for Christmas and the holiday season, it's time to add some sparkle to your day with fun and festive nails.
The best Christmas nails include sparkles, Christmas colors (like red and green of course!), and wintery colors like light blue and silver.
Christmas Nail Ideas
Continue scrolling to find the best Christmas nail polish colors and the best Christmas nail design ideas.
This post contains affiliate links. View the disclosure here.
10 Cutest Christmas Nail Colors this Holiday Season
If you want cheerful and fun nails for the holidays, then check out these trending Christmas nail polish colors.
These are my personal favorite nail polish colors to wear around Christmastime.
1. Deep Red
2. Shimmery Blue
3. Speckled White
4. Sparkly Light Pink
5. Rich Purple
6. Snowflake Blue
7. Sparkly New Year's Pink
8. Shimmery Pink
9. Sparkly Gold or Gold Sparkles Over Red
Add the China Glaze nail polish in "Counting Carats" over a deep red nail polish to copy the winter holiday nails below.
10. Classic Red
11. Holly Jolly Red and Green Sparkles
Paint this sparkly green and red nail polish over red nails (I recommend I Got the Blues for Red by OPI) for fun Christmas nail designs!
12. Clear Glitter Christmas Polish
This sparkly nail polish is perfect for Christmas nails!
Trending Christmas Nail Designs for 2022
Want to get into the holiday spirit?
Check out these trending winter nail designs and ideas for Christmas or wintertime!
1. Peppermint Swirls
2. Reindeer and Santa Claus
3. Minty Green and Candy Canes
4. Gingerbread Men
5. Snowflakes on a Winter Day
6. Christmas Decorations with White Polka Dots
These Christmas nails are so fancy and fun!
7. Green and Gold Sparkles
These Christmas nails with green and white stripes and gold and green sparkly nail polish are fun!
8. Reindeer and Snowflakes
These Christmas nail designs with reindeer and pink and white snowflakes are so cute!
9. Winter Wonderland
Love these Christmas nails? You can buy these nail wraps on Etsy!
10. Candy Canes
Who doesn't love candy canes? These red and white candy cane nails are fun!
11. Mickey Mouse and Disney Decorations
These Disney Christmas nails are perfect for Christmas at Disney!
RELATED: Disney Christmas Outfits
Related Articles by Very Easy Makeup
Liked this article on the trending Christmas nail colors with fun holiday nail ideas for Christmas?
Check out these wintery articles too!
Outfit Ideas with Pleated Skirts
The Best Red Dresses on Amazon
Connect with Very Easy Makeup
I'd love to connect with you!
Follow Very Easy Makeup on Facebook to get notified of new beauty, makeup, and fashion posts!
Please subscribe to the Very Easy Makeup YouTube channel. You'll find how-to tutorials for very easy makeup and bleaching hair blonde at home.
Sign up for the Very Easy Makeup Newsletter.