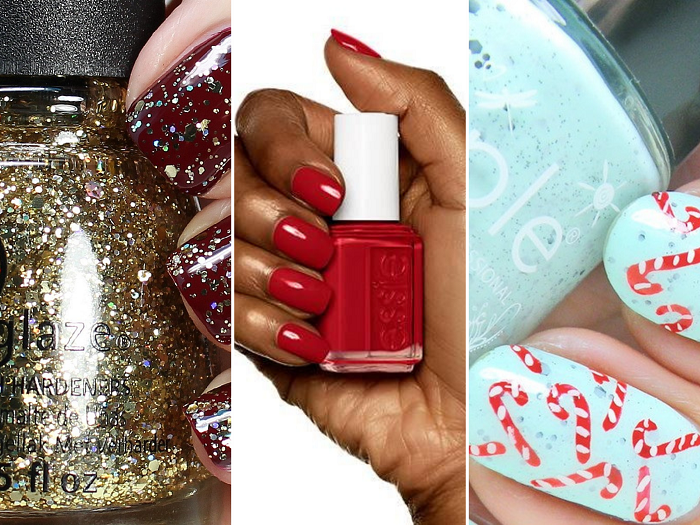 Winter Nails 2022
Happy winter!
As the days become shorter, it's time to cozy up on the couch, hang up your holiday decorations, put on some cozy pajamas, and enjoy a night in.
This post covers the up-and-coming trends for winter nails.
P.S. - Want to see the best Christmas nail polish colors? Check out this post with Christmas nail colors and Christmas nail design ideas.
Popular Nail Polish Colors for Winter 2022
If you want fun and trendy nails for winter, check out these trending nail polish colors.
Hot (or should I say cool and sweet, since it is getting to be the holidays? 😊) winter nail colors for 2021 include bright and cheerful reds, soft and feminine pinks, and shimmery and glittery nail polish colors.
Below are the trending winter 2021 nail colors that I love right now. Cheers!
1. Deep Red
---
2. Shimmery Blue
---
3. Speckled White
---
4. Sparkly Light Pink
---
5. Rich Purple
---
6. Snowflake Blue
---
7. Sparkly New Year's Pink
---
8. Shimmery Pink
---
9. Sparkly Gold or Gold Sparkles Over Red
Add the China Glaze nail polish in "Counting Carats" over a deep red nail polish to copy the winter holiday nails below.
---
10. Classic Red
Trending Winter Nails Designs for Winter 2022
Check out these trending winter nail designs!
1. Icy Tips
2. Metallic Gold Flakes
3. Gold Stars on Pink
4. Silver Tips
5. Purple Please
6. Snowflakes on a Winter Day
Related Articles by Very Easy Makeup
Liked this article on the trending winter 2021 nail colors?
Check out these wintery articles too!
Outfit Ideas with Pleated Skirts
The Best Red Dresses on Amazon
Connect with Very Easy Makeup
I'd love to connect with you!
Follow Very Easy Makeup on Facebook to get notified of new beauty, makeup, and fashion posts!
Please subscribe to the Very Easy Makeup YouTube channel. You'll find how-to tutorials for very easy makeup and bleaching hair blonde at home.
Sign up for the Very Easy Makeup Newsletter.
This post contains affiliate links. View the disclosure here.