11 Short Square Nail Designs You Can't Miss!
This post may contain affiliate links, which means I may earn a commission if you decide to make a purchase through our links, at no cost to you. You may view the disclosure here.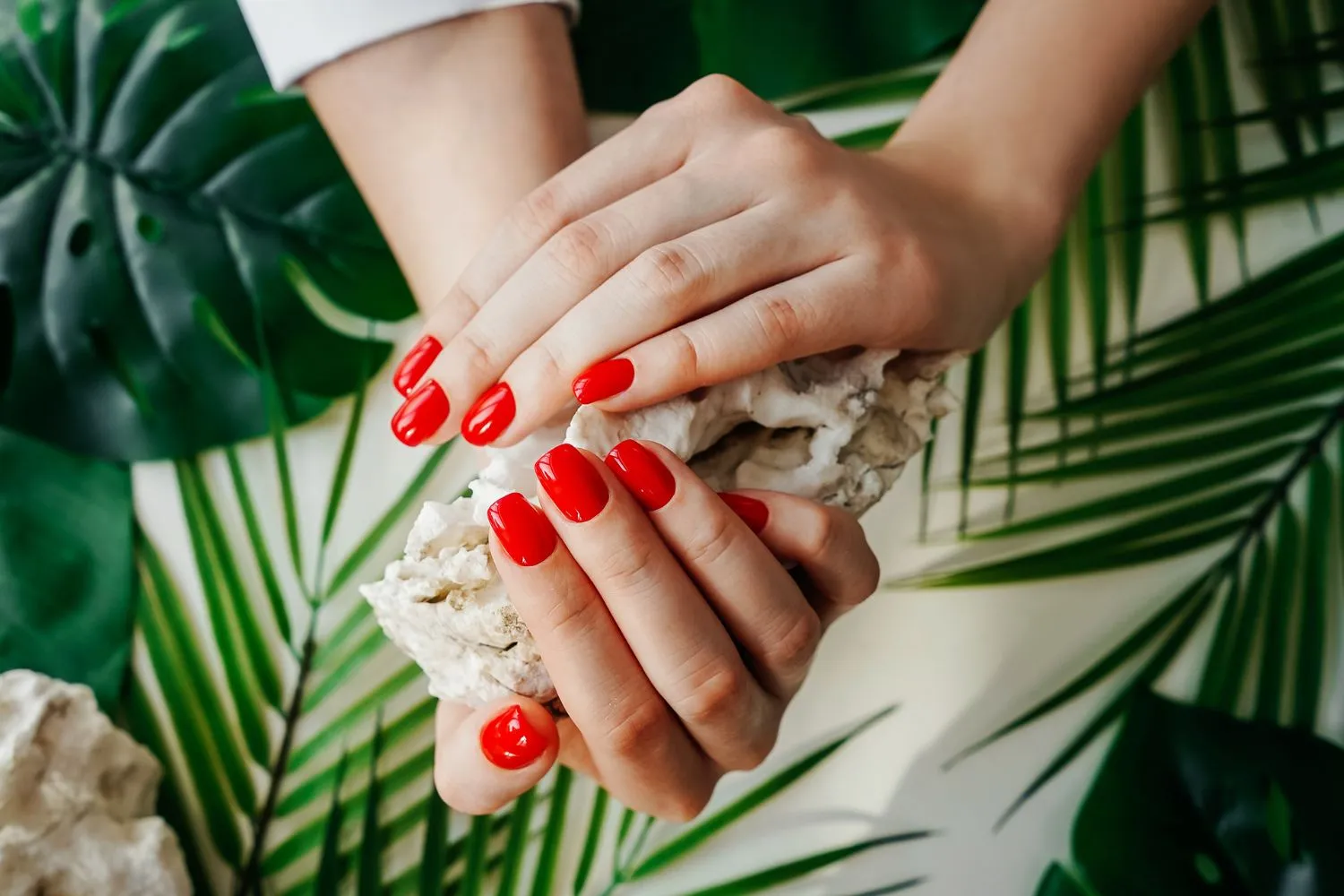 Hey girl! Let's talk nails – specifically, those fierce short square nails that have been taking the beauty world by storm. Picture this: sharp edges, bold vibes, and endless design possibilities…and easy to maintain too!
This nail guide is all about short square nail ideas and the best short square nail designs!
This post contains affiliate links. View the disclosure here.
What Are Square Nails?
Before jumping into the best short square acrylic nail designs, let's talk about square nails. Let me break it down for you.
Square nails are a nail art trend that's all about embracing your inner boss babe. They're crafted by shaping acrylic powder onto your natural nails and then giving them that squared-off edge. Think sleek lines, clean edges, and a power-packed look that's oh-so-versatile. These nails are like your ultimate canvas to express yourself and show off your unique style.
Unlike coffin nails, square nails are more of a rectangular shape vs. a triangle shape.
Square Nails vs. Coffin Nails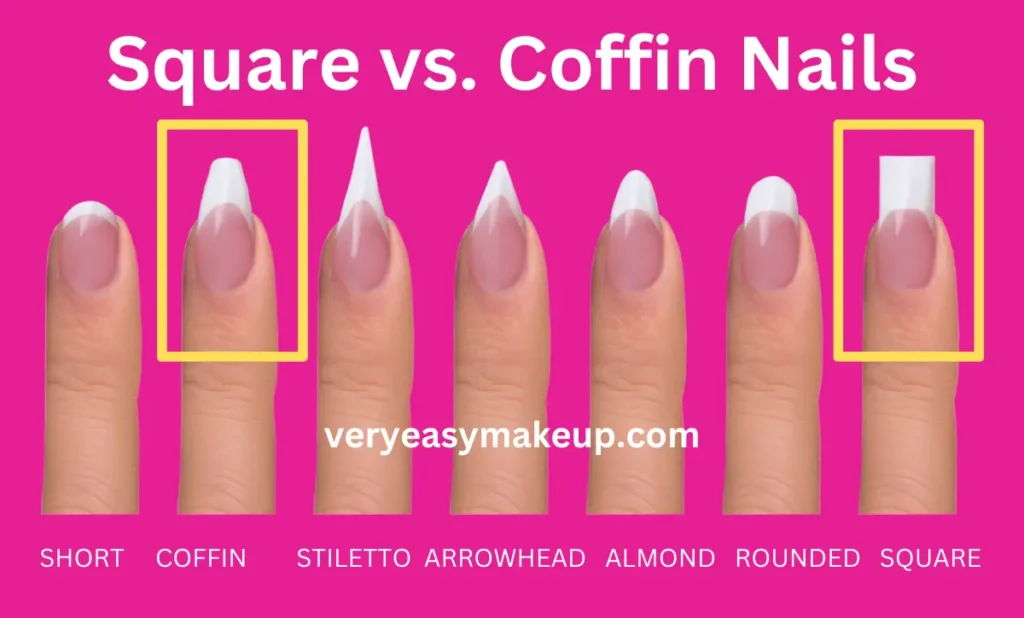 What Are Short Square Nails?
Short square nails have the same shape as square nails, except they are short! The great thing about short square nails is that they are appropriate for a professional business environment. Short square nails are also great for women that play sports!
Below are examples of short square nails. The nails on the top right are more "medium length" square acrylic nails vs. short square acrylic nails.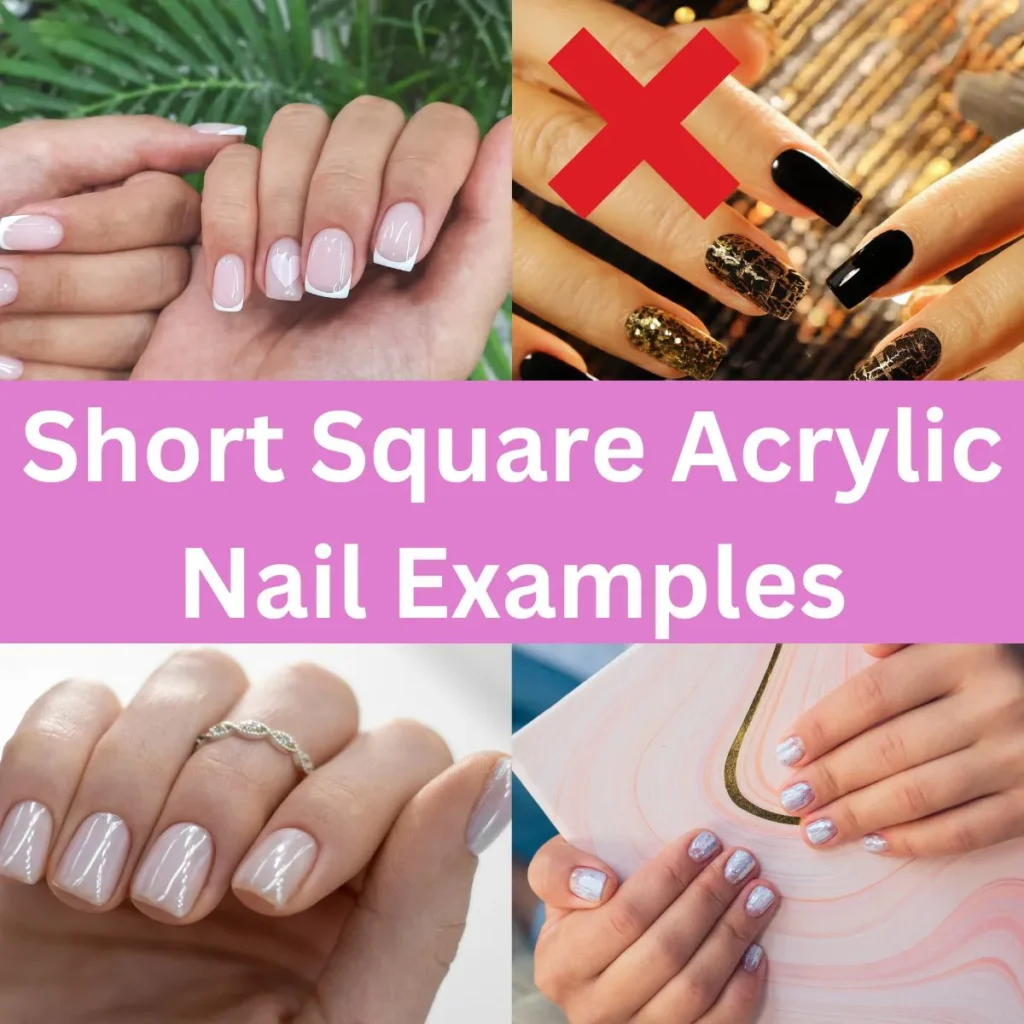 Short Square Nail Designs You Can Do Yourself
Alright, now let's jump in!
Below are the short square nail designs I am loving right now! (P.S. – Please leave a comment below to share your favorite short square nail design idea!)
1. Lavender and Swirls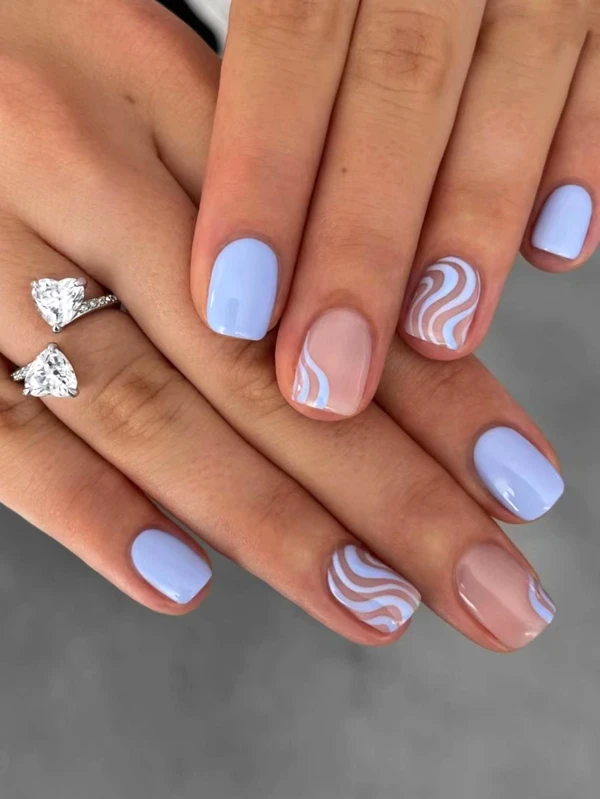 These short square lavender and swirl nails are perfect for spring and early summer!
2. Shiny Burgundy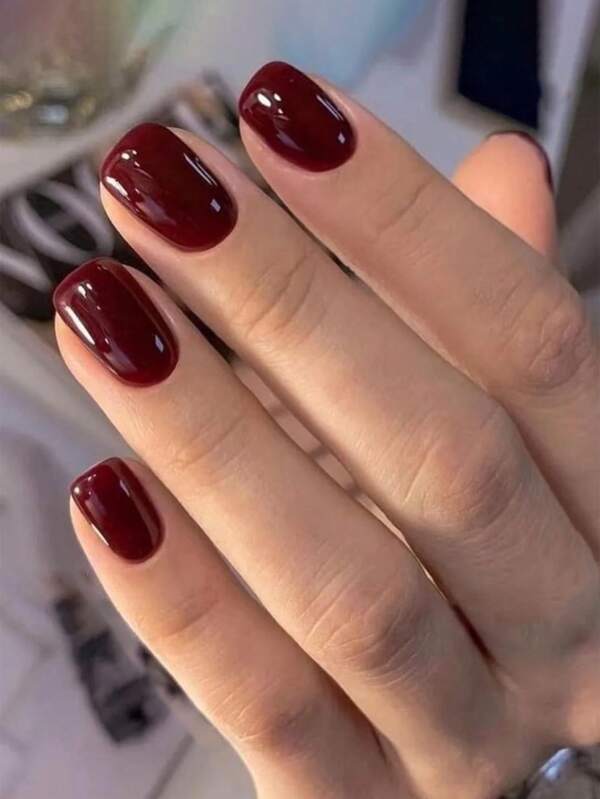 Burgundy nails are perfect for winter and late fall. These short square nails would look great if you have olive-colored skin!
3. Barbie Pink with Sparkles and Flowers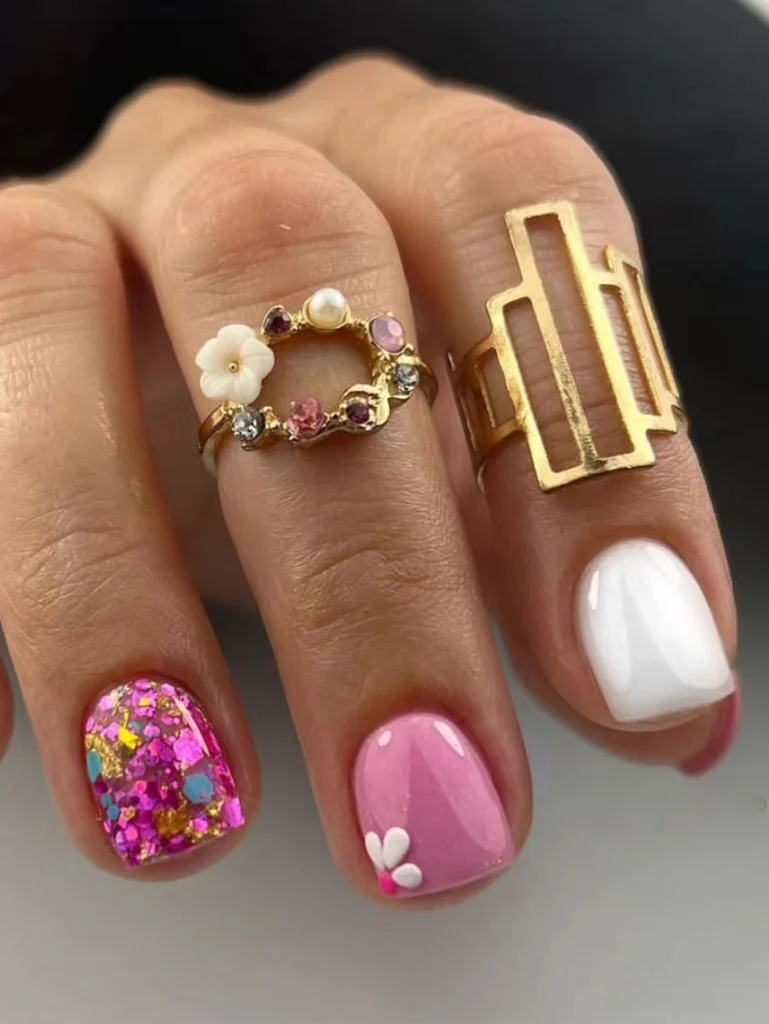 These short square nails are so cute!! Perfect for anything Barbie-inspired.
4. Tropical Swirls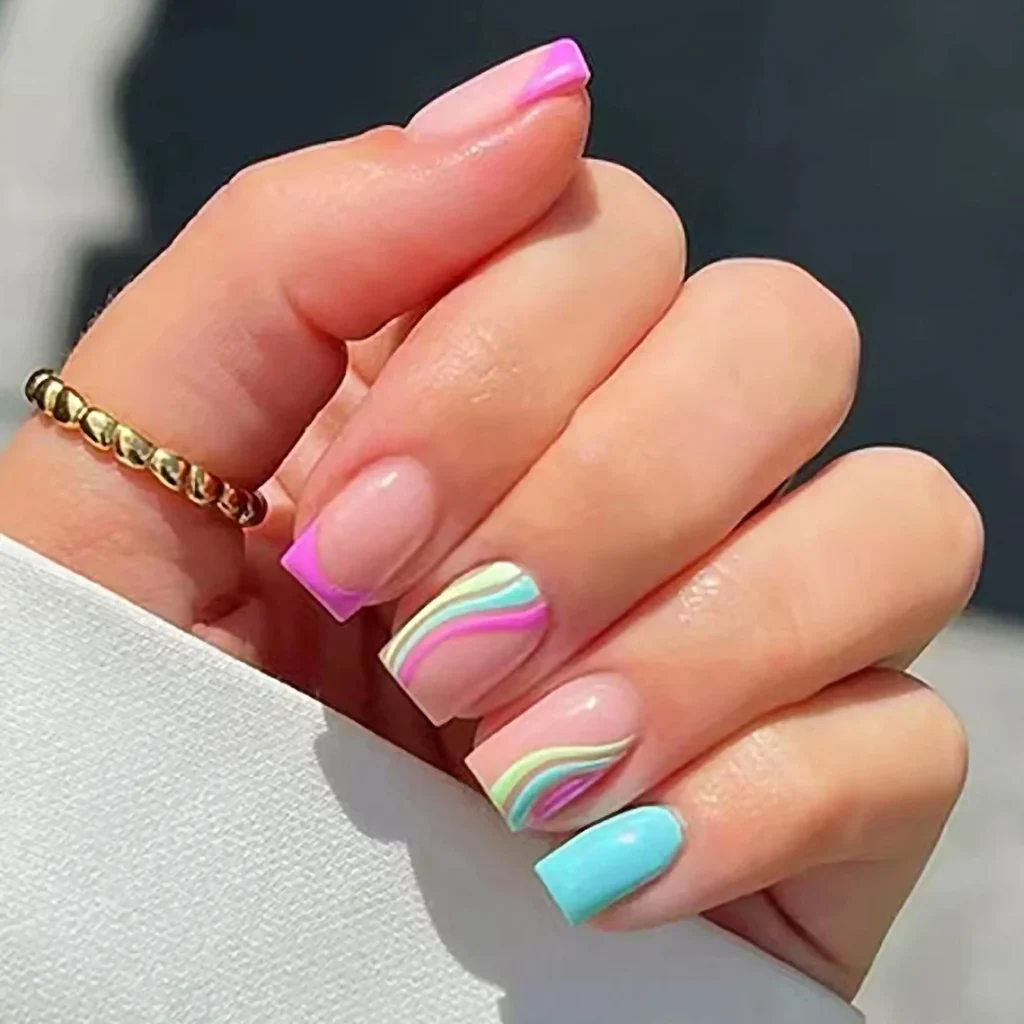 These fun nail designs are the perfect square nails for summer!
5. Minty Green and Clear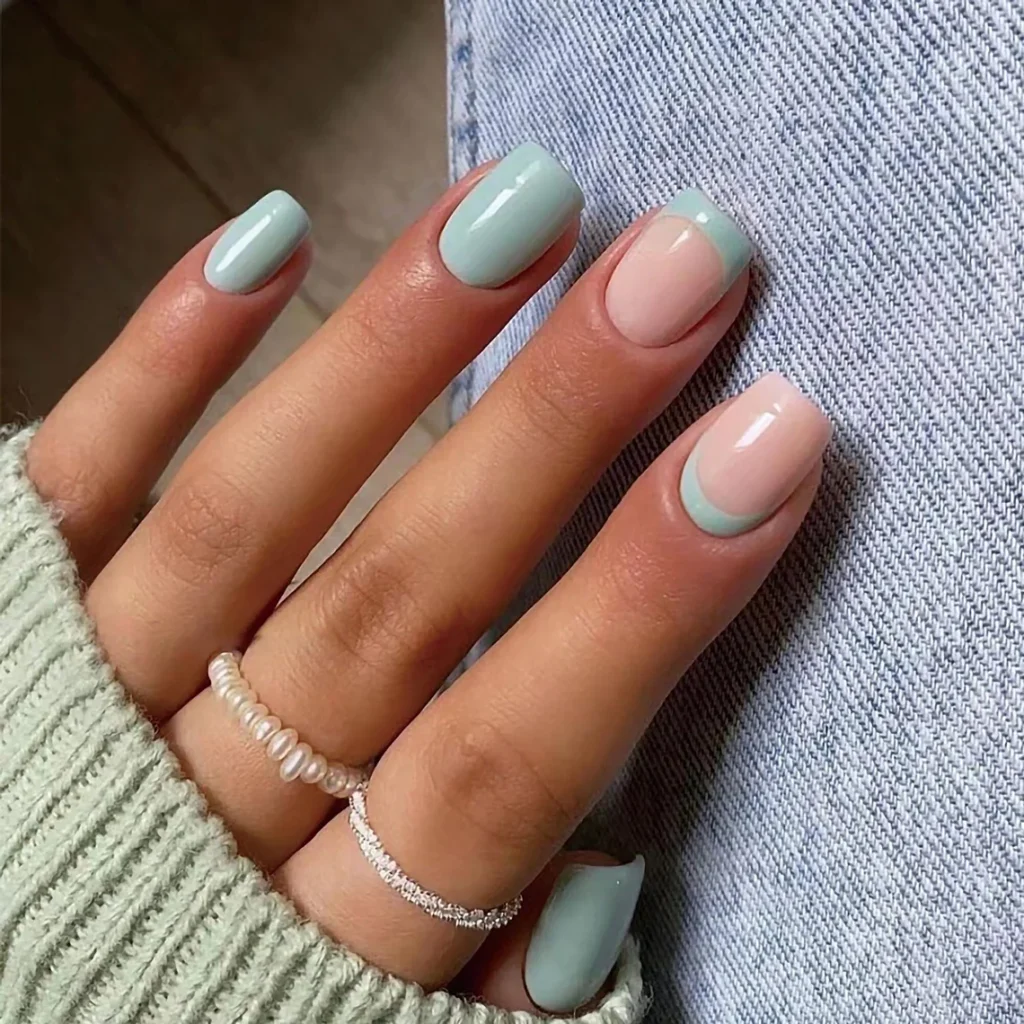 These mint green square nail designs are perfect for early spring! These square short nails would look super cute with a light pink dress or a hot pink outfit!
6. Dusty Pink with White Hearts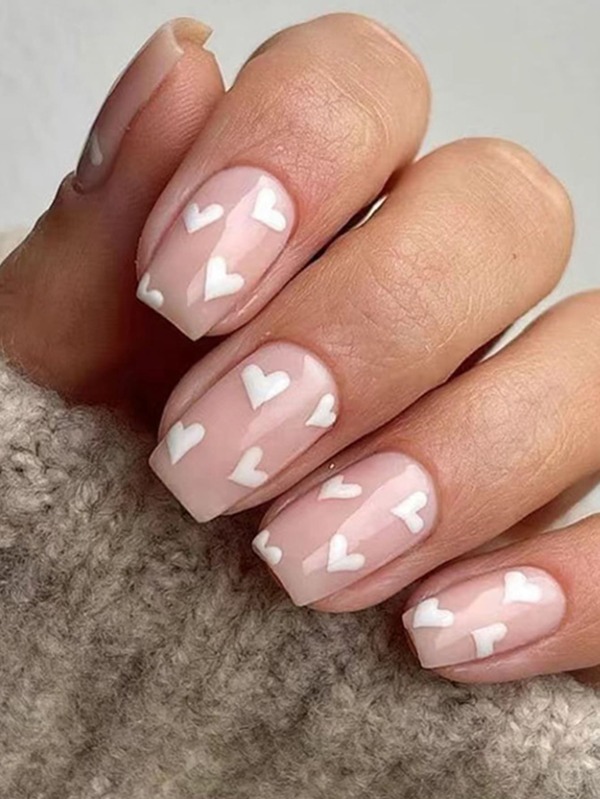 These short to medium-length square nail designs are so cute! Perfect for wearing on Valentine's Day with a cute Valentine's Day dress!
7. Matcha Mint Green with Daisies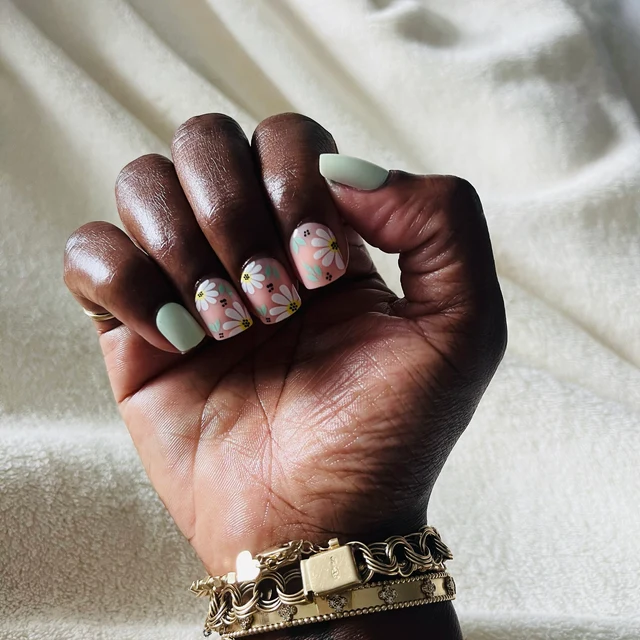 You'll want to hop into spring with these cute short square nail designs! These square press-on nails from Etsy are darling!
8. Monochrome Flowers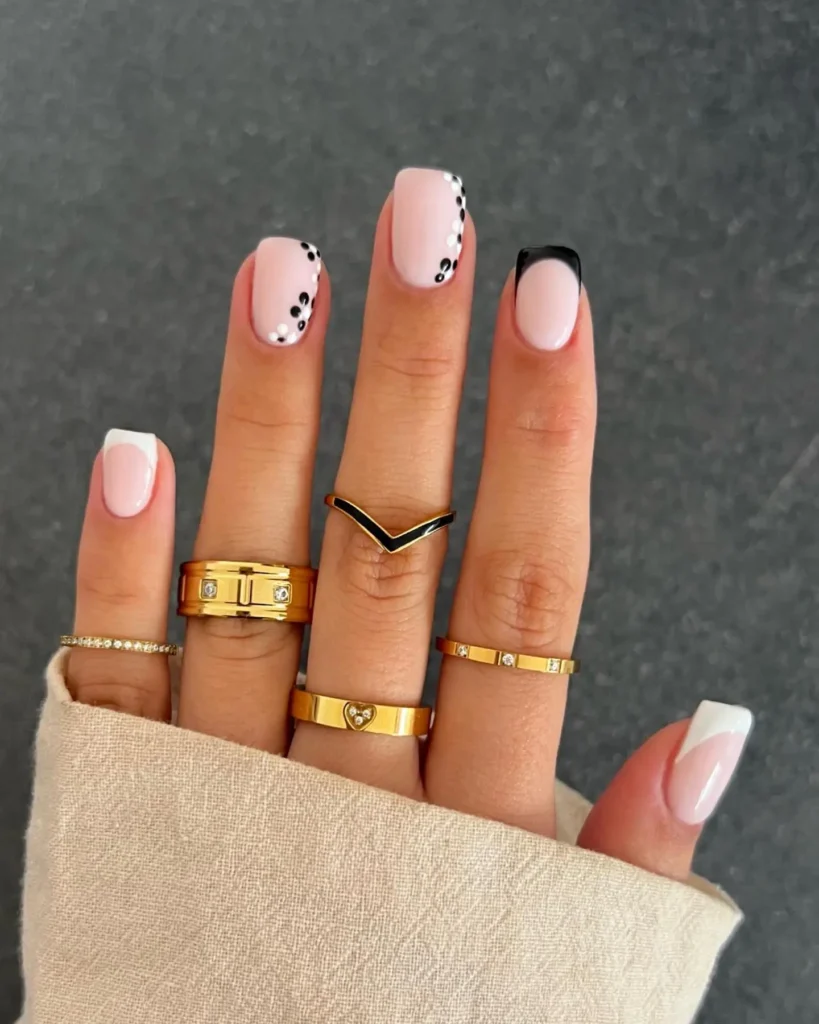 These short square nails are so beautiful!! You can easily do these short square nail designs with bunny builder gel, white gel polish, and black gel polish. P.S. Love these rings? They are from Bohomoon!
9. French Mani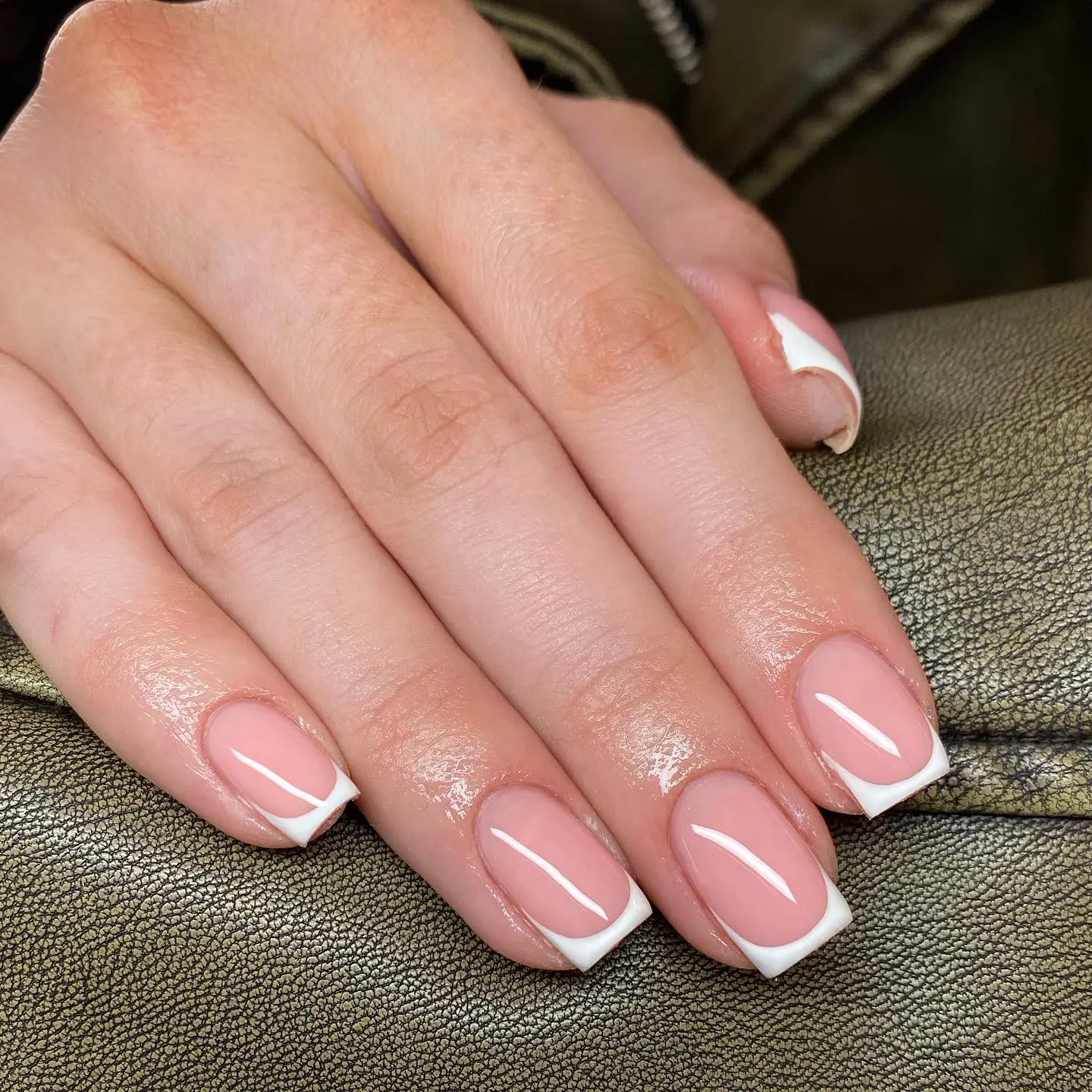 A french mani with short square nails is so beautiful! Perfect for any time of year, especially for the fall when paired with a faux leather jacket! 😍
10. Mocha Brown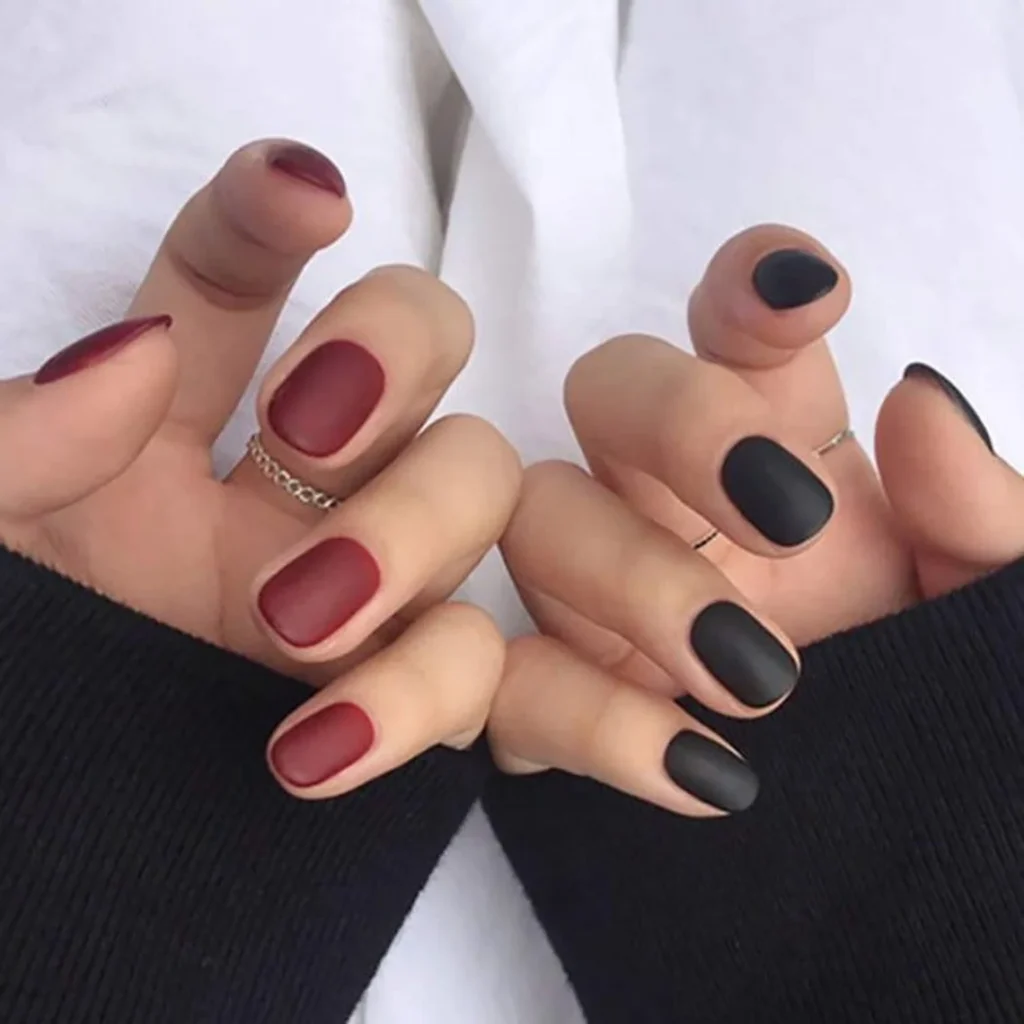 If you want simple nails, you can't go wrong with a solid matte-colored mocha brown or black!
11. Burgundy with Gold Flakes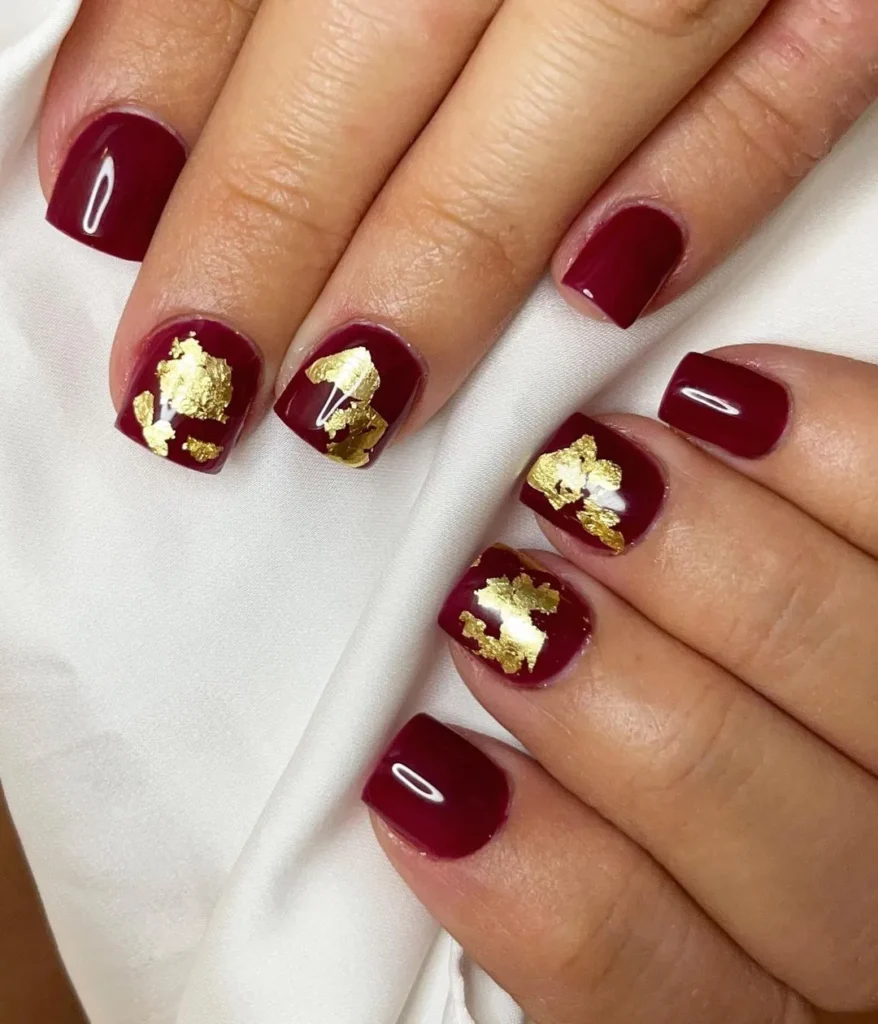 Searching for some winter nail ideas or Christmas nail ideas? Go with a burgundy nail polish and then add gold flakes!
How to Do Short Square Acrylic Nails at Home
If you want to do your own acrylic nails at home, you can save yourself a LOT of money. Plus, it's relatively easy once you've done it once or twice! (Practice makes perfect!) Check out this how-to guide on how to do acrylic nails at home. It includes step-by-step instructions to do short square acrylic nails at home.
Short Square Nails vs. Long Square Nails
Now, let's tackle the age-old question – short or long? Short square nails are like the minimalist chic of the nail world. They're easy to maintain and perfect for everyday life. On the other hand, long square nails are a true declaration of confidence, a wearable piece of art that demands attention wherever you go. It's all about what makes you feel most empowered, girl!
Summary
There you have it, girl – square nails are a statement-making trend that's all about embracing your individuality and owning your style. So whether you're into classic elegance, bold and beautiful looks, holographic dreams, modern monochrome, or metallic magic, these nails are ready to slay any mood you're in.
More Nail Ideas
Check Out All Nail Design Ideas