10 Cute Summer Short Square Nails – Sizzling Hot!
This post may contain affiliate links, which means I may earn a commission if you decide to make a purchase through our links, at no cost to you. You may view the disclosure here.
Hey there gorgeous! Ready to dive into some sizzling summer nail talk? Whether you're sippin' on iced coffee or loungin' by the pool, one thing's for sure – summer nails need a splash of fab! 🌞
If you're all about chic comfort, then summer short square nails are the way to go! From vibrant corals to sun-kissed glitters, I've got the scoop on short square nail ideas for summer that'll have your fingertips screaming, "Hello, summer!" Ready, set, let's nail it! 🤩🔥
This post contains affiliate links. View the disclosure here.
What Are Short Square Nails?
Short square nails are a nail style characterized by their specific shape and length. These nails are filed into a squared-off shape with straight edges, creating a clean and tailored look. Unlike longer nail styles, short square nails offer a more practical and manageable length while maintaining a stylish appearance. This style is versatile and serves as a canvas for various nail art designs, ranging from bold colors to intricate patterns. The shorter length of makes them ideal for day-to-day activities.
If you want easy-to-maintain nails for summer that are also fun and unique, then short square nails are the way to go!
Summer Short Square Nails and Ideas!
Below you'll find light pink, fun coral, vibrant blue, and white short square nail ideas for summer. Let's get right to it!
Tropical Swirls with Pink and Teal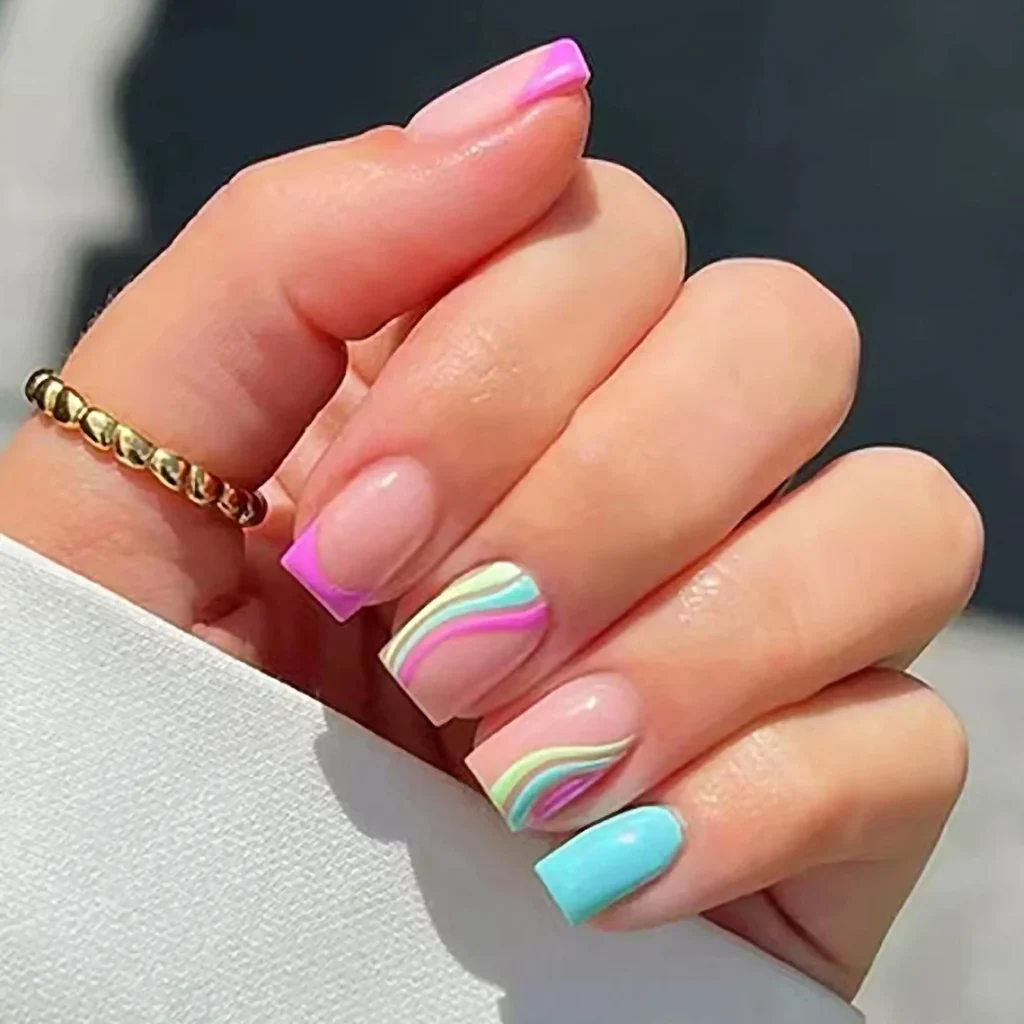 These colorful short square nails for summer are so cute!!! These short square summer nails remind me of Miami or southern California. These cute summer short nails are press-on nails and are less than $15 on Etsy too.
2. Mint Green with Daisies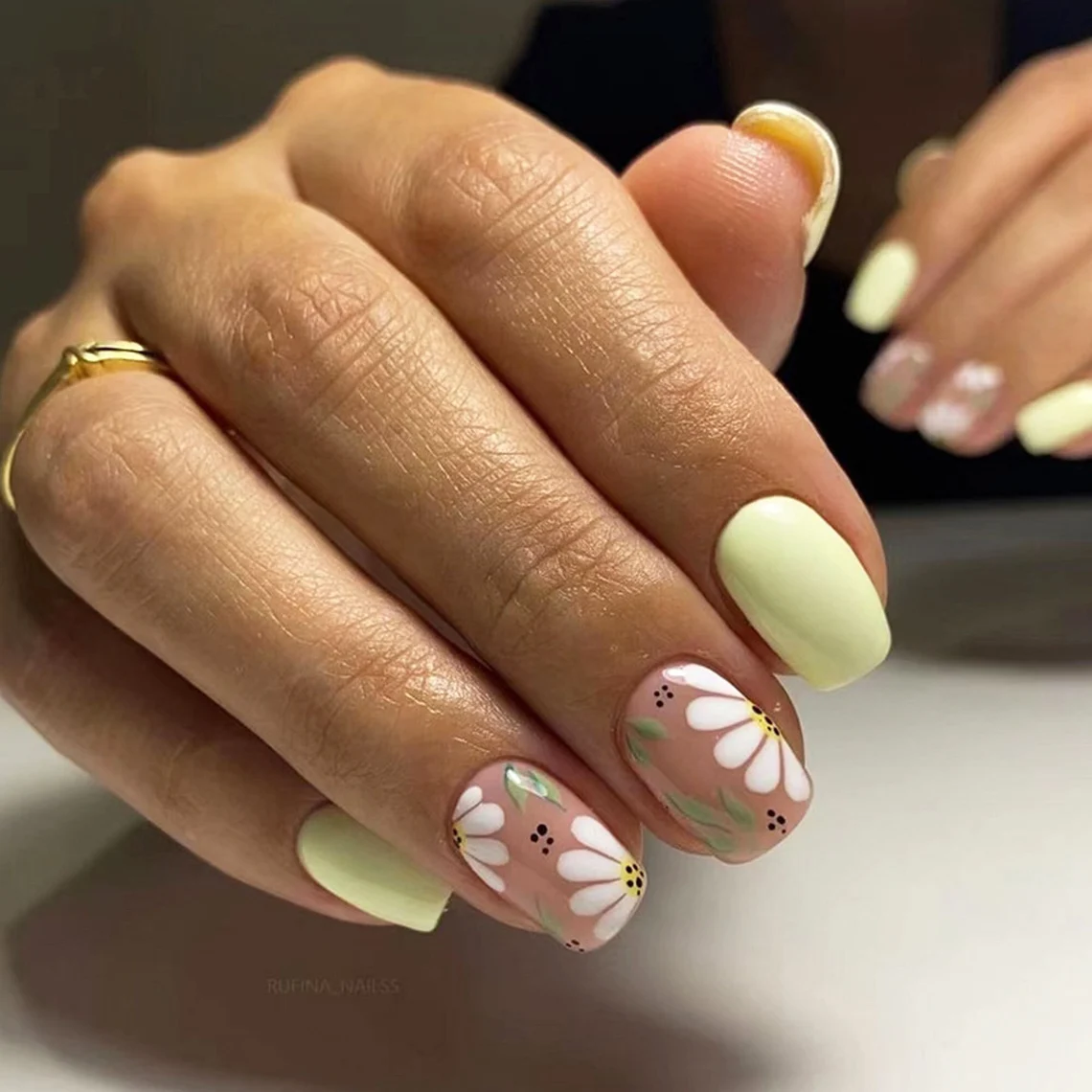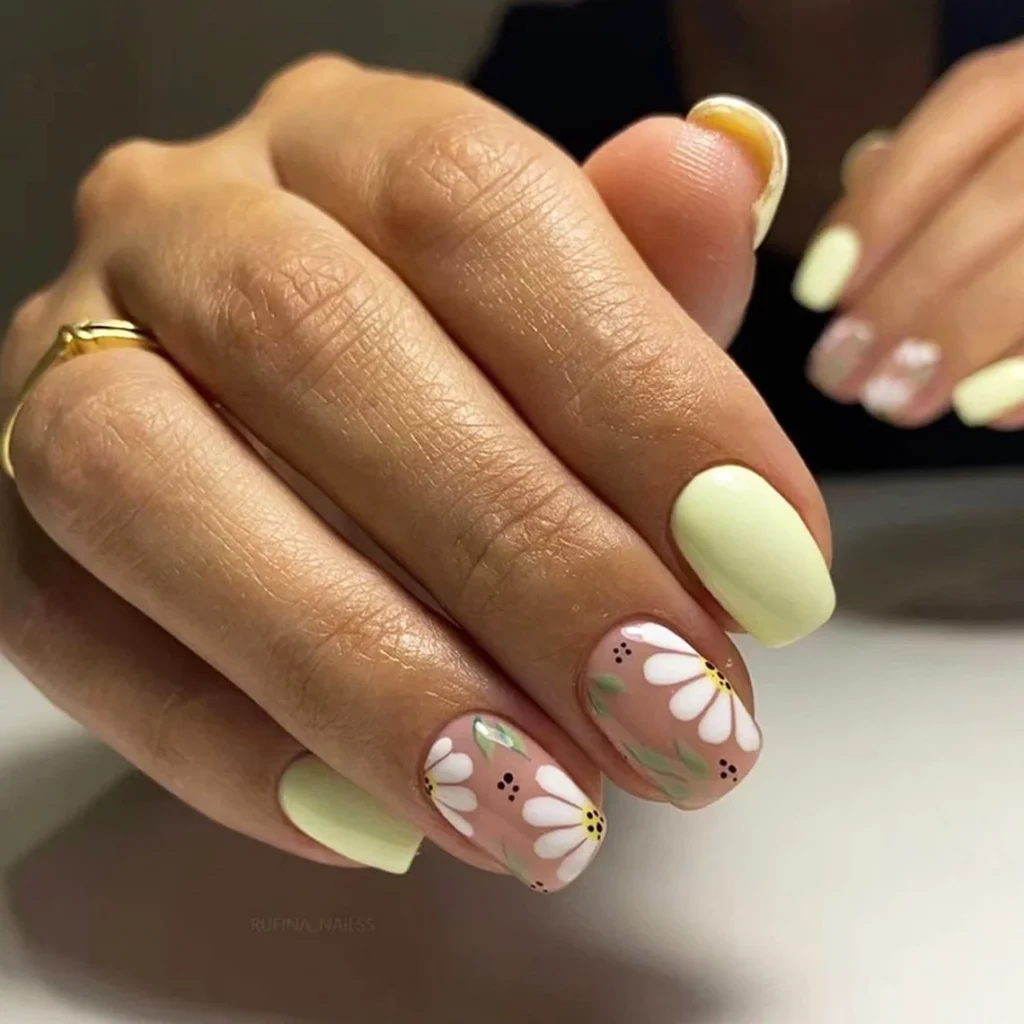 Can you say cute!?! These summer short square nails are so pretty and cute! These glue on nails from Etsy are perfect for spring or summer. Perfect for Easter nails too!
3. White, Pink, and Orange Flowers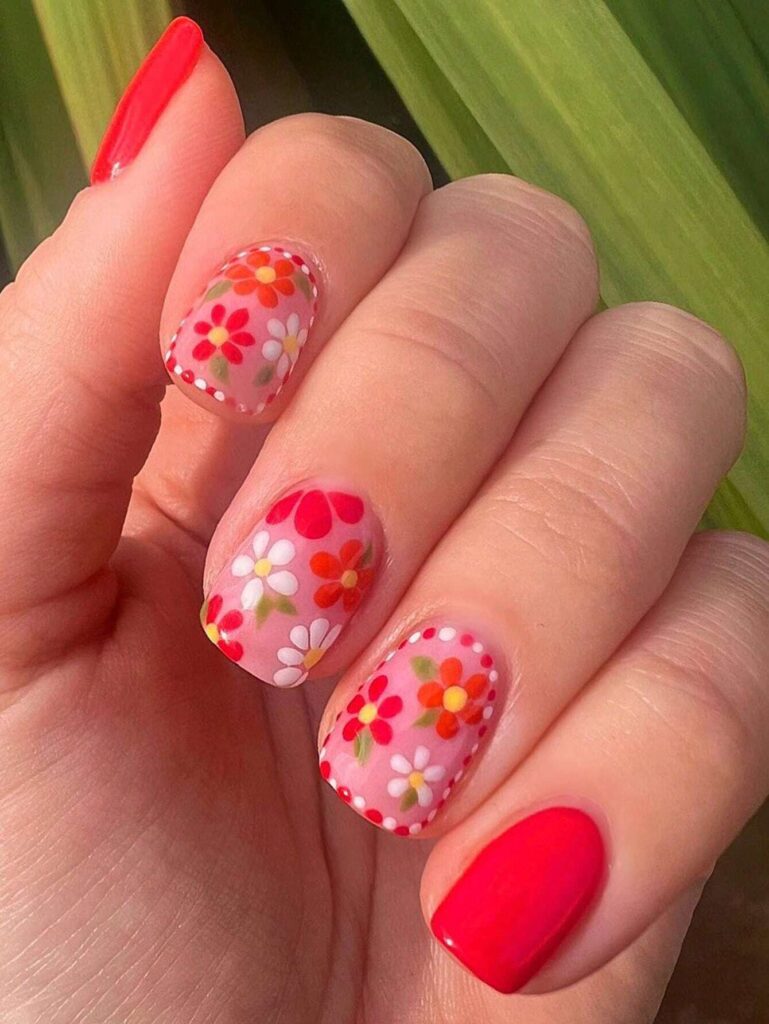 These fun and cute summer square nail designs are so much fun!! You'll be hopping with you whenever you look at these fun summer nails.
4. Hot Pink with Smiley Faces
Want whimsy and fun summer nails that are both eye-catching and mood-lifting? If so, these vibrant/hot pink nails with smiley face designs are the nail designs for you!
5. Blue Plaid with Flowers and Bumble Bees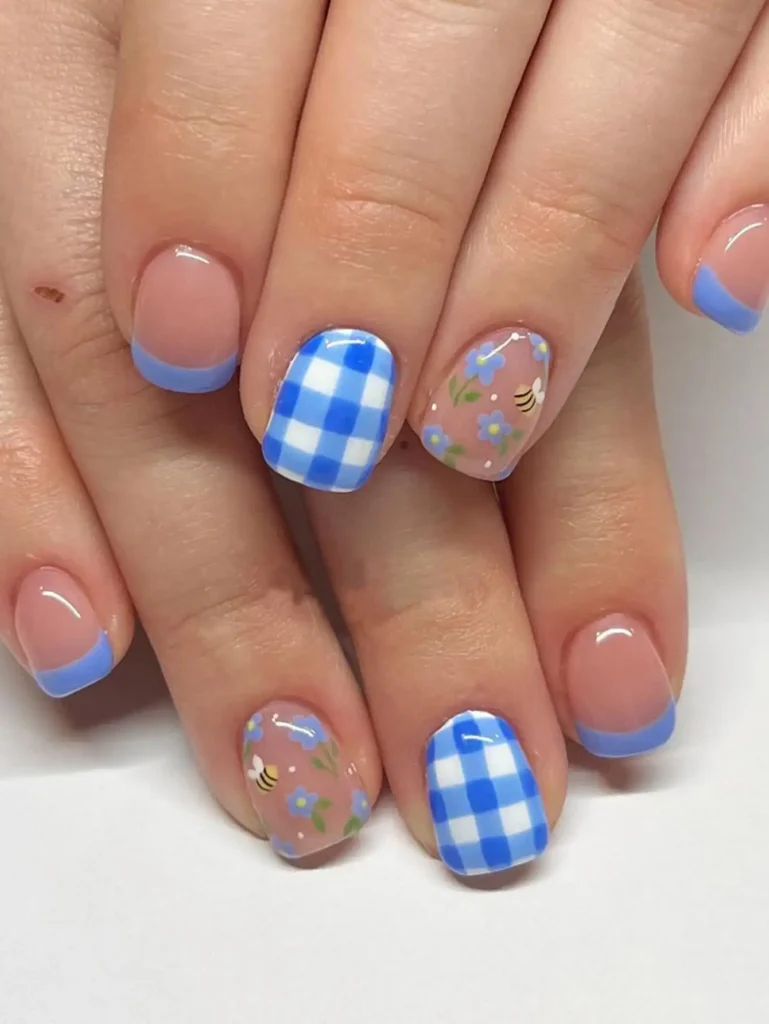 Want super cute summer square nails that are perfect for a picnic? If so, then these square summer nail designs are the way to go! Plus, these press-on nails are super cheap on SHEIN!
6. Pastel Colored French Manicure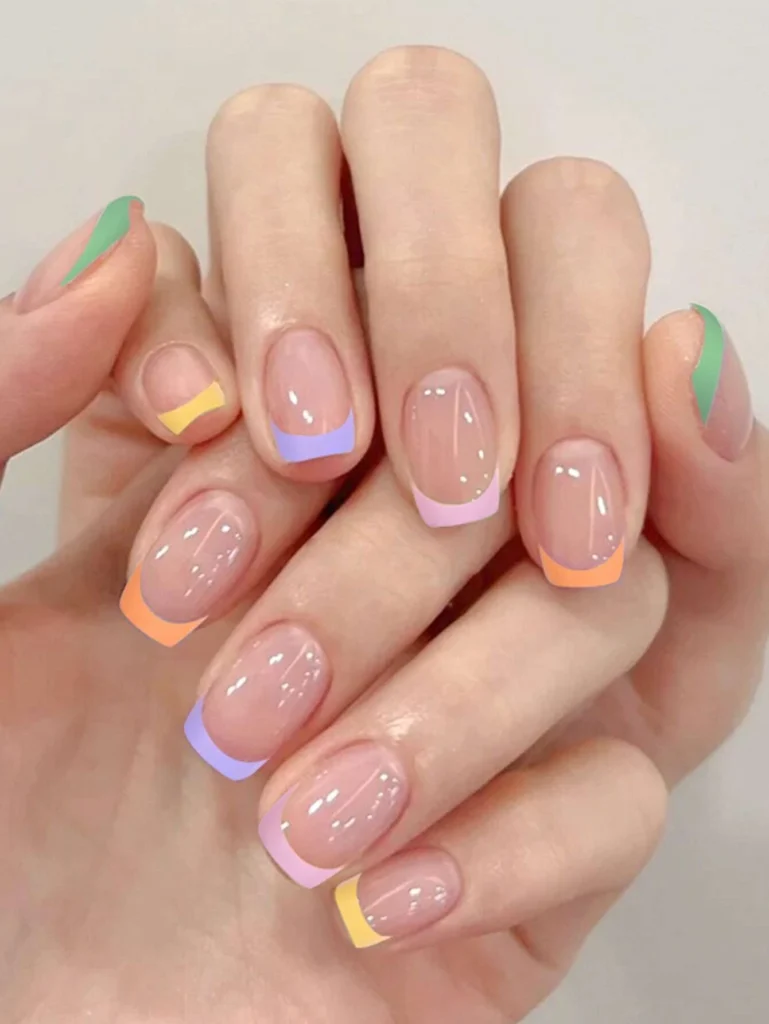 These summer square nails are super cute!! Perfect for summertime and colorful too!
7. Fun with Stripes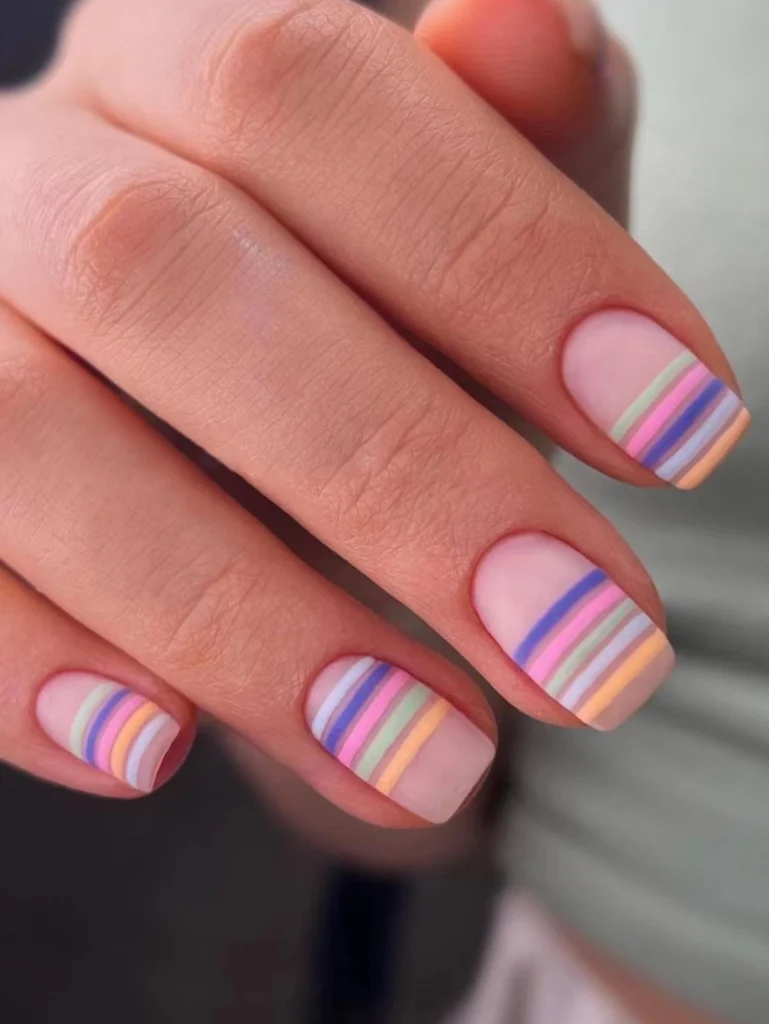 These square nails with stripes are so much fun!! Bringing back retro vibes!
8. Blue Swirls with Blue and Light Pink
These short square nails are so fun and flirty!! If you want an easy DIY short square nail design for summer, this is the design to copy! The rings shown in this photo are by Bohomoon.
9. Funky Frenchies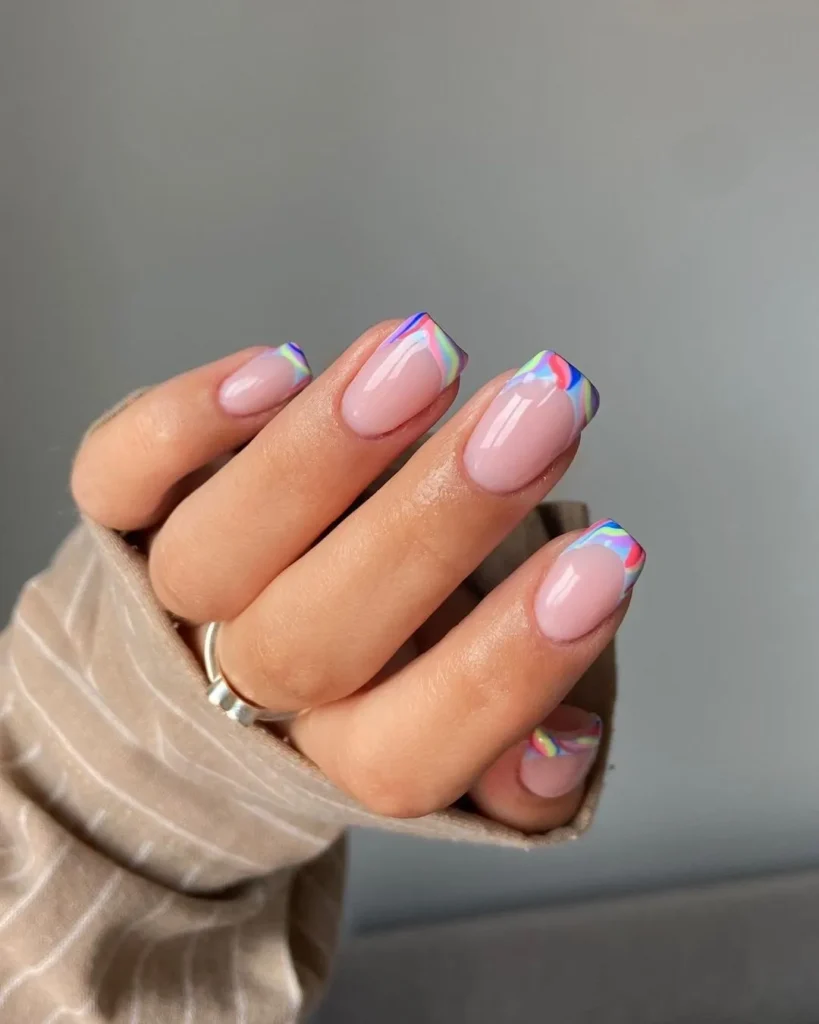 You can do these own short square nails yourself if you have the right products! These nails were created using Glitterbels products. You'll want to use Cookie Cream builder gel, Love me, Rainy cloud, She's electric, Prinny pink, You'll beautiful, and Apricot fuzz.🕺🏻💓🤪
10. French Manicure + Blue Swirls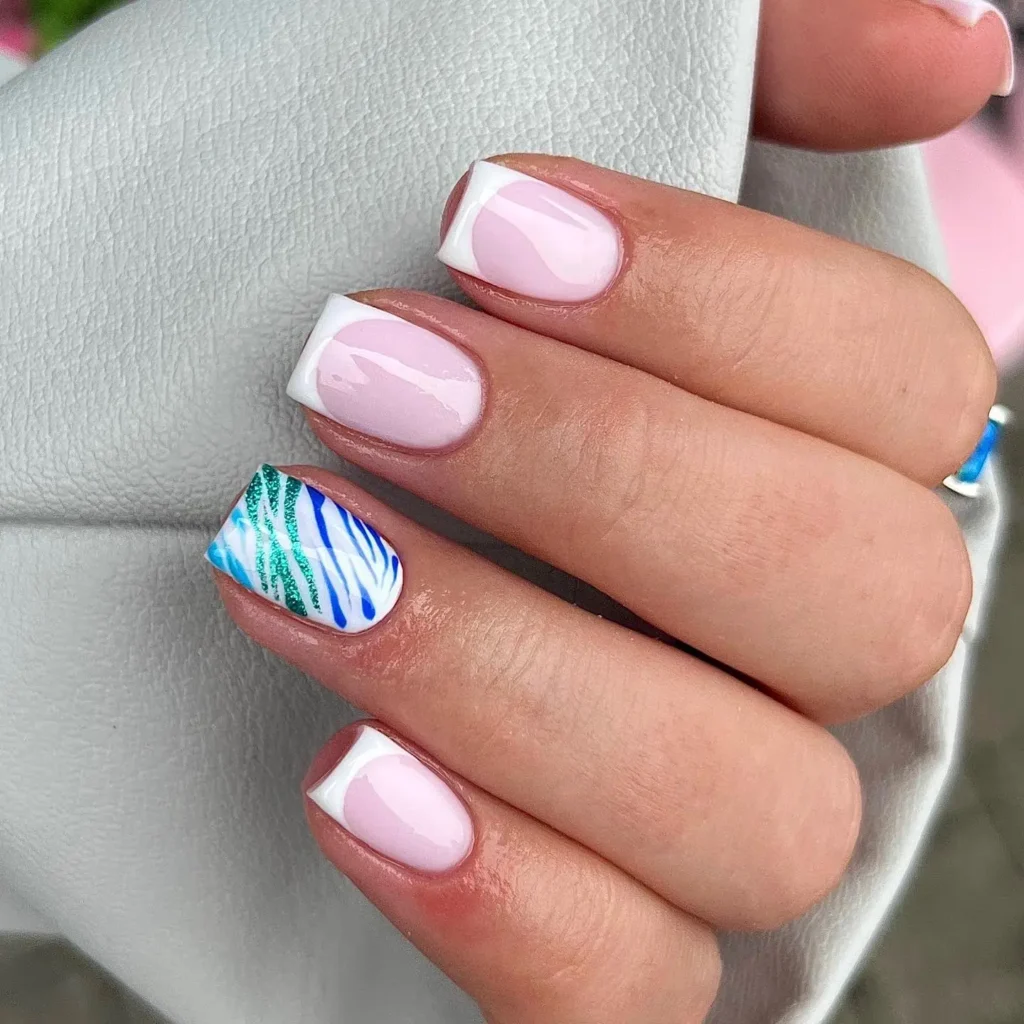 Love french manicures, but want something with a little bit more jazz? Then you can do all of your nails with the standard french manicure design, and then paint one nail with blue and turquoise swirls!
Fun Colors for Summer Short Square Nails
Want a solid color of nail polish for your square nails? Below are some fun (and unique!) colors to try on your short square nails this summer.
1. Black
Want to stand out this summer? Go with black short square nails! Black is a great nail color if you are heading out to a rock concert or if you simply want to stand out! Black short square nails for summer also look pretty badass with Doc Martens if I may say so myself.
2. Coral
Coral is one of my favorite colors for summer! If I could only recommend one color for short square nails to wear in the summertime, it would probably be coral!
3. Vibrant Blue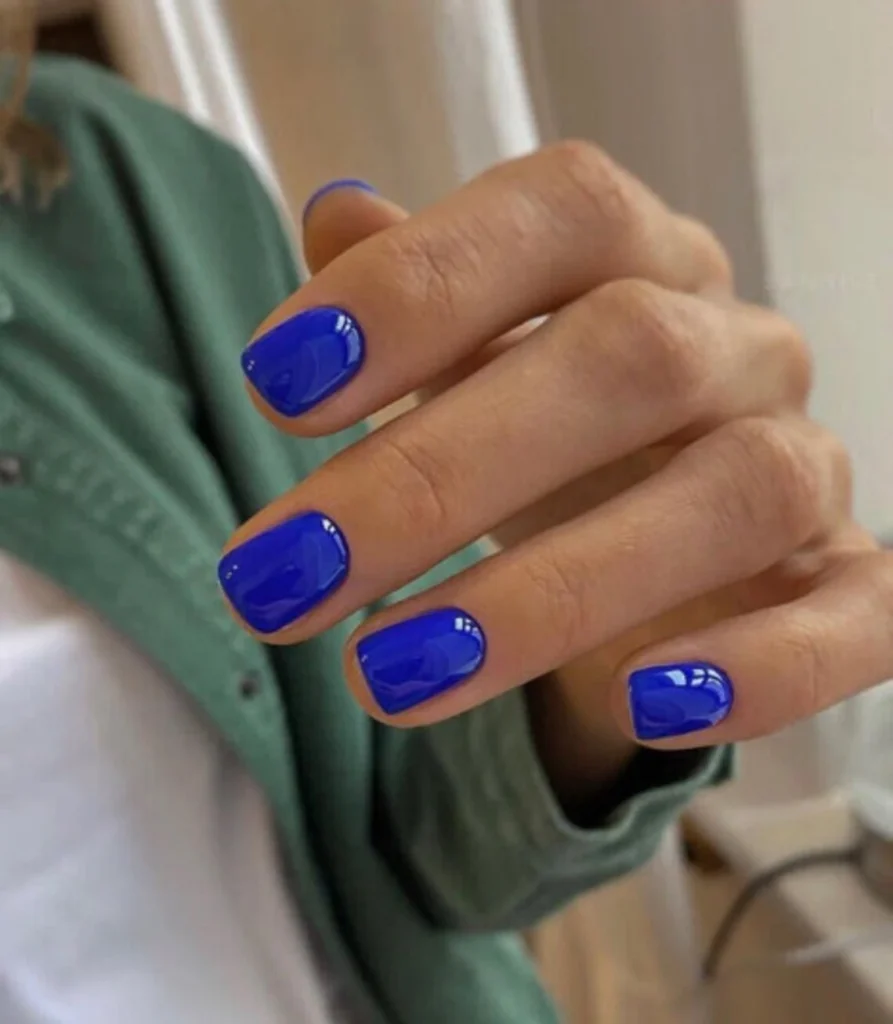 Summer calls for bold and vibrant nails, and vibrant blue looks great on short square nails! If blue isn't your favorite, these press on nails also come in pink, baby blue, and peach.
Conclusion
In conclusion, there are so many short square nail ideas for summer. From vibrant and fun to more simple and classy, you have so many options when it comes to summer short square nails.
Which design do you love the most? Please leave a comment below. I'd love to hear from you!
More Nail Ideas
Amazing Short Square Nail Design Ideas
Short Square Nail Ideas (Pinterest)