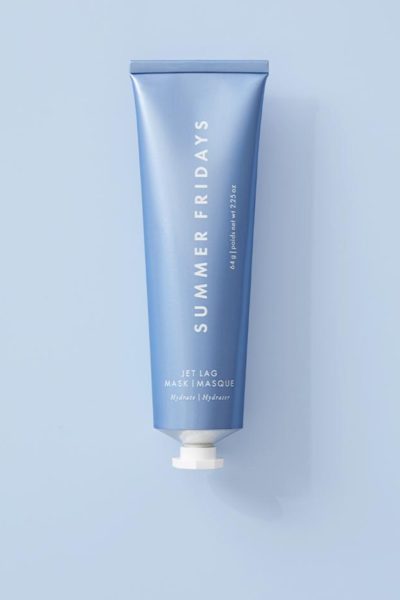 Summer Fridays Jet Lag Mask Review
I love the samples from Sephora (three with each purchase!) and recently tried the Summer Fridays Jet Lag Mask.
I have to admit – I was disappointed with the Jet Lag Mask. I love the website design, packaging, and marketing by Summer Fridays, but I didn't love the product.
Below is my review of the Summer Fridays Jet Lag Mask.
This post contains affiliate links. View the disclosure here.
Summer Fridays Jet Lag Mask Review: What I Didn't Love
Mostly for dry skin
This mask is for dry skin. When I have dry skin, I'd rather use a night cream versus a mask. In my opinion, masks should clear out your pores, or brighten your skin tone.
Irritated my skin
This mask irritated my face. My face got slightly red after using this mask for 5 minutes and changed the coloring on my face. Even with my foundation on, my mom commented that my skin color looked off.
No great smell
The smell is fine. Nothing special. Kind of bland. Reminded me of simple Dove soap.
Expensive
For $50+, I expected this mask to work miracles. Most masks and face creams are less than $15.
If I'm going to splurge, I'd like to try the Peter Thomas Roth Pumpkin Enzyme Mask instead.
Alternatives and Dupes to the Summer Fridays Jet Lag Mask
If you are looking for an alternative to the Jet Lag Mask, I'd recommend the Peter Thomas Roth Pumpkin Enzyme Mask instead.
What Other Women Said about the Jet Lag Mask by Summer Fridays (More Reviews)
I expected other women to love the Jet Lag Mask. But the reviews on Sephora are pretty mediocre.
Here's what other women said on Sephora.com and MakeUpAlley.com.
Caused irritation
Clogged pores
Waste of money
Dupe of CeraVe's Baby Lotion
Ingredients in the Jet Lag Mask by Summer Fridays
Curious about the ingredients in the Jet Lag Mask? See below. The key active ingredients are Vitamin C, Vitamin E, and Arginine.
Vitamin C: helps with collagen synthesis
Vitamin E: antioxidant that helps defend from pollution
Arginine: increases skin hydration and boosts collagen production
Water, Caprylic /Capric Triglyceride, Castanea Sativa (Chestnut) Seed Extract, Diheptyl Succinate, Capryloyl Glycerin/Sebacic Acid Copolymer, Pentylene Glycol, Butyrospermum Parkii (Shea)Butter, Cetearyl Alcohol, Niacinamide, Hydroxyethyl Acrylate/Sodium Acryloyldimethyl Taurate Copolymer, Glycerin, Sorbitan Stearate, Glyceryl Stearate , PEG 100 Stearate, Phenoxyethanol, Ethylhexylglycerin, Physalis Angulata Extract, Ceramide NP, Ceramide AP, Ceramide EOP, Phytosphingosine, Cholesterol, Sodium Lauroyl Lactylate, Carbomer, Xanthan Gum, Sodium Hyaluronate, Aminopropyl Ascorbyl Phosphate (Vitamin C), Tetrasodium Glutamate Diacetate, Arginine, Citric Acid, Tocopheryl Acetate (Vitamin E), Mentha Arvensis (Cornmint) Oil, Mentha Piperita (Peppermint) Oil, Citrus Aurantium Dulcis (Orange)Peel Oil, Limonene, Cucumis Sativus (Cucumber) Fruit Extract.
How to use Jet Lag Mask by Summer Fridays
One benefit of the Jet Lag Mask is it is easy to use. Simply apply on cleansed, dry skin, wait 10 minutes, and then rise off. According to the Jet Lag Mask usage instructions, you can "blot with a warm cloth if necessary – no need to rinse!" However, I'd recommend rinsing it off to avoid irritation.
Review of Products by Summer Fridays
Just because I didn't love the Jet Lag Mask by Summer Fridays doesn't mean I'm going to give up on the brand. I absolutely LOVE the two founders– Marianna Hewitt and Lauren Gores Ireland.
They are inspiring, real women – and I definitely want to try their other products!
More Skincare Brands to Explore
Want to support female entrepreneurs in the skincare and beauty space?
Check out KOOPE! Koope has a great gel cleanser and moisturizer that I am LOVING right now.
See a complete review of Koope.
You may also want to check out these beauty guides too!