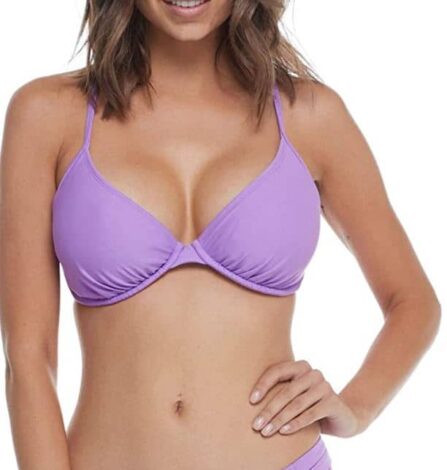 The Best Swimsuits for DD Cup
The Best Swimsuits for DD Cup
Are you looking for the best swimsuits for DD cup for 2023? You are in luck!
Below are the 10 BEST Swimsuits for DD cup. Women with a size DD cup gave these swimsuits 5/5 stars on Amazon and said that these swimsuits fit women with bra size DD specifically.
Additionally, these swimsuits for women with larger busts received 4.5/5.0 stars or higher on Amazon and are all under $40 online.
Now you can head off to the pool or the beach feeling confident!
This post may contain affiliate links. View the disclosure here.
15 Best Swimsuits for DD Cup
Below is ta list of the 10 best swimsuits for women with a size DD cup. Now it's time to say hello to summer 2023!
P.S. - Do you have size DDD cups? Then check out the best swimsuits for women with size DDD cup.
1.
Adisputent Women High Waisted Bikini Swimsuit
This is my favorite cute swimsuit for DD Cup.
What Amazon Reviewers with Size DD Cups Say about This Swimsuit
"If you're a curvy girl, you should get this suit! It fits great and it gives me support for my large 42 DDs, which is very hard to find! My boobs aren't falling out in this suit and it covers up my belly." – Emily W.
"It fits great! It's super comfortable. Plus it's super cute for the mom bod! The top fits like a sports bra with the flounce over it and has an adjustable strap. I felt covered and secure." – Devin L.
★ Best Swimsuit for DD Cup that is High Waisted
2. Smismivo Tummy Control Swimwear
This is probably the BEST one piece swimsuit for DD cup. And it's cute too!
Reviews of this Cute Swimsuit for DD Cup
"I'm 5'7" and 160/165 lbs and wear a 36 DD. It's super flattering, sexy, but still provides coverage. Absolutely obsessed and glad I bought it! (Purchased size large.)" –Kyla
"I feel cute and covered. The material is not flimsy - it really does hold you in - perfect for a mom tummy. For reference, I wear a size 12 and 36DDD. – Millie S.
" Yep, the reviews are all correct. This one-piece suit FREAKIN ROCKS! The halter top holds my DD girls in without any obscenities at the pool." – Kathy
★ Best One Piece Swimsuit with Tummy Control for DD Cup
3.
Firpearl One Piece with High Neck
Women love the ruching on the tummy area of this swimsuit. Plus, it fits plus size women and women with bra sizes up to 38F.
From an Amazon Reviewer with 38DD Cup Size
40yrs old, 5'7", 153lbs, 5 children, 38DD. Purchased XL in black & let me tell you, I LOVED THIS SWIMSUIT!
★ Best Swimsuit for DD Cup with a High Neck
4. CUPSHE Swimsuit with Twist Front Bikini Top and Floral Print Bikini Bottom
The twist front on this bikini top is GREAT if you have large a large bust. Women in sizes 34DD/E bought this swimsuit and said it fits.
From an Amazon Reviewer in Size 34DD
I'm 34DD/36D and I feel snug and secure. It has removable padding.
★ Best Swimsuit for DD Cup that is Fun and Flirty
5. CUPSHE High Waist Bikini with Ruffle Smock Top
Women with large breasts love how this bikini top has thick material and feels supportive. The high waist is also great for tummy coverage and smoothing.
What Amazon Reviewers with Size DD Cup Say
I took the straps off and surprisingly it held my boobs up pretty well and I'm a 36 DD.
I got a 2x, I am usually a size 16-28, 40DD. And there is enough room for my boobs- which there NEVER is.
★ Best Tween and Teen Swimsuit for DD Cup
6. RXRXCOCO Vintage Bikini
This swimsuit fits women sizes 34 to 36DD and the cups offer great support.
★ Best Sexy and Cute Swimsuit for DD Cup
7. Angerella Vintage Polka Dot Tankini
This tankini fits women sizes 36DD and is flattering on many body types.
★ Best Swimsuit for DD Cup with Retro Vibes
8. Tempt Me Halter Bikini
This tankini has over 8,000 reviews online. The tie later top can be adjusted.
★ Best High Waisted and Flirty Swimsuit for DD Cup
9.
Smismivo Tummy Control Swimwear with Halter for DD Cup
The bust height can be adjusted on this swimsuit.
★ Best swimsuit for DD cup with tummy control
★ Best mom-approved swimsuit for DD cup
10. SouqFone Two Piece Bathing Suit with Ruffled Flounce and High Waisted Bottom
This swimsuit is super cute!
★ Best swimsuit for DD cup to wear around the family
★ Best cute swimsuit for DD cup that hides a belly pooch
11. LALAGEN Halter Swimdress Plus Size
This is the best one piece halter swimsuit with underwire you will find online.
Plus, this plus size swimsuit with underwire is GREAT if you need a swimsuit for big thighs.
12.
Smart & Sexy Women's Underwire Swimsuit Top
Get the Matching Bottoms:
13. Anne Cole Twist Front Tankini with Underwire
14. COCOPEAR Crossover Swimdress
15. Astylish Push Up Bikini
More of the Best Swimsuits for DD Cup to Consider
These swimsuits didn't make the top 15 list, but they are solid options too!
The Best Bikini Tops for DD Cup
Are you looking for just a bikini top in size DD cup?
These swimsuit bikini tops come in sizes D, DD, E, and F and get great reviews online.
1. Body Glove DD Cup Bikini Top
2. Fantasie Swimsuit Top for DD Cup
Accessories to Wear with the Best Swimsuits for DD Cup
Of course, a cute swimsuit isn't complete without matching accessories!
A fun hat, a cute tote, and fun sandals will complete any beach or pool outfit.
Plus, a girl needs a fun towel and cool sunglasses too.
How to Hide Stretch Marks in a Size DD Cup Bathing Suit
Have stretch marks because of pregnancy? There are two main ways to cover stretch marks in a bathing suit.
Concealer: Get a good, long-lasting, waterproof concealer and apply on top of the stretch marks.
Self-tanner: Exfoliate your skin first (as a best practice before applying any self-tanner), and then apply self-tanner over your legs (and stretch marks).
These solutions aren't perfect, but they will help!
More of the Best Swimsuits for DD Cup
You may also find these other swimsuit guides helpful.
The Best Swimsuits for DDD Cup
The Best CUPSHE Swimsuits on Amazon (includes CUPSHE swimsuits for big bust)
The Best Swimsuits for Big Bust and Tummy
More Articles by Very Easy Makeup
Did you like this article?
Please give it 5 stars below, leave a comment, and share it with friends on Facebook!
You may also like these related articles and pages by Very Easy Makeup.
The Best Sunscreens for Your Face (perfect if you have sensitive skin!)
Connect with Very Easy Makeup
I'd love to connect with you!
Follow Very Easy Makeup on Facebook to get notified of new beauty, makeup, and fashion posts!
Please subscribe to the Very Easy Makeup YouTube channel. You'll find how-to tutorials for very easy makeup and bleaching hair blonde at home.
Sign up for the Very Easy Makeup Newsletter.