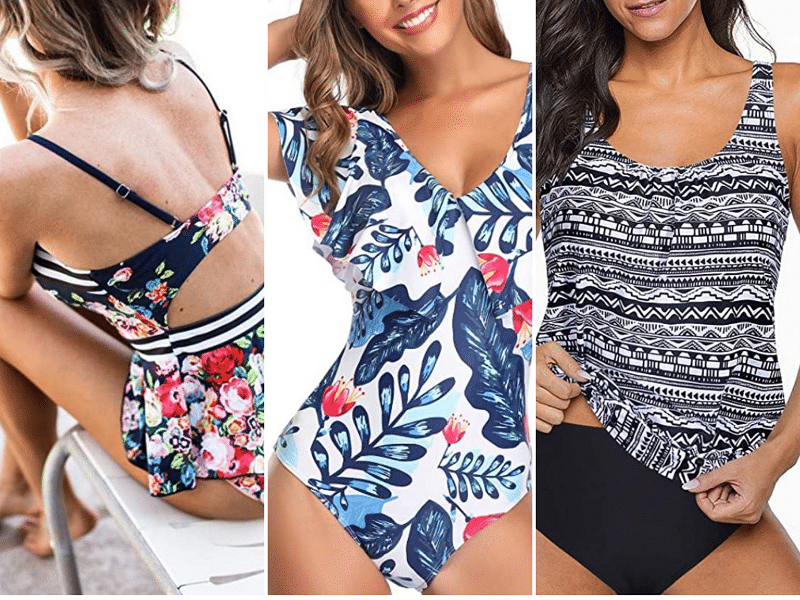 Swimsuits for Apple Shape
If you have an apple shape body type, you look BEST in swimsuits that draw attention away from your stomach and toward your legs and/or your cleavage.
Check out this top 10 list of the best swimsuits for apple shape for spring and summer.
This post contains affiliate links. View the disclosure here.
Selection Criteria for the Best Swimsuits for Apple Shape
Wondering how I came up with this top 10 list?
Swimsuits had to meet these criteria!
At least 200 positive reviews on Amazon
Under $50 online
Tummy control options available
Coverage over the tummy area
Low necklines to draw the attention upward
The 10 Best Swimsuits for Apple Shape (Under $55)
Here are the best swimsuits!
1. Holipick Tankini with Ruffle Flounce Top
What Apple Shape Women Say About this Swimsuit
It's very flattering if you're heavier in the middle or an apple shape or just have baby weight to hide. Probably one of the most flattering suits I've tried on.
I have an apple shape...and the suit fit wonderful.
2. MarinaPrime Flounce Top
3. SouqFone Two Piece Bathing Suit with Ruffled Flounce and High Waisted Bottom
4. HDE Tankini Bathing Suit
5. ADOME Bikini
Amazon Reviews of this Cute Bikini
I think it would look incredible on someone with a smaller chest, apple shaped, or desiring full coverage in the midsection.
All my curvy women!!!! This one is for you.
Best swimsuit I've Ever Owned. The style and cut is so flattering, the coverage on the bottoms (front and back) is full coverage, the pattern is feminine and fun, and you have options.
6. CUPSHE High Waist Bikini with Ruffle Smock Top
What Amazon Reviewers Say About This Swimsuit
This is the only bikini that I've found to be flattering for an apple shaped gal!
7. Aleumdr Striped Tankini Top and Shorts
What Apple Shape Body Types Say About this Swimsuit
GREAT STYLE FOR APPLE SHAPES!!!!
8. IMIDO V Neck Retro Swimsuit
What Women Say About this Swimsuit on Amazon
Super cute suit that's perfect for concealing problem middle areas. The medium fits perfectly and covers my problem areas in the middle. (Perfect for apple or rectangle shaped body.)
Great suit for apple shape. Fun suit. Hides tummy.
I struggled with find the perfect bathing suit that does not make me look frumpy. I have long legs, and a belly. Usually I wear a large or xl. The xl suit fits perfectly. This bathing suit highlights my legs and hides my belly with making me look from top to bottom..
The perfect bathing suit for an apple shape.
9. Yonique Blouson Tankini Swimsuit
What Apple Shape Women Say About this Swimsuit
Love this for my apple shape.
It is very flattering for those apple shaped women and is very comfortable to swim in. I love it.
10. Dokotoo Lined Up Double Up Tankini Set
What Apple Shape Women Say on Amazon About this Tankini
Figure flattering for tummies and pooches.
I have an apple shape with boobs slim legs and big tummy. 4 ft 11 145lbs. This is the most flattering suit for big tummies pooches or post baby. I don't have a sexy figure but I felt sexy in this! I bought a large.
I have an apple shape so the bikini bottoms fit great and the top covers my tummy. I loved it so much I went back and bought the black and white one.
More Two Piece Swimsuits for Apple Shape
Best One Piece Swimsuits for Apple Shape
Want a one piece swimsuit? Check out these options!
1. B2prity Tummy Control Swimsuit
2. Firpearl One Piece with High Neck
3. Tempt Me Flounce One Piece
4. Tempt Me Ruched Slimming One Piece
5. Smismivo Tummy Control Swimwear with Halter
6. Ekouaer One Piece Swimsuit
7. Hilor One Piece Swimsuit
8. Hilor Women's One Piece with Ruffles
9. SHEKINI One Piece
Tips for Choosing the Best Swimsuits for Apple Shape
1. Cover your middle for swimsuits for apple shape
Choose swimsuits that cover your middle.
2. Look for swimsuits with tummy control
For one piece swimsuits, look for swimsuits that offer tummy control.
3. Wear tankinis with flowy tops
For tankinis, look for tops that are loose around the mid-section.
4. Embrace the v-neck swimsuit for apple shape
Choose one piece swimsuits that draw attention to your chest, not your mid-section.
Look at the pattern.
Avoid horizonal strips.
More Swimsuit Guides
Connect with Very Easy Makeup
I'd love to connect with you!
Follow Very Easy Makeup on Facebook to get notified of new beauty, makeup, and fashion posts!
Please subscribe to the Very Easy Makeup YouTube channel. You'll find how-to tutorials for very easy makeup and bleaching hair blonde at home.
Sign up for the Very Easy Makeup Newsletter.