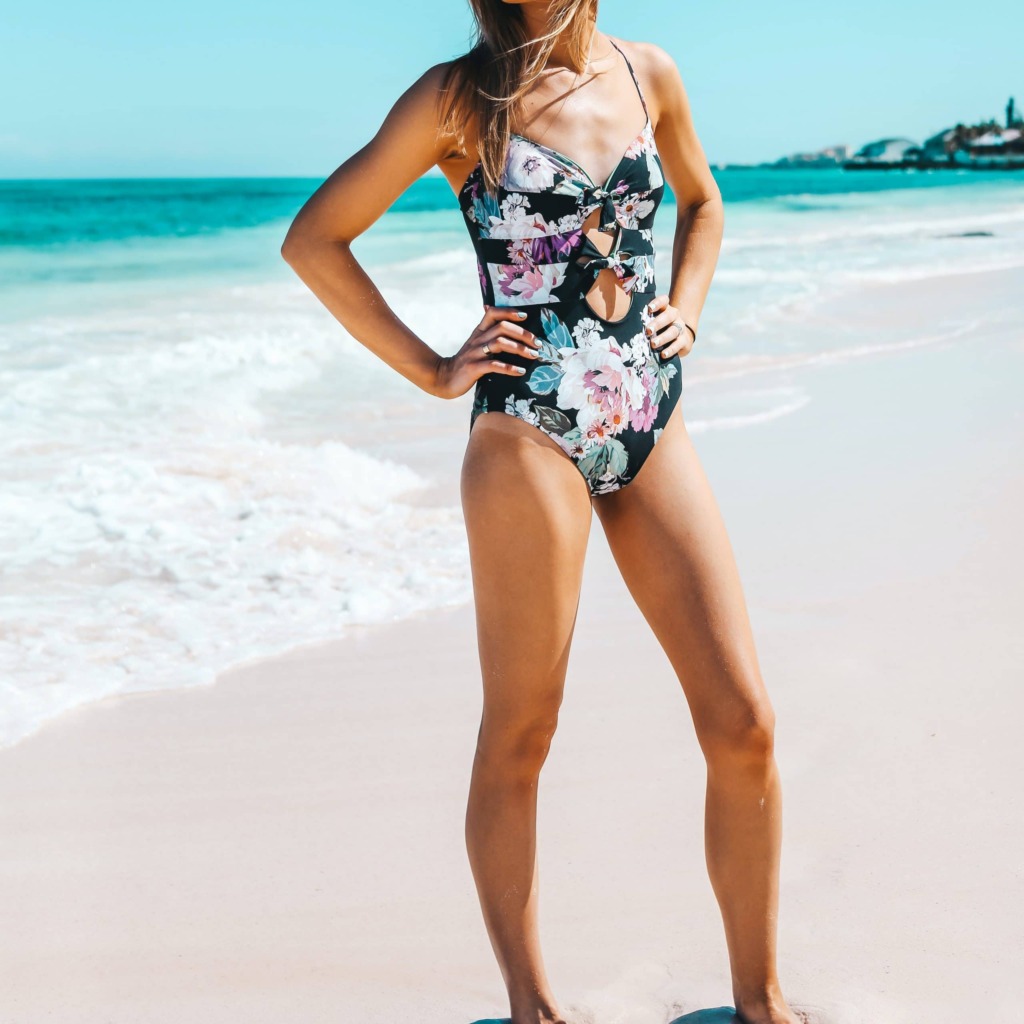 Cute Swimsuits to Flatter Small Bust
The Best Swimsuits for Small Bust
Are you a size A or AA cup and looking for the best swimsuits for small bust for summer 2022? You are in luck!
Below are the 10 BEST Swimsuits for small bust.
This post contains affiliate links. View the disclosure here.
Selection Criteria for Choosing the BEST Swimsuits for Small Bust
Wondering how I chose the best swimsuits for small bust?
Women with size A cups gave these swimsuits 5/5 stars on Amazon and said that these swimsuits fit women with bra size A specifically.
Additionally, these swimsuits for women with small chest received 4.5/5.0 stars or higher on Amazon and are all under $40 online.
The 10 Best Swimsuits for Small Bust
Now you can head off to the beach or pool with a cute, new swimsuit!
1. CUPSHE V-Neck Floral Top and Low Rise Bikini Bottom
The ruffles look great if you have a small chest and the top fits secure. The bottoms offer great coverage without showing off too much or too little.
What Women with A Cups Say About this Swimsuit
I normally wear a size small and a 32 A bra. I would totally buy this bikini again! (Ordered size small.)
Normally, my bra size is A 34 and bottom medium. The swim suit fits great and is soft against my skin. (Ordered size medium.)
2.
MOSHENGQI Women's Bandeau Ruffled Bikini
3. CUPSHE High Waist Bikini with Ruffle Smock Top
The ruffles on the top of this swimsuit are GREAT if you have a small bust.
4. I2CRAZY Tankini
5. High Waisted Peplum Tankini Set
6. CUPSHE High Waist Bikini Swimsuit with Ruffle Smock Top
The ruffles on the top of this bikini are PERFECT for women with a small bust.
7. Sporlike One Piece Swimsuit
8. CUPSHE High Waisted Falbla Bikini
9. Tempt-Me One Piece Vintage Swimsuit
10.
Aqua Eve Women Halter Flounce Bikini
2 More Cute Swimsuits for Women with a Small Chest
If you want to expand your swimsuit collection, check out these swimsuits too!
They feature ruffles on the top, which is a GREAT style for women with a small chest.
Plus, each of these swimsuits is under $35 online. That's a deal!
1. Tempt Me Two Piece High Waisted Bikini with Off Shoulder Ruffle Top
3. Ferbia High Waist Bikini Bottoms with Ruffle Tummy Control Tankini Top
Tips for Shopping for Swimsuits to Flatter a Small Bust
Not sure what style of swimsuit looks best on women with a small bust? Here are a few tips.
1. Go with ruffles
Ruffles make you look "fuller" up top.
2. Find swimsuits with padding
Padding in a swimsuit adds a little bit of something extra.
3. Avoid V-Neck swimsuits
Deep v-neck swimsuits may make you look flat.
4. Look for tie-front bikini tops
The ties add a flirty detail on the top to draw attention to the bikini vs. a flatter chest.
5. Try a bandeau top
Bandeau tops are great for women with smaller boobs. Look for bandeau tops with fun details like ties on the straps, ruffles, or ruching at the center.
Bikini Tops for Women with a Small Bust
Have a bikini bottom, and just need a flattering bikini top? Check out this cute bikini top for women with a small bust.
Awesome Accessories to Wear with Swimsuits
Of course, a cute swimsuit isn't complete without the matching accessories!
A fun hat, a cute tote, and fun sandals will complete any beach or pool outfit.
Plus, a girl needs a fun towel and cool sunglasses too.
More Articles to Explore by Very Easy Makeup
If you enjoyed this article, check out these similar articles and pages by Very Easy Makeup. (And please share this article with friends on Facebook!)
Connect with Very Easy Makeup
I'd love to connect with you!
Follow Very Easy Makeup on Facebook to get notified of new beauty, makeup, and fashion posts!
Please subscribe to the Very Easy Makeup YouTube channel. You'll find how-to tutorials for very easy makeup and bleaching hair blonde at home.
Sign up for the Very Easy Makeup Newsletter.