Share this article and leave a comment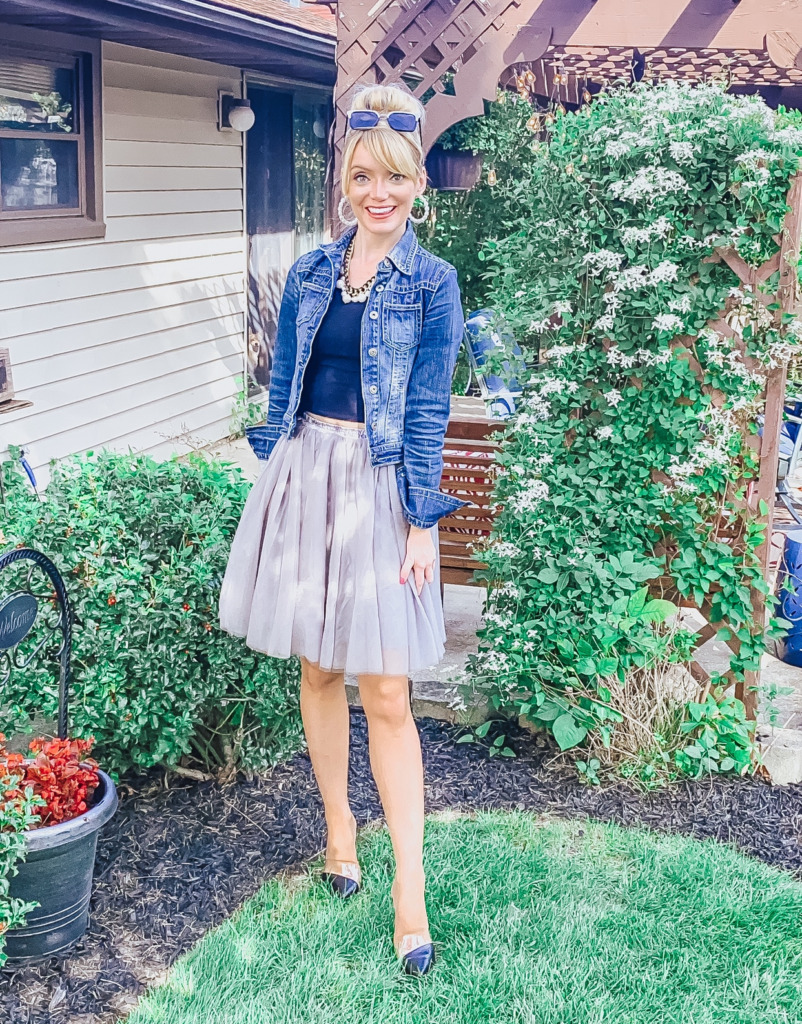 Cute Outfits for Teachers
Outfits for Teachers
It can be difficult to figure out what outfits to wear as a teacher.
You want to be professional, but you also need to be comfortable (you are on your feet all day!) and look approachable and friendly. If you are searching for cute outfits for teachers on a budget, check out these cute outfits for teachers.
Cute Outfits for Teachers on a Budget
These outfits for teachers on a budget are all with clothes from Amazon…which makes shopping online REALLY easy.
Have a great school year!
This post may contain affiliate links. View the disclosure here.
1. Cute Skirt and Jean Jacket
GET THIS CUTE TEACHER OUTFIT
2. Maxi Skirt with a Fun Shirt
This is also a great business casual outfit idea for women.
GET THIS STYLISH TEACHER OUTFIT
3. Leopard Skirt with Jean Jacket and Fun Earrings
GET THIS CUTE TEACHER OUTFIT ON AMAZON
4. Capri Pants with a Cami Top
Add a sweater over this outfit for teachers to cover up your shoulders (and stay warm if it is cold inside!).
GET THIS CUTE FALL OUTFIT FOR TEACHERS
5. Maxi Polka Dot Skirt with a Blouse
GET THIS CUTE OUTFIT FOR TEACHERS
6. Maxi Skirt with a Collared Shirt
GET THIS AFFORDABLE TEACHER OUTFIT
7. Casual Dress with Booties
GET THESE CUTE WORK CLOTHES FOR TEACHERS
8. Plaid Dress with a Jean Jacket
GET THIS TEACHER OUTFIT FOR FALL
9. Knee-Length Dress with Sandals
This knee-length summer dress has pockets too! Pair with sandals for summer.
GET THIS TEACHER OUTFIT FOR SUMMER
10. Knit Shirt with a Wrap Skirt and Sandals
GET THIS TEACHER OUTFIT ON AMAZON
Where to Shop for Affordable Work Clothes for Teachers
Not sure where to find cute work clothes for teachers?
Here are a few stores to check out.
1. Amazon
Whether you are plus size, petite, or curvy – Amazon likely has lots of dresses, skirts, and blouses that will meet your needs.
2. Anne Taylor Loft
If I were to only recommend one store for shopping for work clothes for teachers, I'd choose Anne Taylor Loft. Their clothes are just perfect for teachers!
3. Target
Target is the best for finding basic blouses, dressy t-shirts, pants, and skirts.
4. Kohl's
Kohl's has lots of great clothes by Lauren Conrad and J. Lo. Plus, Kohl's always seems to have clothes on sale. 😊
5. J. Crew
J. Crew is perfect for preppy clothes and matching work outfits.
6. Banana Republic Factory
Natural Looking Work Makeup for Teachers
Want quick and easy makeup that you can put on in 10 minutes?
Check out this makeup tutorial for natural-looking makeup for work. Perfect for teachers!
Related Articles by Very Easy Makeup
Liked this article with cute outfits for teachers on a budget? Check out these articles by Very Easy Makeup too!
Fall Outfits with Thigh High Boots
Connect with Very Easy Makeup
I'd love to connect with you!
Follow Very Easy Makeup on Facebook to get notified of new beauty, makeup, and fashion posts!
Please subscribe to the Very Easy Makeup YouTube channel. You'll find how-to tutorials for very easy makeup and bleaching hair blonde at home.
Sign up for the Very Easy Makeup Newsletter.