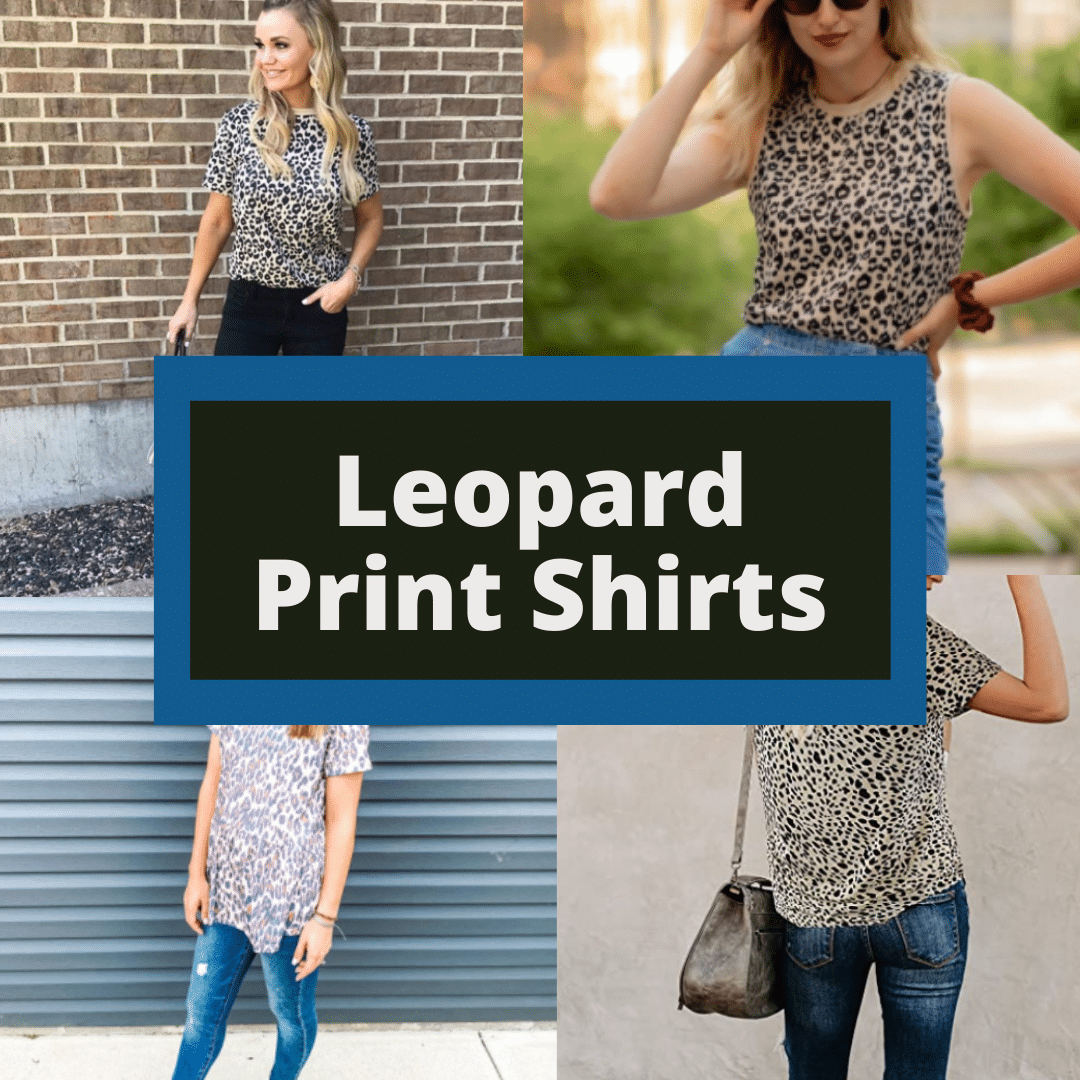 Best Leopard Print
Is it me, or is leopard print IN right now? I've been wanting a leopard print top myself, so I've been checking out the leopard print tops on Amazon.
This post may contain affiliate links. View the disclosure here.
The Best Leopard Print Tops on Amazon
Below are my favorite leopard print top for women. These are the best leopard print tops on Amazon.
6 Best Leopard Print Tops on Amazon for Fall
Here's a list of the best-selling, highest-rated leopard print tops for women.
This cute leopard print shirt is perfect for fall. Pair with a hat and gold jewelry for a cute fall outfit.
This leopard print top is also by BMJL, but in a slightly different pattern.
This leopard print shirt is more "cream" vs. "tan" and a great go-to shirt for a spring outfit.
I love this flirty and girly leopard print shirt! It's slightly pink and has ruffles at the bottom.
This leopard print top on Amazon is super cute and comfy and looks great with tights or skinny jeans. I personally think this leopard print shirt is the best for a fun summer outfit.
This long sleeve shirt is perfect for fall! The leopard print adds a hint of fun and this shirt is super soft. The shirt runs a little big, so go down a size.
This cute little leopard print cami is great for going out or for a cute summer outfit.
Wear this leopard print cami with skinny jeans and cute flats for fall or jean shirts for summer.
This cami comes in either a V-neck or a round neck.
This casual leopard print shirt has long sleeves and a fun twist knot in the corner. Pair this shirt with jeans for fall or leggings for a cute athleisure outfit.
Cute Leopard Print Shoes to Wear with the Best Leopard Print Tops
A leopard print outfit isn't complete without the right shoes! Add these to your outfit!
The Best Clothes to Wear with Leopard Print Tops
A leopard print top makes a statement, so you don't need to go all out with the rest of your outfit!
Pair leopard print tops with simple blue or black jeans.
You can keep your jewelry simple too. Of course, a fun leopard print headband or fun leopard print earrings won't hurt!
Related Fashion Articles by Very Easy Makeup
If you enjoyed this article, check out these similar articles and pages by Very Easy Makeup.
5 Simple Makeup Items to Use Daily (and Makeup for Beginners!)
The Best High SPF Tinted Moisturizers
Connect with Very Easy Makeup
I'd love to connect with you!
Follow Very Easy Makeup on Facebook to get notified of new beauty, makeup, and fashion posts!
Please subscribe to the Very Easy Makeup YouTube channel. You'll find how-to tutorials for very easy makeup and bleaching hair blonde at home.
Sign up for the Very Easy Makeup Newsletter.