How to Tone Hair Without Bleach
This post may contain affiliate links, which means I may earn a commission if you decide to make a purchase through our links, at no cost to you. You may view the disclosure here.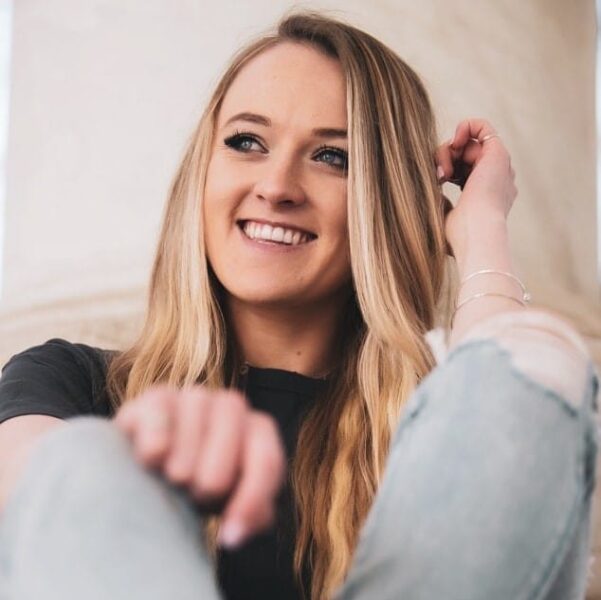 Can I Tone Hair Without Bleaching First?
Have you ever wondered, "Can I tone my hair without bleaching it first?" If yes, then you are just like me!
If you are like me, you like to keep things simple. I mean, do you really NEED to bleach your hair first? The bleaching process is time-consuming. Plus, it can damage your hair if not done correctly.
Can you skip a step and just use toner? Absolutely! This hair guide is all about how to tone hair without bleach.
This post may contain affiliate links. View the disclosure here.
How to Use Tone Hair without Bleach in 5 Steps
Follow these 5 easy-to-follow steps to tone your hair without bleach at home.
Note: It's usually recommended to bleach your hair before applying a toner. When you bleach your hair, you "lift" (aka lighten) your hair, so that the toner works correctly and comes out as expected. However, if your hair is already very light, then you can go ahead and just use a toner.
If you want to go blonder or lighter, you will need to bleach your hair before using toner. Check out this article with step by step instructions for bleaching and toning your hair at home. I have strawberry blonde hair and used the Wella T18 toner to go ash white, so I've definitely bleached my hair prior to toning it plenty of times!
1. Buy Toner and Developer
Below are the products you will need to use a toner at home without bleaching your hair first.
Products to Tone Hair without Bleach at Home:
What Volume Developer Should I Use?
I use the 20 volume developer. The hair developer lever refers to its oxidizing potential.
10 volume developer won't "lift" your hair color (or lighten it). 30 volume developer is a bit strong for my taste. 20 volume developer is a happy medium.
What Color Toner Should I Use?
Wella sells a variety of toner colors. I used Wella T35 this time around. It worked well, but it's a bit dark for my taste.
I've also used T18 and T27 in the past. Next time around, I'll likely try T28 or T15.
Here's a chart of the Wella toner colors for reference.
Silver = T28 and T10
Ash = T14 and T18
Beige = T15, T11, T27, and T35
2. Go Easy on Your Hair for Two Days
Before you bleach your hair or use a hair toner without bleach, go easy on your hair for two days.
Avoid washing your hair with shampoo for a day or two.
Don't use a curling iron for a few days.
Let your hair air dry versus using a blow dryer.
Why You Need to Go Gentle on Your Hair
You'll be adding developer to your hair as part of the toning process. Developer contains hydrogen peroxide, which is a strong chemical.
You want your hair to be strong and your scalp to have oils on it, so give your hair and scalp a break prior to toning it.
3. Mix One Part Toner with Two Parts Developer
Pour one bottle of the Wella Color Charm toner into the applicator bottle.
Then fill up the toner container twice with developer.
Add the developer to the applicator bottle.
4. Apply Toner to Hair and Wait 20 Minutes
Apply the toner to your hair. You don't need to be super careful. Just wear gloves and don't get it anywhere near your eyes!
Make sure to get the toner near the roots of your hair. Get the toner at the front of your face too near your forehead.
5. Wash out Toner with Conditioner
After 20 minutes, wash out the toner in the shower with warm water (not hot!) and rinse with a deepening conditioner.
That's it! That's all you need to do to quickly and easily tone hair without bleach at home.
Before and After Pictures of Using a Toner At Home (without Bleaching Hair)
My hair looked horrible before using toner. Look at the roots showing below!
Below are the before and after pictures of using the Wella T35 toner on my hair without bleaching my hair first.
The toner evened out my hair color and removed the orange hues and brassiness in my hair.
Hair Before Using Wella T35 Toner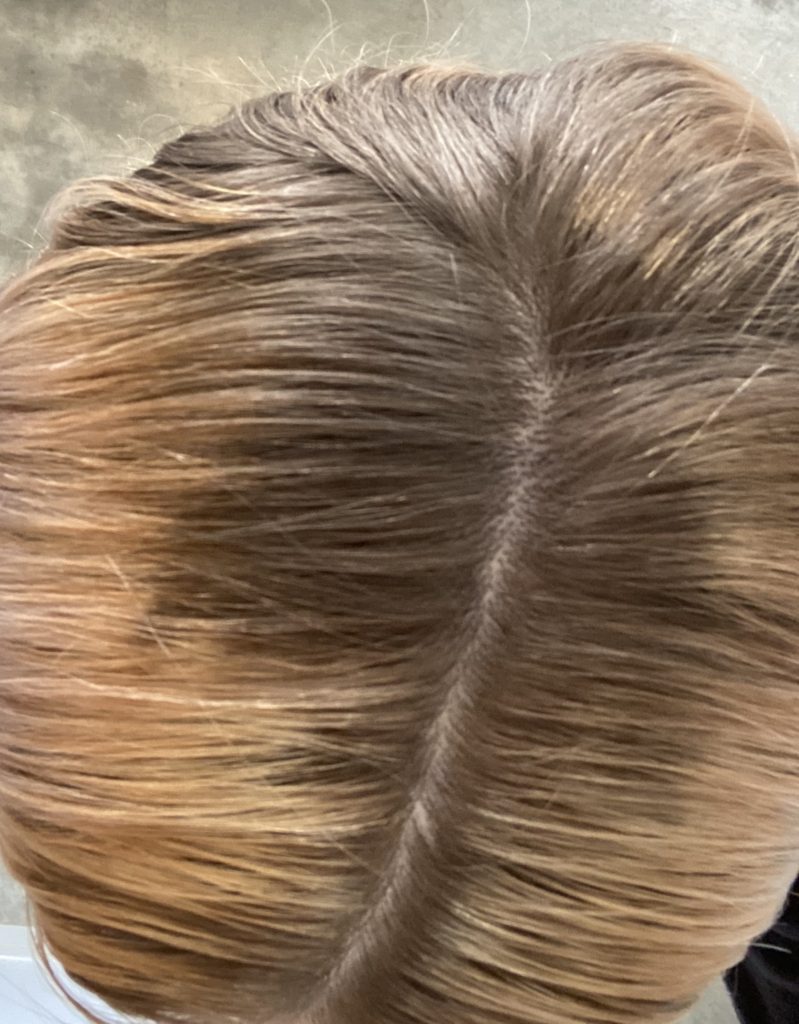 Hair After Using Wella T35 Toner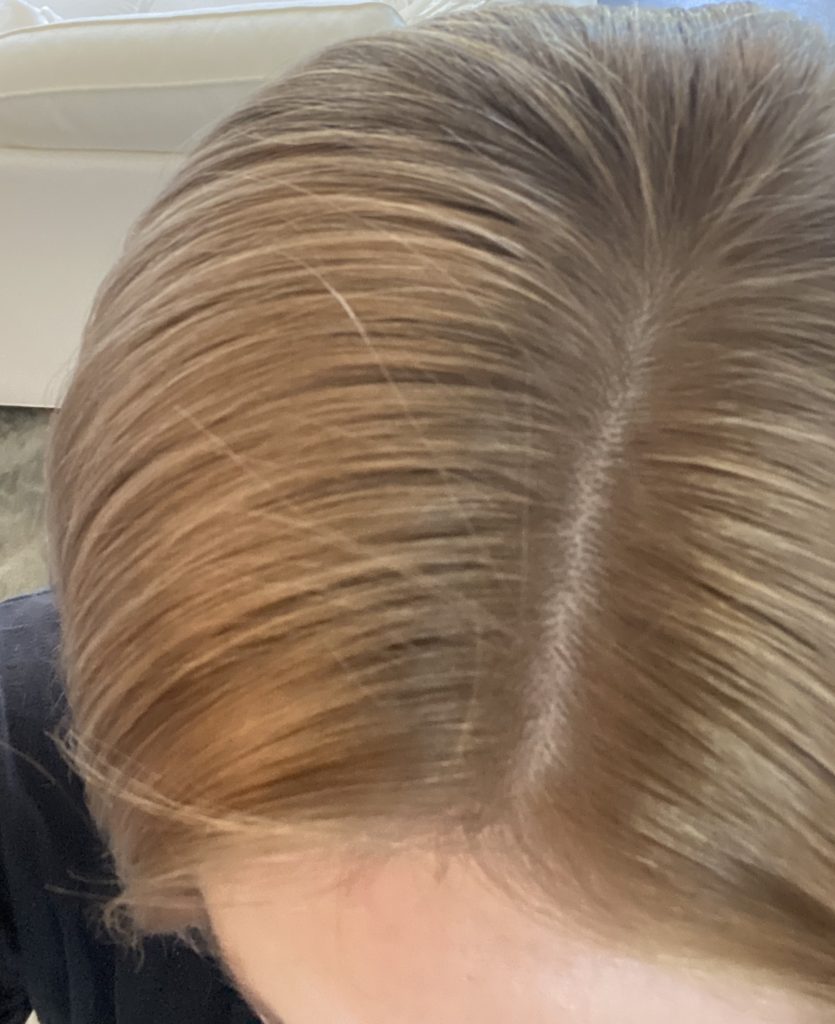 Frequently Asked Questions about Using Hair Toners
Below are a few questions you may have about using a toner at home.
Does Toner Get Rid of Brassiness?
Yes! Toner neutralizes brassy hair.
Does Toner Get Rid of Orange Hues in Hair?
Yes! Your hair may turn slightly orange or yellow a month or two after getting it colored. See the chart below for reference.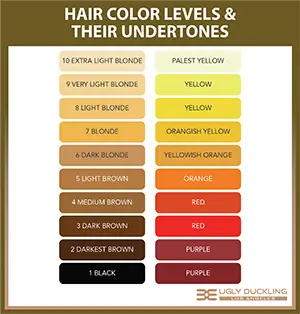 Toner will neutralize the ugly orange and yellow hues in your hair.
How Long Does Hair Toner Last?
Toner usually lasts 3-4 weeks. However, you can extend how long a toner lasts by using a color-protecting shampoo and by washing your hair every other day vs. every day.
Can I Use Toner on Dry Hair?
No, you should not use a toner on dry hair. You should use toner on towel dried hair (so it's slightly wet).
Can I Use Toner Without Bleaching My Hair First?
Yes, you can absolutely use a toner without beaching your hair fiar. I used toner on my hair this time around (see before and after pictures above) without bleaching my hair first and it worked out well.
Can I Tone My Hair at Home?
You can absolutely tone your hair at home. For an easy to use toner, I recommend using one of the toners by Wella. You can buy Wella toner on Amazon or at Sally's.
What's the Best Color Toner?
The best color toner for you really depends on the look that you are seeking to achieve. If you have cool skin tones, you may want to try Wella T14 toner or Wella T18 toner. If you have warm skin tones (think yellow or golden undertones), then you may want to try Wella T15, T11, T27, or T35. Many hair stylists use Redken toners, but Redken toners are often only available for hair stylists to purchase.
Wella Colors for Warm and Cool Tones
How Long Should I Keep Toner on My Hair?
You can keep toner on your hair for up to 30 minutes. I'd recommend 20 minutes to ensure you don't damage your hair.
Should I Use a Purple Conditioner After Toner?
No, do not use a purple shampoo immediately after using a toner on your hair. Instead, you should rinse out the toner with a sulfate-free conditioner. Two weeks after you've toned your hair at home, you may want to use a purple shampoo and conditioner to remove any orange or yellow hues in your hair.
Should I Use 20 or 30 Volume Developer with Toner?
I'd recommend using a 20 volume developer with a toner. A 30 volume developer is stronger and will lift (or lighten) your hair color by 5 shades. That's a lot! Most women use 20 volume developer.
Conclusion
In conclusion, if you wanted to know how to tone your hair without bleach, it's easy. All you need to do is buy the supplies, mix 1 part toner with 2 parts developer, apply it to your damp hair, and then rinse it out after 20 minutes. That's it!
Want More Hair Tips?
Want more hair tips? Check out more hair articles from Very Easy Makeup. Very Easy Makeup also has a YouTube channel with how-to guides on bleaching and dying your hair at home.
Have fun changing up your look with your new hair color!
Christina Marie from Very Easy Makeup (offering at-home hair coloring tips for women, beauty product reviews, and very easy makeup tutorials)
More Hair Guides
Wella T28 Guide: Instructions with Before and After Results
How to Do a Hair Gloss at Home