20 Cutest Thanksgiving Outfits and Ideas!
This post may contain affiliate links, which means I may earn a commission if you decide to make a purchase through our links, at no cost to you. You may view the disclosure here.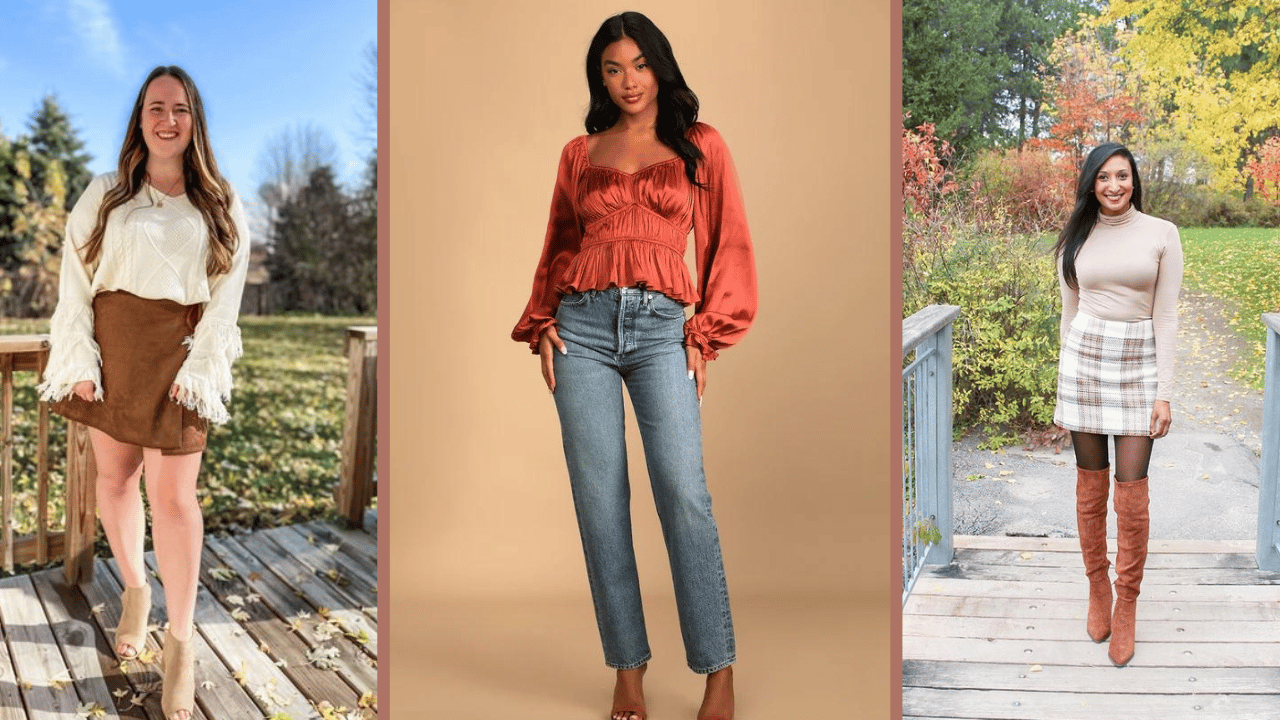 Cute Thanksgiving Outfits
Not sure what to wear for Thanksgiving?
A simple, easy, and classy Thanksgiving outfit for women is to wear a brown, red, or dark blue (or green!) dress with tights and riding boots.
Another Thanksgiving outfit idea is to pair a sexy shirt with black jeans, or a fun skirt with a blouse.
Continue reading for the best and cutest Thanksgiving outfit ideas for women.
P.S. – You may also want to copy one of these Stitch Fix outfits for fall for your Thanksgiving outfit!
This fashion guide is all about Thanksgiving outfits for women and includes:
Thanksgiving Dresses for Women (Comfy Dresses!)
Sweater Dresses for Thanksgiving
A Cute Skirt to Wear for Thanksgiving
Sexy Blouses and Sweaters for Thanksgiving Outfits
The Best Boots to Wear with Your Thanksgiving Outfit
Cute Thanksgiving Outfits and Dresses for Women
Here are the best Thanksgiving outfit ideas you can copy with clothes from Amazon, Lulus, and Pink Lily for your Thanksgiving dinner outfit.
1. Brown Tunic Dress with Brown Booties
Add tights to this Thanksgiving outfit idea if it is cold outside!
2. Cream Turtleneck Sweater Dress with Knee High Boots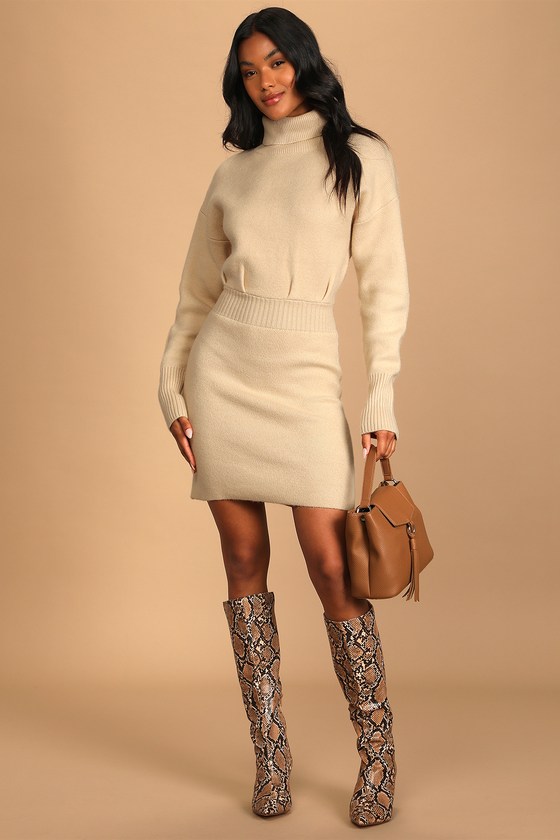 Sweater dresses are perfect for fall (and Thanksgiving!).
This Thanksgiving outfit is perfect if you want to stay warm (thanks to the turtleneck!), but show off your legs. Pair this sweater dress with any pair of knee-high boots for an easy Thanksgiving outfit.
3. Red Dress with Black Boots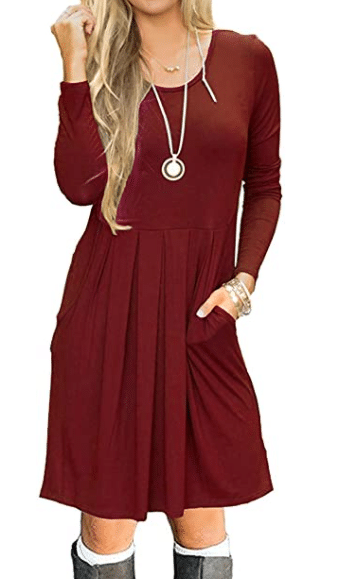 Add a belt and jewelry to this dress to dress up the outfit for Thanksgiving. I'd also recommend wearing a red dress with black tights and fancy black riding boots.
To accentuate your waist, add a belt.
GET THIS THANKSGIVING OUTFIT FOR WOMEN
4. Red Jersey Dress with Leather Jacket and Boots
Add a scarf, black tights, and brown ankle booties to this red dress for Thanksgiving. Or, add a brown leather jacket! If it is cold outside, wear black tights.
GET THIS THANKSGIVING OUTFIT
5. Brown Suede Mini Skirt with a Cream Sweater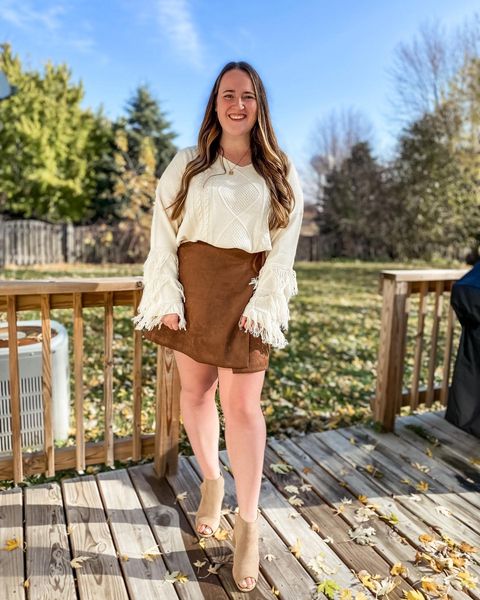 Mini skirts are so cute! Pair a brown suede mini skirt with a chunky cream sweater for a flirty and flattering Thanksgiving outfit.
Get this Thanksgiving Outfit: Brown Suede Skirt | Similar Cream Chunky Sweater
6. Plaid Miniskirt with a Turtleneck and Tights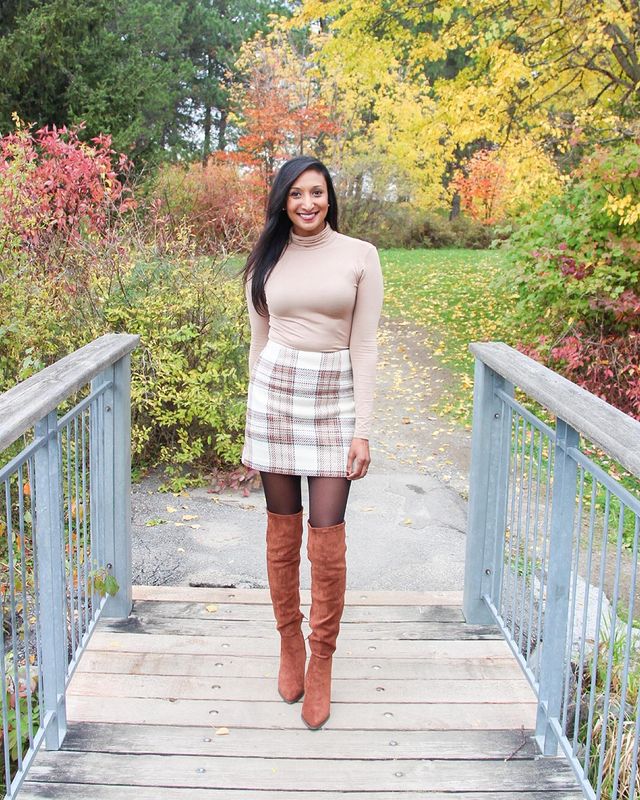 This Thanksgiving outfit is probably my favorite. I LOVE plaid skirts for fall!
Get this Thanksgiving outfit: Plaid Skirt | Cream Turtleneck
7. Long Sleeve Dark Blue Fall Dress with Pockets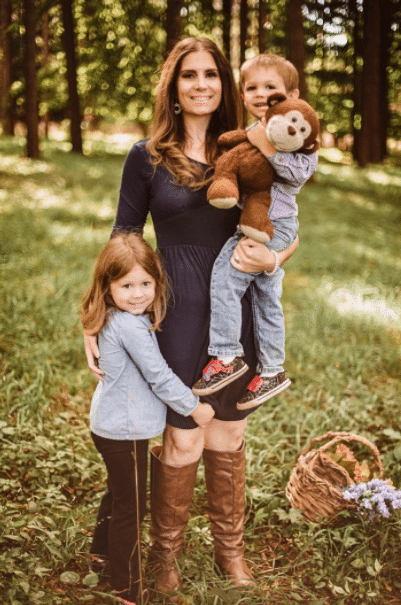 Like the dresses shared above, add a scarf and riding boots to this outfit to dress it up. This is such a comfortable Thanksgiving outfit.
GET THIS COZY THANKSGIVING OUTFIT FOR WOMEN
8. Rust Brown Blouse with High Waisted Jeans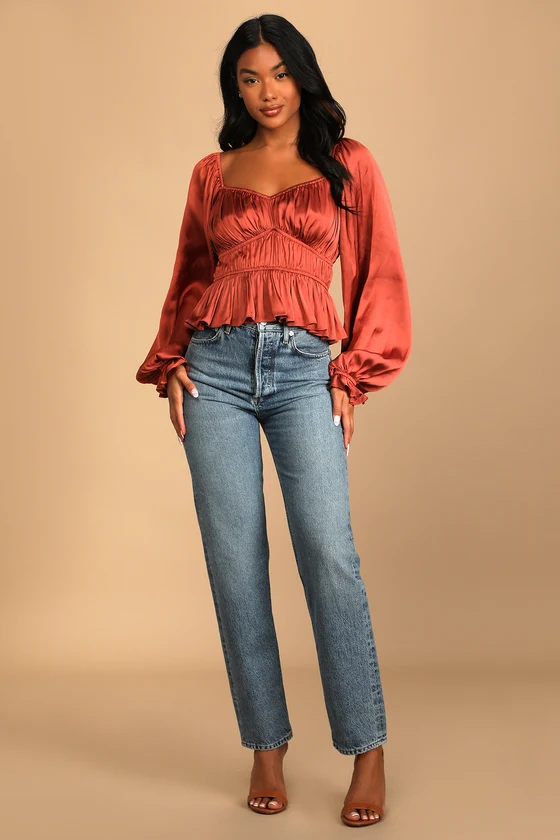 Can you wear jeans on Thanksgiving? Yes! Absolutely! This feminine blouse is perfect for pairing with jeans for a cute Thanksgiving outfit.
9. Red Wrap Dress with Boots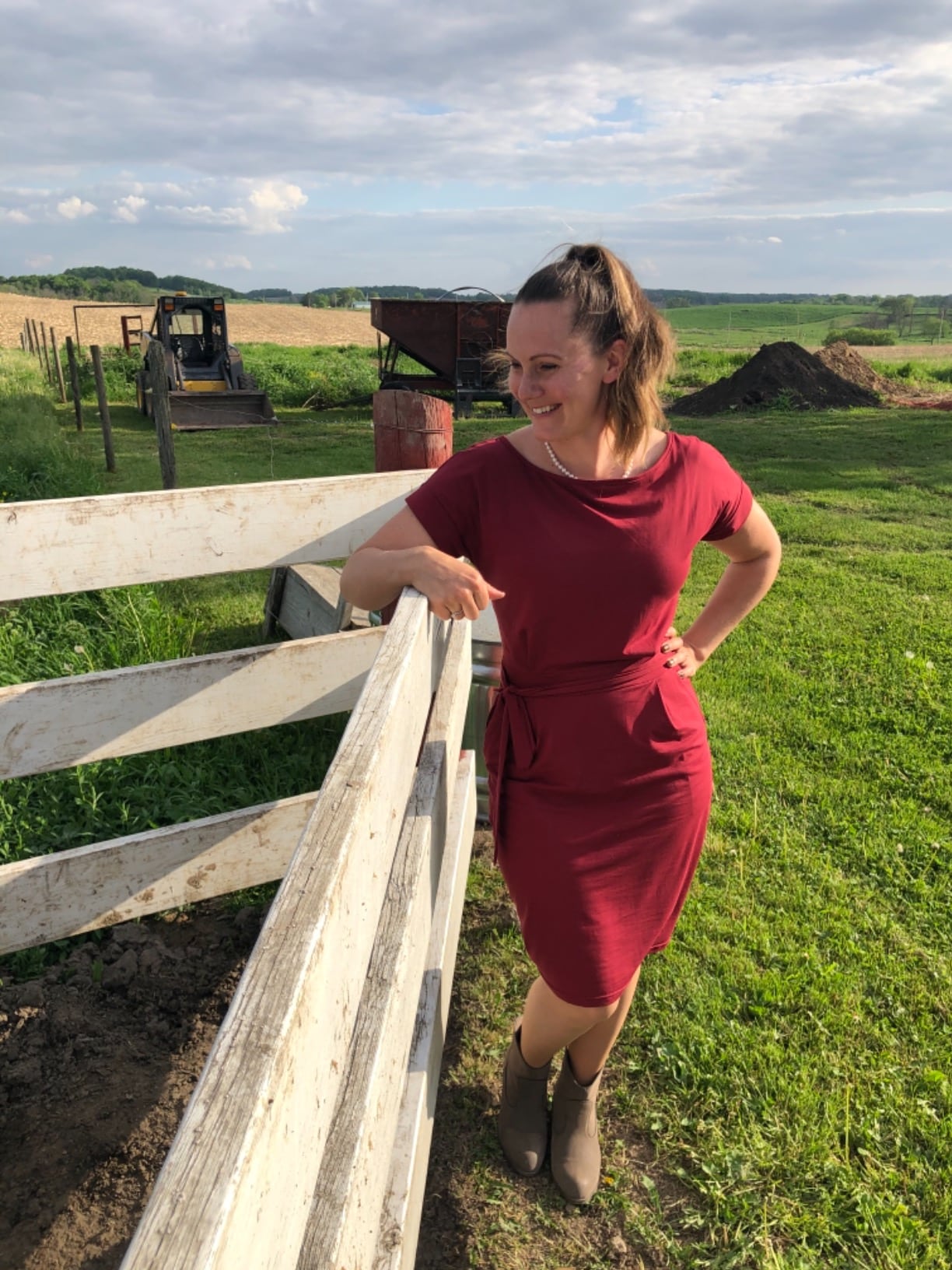 This dress has pockets and is surprisingly comfortable. Add bright red lipstick and heels instead of boots a fancier Thanksgiving outfit.
Get this Cute Thanksgiving Outfit Idea: Red Dress | Cream/Dude Heels | Bright Red Lipstick
PS - The Michael Kors Dorothy Flex pumps are my daily work heels. They are actually comfortable! I can run in these heels!
10. Wrap Pencil Dress with Booties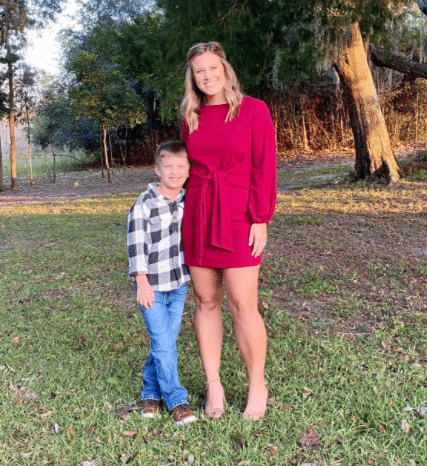 This sweater dress gets RAVING reviews on Amazon. It's one of the best-selling sweater dresses and is perfect for a comfortable (yet sexy!) Thanksgiving dress.
This sweater dress also comes in orange, blue, green, and cream. Pair with heels or cute booties and delicate earrings for your Thanksgiving outfit.
GET THIS CUTE THANKSGIVING OUTFIT FOR WOMEN
11. Bright Red Sweater Tunic Dress with Tights and Black Boots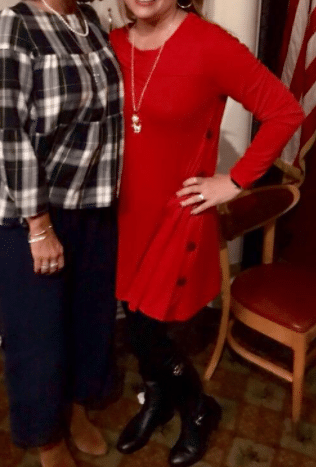 Wear black tights and add a scarf to dress up this Thanksgiving outfit.
GET THIS AFFORDABLE THANKSGIVING OUTFIT
12. Sexy Orange Sweater with a Leather Skirt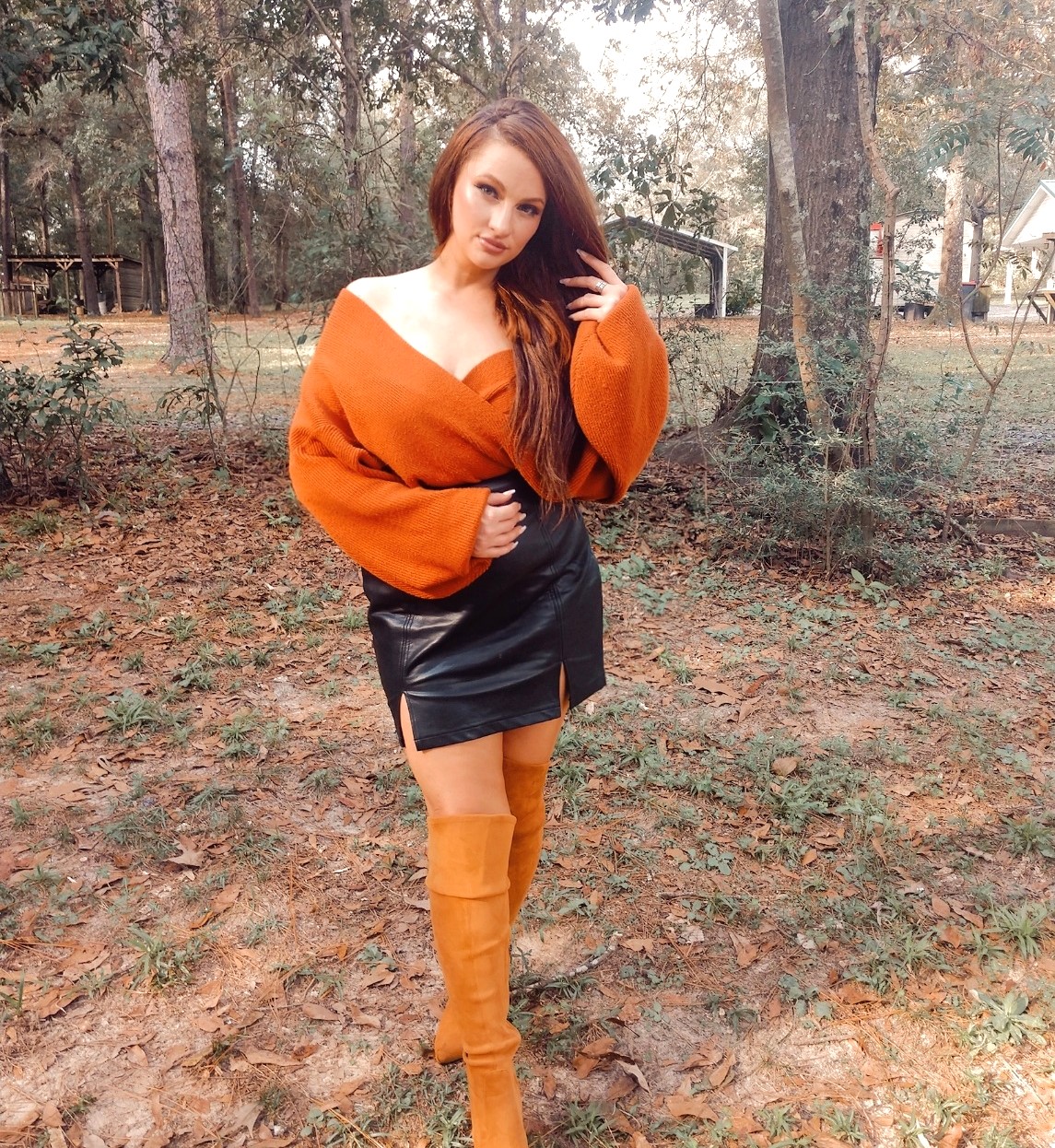 This Thanksgiving outfit makes me want to say "Va-Va-Voom!!!" Seriously though...this outfit idea is PERFECT for a sexy Thanksgiving dinner outfit with your husband/boyfriend.
13. Sexy Red Off Shoulder Blouse with Black Leggings or Skinny Jeans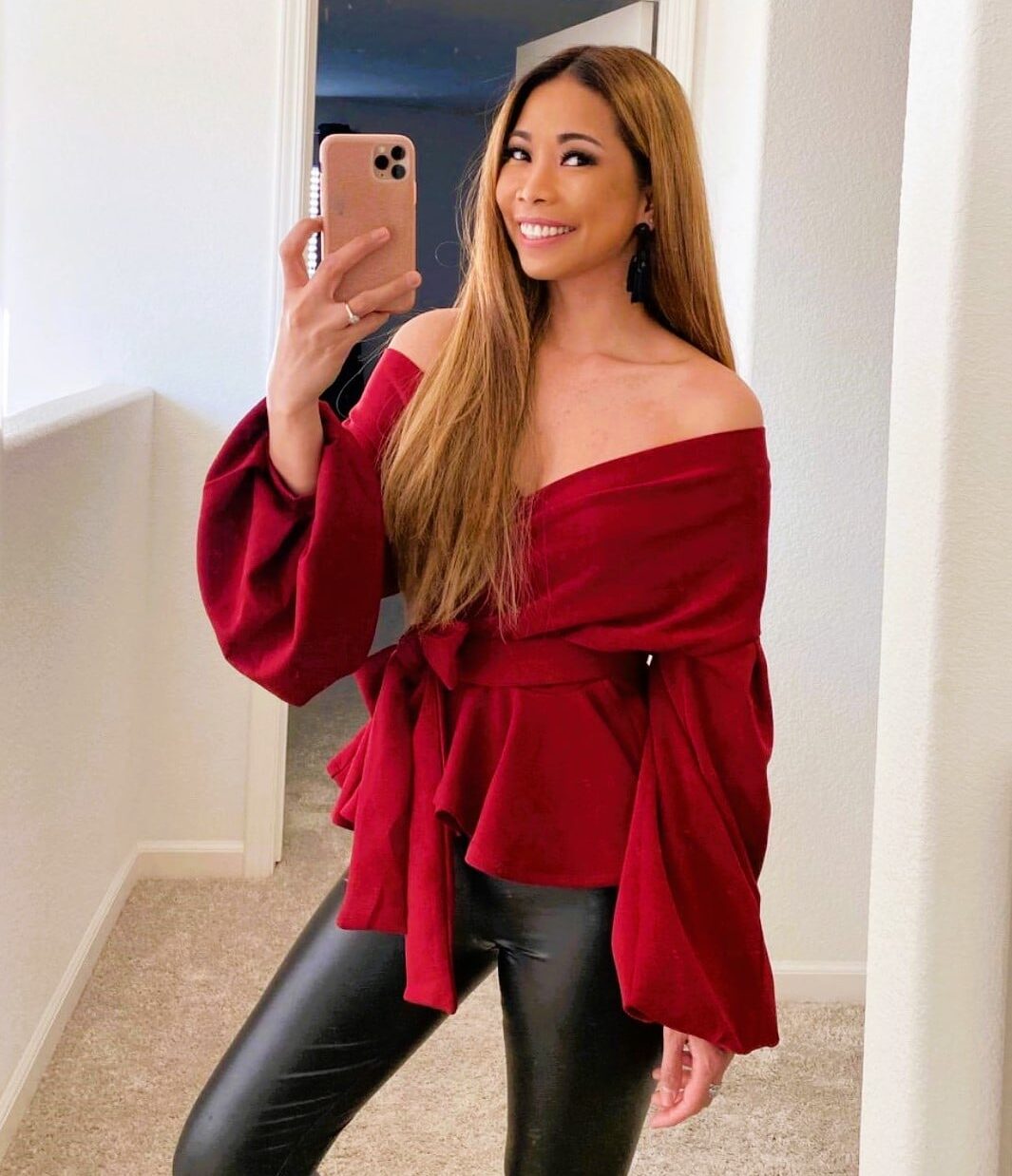 This red blouse is so, so sexy!! The great thing about this Thanksgiving dinner outfit idea is 1) you can wear this blouse with leggings and 2) you can wear this red blouse again for Christmas outfits and holiday parties!
14. Off the Shoulder Brown Sweater with Black Skinny Jeans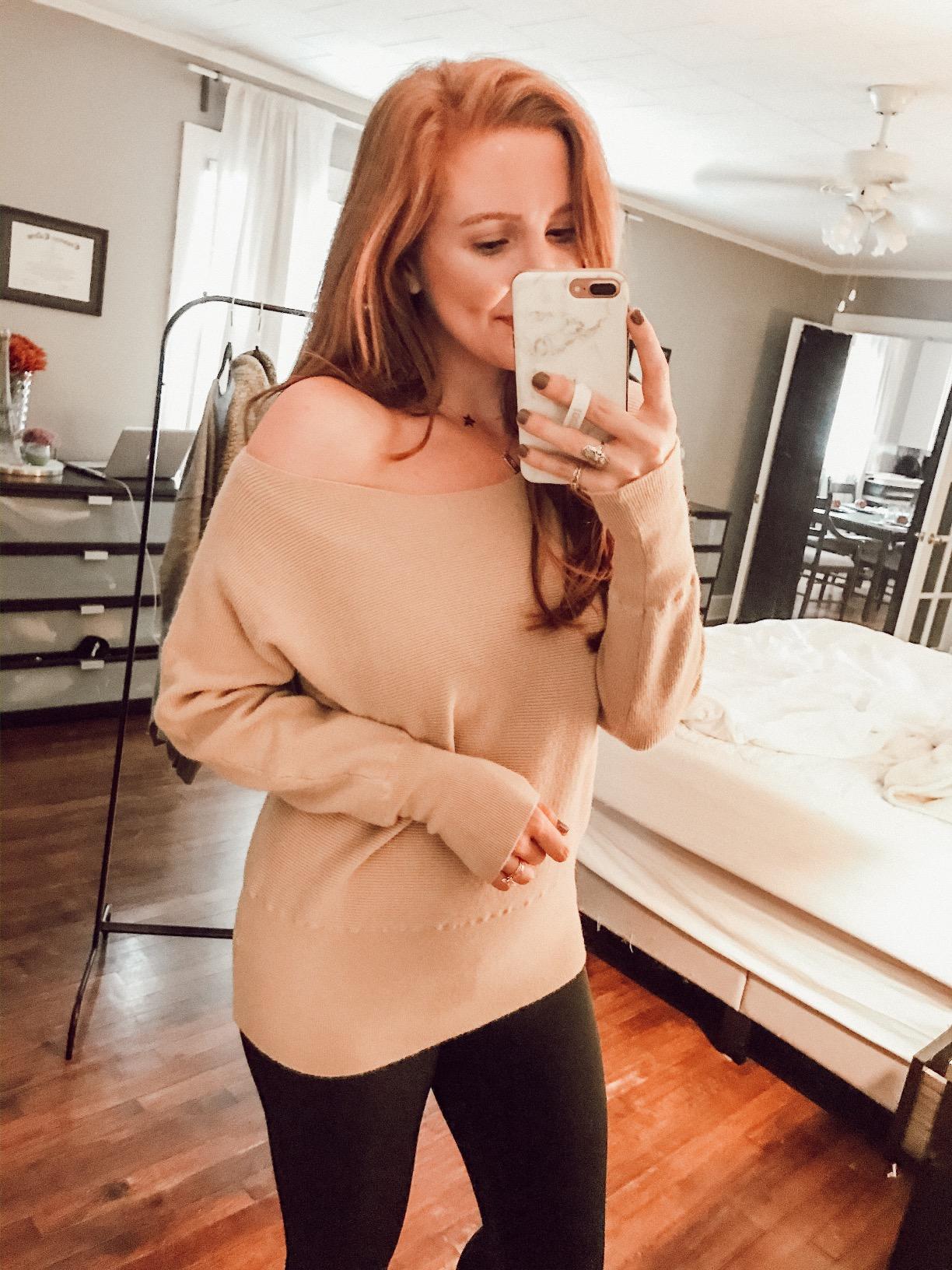 This sexy sweater also comes in green, beige, blue, and purple for fall outfits as well!
15. Leopard Print A-Line Midi Skirt with a White Blouse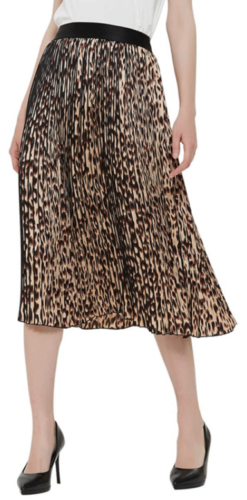 Wear this sexy leopard print skirt with a blouse or turtleneck, black heels, and a belt for a sexy and classy Thanksgiving outfit.
P.S. - The Calvin Klein white blouse below is one of my go-to shirts to wear with work skirts or under a suit jacket!
GET THIS CLASSY THANKSGIVING DAY OUTFIT FOR WOMEN
16. Sweater Dress with Knee High Boots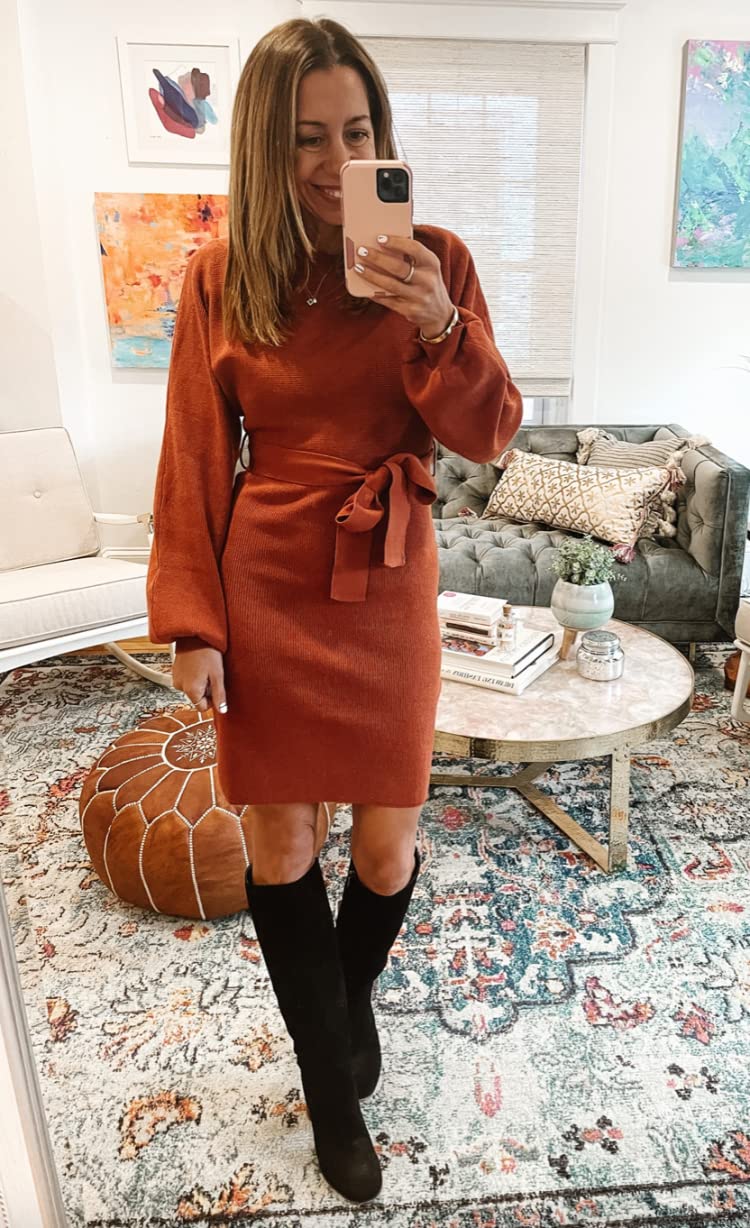 17. Flirty Red Skirt with a Sweater and a Hat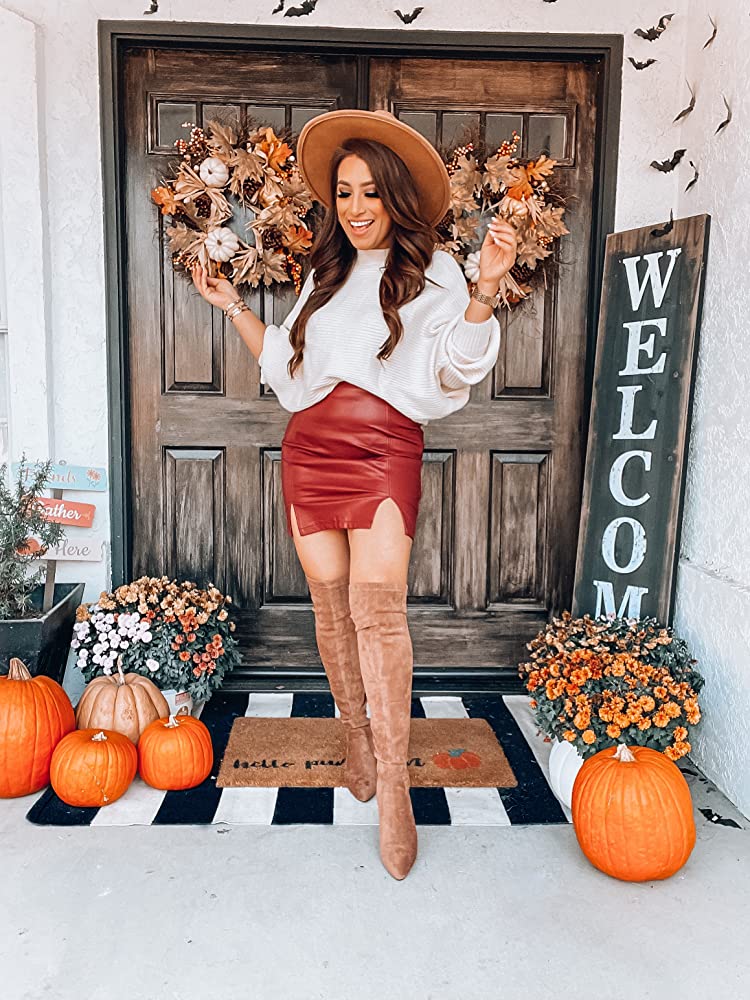 You will have a blast wearing this flirty Thanksgiving outfit.
GET THIS FLIRTY THANKSGIVING OUTFIT
18. Floral Dress with Knee High Boots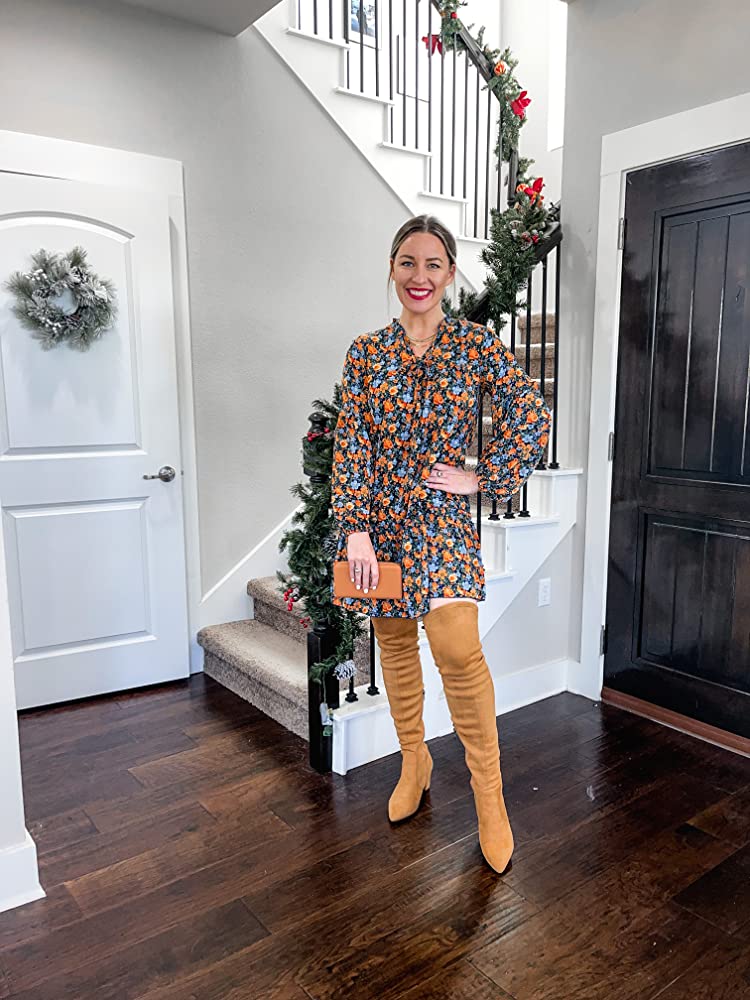 GET THIS THANKSGIVING OUTFIT
19. Brown Sweater Dress with Booties
View Sweater Dress on Pink Lily
This Thanksgiving outfit is comfortable and so stylish!
Copy this Thanksgiving Outfit Idea: Brown Sweater Dress | Booties
20. Plaid Skirt + White Booties + Cap Sleeve Sweater Vest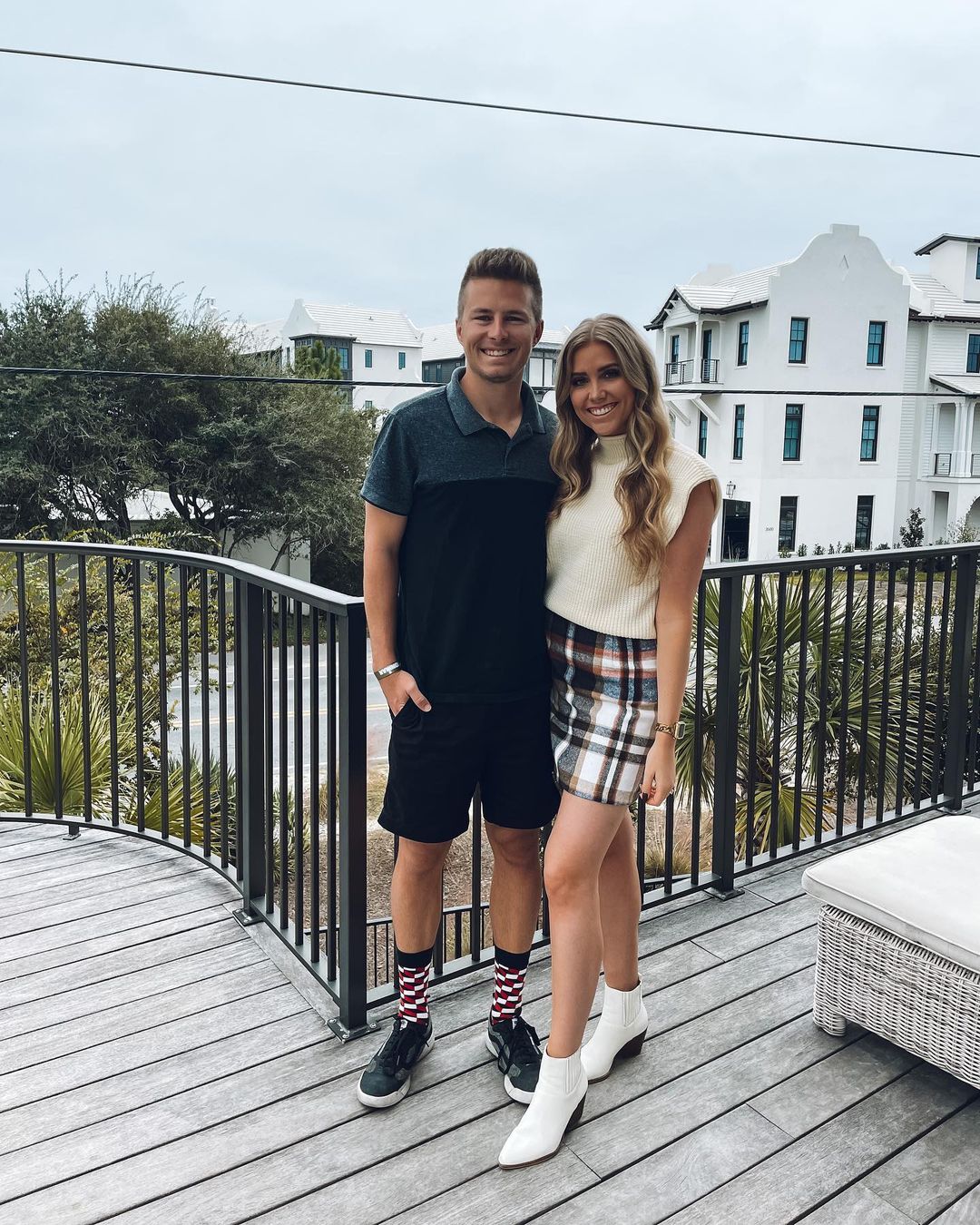 This Thanksgiving outfit is so cute!
GET THIS THANKSGIVING OUTFIT ON AMAZON
Fall Thanksgiving Boots for Women
The best boots to wear with your Thanksgiving dress are knee-high brown or black boots. I also like wearing short ankle booties too!
Best Ankle Booties for Fall: Anne Klein Ankle Bootie Boot
I'm shocked these booties only have 10 reviews on Amazon. I own these booties in both chestnut/brown and black. I LOVE them, and you will too!
Best Knee-High Boots for Fall: Tommy Hilfiger Women's Equestrian Boot
I have a pair of brown Tommy Hilfiger riding boots and LOVE them. These boots are so, so comfortable (and affordable!).
Summary – Best Thanksgiving Outfits to Wear this Holiday Season
In summary, Amazon has LOTS of cute and affordable dresses, sweaters, and fun Thanksgiving shirts to wear at Thanksgiving dinner.
For an easy and comfortable Thanksgiving outfit, I'd recommend any of these clothing combos:
Easy Thanksgiving Outfit Ideas
Sweater dress with knee-high boots
Black jeans (or leggings) with an off-the-shoulder sweater
Jeans and a fun Thanksgiving t-shirt that says something cute like "Gobble-Gobble"
A velvet dress with knee-high boots (for a formal Thanksgiving dinner)
A cute plaid or leather skirt with a turtleneck, tights, and booties or booties
More Fall Outfit Ideas
The Best Booties to Wear with Dresses and Skirts
Christmas Outfits for Women and the Family