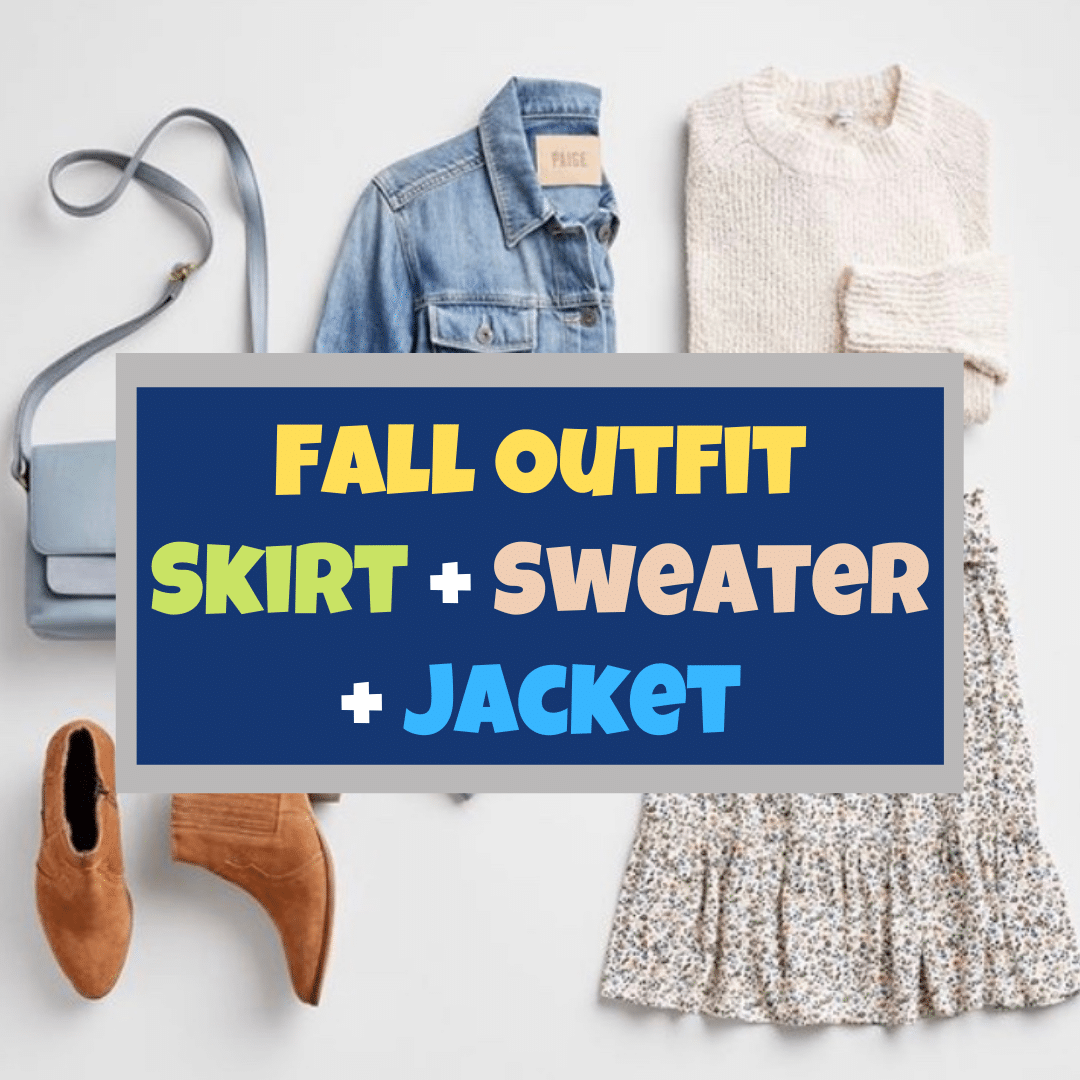 Cute Stitch Fix Fall Outfit
Stitch Fix has feminine and girly outfit ideas for fall.
You are in luck if you are looking for an affordable fall Stitch Fix outfit you can do yourself.
Continue reading to learn where you can buy everything you need to re-create the fall Stitch Fix outfit that includes a cream sweater, a jean jacket, and an A-line skirt with flowers.
This post may contain affiliate links. View the disclosure here.
Stitch Fix Fall Outfit to Buy – Feminine Sweater with A-Line Skirt and Brown Booties
If you want to mirror the Stitch Fix outfit below, here's where you can find similar clothes online!
How to Buy Stitch Fix Fall Outfits Online from Amazon
You can easily re-create the fall Stitch Fix outfit look with affordable clothes and accessories from Amazon.
Here's what you'll need for the Stitch Fix outfit idea:
1. A-Line Skirt with Green and White Flowers and Ruffles for Fall Outfit
This high waist skirt is perfect for a girly summer or fall outfit. This floral skirt is about $25 on Amazon and the ruffles make it super feminine, just like the skirt features in the Stitch Fix picture!
2. Soft Cream Crewneck Sweater for Stitch Fix Top
You can't go wrong with this simple, delicate-looking, and soft cream long-sleeved shirt/sweater from Amazon.
This crewneck sweater is then $20 and gets great reviews for being super soft, well made, form fitting, and stretchy.
3. Medium Wash Jean Jacket for Fall and Stitch Fix Outfit Idea
If you don't own a jean jacket it's time to buy one.
Jean jackets are a must-have for fall. Wear over sundresses or skirts to convert any summer outfit into a stylish fall outfit.
4. Light Blue Crossbody Purse for Stitch Fix Fall Outfit
This light blue crossbody purse by Fossil is perfect for fall! The leather is soft and the purse is great for traveling too.
5. Brown Booties for Fall Stitch Fix Feminine Outfit Idea
Like a jean jacket, every girl should own cute brown booties for fall. (Brown boots are my go-to!)
The brown leather Walden Booties by Sam Edelman get great reviews for being super comfortable and fashionable.
Alternative Brown Ankle Booties
If you want a less expensive option, check out these ankle booties by LifeStride.
Explore More Fashion and Beauty from Very Easy Makeup
Did you find this article helpful? Please give it five stars below and share it on Facebook or Twitter.
I'd also love to hear from you! Leave a comment below and connect with Very Easy Makeup on Facebook.
Very Easy Makeup YouTube Channel
Please subscribe to the Very Easy Makeup YouTube channel. You'll find how-to tutorials for very easy makeup and bleaching hair blonde at home.
Articles with Affordable Fashion Finds
Dresses, Purses, and Shoes on Amazon
More Stitch Fix Look-a-Like and DIY Outfits Online
Stay Connected with Very Easy Makeup for More Outfit Ideas
Enjoy your new, stylish fall outfit!
Christina Marie from Very Easy Makeup (just a girl who is passionate about beauty and fashion)