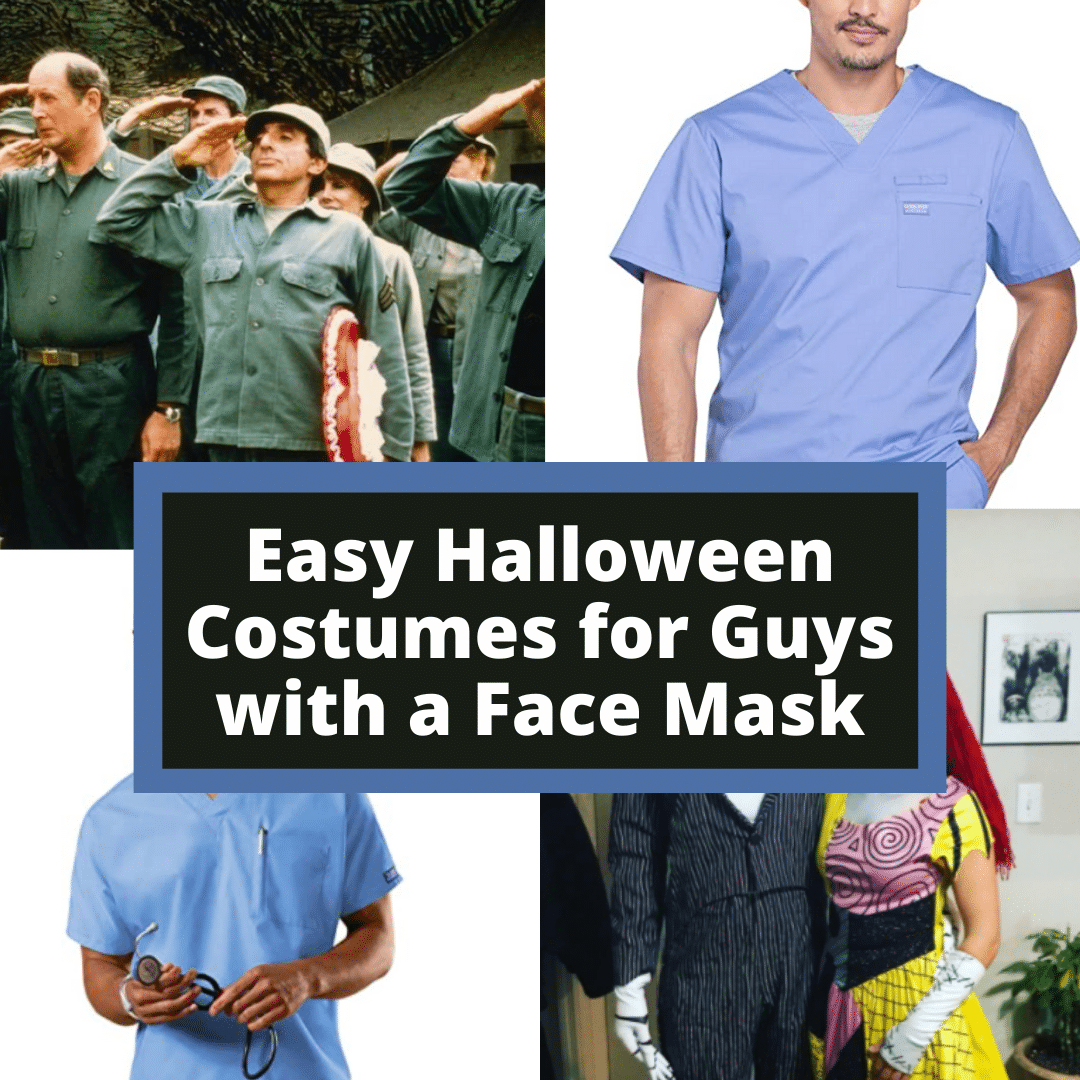 Need a Halloween costume for your boyfriend or hubby that incorporates a COVID mask?
Halloween Costumes for Guys with Face Masks – Halloween 2021
Check out these easy Halloween costume ideas for guys with masks to wear during coronavirus this Halloween.
5 Easy and Last Minute Halloween Costumes for Guys
Dress up as a skeleton and add a matching skeleton themed COVID mask for your 2020 Halloween costume idea.
This is such an easy DIY Halloween costume idea for guys.
M.A.S.H Costume for DIY Easy Halloween Costume for Guys
An easy (and fun!) Halloween costume idea for guys is to just buy the Jack Skellington adult costume from Amazon. No work effort needed!
If you already have scrubs, just dress up as a dentist for Halloween! Plus, this costume naturally incorporates a face mask for Halloween 2021.
Dentist Last Minute Costume for Guys
DIY Doctor Halloween Last Minute Costume for Guys (with a Face Mask for COVID)
More Halloween Costumes by Very Easy Makeup
Did you like this article? Please share it with a friend on Facebook and comment below!
You may also like these related pages by Very Easy Makeup.
Articles for Men
Are you a single guy? Check out these articles by Dating Snippets for tips on how to get more swipes on dating apps, how to make a girl fall for you, and ideas on what to buy your girlfriend for her birthday or for the holidays.
How to Get More Swipes on Dating Apps
How to Make a Girl Fall for You
Gift Ideas for Girls that Are Cheap
Connect with Very Easy Makeup
I'd love to connect with you!
Follow Very Easy Makeup on Facebook to get notified of new beauty, makeup, and fashion posts!
Please subscribe to the Very Easy Makeup YouTube channel. You'll find how-to tutorials for very easy makeup and bleaching hair blonde at home.
Sign up for the Very Easy Makeup Newsletter.
(This post contains affiliate links. View the disclosure here.)