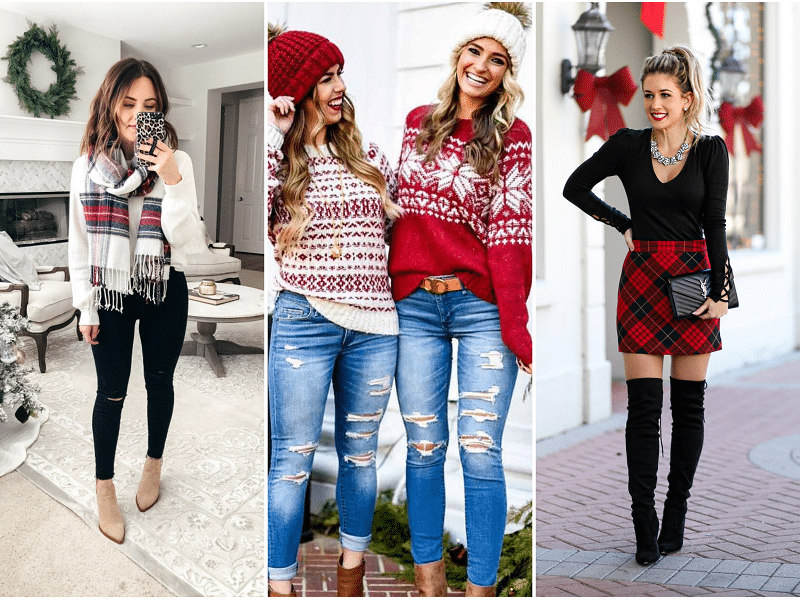 It can be hard to decide what to wear sometimes! Do you wear a skirt or black pants? A dress or leggings? If you need inspiration for cute Christmas outfits for 2021 then check out these ideas!
Below are cute Christmas outfits for teen girls. Happy shopping!
Christmas Outfits for Teenage Girl – 2021 Christmas Outfit Ideas
Here are the best outfit ideas for Christmas this year.
Christmas Outfits for Teen Girls with Skirts
I love the idea of wearing a skirt for Christmas. It's feminine, bright, and cheery!
Christmas Outfit with Plaid Skirt
Christmas Outfit for Teens with Black and White Skirt
Christmas Outfits with Gold Skirts for Teens
Outfit: Bright Red Skirt with Trendy Grey Sweater
Wear a cozy sweater, a bright red skirt, and tan heels for this Christmas outfit.
Pair with a leopard print wristlet and a bold necklace to add extra style.
Outfit #2: Feminine White Sweater with A-Line Skirt for Christmas Day
Matching Makeup and Accessories.
Outfit: Lace Blouse and Bright Red Skirt with Bold Lipstick
Photo from A Pinch of Lovely
Wear an A-line skirt with tan heals and a white shirt for this easy DIY Christmas Day outfit. Pair with bold lipstick and a gold bracelet set to complete the outfit.
Outfit for Christmas: Plaid Skirt with Burgundy Top and Bold Necklace

Here's how to create a cute Christmas outfit with a red plaid skirt and a matching top.
Adding delicate jewelry and a Tori Burch dupe designer purse adds a little "extra" to this outfit.
Christmas Party Outfits for Teenage Girl
Christmas Party Outfits with a Gold Skirt
Pink Christmas Party Outfit
Christmas Dresses for Teenage Girl
A dress for Christmas is so comfy and stylish!
Christmas Outfit Idea: Red Dress with Plaid Scarf (Plus Jewelry of Course!)
I love a cozy, loose fitting dress paired with a scarf and boots. A cotton dress is so comfortable, and a scarf dresses up any outfit! Add black tights if it is cold where you live.
Of course, adding jewelry and a fun designer-looking purse completes the Christmas outfit.
Outfit: Red Sweater Dress for Christmas with Knee High Boots
instagram.com/thecheekybeen
I love sweater dresses for winter. They are warm and comfortable!
The knee high boots add a touch of fun and sexiness.
Simple Black Dress for Christmas
Create Your Own Christmas Outfit
I love a plaid dress with booties for winter. This outfit works well for Christmas family photos too!
Christmas Outfit Ideas with Leggings
Simple Black Leggings and White Sweater Christmas Outfit
Christmas Outfit: Spanx Dupe Leggings with a Bright Red Coat
I love wearing leggings! These leggings (see below) are dupes of the Spanx leggings. A bright red coat is perfect for Christmas and the winter too.
Matching accessories for this Christmas outfit idea.
Christmas Outfits with Jeans for Teenage Girl
If you are like me, you get cold in the winter! I love wearing black jeans and leggings.
Outfit Idea: Plaid Shirt with Scarf and Skinny Jeans
Photo from Glam Sugar
You can wear this outfit throughout winter! I basically live in skinny jeans and riding boots starting in the fall.
Buy a bright red plaid shirt and add a cute scarf for this semi-casual Christmas outfit.
Accessories to complete the outfit.
Simple Jeans and Red Sweater Outfit
You can wear this outfit for Christmas and for going out on the weekends.
The fancy black purse and leopard print booties make this outfit super stylish.
Outfit: White Sweater with Red Scarf and Jeans
Photo from Glam Sugar
I love this outfit! It's perfect for Christmas dinner and date night.
Bright red lipstick and cute earrings complete the holiday look.
Simple Christmas Outfit with Jeans and Red Boots
Christmas Outfit with Black Jeans for Teenage Girl
Casual Christmas Outfits for Teens
Fun Christmas Sweater with Jeans
Cozy Christmas Morning Outfit
Cute Christmas Pajamas
Outfit for Christmas: Fun Elf Outfit for Teen Girls!
This is such a fun Christmas elf costume for women! You can buy this exact skirt on Amazon.
Pair this elf outfit with a cute red hat, accessories, and red jewelry for Christmas and holiday cheer.
Cute Accessories for Christmas Outfits
More Articles by Very Easy Makeup
Did you like this article?
Please give it 5 stars below, leave a comment, and share it with friends on Facebook!
You may also like these related articles and pages by Very Easy Makeup.
Too Faced Sparkling Pineapple Eye Shadow Palette Review and Color Swatch
The 5 Best Dresses on Amazon – All Under $30
The 3 Best Women's Work Purses
Connect with Very Easy Makeup
I'd love to connect with you!
Follow Very Easy Makeup on Facebook to get notified of new beauty, makeup, and fashion posts!
Please subscribe to the Very Easy Makeup YouTube channel. You'll find how-to tutorials for very easy makeup and bleaching hair blonde at home.
Sign up for the Very Easy Makeup Newsletter.
(This post contains affiliate links. View the disclosure here.)