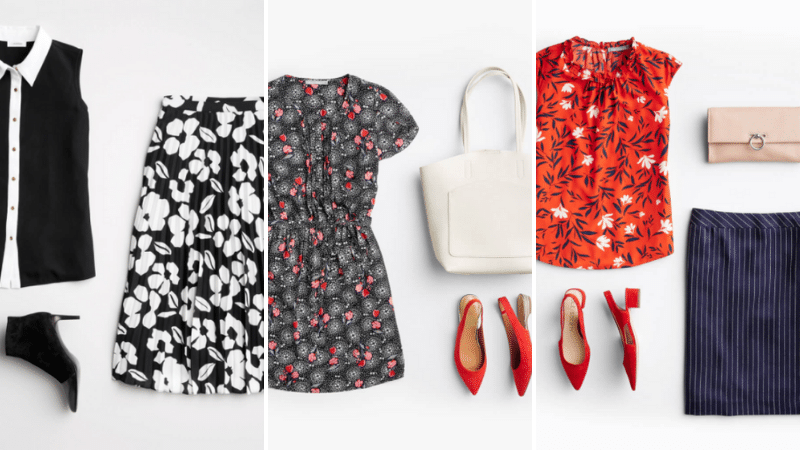 Cute Summer Work Outfits
Summer is the perfect time of year to wear cute floral print dresses and skirts.
Many of the Stitch Fix work and business casual outfits for summer feature a floral printed skirts and dresses. Plus, skirts are so comfortable!
This guide with cute summer work outfits includes:
Summer business casual outfits
Stitch Fix business casual outfits for spring and summer
How to copy the cute summer work outfits with affordable clothes on Amazon
This post may contain affiliate links. View the disclosure here.
Cute Summer Work Outfits
Here are my four favorite summer work outfits from Stitch Fix.
Cute Summer Work Outfits for Women Inspired by Stitch Fix
Fortunately you don't need a Stitch Fix subscription to get these summer work outfits!
Just shop for similar clothes online from stores like Amazon. I'll show you how.
Summer Work Outfit #1: Black Pleated Skirt and Blouse
For this work outfit, you'll need a black pleated skirt and a matching blouse.
Black Pleated Skirt
Black and white Blouse
Black Booties
Summer Business Casual Outfit #2: Red Floral Blouse with Navy Skirt
This professional work outfit by Stitch fix outfit is so cheerful. You just need a red blouse, a pencil skirt, and cute suede shoes with a low heel.
Red Floral Print Blouse
Navy Pencil Skirt
Red Suede Heels
The heels by Stitch Fix are by Sole Society. I like these pumps by Michael Kors more! The Dorothy Flex pumps are my go-to because they are so comfortable.
Light Pink Wristlet
Summer Business Casual Outfit #3 for Work: Red and Pink Sweater with Black, Black, Black!
This Stitch Fix professional work outfit is great for spring, summer, or fall. If it gets cold outside, add tights and booties (instead of the suede flats) and add a leather jacket or a button up sweater.
Black and Pink Ruffle Dress
Red Suede Slingback Pumps with Low Heel
Classy White Tote Bag
Summer Work Outfit #4: Red Skirt and Navy Blouse
This Stitch Fix outfit is business meets party. Perfect for work or after-work happy hour!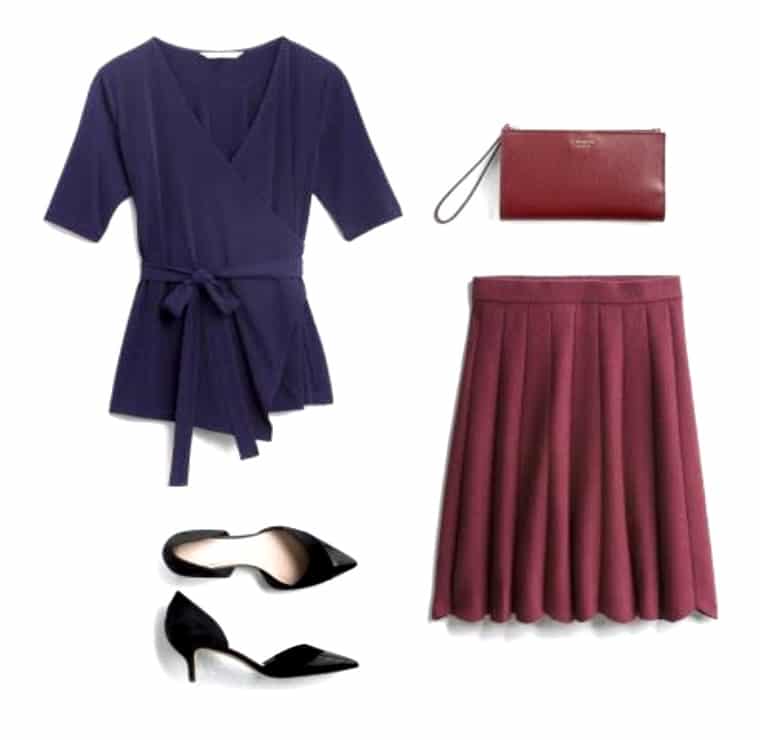 Navy V-Neck Blouse
Burgundy Pleated Skirt
Black Closed Toe Heels
Red Leather Wristlet
Love Stitch Fix? Explore More Outfits!
If you don't want to think about how to put together your own outfits, you don't need to! Just look to Stitch Fix for inspiration and then find similar clothes online.
You may enjoy these related pages by Very Easy Makeup.
Stitch Fix Pink and Grey Weekend Outfit
Stitch Fix Fall Athleisure Outfit with Yellow Sweater and Blue Jacket
Stitch Fix Coral Sweater and Pink Skirt Outfit
Related Fashion Articles by Very Easy Makeup
If you enjoyed this article, check out these similar articles and pages by Very Easy Makeup.
The 3 Most Comfortable Bras EVER
Loungewear Sets with Pants for Women
Cute Kids Pajamas for Christmas
Connect with Very Easy Makeup
I'd love to connect with you!
Follow Very Easy Makeup on Facebook to get notified of new beauty, makeup, and fashion posts!
Please subscribe to the Very Easy Makeup YouTube channel. You'll find how-to tutorials for very easy makeup and bleaching hair blonde at home.
Sign up for the Very Easy Makeup Newsletter.
(This post contains affiliate links. View the disclosure here.)