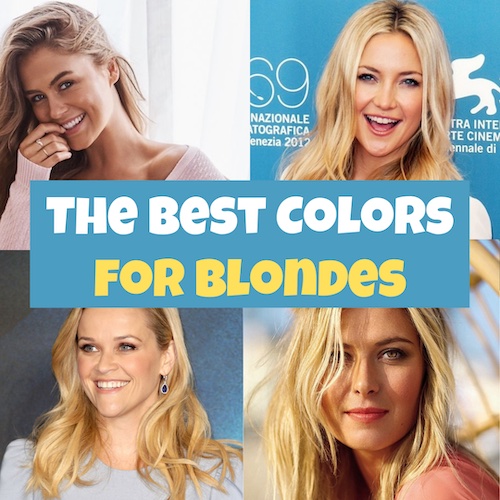 Best Colors for Blondes
Choosing the right color to wear can make a BIG difference in how you look (and feel!).
If you are a blonde, the right colors will complement your light hair color and make heads turn when you walk in the door!
This post may contain affiliate links. View the disclosure here.
The Best Colors for Blondes
This guide is all about the best colors for blondes.
You'll find:
The best flattering colors for blondes
Makeup tips for blondes
5 Flattering Colors for Blondes to Wear
There are many flattering colors for blondes to wear, but some colors are better than others.
Below are the five colors best colors that look stunning on blondes. Cute dresses are included too!
1. Bright Red
Red looks amazing with blondes, especially if you have golden locks like Heather Graham.
Choose red for date night or for a day at the office when you are giving a presentation.
Best Red Dresses and Shirts that Look Good on Blondes:
2. Emerald Green
Jewel tones (emerald green, purple, and dark blue) look great on blondes.
Emerald green looks rich and is a great color for blondes to wear in the late summer and fall.
Get a Similar Emerald Green Dress:
3. Light Pink
Light pink is one of the BEST colors for women with blonde hair. It's feminine, approachable, and very flattering.
4. Classic White
White is so classy and crisp! White is ideal for fair and honey blondes.
You can't go wrong with wearing white as a blonde.
Below are two super cute white dresses on Amazon that are affordable too!
This white dress is perfect for graduation too!
5. Baby Blue
Like light pink, baby blue looks great on blondes.
Pair with light pink blush and pink lipstick for a natural makeup look and a pretty outfit.
More Awesome Colors for Blondes to Wear
When picking a color, stick to jewel tones, earth tones, pastels, and classic white or black.
Here are more amazing colors for blondes.
6. Bright Yellow
Yellow is just so bright and cheerful! It's fun for blondes.
7. Soft Gray
Soft colors like gray look great on blondes.
8. Earthy Brown
Blondes look great in earth tones like brown, mustard, and dark green.
9. Light Gold
A shiny gold dress for nighttime is a sexy and fun outfit idea.
10. Bright Pink
Bright pink says "look at me!" It also looks great on blondes.
Get Pretty Pink Dresses for Blondes:
11. Pretty Coral
Coral is a great mix between bright pink and baby pink. It's a great pastel color on blondes.
12. Dramatic Black
Black can be a bit serious looking, but it does bring attention to your face and adds a nice contrast to light blonde hair.
The Best Colors for Blondes (By Shade of Hair)
The great thing about being blonde is that there are SEVERAL shades of blonde to choose from!
You can be honey blonde/golden blonde, ash blonde/platinum blonde, strawberry blonde, and many shades in between!
The Best Colors for Ash Blondes
Ash blondes look great in soft gray and soft pastel colors like light pink and baby blue.
Dusty pink, mint green, and lavender look amazing too.
The Best Colors for Honey Blondes
Golden blondes look great with rich jewel tones. Try turquoise, yellow (think lemons), coral, or deep purple.
Cream is a super flattering color for blondes too!
The Best Colors for Strawberry Blondes
Strawberry blondes look great in earthy tones like emerald green and dark brown.
Light pink looks great too!
The Best Color for Blondes with Blue Eyes
If you have blonde hair and blue eyes, try wearing blue or turquoise to make your eyes pop.
The Best Color for Blondes with Brown Eyes
If you have blonde hair and brown eyes, try wearing soft gray or gold.
Metallic shades, natural shades, and purple will all make your eyes stand out.
Summary: The Best Colors for Blondes
In summary, blondes look great in soft pastel colors, jewel tones, earthy tones, or classic black and white.
Colors to Avoid as a Blonde
If you are a blonde, be careful about wearing dark colors. Black, dark browns and dark green can be too harsh for many blondes.
If you have ash blonde hair, be careful about bright colors like red or purple. It can be overwhelming!
What's Your Favorite Color to Wear as a Blonde?
Do you have a shirt that you love in a GREAT color, or a stunning go-to dress in a dazzling color?
Please leave a comment below and share your favorite color and/or outfit to wear as a blonde!
More Articles by Very Easy Makeup
Did you like this article?
Please give it 5 stars below, leave a comment, and share it with friends on Facebook!
You may also like these related articles and pages by Very Easy Makeup.
Connect with Very Easy Makeup
I'd love to connect with you!
Follow Very Easy Makeup on Facebook to get notified of new beauty, makeup, and fashion posts!
Please subscribe to the Very Easy Makeup YouTube channel. You'll find how-to tutorials for very easy makeup and bleaching hair blonde at home.
Sign up for the Very Easy Makeup Newsletter.