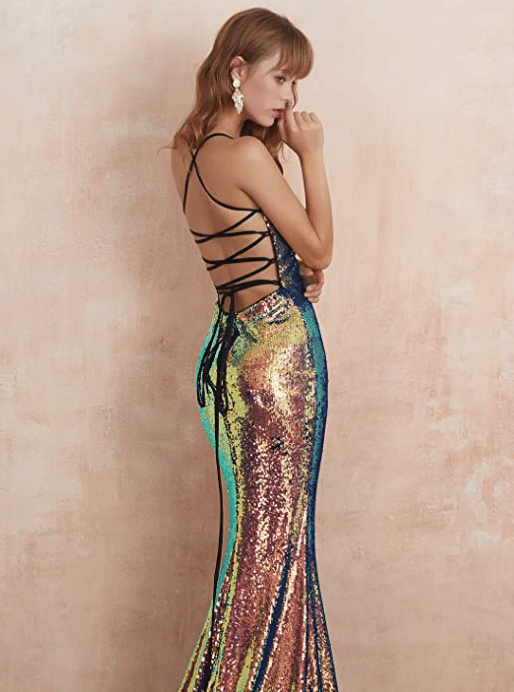 When it comes to shopping for a fabulous prom dress, why not get a fun iridescent prom dress?
Iridescent prom dresses change color depending on the lighting and are perfect for prom 2021!
Plus, long iridescent prom dresses tend to be sparkly and eye-catching.
Iridescent Prom Dresses for 2021
Continue reading for:
The best iridescent prom dresses
A purple iridescent prom dress
A white iridescent prom dress
Iridescent sequin prom dresses
Iridescent prom dresses in plus size
Top 5 Iridescent Prom Dresses
Want a glamorous, stunning, iridescent prom dress for your prom? Check out these 5 amazing (and cheap!) iridescent prom dresses, all from Amazon!
1. Multi-Color Sparkly Iridescent High Split Long Party Dress
2. BOMBAX Sexy Women Deep V-Neck Floral Print Long Backless Sleeveless Party Dress
3.
Long Mermaid Prom Dresses Sequin Iridescent Formal Gown
4. Sparkling Mermaid Iridescent Prom Dress by Ever-Pretty
4.
Ever-Pretty Women's Double V-Neck Sequins Patchwork Mermaid Dress
Iridescent Prom Dress – Plus Size by Ever Pretty
Iridescent Prom Dress – White and Pink
Places to Buy an Iridescent Prom Dress
Check out Amazon, David's Bridal, Prom Girl, and Prom Headquarters.
What are the Most Popular Prom Dress Colors?
Blue, white, and red are favorites.
How Much Should I budget for an Iridescent Prom Dress?
Most girls pay between $50 and $300 for a prom dress.
Some prom dresses go up to $600, but that's a bit pricey in my opinion. Save the extra money for a night out with your friends!
Do You Wear a Bra with Iridescent Prom Dresses?
It's up to you! If your dress works with a strapless bra, then go for that.
My favorite strapless bra is by b. tempt'd. It's so comfortable and actually stays up while dancing! It's on Amazon in neutral, black, and light pink. You can find more comfortable bras on Amazon too.
If a bra doesn't work with your prom dress, get some stickies to wear under your dress.
More Iridescent Prom Dresses and Sequin Dresses
Check out these short sequin and sparkly dresses for prom and these long sparkly, sequin dresses too!
More Articles by Very Easy Makeup
Did you like this article?
Please give it 5 stars below, leave a comment, and share it with friends on Facebook!
You may also like these related articles and pages by Very Easy Makeup.
Too Faced Sparkling Pineapple Eye Shadow Palette Review and Color Swatch
The 5 Best Dresses on Amazon – All Under $30
The 3 Best Women's Work Purses
Connect with Very Easy Makeup
I'd love to connect with you!
Follow Very Easy Makeup on Facebook to get notified of new beauty, makeup, and fashion posts!
Please subscribe to the Very Easy Makeup YouTube channel. You'll find how-to tutorials for very easy makeup and bleaching hair blonde at home.
Sign up for the Very Easy Makeup Newsletter.
(This post contains affiliate links. View the disclosure here.)