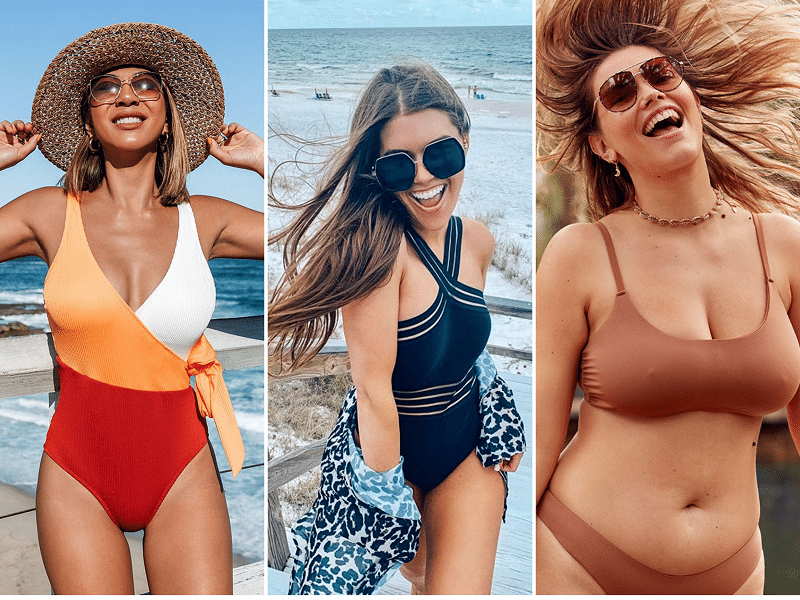 Best Swimsuit Brands for Women
If you are searching for a flattering swimsuit for summer, then having a list of the best swimsuit brands for women may be helpful!
I personally like buying swimsuits on Amazon (it is easy because you can read all the reviews and see the pictures), but there are also TONS of other places to buy swimsuits.
The Best Swimsuit Brands for Women
I'm in a women's Facebook group in Atlanta, GA where one woman posed the question of, "What are the most flattering and best swimsuit brands for women?"
Like…ACTUALLY flattering swimsuit brands that fit a woman's figure.
This post contains affiliate links. View the disclosure here.
The 10 Most Flattering and Best Swimsuit Brands for Women
Here is a top 10 list of the best, most flattering swimsuit brands for women for 2023.
1. CUPSHE
CUPSHE has AMAZING swimsuits. Most CUPSHE swimsuits are under $35 online. CUPSHE offers swimsuits for women with small busts and large busts. Plus, CUPSHE has such cute patterns! CUPSHE is actually #1 on my list of the best swimsuit brands for women.
Love the CUPSHE swimsuits above? Click the links below to buy online.
2. Bdcoco
Bdcoco has cute shirts, workout clothes, dresses, and loungewear outfits for women.
Bdcoco also has cute swimsuits and is one of the best swimsuit brands for women!
My group of friends (and other women too!) are in LOVE with the Bdcoco high waist two piece bikini.
P.S. COCOSHIP has a similar swimsuit that women love too!
3. MiracleSuit
If you want a flattering, one piece swimsuit that covers up trouble areas (think tummy control!), then check out MiracleSuit.
MiracleSuit is THE BEST swimsuit brand for women seeking a one piece with tummy control.
The one piece swimsuits by MiracleSuit are expensive, but women love the flattering fit.
4. Hilor
Women are obsessed with Hilor swimsuits! This swimsuit brand is only available on Amazon, but there are more than 10,0000 reviews (and lots of pictures!) to help you determine what size and style is best.
The two most popular swimsuits are the one shoulder asymmetric one piece ruffled bathing suit and the one piece front crossover swimsuit.
5. Trina Turk
Trina Turk swimsuits are expensive, but Trina Turk made the top 10 list and was highly recommended by women in my friend's group.
Trinka Turk always has bright, colorful, beautiful dresses, shirts, and swimsuits. Trina Turk is available online (from TrinaTurk.com), at Nordstrom, and in a few shopping malls.
Women like the Trina Turk V-Plunge one piece swimsuit and the Bralette Hipster Bikini swimsuit top.
I personally like the Trina Turk beach cover up the most! (And it's more affordable.)
P.S. – Love the Trina Turk swimsuit style (bright colors!), but not sure about spending $100 on a swimsuit? Check out this swimsuit on Amazon. It's under $40 and is so cute and has amazing reviews.
6. ZANDO
Zando has SO MANY swimsuits to choose from online.
Women love how Zando swimsuits offer tummy control and have the right amount of coverage.
Zando is the perfect swimsuit for moms or for women who want to cover up the tummy a bit.
The two most popular swimsuits by Zando are the red top with black and white polka dots two piece swimsuit (shown above) and the high waisted two piece swimsuit with black and white palm trees (below).
I'm surprised there aren't more reviews online…women in my friend's group highly recommended Zando!
Moms tend to vote Zando as one of the best swimsuit brands for women.
7. Aerie
Aerie sells GREAT swimsuits for women of all shapes and sizes, including apple shape, pear shape, plus size, and more. Plus, Aerie swimsuits are affordable.
Tip: Aerie has really good underwear too!
Aerie has a lot of cute swimsuits with animal prints and ruffles.
P.S. – Here are a few swimsuits similar to the Aerie swimsuits online for under $30. The leopard print swimsuit by Upopby is basically a dupe of the Aerie leopard print swimsuit!
Aerie gets two thumbs up as one of the best swimsuit brands for women, plus size tweens, and teens.
Swimsuits Similar to Aerie on Amazon
8. Venus
Venus has a wide selection of colorful swimsuits and plus size swimwear.
The swimsuits for women by Venus remind me of the California west coast!
Check Out Venus Swimwear for Women
9. ZAFUL
Zaful (like CUPSHE) has cute, affordable swimsuits for women.
And by affordable – I'm meaning swimsuits under $20 and sometimes under $15!
You can buy Zaful online (zaful.com) or you can buy Zaful on Amazon. I personally like shopping at Amazon because of the free shipping and returns, and the reviews!
The ZAFUL high waisted bikini scoop two-piece swimsuit is the most popular.
10. Riot Swim
I'll be honest – I had never heard of Riot Swim! But my friends recommended Riot Swim as one of the best, most flattering swimsuit brands for women.
Riot Swim is not my personal style of swimsuit, but if you want a swimsuit that shows off your legs and bootie then this is your swimsuit brand!
P.S. – If you like Riot Swim, you may really like Pink Queen Swimsuits!
Pink Queen has similar, super sexy swimsuits that show off your legs nicely.
Runners Up for Best Swimsuit Brands for Women
These swimsuit brands for women didn't make the top 10 list of the best swimsuit brands for women, but they deserve an honorable mention.
1. SHEIN
SHEIN gets GREAT reviews from my friends for cute dresses, but SHEIN didn't get as many honorable mentions for their swimsuits.
SHEIN is still worth checking out! Just make sure to read the reviews (and look at the pictures!) online.
2. Target
You really can't go wrong with Target swimsuits. They are cute and affordable.
Just make sure to buy online ASAP if they have your size. Target runs out of styles really quick! I personally like the Kona Sol brand at Target.
3. Tempt Me
Below are my favorite one piece swimsuits and tankinis by Tempt Me. You can buy the swimsuits from Tempt Me online, but Amazon will ship to you for free.
Tempt Me One Piece Swimsuits
Tempt Me Two Piece Swimsuits
4. Beach Riot
Like Riot Swim, I have never heard of Beach Riot! But my friends recommended this as most of the best, most flattering swimsuit brands for women.
You can buy swimsuits from Beach Riot on their website (BeachRiot.com) or on Amazon (select styles).
P.S. – If you like the Beach Riot swimsuit style but don't want to pay quite so much, check out this CUPSHE one piece swimsuit below. It's similar in style, but under $35 online.
5. Everything But Water
Everything But Water has GREAT women's swimsuits. You can shop by feature, like fuller bust/D cup, moderate coverage, and tummy control/slimming, which is nice.
P.S. – If you love Everything But water, check out swimsuits by LSpace, Seafolly, La Branca, and Becca by Rebecca Virtue.
Swimsuit Brands Similar to Everything But Water
The Best Beach Coverups to Wear Over Your New Swimsuit
After you've found a cute, flattering swimsuit from a swimsuit brand that you love, why not get a new beach cover up? It will help to complete your beach outfit!
Below are three super cute and flattering beach cover ups for women.
You may also want to explore the best beach cover ups on Amazon and the best beach wrap skirts on Amazon.
Tips for Choosing the Best Swimsuit Brand for You
When searching for the best swimsuit for you (and best swimsuit brand!), keep these things in mind.
How to Choose the Best Swimsuit Brand for You
Here are 5 things to consider.
1. Price
How much do you want to spend on a new swimsuit? You can find lots of cute swimsuits for under $30 online. You can also easily spend $100+ on a new swimsuit.
2. Your Body Type
Some brands cater more tweens and women sizes 6 and under, whereas others specialize in women with curves and plus size women. Find a swimsuit brand that caters to your body type.
3. Sexy vs. Modest vs. Cute
Do you want a sexy swimsuit with mesh, cut-outs, and plunging necklines, a more modest swimsuit with coverage, or a cute swimsuit with ruffles in bright colors?
Choose a swimsuit brand for women that matches your style.
4. Online Reviews
What do other women say about the swimsuit brand that you are considering?
5. Online vs. In-Store
Do you prefer to try on swimsuits in a store or online at home?
I personally like Amazon because I can research swimsuits online, buy 3-5 swimsuits, try them on at home, and then return one or two if they don't fit. What's easiest for you? Does the swimsuit brand you are looking at have a great return policy?
More Swimsuits – Find the Best Swimsuits for 2022
You may also find cute swimsuits for women and get inspiration from Very Easy Makeup on Pinterest.
High Waisted Bikinis for Curvy Women
Plus Size Swimsuits for Curvy Women
Amazon Bikinis for Curvy Women
More Articles by Very Easy Makeup
Did you like this article?
Please give it 5 stars below, leave a comment, and share it with friends on Facebook!
You may also like these related articles and pages by Very Easy Makeup.
The 20 Best Dresses on Amazon for Curvy Figures
The 20 Best Dresses on Amazon for Women
Connect with Very Easy Makeup
I'd love to connect with you!
Follow Very Easy Makeup on Facebook to get notified of new beauty, makeup, and fashion posts!
Please subscribe to the Very Easy Makeup YouTube channel. You'll find how-to tutorials for very easy makeup and bleaching hair blonde at home.
Sign up for the Very Easy Makeup Newsletter.