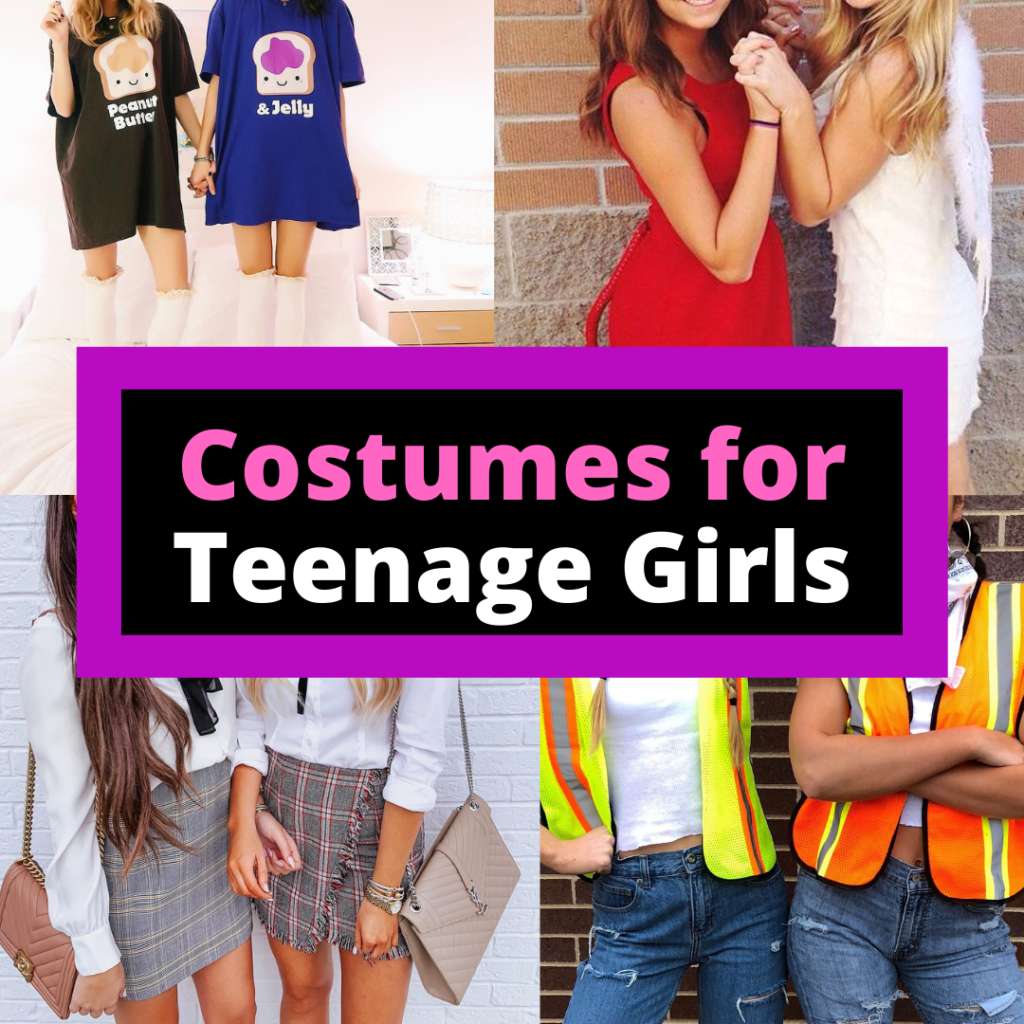 Halloween Costumes for Teenage Girls
25 Easy and Cute Halloween Costumes for Teenage Girls
Happy Halloween!
1. Salt and Pepper
This is a SUPER easy Halloween costume idea. You can DIY too if you want.
2. Construction Workers
This go-to Halloween costume for high school girls is so easy. Plus, you can choose to wear jeans or shorts depending on the weather.
3. Bumble Bee and Ladybug
This is an easy last minute Halloween costume for two girls. All you need are black tights and the ladybug and bumble bee headpieces.
Bumble Bee Costume
Ladybug Costume
4. Sweet Delights
Dressing up as cookies or sweets has so much flexibility for two girls. Amazon has a TON of dessert-related costumes to choose from.
Sweets, Cookies, and Donut Costumes
DIY Animal Cookie Costumes for Teenage Girl Cute Halloween Costumes
Get more ideas for DIY Halloween costumes with animal crackers in this post.
5. Devil and Angel
This is a fun Halloween costume for two teenage girl best friends. It works great for college too!
Devil Costume for Dynamic Duo Costumes
Angel Costume for 2 Girls
6. Elmo and Cookie Monster
You can make your own Elmo and Cookie Monster Halloween costumes, or you can wear t-shirts, OR you can wear onsie pajamas. Elmo + Cookie Monster has a LOT of flexibility on how to dress up for Halloween for two girls.
Elmo Halloween Costume Ideas
Cookie Monster Costume Ideas
7. Two Girls from Gossip Girl
This is an EASY DIY Halloween costume for two girls.
Gossip Girl DIY Halloween Costumes for Teens and Women
8. M&Ms
This Halloween costume is SO cute! It works great for groups of 3, 4, and 5 too.
M&M Costumes for Teen Girls on Amazon
9. Peanut Butter and Jelly
You know the phrase, "Peanut butter and jelly time?" These cute Halloween costumes for teenage girls are easy and fun.
Peanut Butter & Jelly Duo Costumes
Peanut Butter Costumes
Jelly Costumes
10. Daphne and Velma from Scooby-Doo
Scooby-Doo is such a classic cartoon. And you can either DIY with these Halloween costumes for two girls or get the complete outfit on Amazon for Daphne and Velma.
Daphne Costume for Teens
Velma Costume for Teens
11. Cher and Dionne from Clueless
12. Cute Sailors
13. Cowgirls
14. Mario and Luigi
15. Girl Scouts
16. Hippie Girls
17. 60s Girls
18. The Flintstones (Wilma and Betty Rubble)
19. SpongeBob SquarePants
20. Minions
21. Winnie the Pooh and Tigger
22. Lemon and Lime
23. Strawberry and Pineapple
24. Scarecrows
25. Buzz Lightyear and Woody
Related Articles by Very Easy Makeup
Liked this article with cute Halloween costume ideas for two teenage girl best friends? Check out these related articles too by Very Easy Makeup!
Fall Outfits with Dr. Martens Boots
Fall Outfits with Skirts and Boots
Fall Outfits with Thigh High Boots
Connect with Very Easy Makeup
I'd love to connect with you!
Follow Very Easy Makeup on Facebook to get notified of new beauty, makeup, and fashion posts!
Please subscribe to the Very Easy Makeup YouTube channel. You'll find how-to tutorials for very easy makeup and bleaching hair blonde at home.
Sign up for the Very Easy Makeup Newsletter.