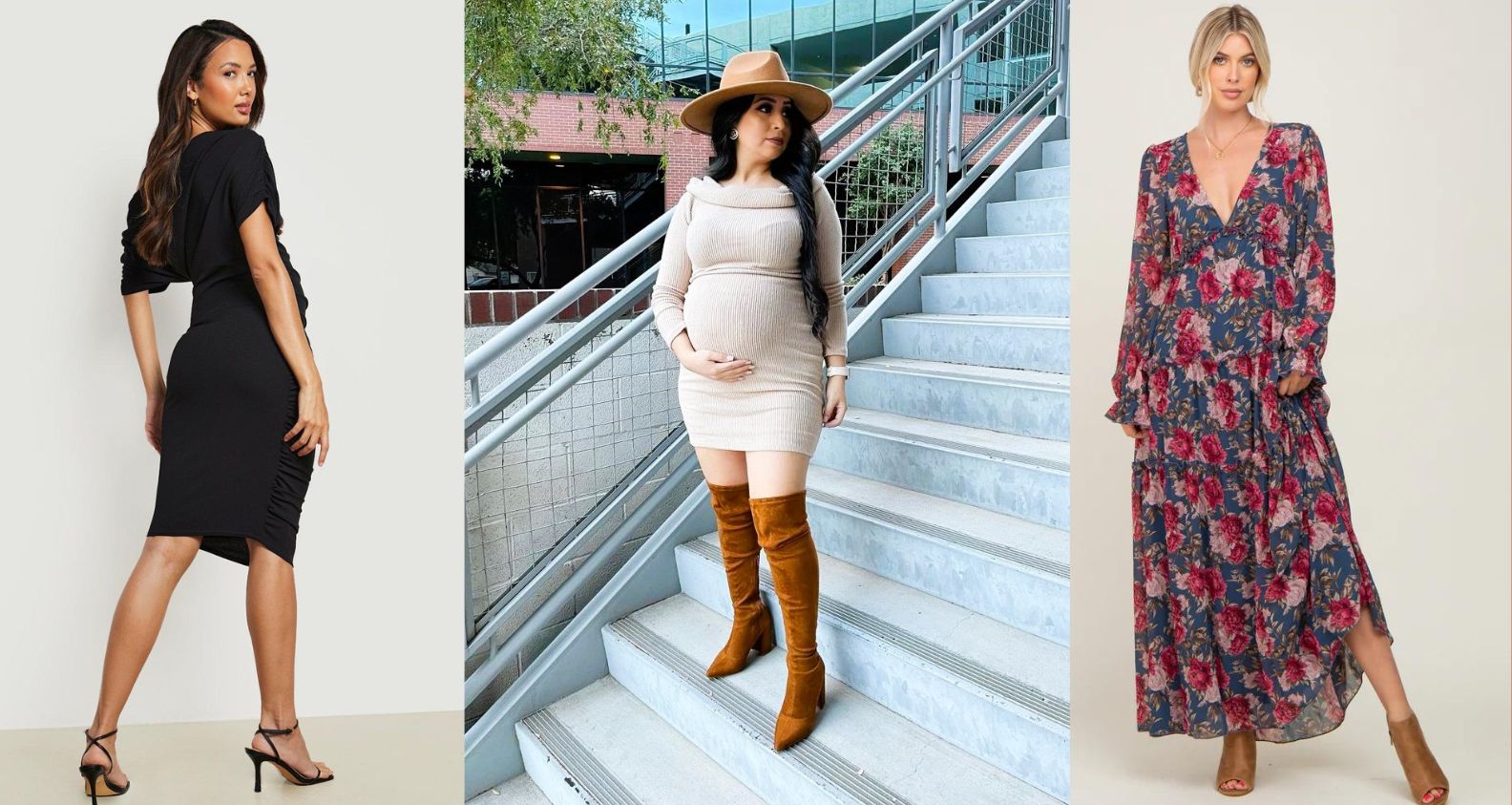 Maternity Thanksgiving Outfits
Want a cute (and attractive!) maternity outfit for Thanksgiving?
Continue reading to discover the best maternity and pregnancy shirts, sweater dresses, sweaters, and maternity Thanksgiving outfits to wear for Thanksgiving 2022.
This post may contain affiliate links. View the disclosure here.
Maternity Thanksgiving Outfits
The best maternity outfits for Thanksgiving include a mix of cute Thanksgiving t-shirts with tights and comfortable (and stretchy!) sweater dresses with booties.
Cute Thanksgiving Maternity Outfits and Shirts
Have a great Thanksgiving!
1. Maxi Floral Dress with Booties
This is such a classy maternity Thanksgiving outfit idea!
2. Little Turkey in the Oven" Shirt with Maternity Leggings
A cute pregnancy shirt for Thanksgiving is a "Little Turkey in the Oven" t-shirt.
This maternity Thanksgiving shirt is funny!
3. Soft Sweater Dress with a Cream Hat
This sweater dress is perfect for Thanksgiving! This sweater dress comes in more colors online too!
This sweater dress is also GREAT for fall maternity clothes.
RELATED: Best Maternity Outfits on Amazon
4. Sweater Dress with White Nails
View Thanksgiving Dress on PinkBlush
Getting your nails done makes any outfit look fancy! This soft pink/cream sweater dress is perfect for a cute maternity Thanksgiving outfit.
5. Off the Shoulder Red Maternity Dress with a Necklace
This off-the-shoulder maxi dress works for pregnant women as a maternity dress and for post-pregnancy occasions too!
This Thanksgiving maternity dress in burgundy gets great reviews online.
6. Classy V Neck Maternity Dress with Heels
This is such an elegant and classy red dress. Wear this maternity dress for Thanksgiving and Christmas!
7. Simple Pink Dress with Sneakers
This maternity dress is so sweet looking and a comfy Thanksgiving maternity outfit idea.
This maternity dress is also made in the USA by Mother Bee Maternity.
8. Red Cowl Neck Sweater Dress with Booties
This maternity dress will keep you warm on Thanksgiving!
This sweater dress gets great reviews on Amazon.
9. Green Sweater Dress with Earrings
This maternity dress is so stylish and will work for Christmas too!
10. Casual Maternity Knit Dress with a Hat
This casual maternity dress for Thanksgiving has pockets and is made in the USA. (YAY!)
11. Cream Ribbed Mock Neck Maternity Dress with a Hat
This fitted maternity dress is so cute! Pair with booties and a plaid maternity jacket or a shacket for Thanksgiving.
12. Wear a Fancy Black Dress with Heels
Just because you are pregnant doesn't mean you can't dress up!
13. Thanksgiving Pregnancy Couple Shirt with Jeans
A funny Thanksgiving shirt for pregnant women is to wear a couples-related Thanksgiving shirt.
14. Pair a Sweater Dress with Knee High Booties
This maternity Thanksgiving outfit idea is sexy and comfy!
15. Turkey in the Oven T-Shirt with Pregnancy Jeans
This Thanksgiving maternity shirt is funny! You can even get your husband involved for this maternity Thanksgiving outfit.
Summary – Maternity Thanksgiving Shirts and Outfits
In summary, it's easy to put a quick outfit together for Thanksgiving if you are pregnant.
Below are easy maternity THanksgiving outfit ideas.
1. Wear a Cute Maternity Thanksgiving Shirt
A cute Thanksgiving t-shirt that is maternity friendly is always an option. Pair with leggings or stretchy jeans.
2. Wear a Funny Couples Thanksgiving Shirt
3. Wear a Comfortable Sweater Dress
Pair any sweater maternity dresses with leggings for an affordable Thanksgiving outfit for pregnant women.
Related Fashion Articles by Very Easy Makeup
If you enjoyed this article, check out these similar articles and pages by Very Easy Makeup.
DIY Stitch Fix Outfits and Stitch Fix Outfit Ideas
Connect with Very Easy Makeup
I'd love to connect with you!
Follow Very Easy Makeup on Facebook to get notified of new beauty, makeup, and fashion posts!
Please subscribe to the Very Easy Makeup YouTube channel. You'll find how-to tutorials for very easy makeup and bleaching hair blonde at home.
Sign up for the Very Easy Makeup Newsletter.