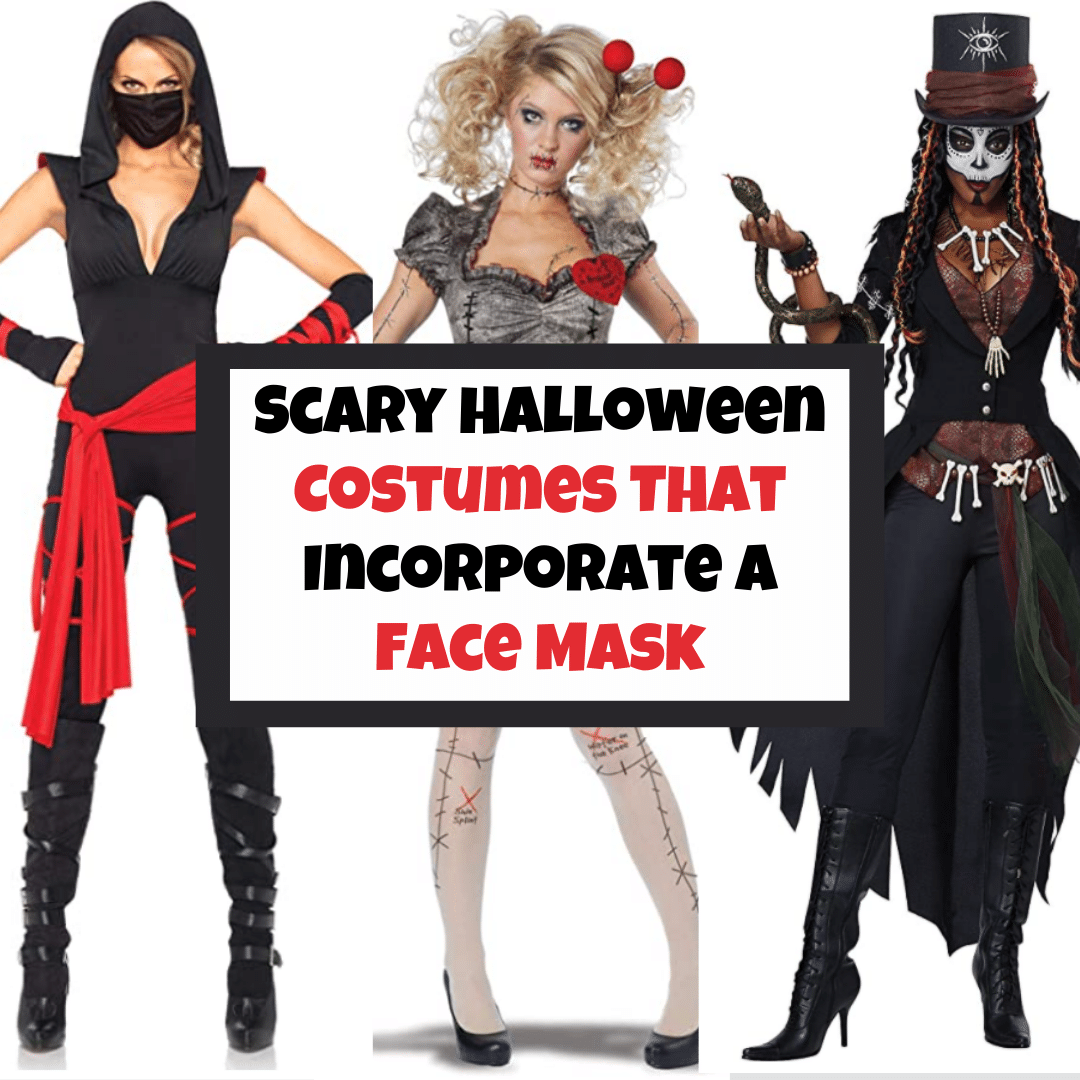 Usually people want scary Halloween costumes without a face mask, but with COVID/Coronavirus it would be wise to wear a Halloween costume that incorporates a face mask!
Halloween Costumes with a Face Mask for Adults
Here are six scary Halloween costumes for adults that you can buy on Amazon.
The best thing of all? Each of these costumes incorporates a face mask!
Halloween Costumes with COVID Mask
To complete the Voodoo Halloween costume, add a Voodoo Face Mask and a Skeleton Bone necklace!
Wear a face mask instead of painting on red lips and black stitches.
Complete your Doll Halloween costume with a face mask and makeup!
COVID Mask to Wear with Voodoo Doll Adult Costume for Women
Gothic Voodoo Doll Makeup and Face Tattoo
More Halloween 2020 Costumes with Face Masks
Check out this article by Very Easy Makeup to discover more Halloween costumes that incorporate masks for Halloween 2020.
Halloween Costumes that Incorporate Masks
Easy Costume Ideas that Include a COVID Mask for Halloween
You may also want to consider dressing up in one of these Halloween costumes to incorporate a face mask!
More Fashion, Beauty, and Self-Care Articles by Very Easy Makeup
Did you enjoy this article? Please give it 5 stars below and share it with friends on Facebook!
You may also like these related articles from Very Easy Makeup.
Connect with Very Easy Makeup
Follow Very Easy Makeup on Facebook to get notified of new beauty, makeup, and fashion posts!
Please subscribe to the Very Easy Makeup YouTube channel. You'll find how-to tutorials for very easy makeup and bleaching hair blonde at home.
Sign up for the Very Easy Makeup Newsletter.
(This post contains affiliate links. View the disclosure here.)