7 Stunning Desert Engagement Photo Ideas
This post may contain affiliate links, which means I may earn a commission if you decide to make a purchase through our links, at no cost to you. You may view the disclosure here.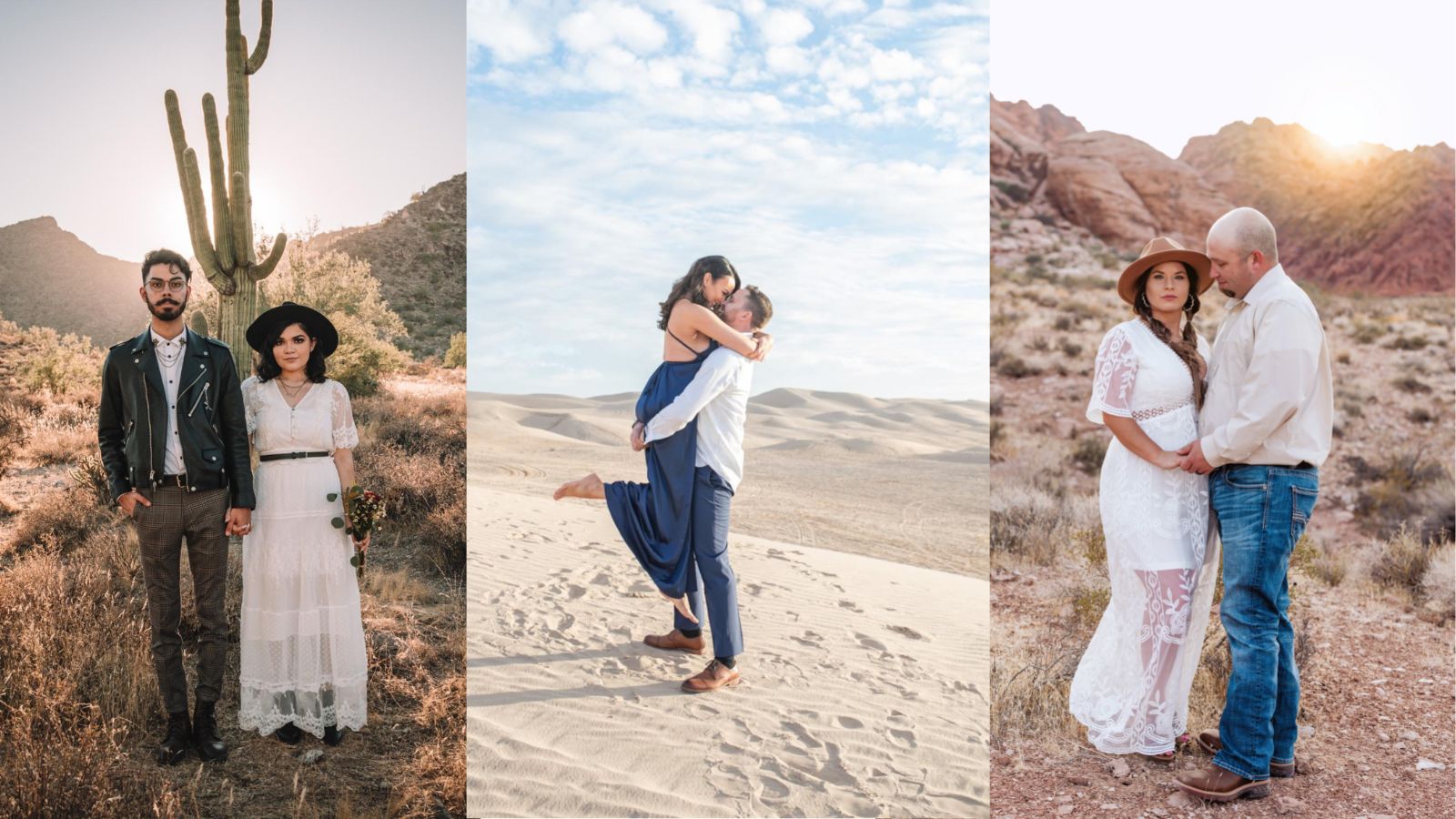 Desert Engagement Photos
Do you want to get your engagement photos taken in the desert?
Desert engagement photos are so unique and stunning!
But what does one wear? What poses are great for desert engagement photos?
This engagement photoshoot guide is all about desert engagement photo ideas.
Continue scrolling to get ideas for your desert engagement photoshoot!
You will find desert engagement photoshoot outfits too!
Desert Engagement Photoshoot Ideas & Outfits
Have a great time getting your photos taken!
1. Wear Cowboy Hats
Wear cowboy hats and brown boots for cute desert engagement photos.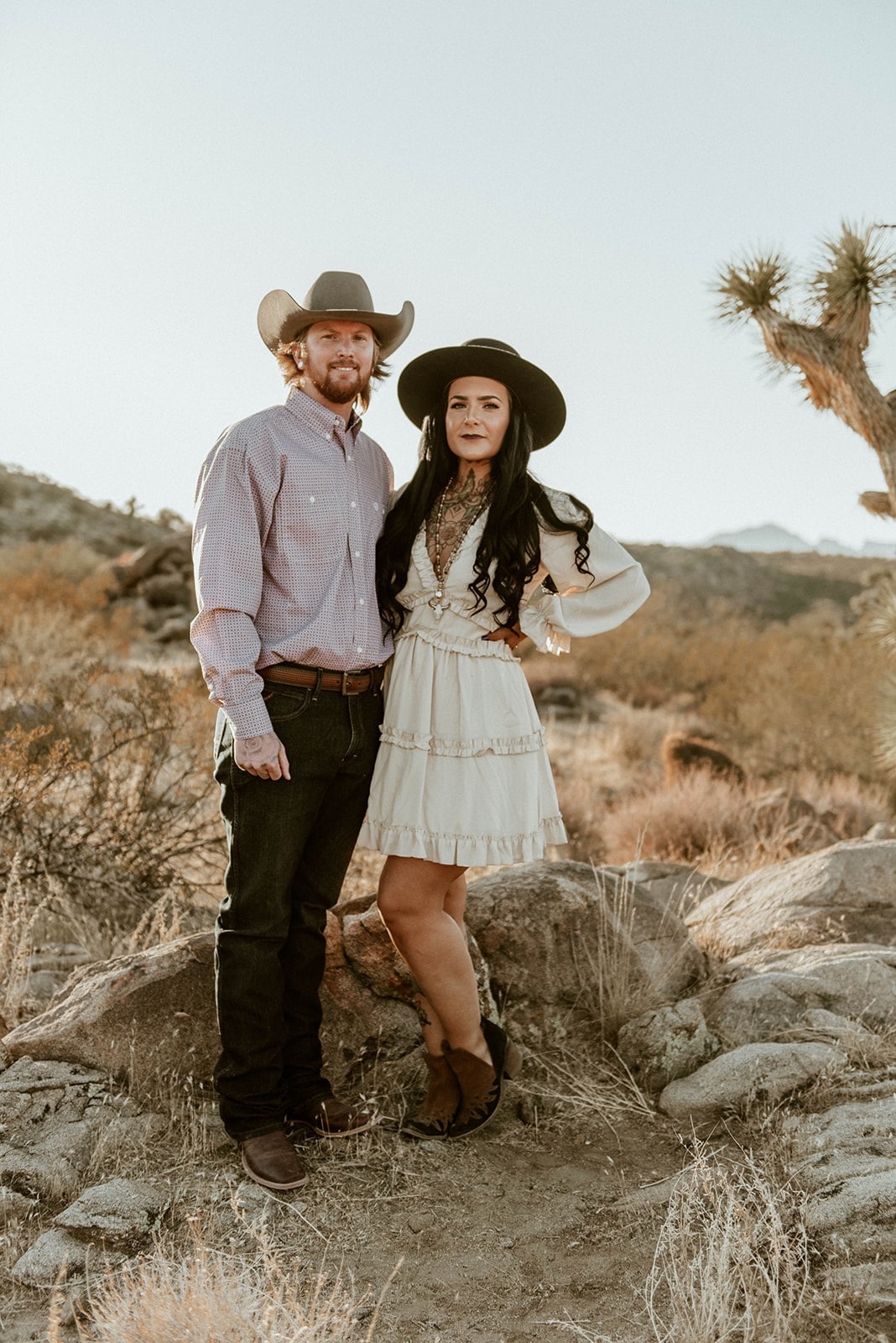 2. Pose in Front of a Cactus
I love this boho/desert vibes engagement photoshoot idea! You will love this white boho dress. This is one of the best boho dresses of all time!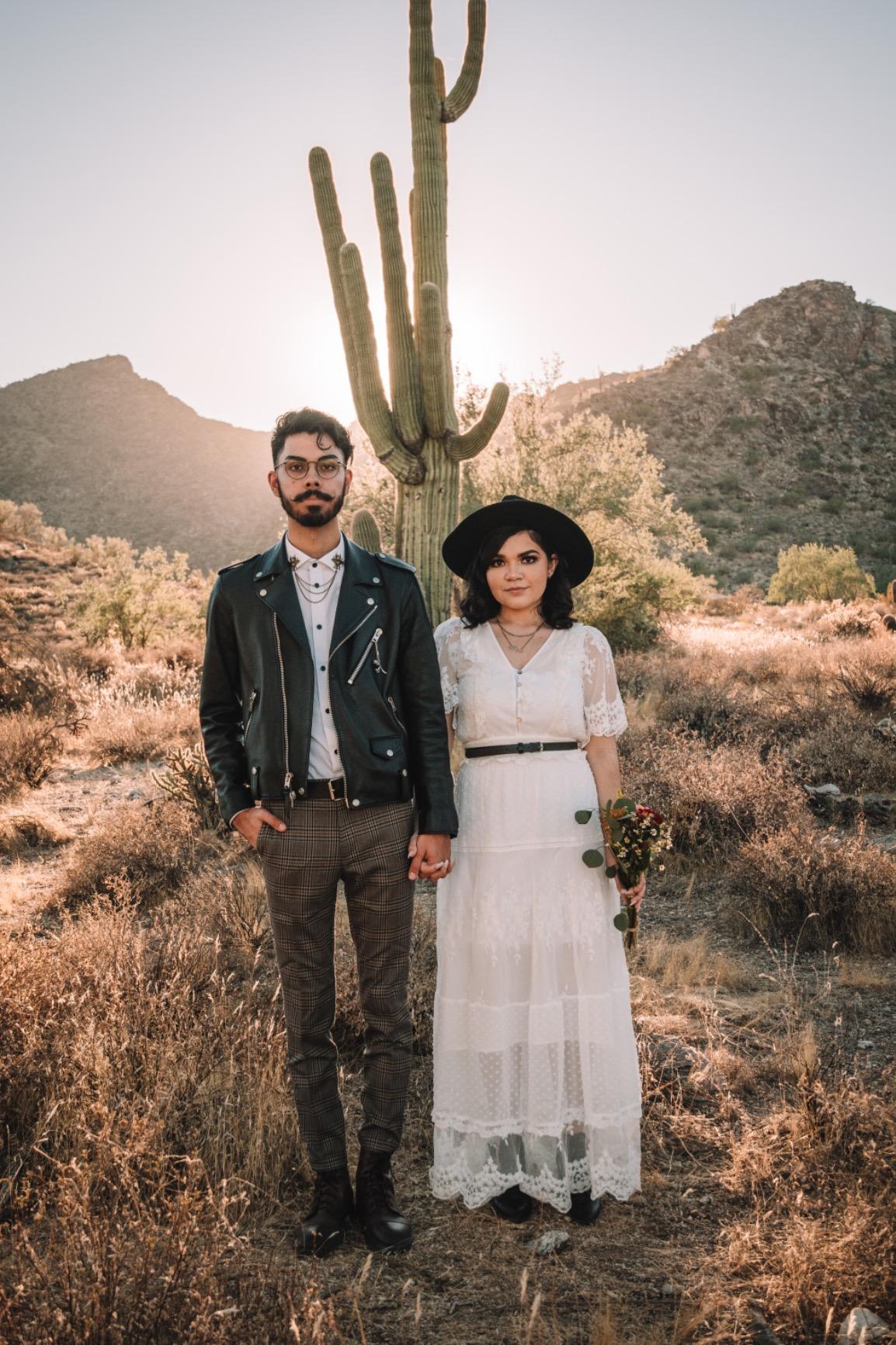 3. Jump Up and Kiss Each Other
I love this enagement photo pose. It's so much fun!
4. Capture Engagement Photos at Sunset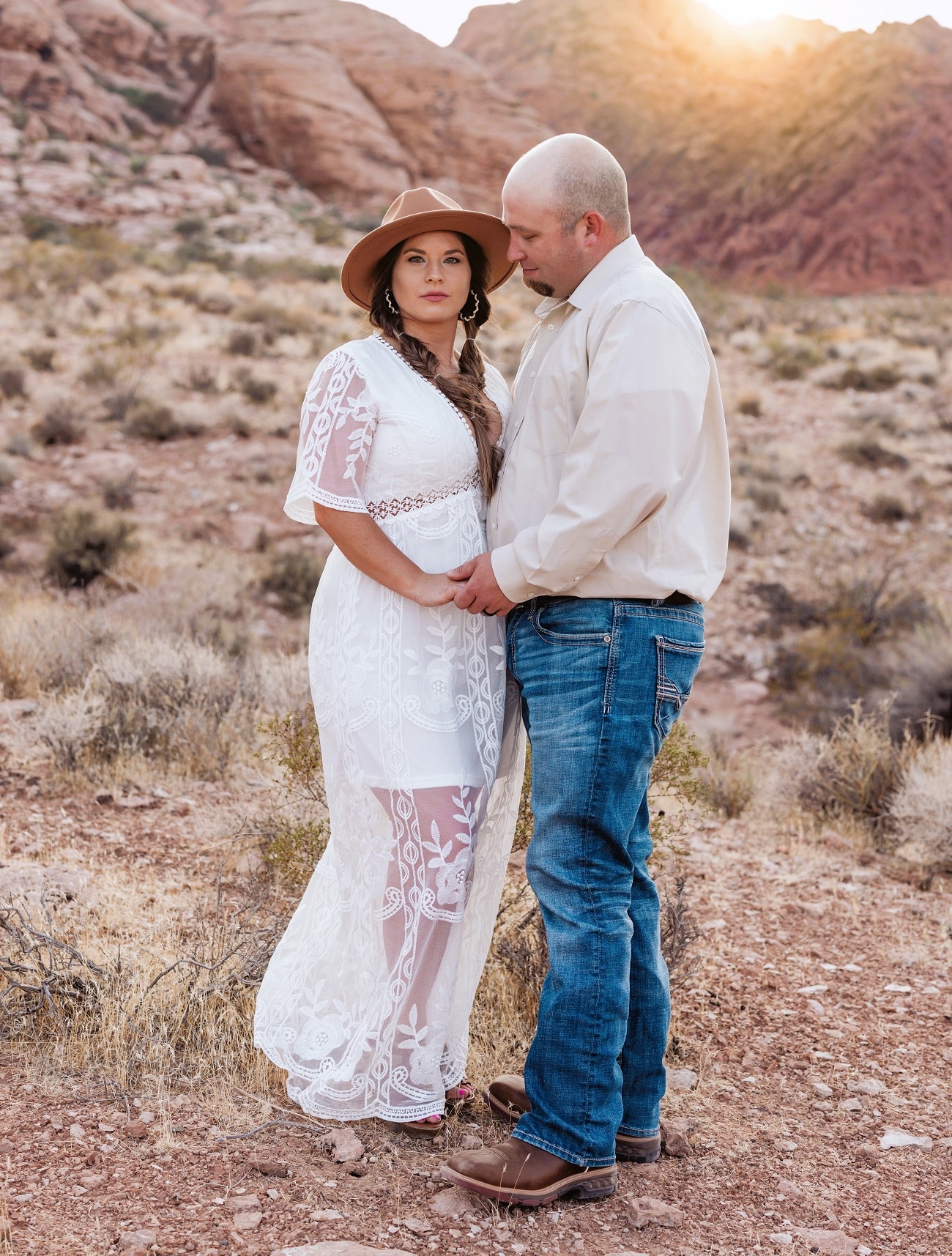 Taking your desert engagement photos right when the sun is setting will result in beautiful photos!
5. Wear a Flowy Burgundy Dress
Okay, this obviously isn't a photo of an engagement photoshoot, but this dress is stunning! If you want a red dress for your desert engagement photos, get this one!
6. Smile at Each Other While Walking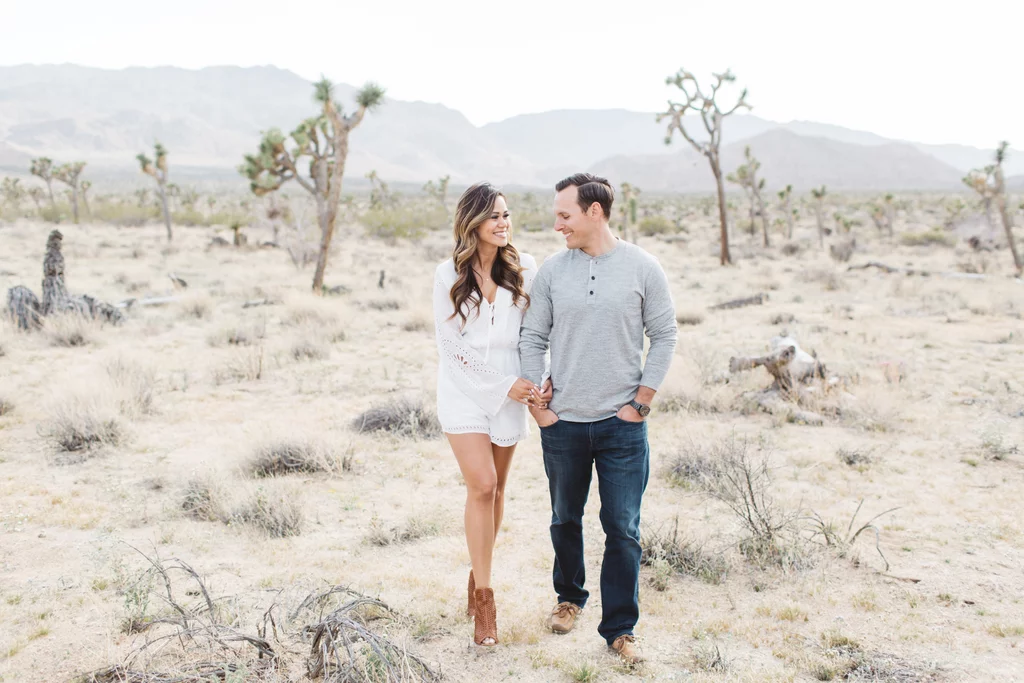 View Similar White Romper on Amazon
Hate posing for the camera? Simply interlink arms and smile at each other while walking.
7. Stand on a Rock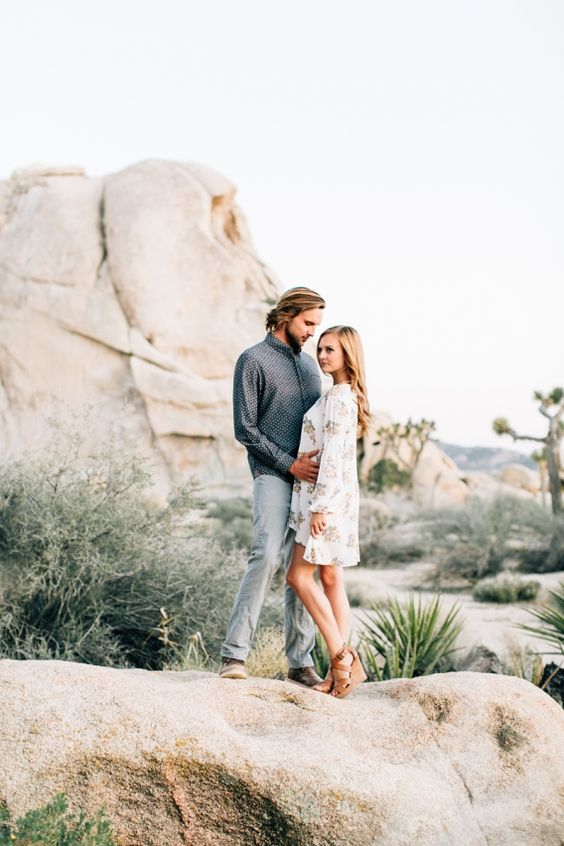 View Similar Floral Dress on Amazon
Taking your desert engagement photos near rocks is stunning!
Props for Desert Engagement Photos
You really don't need much in the way of props for desert engagement photos.
Instead, use the background of the desert!
If you want to hold flowers, this boho décor bouquet is perfect.
Best Colors to Wear for a Desert Engagement Photoshoot
Many women wear white boho dresses for their desert engagement photos.
However, dark blue, emerald green, and burgundy dresses look amazing and really pop against the sandy background.