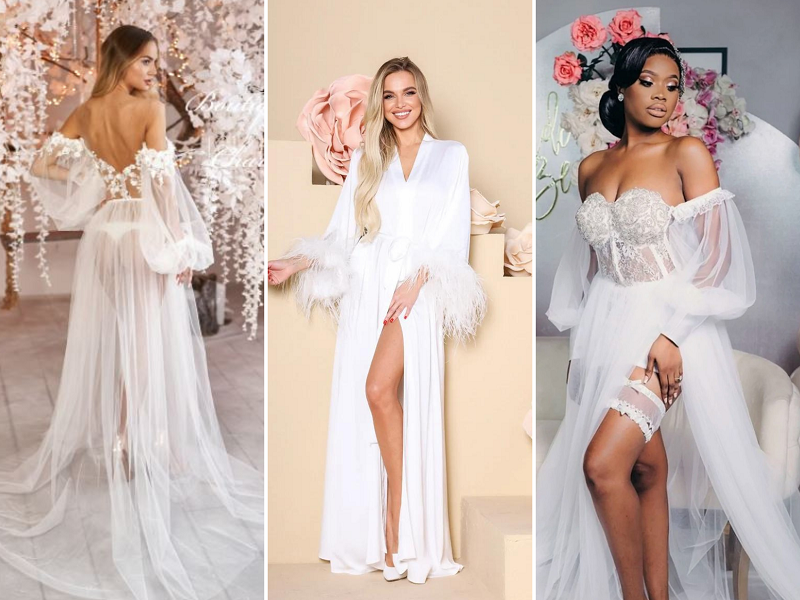 Luxury Bridal Robes
After your bachelorette party, bridal shower, and wedding…the party isn't over!
Whether you are heading off on your honeymoon or staying in town, having white pajamas for your wedding night is a must.
And while you are at it, why not get a gorgeous white bridal robe?
The best luxury bridal robes include a mix of long bridal robes, lace bridal robes, and long luxury bridal robes with elegant details.
This post contains affiliate links. View the disclosure here.
Best Luxury Bridal Robes to Make Him Swoon
This guide with the best luxury bridal robes includes:
Long luxury bridal robes and long bridal robes with a train
Lace luxury bridal robes
Sheer luxury bridal robes
Silk luxury bridal robes
Lace Luxury Bridal Robes
Long Luxury Bridal Robes
Luxury Bridal Robes with Train
Long Luxury Bridal Robes with Tulle
Knee Length Luxury Bridal Robes
What to Wear Under Your Luxury Bridal Robe
Not sure what to wear under your brand new bridal robe?
Here are a few ideas.
1. A Sexy Pajama Set
You can't go wrong with a sexy two piece bridal pajama set.
Nothing
Seriously…it's your honeymoon/wedding night!
Beautiful Bridal Pajamas
You will love these bridal pajamas. Below is one of my favorite!
A Sexy Lace Thong
Because you know men love a woman in a sexy thong. 😉
A Lace Bodysuit
A sexy lace bodysuit under your luxury bridal robe will be a fun surprise.
Sexy Sheer Teddy
You can't go wrong with a sexy white teddy under your bridal robe. If you are getting married in December, you may love these sexy red Christmas pajamas and teddies.
A Silk Nightgown
Silk nightgowns are so luxurious! Wear one under your bridal robe on your wedding night and throughout the year.
Cute Bra and Panties
A girl always needs a good comfortable bra and a cute matching bra and panties set.
Connect with Very Easy Makeup
I'd love to connect with you!
Follow Very Easy Makeup on Facebook to get notified of new beauty, makeup, and fashion posts!
Please subscribe to the Very Easy Makeup YouTube channel. You'll find how-to tutorials for very easy makeup and bleaching hair blonde at home.
Sign up for the Very Easy Makeup Newsletter.
Lots of love!
Christina Marie from Very Easy Makeup (offering beauty product reviews, very easy makeup tips, and self-care tips for women)