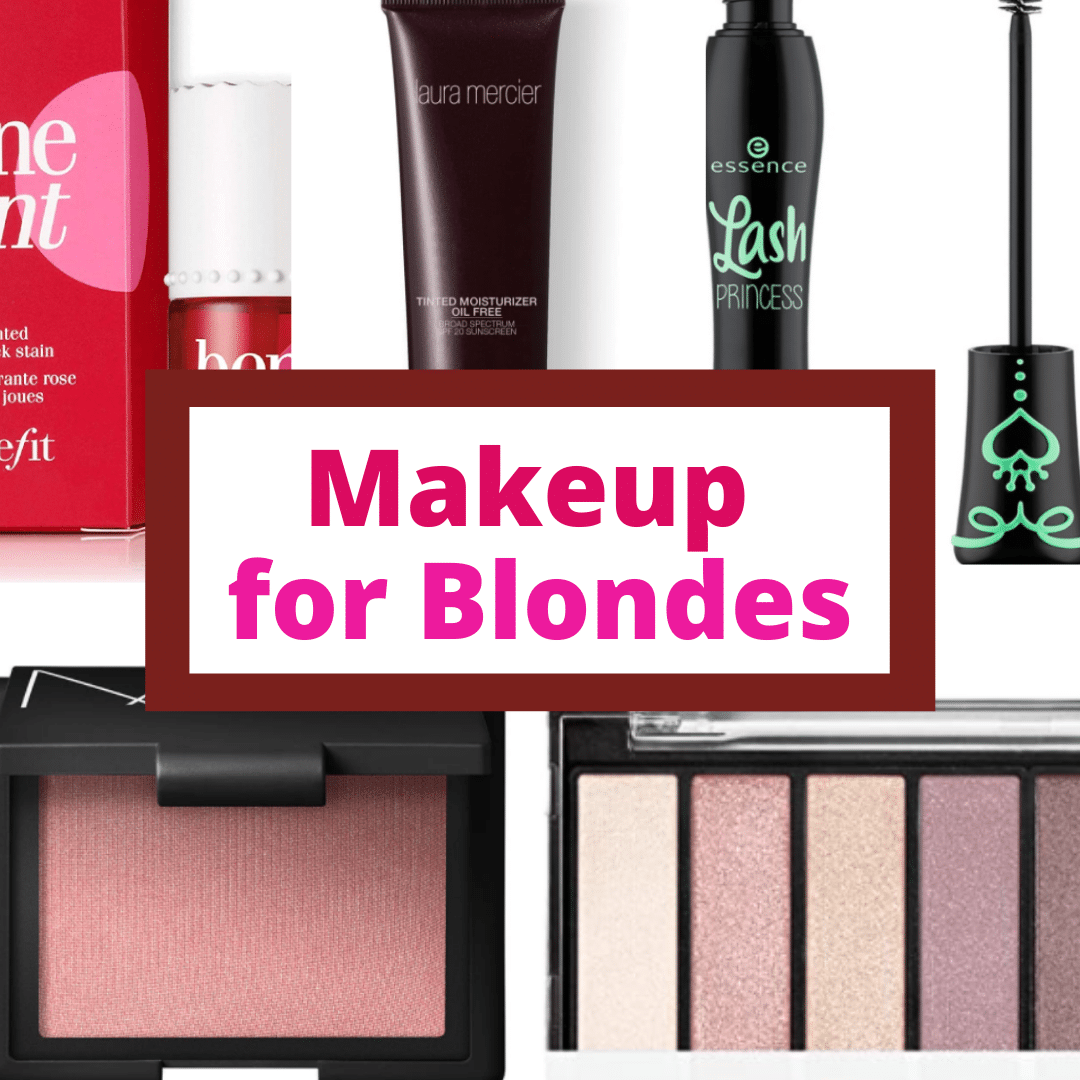 Best Makeup for Blondes
Makeup for Blondes – Natural Looking Makeup for Blondes
Have blonde hair and want natural looking, affordable, very easy makeup?
Then it's time to shop for new natural-looking makeup for blondes.
This post may contain affiliate links. View the disclosure here.
The Best Makeup for Blondes
Here's the list by Very Easy Makeup of the top foundation, blush, lipstick, mascara, and eyeshadow for blondes.
This makeup guide with the best makeup for blondes includes:
Best foundation for blondes
Best mascara for blondes to use in their daily makeup routine
Easy to apply mascara for blondes (perfect for blondes with blue eyes)
Natural Looking Foundations for Blondes
Stick with a light foundation or a BB cream instead of a thick foundation. Foundation is too heavy for fair-skinned blondes.
Daily Foundation for Blondes Seeking a SPF – Laura Mercier Tinted Moisturizer in 1C1 Cameo
Beginners (and makeup experts too!) should not use a heavy foundation. Thick foundations don't look natural and they are difficult to apply. I swear by the Laura Mercier tinted moisturizer in 1C1 Cameo.
The Laura Mercier tinted moisturizer has SPF and you can apply it onto your skin with your fingers. It is easy to use! (So much better than a heavy foundation!)
Many women also love NARS and Revision Intellishade.
Check out this Very Easy Makeup review of the best-tinted moisturizers.
Best Blush Makeup for Blondes – Orgasm Blush by NARS
This blush works for almost every woman out there. It's so natural looking and lasts FOREVER.
The Orgasm blush my NARS is my holy grail. It looks great for going out, for a professional makeup look, and for a natural makeup look. It's the top pick and all-around beauty favorite by Very Easy Makeup!
Buying Tip: NARS has two blushes with similar names: Orgasm and Super Orgasm. You want the color that is Orgasm.
Eye Shadow Makeup for Blondes with Blue Eyes and Blondes with Green Eyes
Go with warm shades like copper and bronze to make blue eyes pop. Burgundy and purple also look super flattering too.
If you have green eyes and blonde hair, go with purple and plum. Peach and taupe look really good too!
Eye Shadow for Blondes with Blue Eyes – Too Faced Pineapple Eye Shadow Palette
This Too Faced eye shadow palette is perfect for blondes. Simply use any of the shimmery colors on your eyelids for a natural no-makeup look.
It includes neutral colors and soft browns for blondes with blue eyes.
Eyeshadow for Blondes with Green Eyes
Drugstore Mascara for Blondes
I switch between two main drugstore mascaras. Both are great and cheap!
Lash Princess False Lash Effect Mascara by essence for Easy Daily Makeup
The mascara by essence is so easy to use and it looks great! This is a top drugstore mascara pick by Very Easy Makeup, and a hidden gem!
L'Oreal Lash Paradise Mascara
Before I discovered essence I used the L'Oreal Lash Paradise mascara. It's also a top pick!
Natural Looking Lipstick for Blondes
I said I'd share the most natural-looking lipstick, but I really mean the most natural-looking lip balms and lip gloss! Lipstick is just too much work to apply.
Revlon Colorstay Overtime in Perennial Peach
I love the Revlon lip gloss because it is so cheap and easy to apply! The lip stains and gloss are amazing too if you are willing to pay a little bit more.
The Revlon Colorstay Overtime lip gloss is so easy to use. This lipstick is a mix between a lip stain and a lipstick.
You don't need to be precise while putting it on; it stays on all day!
I love the Perennial Peach color the most because it's natural looking.
Alternative Lip Stain for Blondes – Benefit Cosmetics Rose Tinted Lip Stain
This lip stain is great for low-maintenance girls! It provides a lovely natural-looking rose color.
Optional Daily Makeup Items Recommended by Very Easy Makeup
If you want to add more makeup products to your mix, I'd recommend a highlighter, an under-eye concealer, an eyebrow pencil, and a bronzer. Of course, a simple set of brushes is always helpful too!
1. Easy to Use Highlighter for Blondes
Apply this easy-to-use highlighter to the inner corner of your eyes and below your eyebrows to brighten your eyes.
Then apply to the tops of your cheeks for a light shimmery look.
Added Benefit: This drugstore highlighter by L'Oreal lasts FOREVER!
2. Under Eye Concealer for Basic Makeup – NARS Radiant Creamy Concealer
If you want extra coverage for under-eye circles, apply a concealer on top of the color-correcting fluid. NARS is a solid choice. I use Vanilla.
3. Natural Looking Eyebrow Pencil for Blondes – Laura Mercier Fair Blonde Pencil
The Laura Mercier eyebrow pencil looks natural and is easy to use for makeup beginners.
Use the pencil to fill in the thin areas of your eyebrows and use the brush on the eyebrow pencil to brush your eyebrows up.
Easy to Use Brush Set for Beginners – SHANY Bamboo Brush Set from Amazon
A brush set is a brush set in my opinion. I personally like bamboo. For under $15, you can't beat the SHANY bamboo makeup brush set. Unlike other brush sets, this one actually includes what you need!
It includes an eyeshadow brush, a thin brush for applying liner along the upper and lower lash lines, a blush brush, and a bronzer blush. These are the brushes you truly need.
Makeup for Blondes – Pinterest
Want inspiration for very easy makeup looks and natural-looking makeup? Check out this page for ideas!
Related Articles by Very Easy Makeup
Did you enjoy this article? Please give it five stars below and check out these related articles by Very Easy Makeup.
Victoria's Secret Pajamas for Sale (Look a Likes for Less!)
Cute Loungewear Sets with Pants
An Easy Way to Go from Blonde to Brunette with John Frieda
Please Connect with Very Easy Makeup!
I'd love to hear from you!
Leave a comment below and connect with Very Easy Makeup on social media.
Follow Very Easy Makeup on Facebook to get notified of new beauty, makeup, and fashion posts!
Please subscribe to the Very Easy Makeup YouTube channel. You'll find how-to tutorials for very easy makeup and bleaching hair blonde at home.
Sign up for the Very Easy Makeup Newsletter.
Enjoy your very easy makeup look!
Christina Marie from Very Easy Makeup (just a girl who is passionate about beauty and fashion)