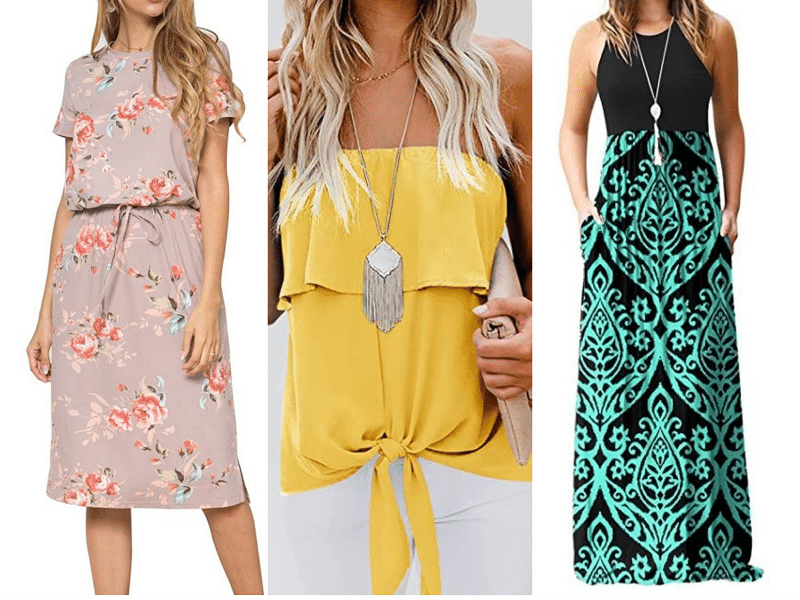 Best Postpartum Clothes for New Moms
If you just had a baby finding cute, flattering clothes can be a little bit of a challenge.
Your pre-baby clothes might not fit quite right, but you don't want to wear maternity clothes either.
Continue reading for stylish, flattering postpartum clothes for women and new moms.
This post may contain affiliate links. View the disclosure here.
How I Chose the Best Clothes for Postpartum Body
Here are the criteria for the best clothes for women to wear post-pregnancy.
Rating of 4.0/5.0 or higher (ideally 4.5/5.0 or higher)
Loose-fitting clothes around the waist
Ideally, had positive reviews on Amazon by women who used the phrase "postpartum"
Stylish Postpartum Clothes for Women
Here are a few ideas on stylish postpartum clothes to buy.
NOTE: These dresses and shirts are NOT nursing friendly necessarily (look for clothes with buttons or low necklines for that).
These postpartum clothes for women are just flattering!
1. GRECERELLE Maxi Dress
From Amazon Reviewers
Perfect Postpartum Dress! I purchased this dress for a postpartum pick me up and I am very happy with it! The draping creates a nice silhouette without being dowdy. - Nicole
Love love love! Super comfy and flattering! I am 5'3 and 155lbs, 36D and a medium fits lovely! If you have a racer back bra, you don't see straps! Being 8mos postpartum, this dress is perfect and not having to wear a strapless bra is a bonus!!! - Colleen
2. Simier Fariry Midi Dress with Pockets
This dress has an adjustable waist and pockets, making it one of the best clothes for postpartum.
Why Postpartum Women LOVE this Dress
Very flattering. I felt very confident wearing it and I was able to hide my mom pooch. Highly recommend ordering it and giving it a try, I went through several dresses already and this was my last purchase and my favorite by far!! Just get it you can't go wrong with this one. - Amazon Reviewer
3. Amoretu V Neck Flowy Tunic Dress
This loose fitting and flowy tunic dress is one of the BEST dresses that hide belly bulge.
Here's what Amazon reviews say about it!
Comfortable for pregnant moms! It's so perfect for a baby belly. Really cute and flattering, light fabric that is comfortable. I bought another after this one arrived!
4. PINKMSTYLE Floral Kimono
Promising Review:
Pretty, lightweight kimono. I tried to avoid buying maternity if possible and opted to layer as much as I could - this resulted in buying lots of fun kimonos and shawls like this that will fit the same pre-baby, maternity, and postpartum / nursing. - Dayna
5. BTFBM Bohemian Midi Dress
This V-neck dress is so flattering!
What Women with a Belly Bulge Say About this Dress
Seriously, buy it! This dress is seriously so gorgeous and sooo flattering! It fits my curves and hides my mom tummy.
6. HOTAPEI Loose Button Up Blouse
7. LILBETTER Off Shoulder Maxi Dress
What Amazon Reviewers Say About this Dress
Buy it !!!!!! So many compliments!!! hides postpartum belly.
8. Inorin Tie Front Top
9. PrinStory Tunic Top
10. Asvivid Off Shoulder Top
Flattering Postpartum Dresses for Wedding
These postpartum-friendly dresses work nicely for a wedding guest.
1. SVALIY Ruffle Tunic Dress
The off the shoulder neckline brings the attention upward vs. to your tummy.
Here's what women said about this dress
Perfect dress for a summer wedding! It does well at concealing problem areas such as tummy.
2. Soesdemo Off The Shoulder Ruffle Dress
What Women Say About this Wedding Guest Dress
Stunning. I've been searching for the perfect dress to wear to my sister in-laws July wedding and I'm so happy I took a second look on Amazon and found this dress! It's more beautiful than what's pictured. - Jessica Jean
This might be the most flattering dress I have ever owned. Excited to wear it in the summer to a wedding. - Ashley
3. ETCYY Off Shoulder Long Maxi Dress
Postpartum Clothes for Summer
These postpartum clothes and dresses are perfect for summer.
1. Exlura Lantern Sleeve Mini Dress
The flared sleeves on this dress are super cute and draw attention to your chest vs. your tummy.
2. Blooming Jelly V Neck Mini Dress
3. KIRUNDO V-Neck Mini Dress
4. ZESICA Damask Loose T-Shirt Dress
Here's why post partum women love this dress.
Not too loose in the chest, not too tight under the armpits, flowing over my post-three-pregnancies belly.
5. LONGYUAN Casual Swing Dress
This dress is loose-fitting around the middle for new moms. This summer dress for postpartum also comes in a version WITH SLEEVES.
What Women Say About This Summer Dress
Super comfy, very flattering! This dress is perfection! It's incredibly forgiving and super flattering (still have a little post-baby belly and thighs).
More Fashion Articles to Explore
If you enjoyed this article, check out these similar articles and pages by Very Easy Makeup. (And please share this article with friends on Facebook!)
The Best Summer Dresses with Pockets
The Best Swimsuits to Hide Tummy
Connect with Very Easy Makeup
I'd love to connect with you!
Follow Very Easy Makeup on Facebook to get notified of new beauty, makeup, and fashion posts!
Please subscribe to the Very Easy Makeup YouTube channel. You'll find how-to tutorials for very easy makeup and bleaching hair blonde at home.
Sign up for the Very Easy Makeup Newsletter.