DIY Stitch Fix Fall Weekend Outfit with Leopard Print Pants
This post may contain affiliate links, which means I may earn a commission if you decide to make a purchase through our links, at no cost to you. You may view the disclosure here.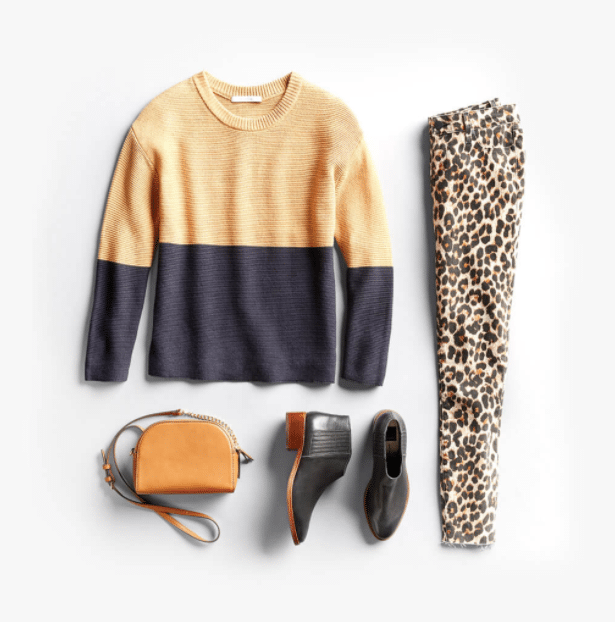 Stitch Fix Outfit with Leopard Pants
Stitch Fix is awesome at putting together cute, fashionable outfits for each season.
Top fall colors in the outfits by Stitch Fix include orange and dark blue. Leopard print is in too for fall!
If you love the fall Stitch Fix outfit with leopard pants (shown below), continue reading to learn how you can copy this fall outfit idea on Amazon!
Copy the Stitch Fix Fall Leopard Print Outfit for Less on Amazon!
If you love Stitch Fix outfit featured about but can't afford it, check out these affordable outfit ideas from Amazon.
You can copy and mirror the Stitch Fix look without the price tag!
How to Copy the Stitch Fix Fall Outfit with Leopard Pants
To copy the Stitch Fix fall outfit above, buy leopard print tights, a fun sweater, booties, and a cute purse from Amazon.
1. Buy Cute Leopard Print Leggings to Copy Stitch Fix Leopard Pants Outfit
These leopard print leggings by Colorfulkoala are so so cute! Plus, Colofulkoala is one of my favorite legging brands on Amazon (in addition to 90 Degree Leggings!).
Alternative Leopard Print Pants for Plus Size Women
If you want some lounge leopard print pants, these plus size animal print pants are the perfect pants for you! These leopard print pants come in sizes small plus up to 3X-Large plus and are super comfortable!
2. Find a Striped Colorblock Sweater for Fall with a Crew Neck

Striped Colorblock Sweater to Copy Stitch Fix Fall Outfit with Leopard Pants
This fall sweater in black, yellow, cream/tan, and white is perfect for copying this Stitch Fix fall outfit. Plus, this sweater would look perfect with jeans and booties for a cute fall outfit!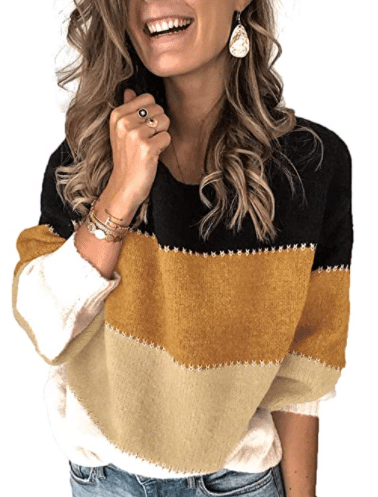 Alternative Fall Sweater in Light Brown to Wear with Leopard Print Pants
This off the shoulder sweater is a must-have from Amazon. This sweater is perfect for fall and super soft and flattering! Plus, this sweater looks great with black leggings, skirts, or skinny jeans.
3. Find a Stitch Fix Look-a-Like Cross Body Dome Leather Purse
A classy purse is an easy way to dress up any outfit! To really complete your Stitch Fix outfit with leopard print pants, you'll want to get a matching purse. This vegan laux leather purse on Amazon is super affordable and cute!
Vegan Faux Leather Dome Crossbody Bags Shoulder Bag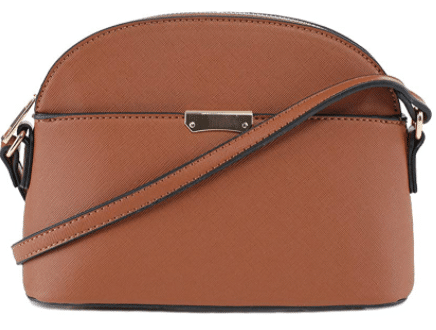 Or Spurge and Buy an Italian Leather Crossbody Bag
4. Complete the Fall Outfit from Stitch Fix with Short Black Boots
Finally, you'll want to complete your Stitch Fix outfit with leopard pants with a cute pair of black booties!

Frye Women's Carson Piping Ankle Boot
These black booties by Frye are pricey but so worth every dollar! These short black boots will last several years and are comfortable. Even people with plantar fasciitis love these boots!
Or Buy These Similar Looking Super Coot Rain Boots!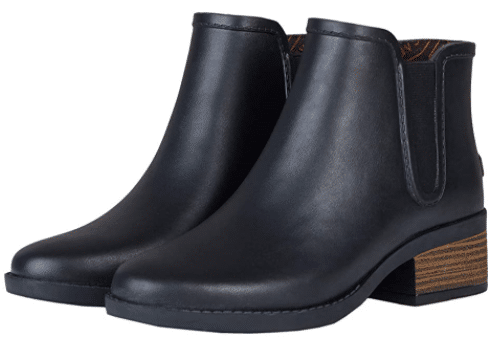 More Fashion, Beauty, and Stitch Fix Ideas by Very Easy Makeup
You may also love these related articles from Christina Marie of Very Easy Makeup.
Dresses for Special Occasions Like Weddings and Photo Shoots
Fall Wedding Guest Dresses Under $50
Explore All Stitch Fix Outfit Ideas