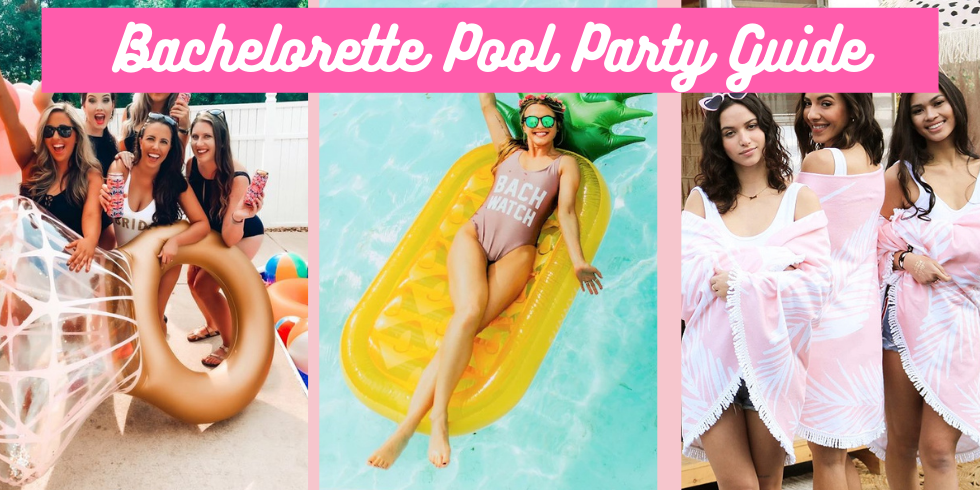 Ultimate Bachelorette Pool Party Guide
If you are planning a bachelorette pool party, then there are a few things you should know.
One, you will need at least one (maybe 2 or 3 or 4!!) fun bachelorette party floaties.
Two, you'll want plenty of bachelorette pool party accessories and decorations.
Three, you'll want to make sure everyone wears matching bachelorette swimsuits, or at least a pool party theme/main color for everyone's swimsuits.
And four, you will want a bachelorette pool party theme!
This guide includes everything you will need to plan the ultimate bachelorette pool party.
This bachelorette pool party guide includes:
Tips for the BEST Bachelorette pool party
Bachelorette pool party themes and ideas
Bachelorette pool party floaties 😊
Bachelorette pool party decorations
Bachelorette pool party accessories
So, without further ado, let's dive right in!
This post may contain affiliate links. View the disclosure here.
25 Bachelorette Pool Party Ideas: Themes, Decorations, Floaties, and More!
Everyone loves a pool party!
Here are a few bachelorette pool party expert tips and ideas to make sure the bachelorette pool party that you are planning ROCKS!
1. Choose a Memorable Bachelorette Party Theme
If you have a theme (check out these awesome bachelorette pool party themes) for your bachelorette pool party, you can get pool party decorations that go with the theme.
Great bachelorette pool party themes include:
Black and gold
Hot pink
Tropical luau
Last Cowboy
2. Send Out Pool-Party Invitations
You can always send out bachelorette pool party invites via email, but these printable party invitations are just so, so cute!
3. Get LOTS of Pool Floats
Everyone loves a pool party float! Buy at least two (and maybe 3 or 4 floats!)
And by LOTS of pool floats, we mean a LOT!!!
More Bachelorette Pool Party Floats
4. Get a Giant Diamond Ring Float!
This bachelorette diamond ring float is a MUST-HAVE! P.S. You can also buy this white ruffle swimsuit on Amazon!
5. Get Matching Swimsuits
If possible, ask everyone to coordinate their swimsuits.
Or treat everyone to matching bachelorette swimsuits or matching sarongs.
6. Have Plenty of Food and Drinks
Don't let anyone get hangry!
Have plenty of food, snacks, and drinks (including non-alcoholic beverages) for everyone.
7. Get Bachelorette Pool Party Sunglasses
Heart-shaped sunglasses or neon sunglasses are perfect bachelorette pool party favors.
More Bachelorette Pool Party Sunglasses
8. Get Customizable Visors
Bright visors are a fun and unique bachelorette pool party favor.
More Bachelorette Pool Party Visors
9. Get Cute Drink Pouches
10. Get Bright Hats Hats
Either you go with baseball hats, sunhats, or other hats…a girl needs to protect her face in the sun! 😉
Bachelorette Party Bride Squad Hats
11. Get Koozies for Everyone
Koozies are a MUST for any bachelorette party. You can either go with fun "Bride Claw" koozies or cute tropical koozies if you are doing a tropical bachelorette pool party theme!
12. Get Bachelorette Pool Party Beach Towels
Fun and bright matching bachelorette party beach towels are perfect for a bachelorette pool party favor.
13. Get Creative with the Cups & Straws
For extra fun, everyone will love these party pack buddies. 😉
14. Don't Forget the Necessities
Treat everyone to matching bachelorette beach towels or remind them to bring one.
Don't forget sunblock, plenty of water, and a music player too!
15. Get Drink Holders
Dink floaters make a bachelorette pool party a party!
16. Get Awesome Bachelorette Pool Party Decorations
If you don't have any idea how to decorate for a bachelorette pool party, have no fear.
You just need to buy a "kit" on Amazon that is made for bachelorette pool parties.
There are tons to choose from.
Below are just a few of the best-rated bachelorette pool party decorations!
Bachelorette Pool Party Decorations
17. Treat the Bride to a Beach Hat
This customizable beach hat for the bride-to-be is so cute!
RELATED: Best Bachelorette Party Gifts for the Bride
18. Hand Out Bachelorette Party Sunscreen Favors
19. Get the Bride a Bachelorette Party Veil
There are so many fun bachelorette party veils to choose from! Below are two AMAZING bachelorette party veils that are just perfect for a pool party!
20. Get the Bride Her Own Cup!
Instagram-Worthy Bachelorette Pool Party Floaties for Bachelorette Pool Parties
There are TONS of fun bachelorette pool party floaties to choose from.
Just search on Amazon, and you'll find gigantic flamingoes, donuts, sharks, diamond rings, and more!!
Below are a few of the best bachelorette pool party floaties.
Bachelorette Pool Party Engagement Ring Float
Pineapple Float
Flamingo Bachelorette Party Float
Bachelorette Pool Party Heart Floats
You can get these pretty personalized bachelorette party swimsuits too on Etsy.
Unicorn Bachelorette Pool Party Float
Summary – Bachelorette Pool Party Ideas
In summary, it can be easy to plan the perfect bachelorette pool party.
You just need a pool party theme, fun bachelorette party decorations, and plenty of food and drinks for everyone. 😊
More Bachelorette Party Guides
Bachelorette Pool Party Themes
Bachelorette Swimsuit Cover Ups
Bachelorette Pool Party Ideas - Pinterest
What to Wear to Your Bachelorette Party
Cheap Bridesmaid Beach Towels for Bachelorette Parties