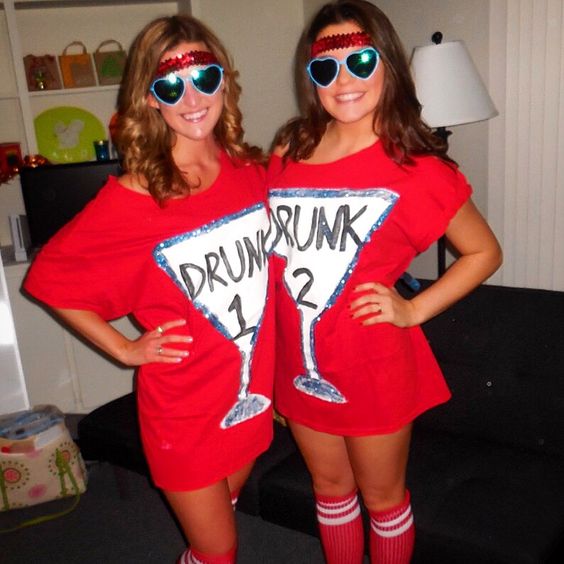 Halloween Costumes for 2 Best Friends
Halloween is one of my favorite holidays (I like it even more than Christmas or 4th of July!) because I absolutely LOVE dressing up.
If you and your BFF are looking to dress up together for Halloween, I have you covered.
This guide with best friends Halloween costumes includes super EASY Halloween costumes for 2 best friends.
This post contains affiliate links. View the disclosure here.
Easy and Cute Halloween Costumes for 2 Best Friends
This guide with best friends Halloween costumes includes:
51 Best Friend Halloween Costumes for 2 Best Friends
Happy Halloween! Now it's time to pick what you want to be for Halloween and buy these costumes ASAP.
Tip: Amazon shipments for Halloween costumes sometimes get delayed, so order now to ensure your Halloween costume arrives on time. 😊
1. Peanut Butter and Jelly
A cuter version of these best friend costumes is also available on Etsy.
SHOP PB & JELLY SHIRTS ON ETSY
2. Sexy Ninjas
These best friend Halloween costumes are sexy and fun!
3. Drunk 1 and Drunk 2
4. Cute and Sexy Pirates
SHOP PIRATE COSTUMES ON AMAZON
5. Doctor and Patient
6. Construction Workers
SHOP CONSTRUCTION WORKER COSTUMES ON AMAZON
7. Lilo and Stitch
SHOP LILO AND STITCH COSTUMES ON AMAZON
8. Ice Cream and Scooper
SHOP ICE CREAM COSTUMES ON AMAZON
9. Remy and Chef Linguini from Disney's Ratatouille
SHOP MOUSE AND CHEF COSTUMES ON AMAZON
10. Glinda and Dorothy from The Wizard of Oz
SHOP GLINDA AND DOROTHY COSTUMES ON AMAZON
11. Barnacle Boy and Mermaid Man
Learn how to get these costumes for 2 best friends with Barnacle Boy and Mermaid Man. Or, shop these 2 best friend costumes below.
SHOP BARNACLE BOY COSTUME ON AMAZON
12. Tweedle Dee and Tweedle Dum
13. Chinese Takeout
You can get these fun cookie and noodles costumes for two best friends on Amazon!
Or, dress up as Chinese takeout and soy sauce.
14. S'mores
SHOP S'MORES COSTUMES ON AMAZON
15. Devil and Angel
SHOP DEVIL AND ANGEL COSTUMES ON AMAZON
This is a fun Halloween costume for two teenage girl best friends. It works great for college too!
Learn what you need for a DIY devil costume and a DIY angel costume.
16. Salt and Pepper
SHOP SALT AND PEPPER SWEATSHIRTS ON AMAZON
These easy and affordable DIY best friend Halloween costumes are so cute!
17. Elmo and Cookie Monster
Learn what you need for this DIY Elmo costume and Cookie monster costume for women.
18. The Grady Twins from The Shining
SHOP THE GRADY TWINS COSTUMES ON AMAZON
19. M&Ms
This Halloween costume idea for 2 best friends is SO cute! It works great for groups of 3, 4, and 5 too.
20. Handmaidens
SHOP HANDMAIDEN COSTUMES ON AMAZON
21. Emojis
There are so many options for this 2 best friend Halloween costume idea!
22. Daphne and Velma from Scooby-Doo
SHOP VELMA AND DAPHNE COSTUMES
You can buy the Velma and Daphne costumes on Amazon. Or, make your own DIY Velma costume and DIY Daphne costume for two best friends.
23. Cher and Dionne from Clueless
You can make your own DIY Cher costume and DIY Dionne costume or buy the Cher and Dionne costumes on Amazon.
You may also want to check out this Tai from Clueless costume for a group of 3 best friends.
24. Cute Sailors
SHOP SAILER COSTUMES ON AMAZON
25. Sunflower and Gardener
SHOP CUTE SUNFLOWER DRESS FOR WOMEN
26. Braden Bella and Treblemaker from Pitch Perfect
SHOP TREBLEMAKER SHIRT ON AMAZON
27. Harry Potter and Hermione from Harry Potter
SHOP HARRY POTTER AND HERMIONE COSTUMES
28. Mario and Luigi
SHOP MARIO AND LUIGI HATS AND GLOVES
29. Nerds
30. Girl Scouts
SHOP GIRL SCOUT COSTUMES ON AMAZON
31. Money Heist Characters
SHOP MONEY HEIST COSTUMES ON AMAZON
32. Hippie Girls
This is an easy DIY Halloween costume for 2 best friends. All you need is a tie-dye shirt and a flower headband.
33. Pennywise and Georgie from IT
SHOP PENNYWISE AND GEORGIE COSTUMES
34. Margaritas
SHOP LIME GREEN OFF SHOULDER DRESS
35. Wilma and Betty Rubble from The Flintstones
SHOP BETTY RUBBLE AND WILMA COSTUMES
An option for this cute Halloween costume idea is to dress up as Wilma and Pebbles.
36. Waffles and Pancake Syrup
SHOP PANCAKES AND SYRUP COSTUMES
37. SpongeBob and Patrick from SpongeBob SquarePants
SHOP SPONGEBOB AND SQUAREPANTS T-SHIRTS
These DIY best friend Halloween costumes are so, so cute! All you need to buy is a SpongeBob t-shirt and a SquarePants t-shirt.
38. Minions
You can either buy a cute minion costume for these 2 best friend costumes or buy cute overalls and Minion goggles.
39. Winnie the Pooh and Tigger
40. Thing 1 and Thing 2
SHOP THING 1 AND THING 2 SHIRTS
41. Strawberry and Pineapple
You can copy this EXACT BFF costume idea with a strawberry dress and a pineapple dress from Amazon!
42. Breaking Bad
43. Best Boos
44. French Fries and Hamburger
SHOP FRENCH FRIES AND HAMBURGER COSTUMES
45. Mike and Sully from Pixar's Monster's Inc.
The great thing about these best friend Halloween costumes is that you can wear the costumes with Doc Martens.
46. Paris Hilton and Kim Kardashian
For this Halloween costume idea, you will need a sparkly dress for Paris Hilton and a bodycon dress for Kim Kardashian.
47. Minion and Gru from Minions
48. Shuri and The Black Panther
SHOP THE BLACK PANTHER COSTUMES ON AMAZON
49. Power Rangers
SHOP POWER RANGERS COSTUMES ON AMAZON
50. Cute Monkeys
51. Shark Boy and Lava Girl
SHOP SHARK BOY AND LAVA GIRL COSTUMES
52. Ninja Turtles
53. Eleven and Max from Stranger Things
These BFF Halloween costumes are so much fun! You can get the Eleven romper costume and the Max costume on Amazon.
Connect with Very Easy Makeup
I'd love to connect with you!
Follow Very Easy Makeup on Facebook to get notified of new beauty, makeup, and fashion posts!
Please subscribe to the Very Easy Makeup YouTube channel. You'll find how-to tutorials for very easy makeup and bleaching hair blonde at home.
Sign up for the Very Easy Makeup Newsletter.