10 Best Swimsuits for Moms on Amazon (All Under $45!)
This post may contain affiliate links, which means I may earn a commission if you decide to make a purchase through our links, at no cost to you. You may view the disclosure here.
If you are a mom, you probably are looking for something specific in your swimsuit.
You want something with coverage, you want something that won't fall down when chasing after kids (or playing a game of tag on the beach!), yet you don't want something that is BORING and totally unsexy.
So what kinds of swimsuits are the best for moms?
The best swimsuits for moms have: 1) moderate coverage in the butt (no thongs!), 2) support in the chest area (so you can run around if needed!), and 3) come in fun patterns and/or bright colors (no need to be BORING)
This post contains affiliate links. View the disclosure here.
Selection Criteria for the Best Swimsuits for Moms
Wondering how I came up with this "best of" list?
These swimsuits for moms had to meet the following criteria:
Over 500 reviews on Amazon
Have an overall rating of 4.5/5.0 stars or higher
Have GREAT reviews by women who described themselves as a mom
No low v-necks
No swimsuits that show off the girls
10 Best Swimsuits for Moms (on Amazon!)
Here are the best swimsuits for moms. All under $45 too.
Time to treat yourself to a new swimsuit and take the kids to the beach or pool!
1. Hilor One Piece Swimsuit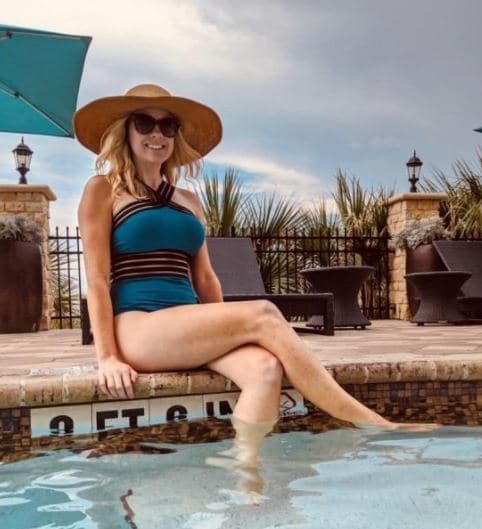 This swimsuit works on ALL body types and is very flattering.
2. COCOSHIP Striped High Waist Bikini with Tassel Trim
3. Holipick Flounce Tank Top with Boyshorts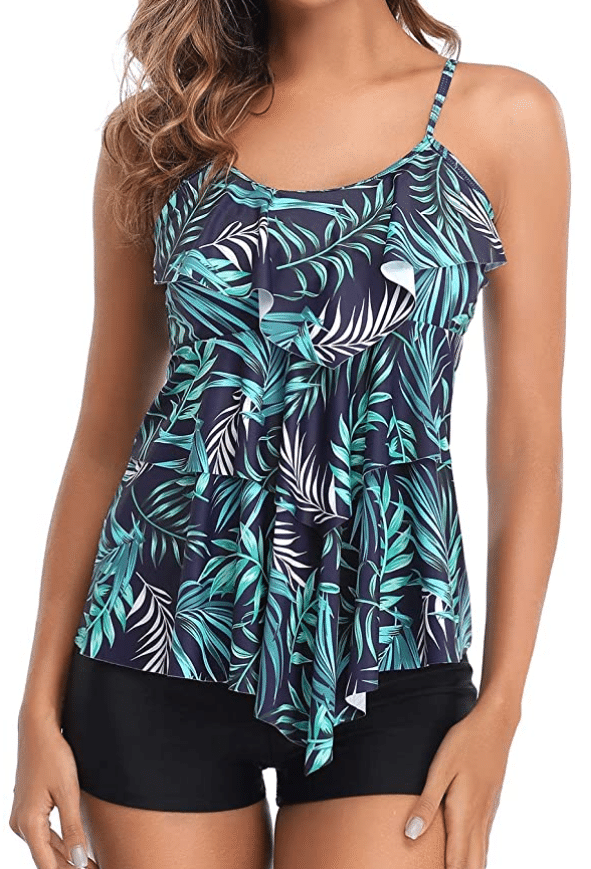 This tankini is flirty and sporty.
4. SouqFone High Waisted Bikini
The I2 Crazy swimsuit on Amazon is so, so cute! It has a feminine, ruffled top and high waisted bikini bottoms. The swimsuit is less than $35 and comes in leopard print, blue or black polka dots, tropical flower prints, and a 4th of July pattern.
Buy it here: I2 Crazy Swimsuit
This two-piece offers coverage over the middle and a fun top.
Best Two-Piece Ruffled Top and High Waisted Bikini Bottom for Moms
Super Cute Swimsuit!
5. Tempt Me High Waisted Bikini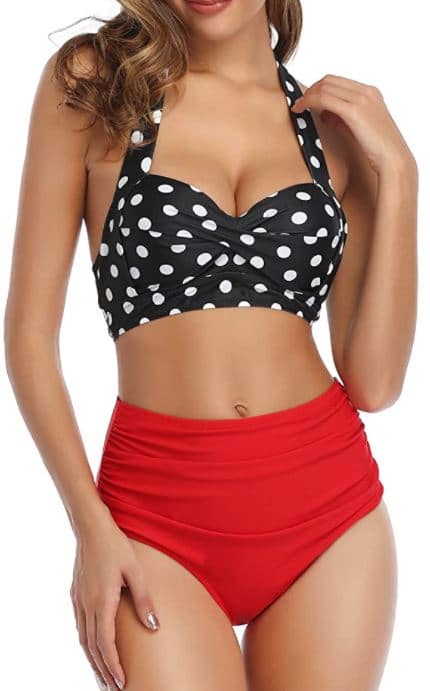 This two piece is classy and sexy at the same time. Perfect for wearing around children.
This bikini for moms fits women with a size DDD chest and is super cute too!
6. ZAFUL Knotted Tankini and High Waisted Bikini Bottom
The ZAFUL swimsuit on Amazon is under $40 and has a sexy knotted front. It will hold in the ladies up top (for larger busted women) and offers coverage on the bottom.
I love the Pineapple-Green bikini set the most, and ZAFUL also sells swimsuits with leopard print, 4th of July patterns, solid colors like white and green, tropical flowers, tie-dye, and feminine colors like white and light pink.
Buy the swimsuit here on Amazon: ZAFUL Two-Piece Swimsuit in Plus-Size
7. Zando Two-Piece Swimsuit with Tankini
If you want a swimsuit that covers your stomach, check out the Zando Tankini and matching bottoms on Amazon. The swimsuit comes in sizes 14-16, 16-18, and 18-20.
You can buy the Two-Piece Swimsuit here: Matching Tummy Control Bikini Top and Bottoms
This swimsuit for moms is the best two-piece swimsuit for moms to hide a tummy.
8. Two-Piece Swimsuit with Feminine Tankini with Boy Shorts
If you want a two-piece swimsuit with boy shorts, a feminine swimsuit top, and tummy control, check out the Zando Tankini Bathing Suit on Amazon.
This two-piece swimsuit for moms is PERFECT for hiding thighs.
Buy this plus-sized swimsuit here online: Cute Flower Bikini Top with Bottoms in Larger Sizes
9. Black and Sporty Tankini Top with Shorts – Best for Athletic, Active Moms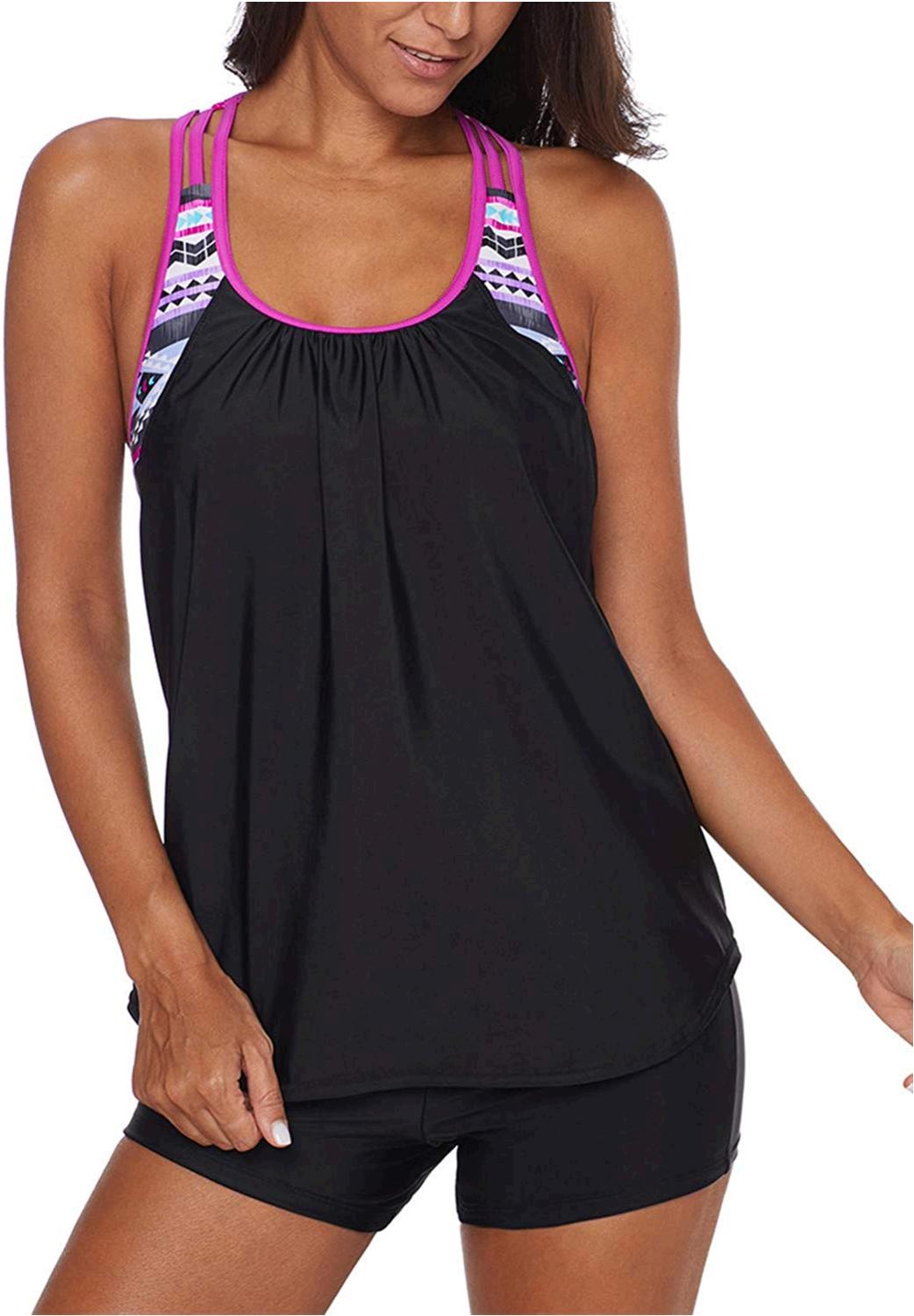 If you want a simple, attractive, and slimming two-piece swimsuit, check out the swimsuit set by Aleumdr on Amazon. It looks flattering on all shapes and sizes and is super comfortable!
Get this slimming, two-piece swimsuit on Amazon here: Swimsuit for Athletic Women
10. Tempt Me One Piece Monokini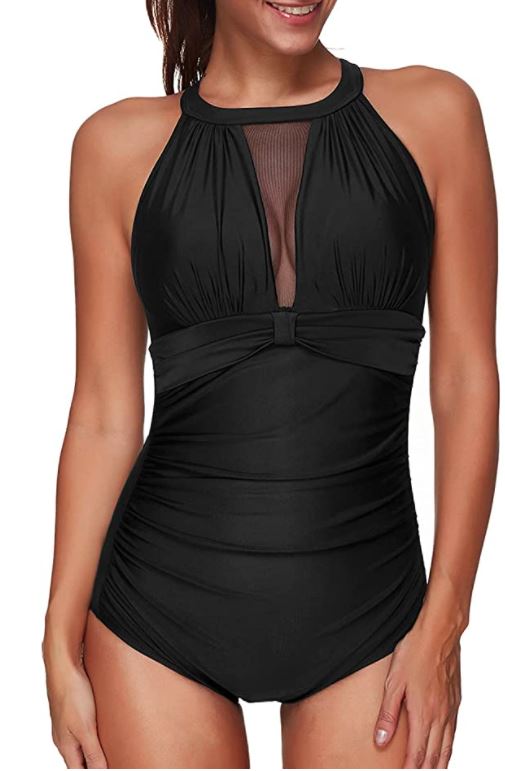 This swimsuit is both sexy and modest at the same time and gets amazing reviews by women with kids on Amazon.
The Best Swimsuit Cover Up for Moms
Want a cover up that is sexy and modest? This swimsuit cover up gets AMAZING reviews from women on Amazon.
SHU-SHI Beach Cover Up (Fits Plus Size!)
Don't be fooled by the fact that this comes in one size. Plus size women. curvy women, and thin women ALL LOVED this cover up on Amazon.
More Swimsuit Guides
Best One Piece Swimsuits on Amazon
Best Swimsuits for New Moms to Hide Belly Pooch
Swimsuits for Pear Shaped Body Type
Cute Pink Modest One Piece Swimsuits