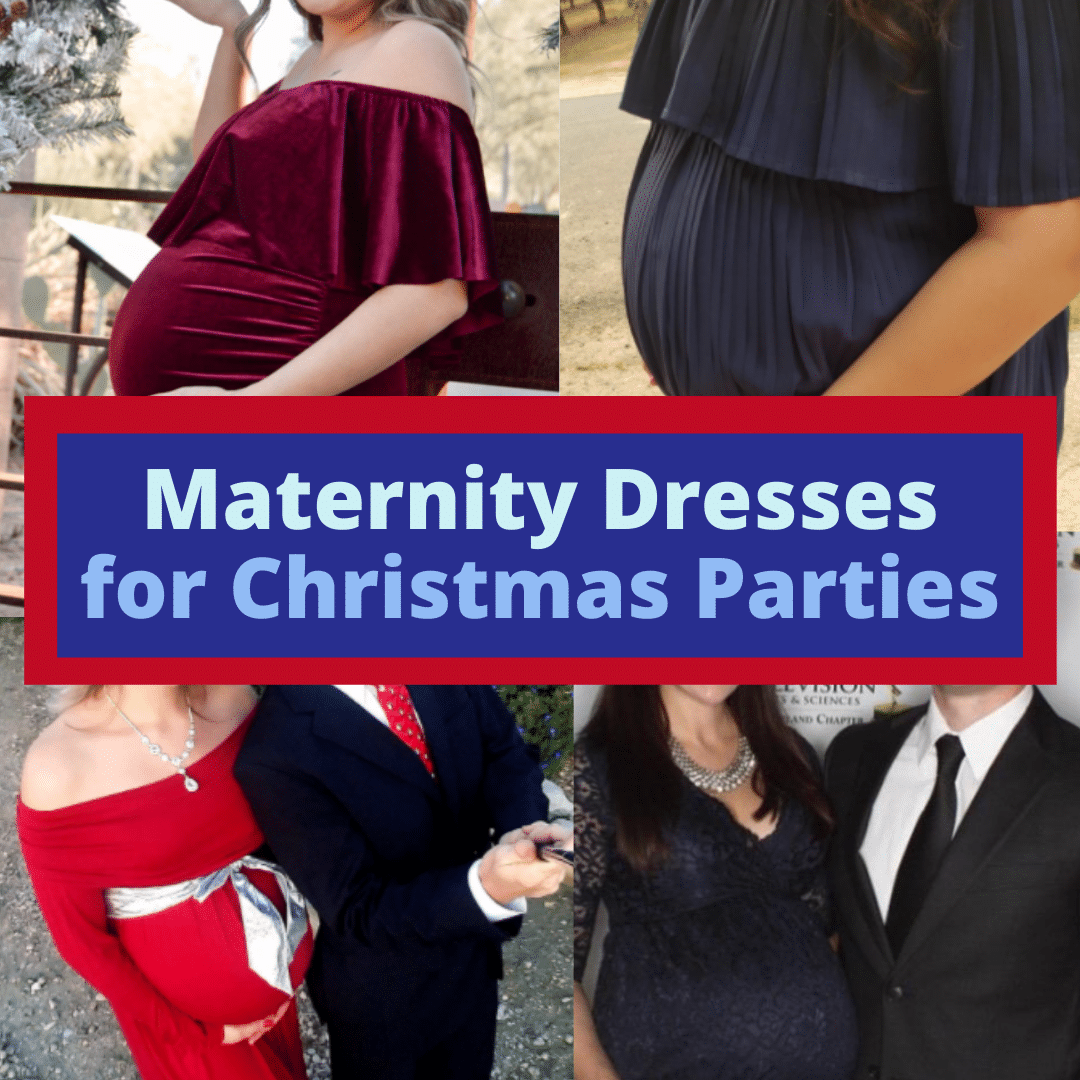 There's no need to wear something boring for Christmas if you are pregnant.
Amazon sells stunning, beautiful, and flattering dresses for pregnant women. Check out these 10 stunning formal Christmas maternity dresses.
The fancy maternity dresses work well as a wedding guest dress too!
The Best Maternity Dresses for Christmas Parties
This is one of my favorite dresses on Amazon. It works as a maternity dress and as a formal dress! You really can't go wrong with clothing by Kate Kasin. Kate Kasin makes super cute skirts too.
This is the same dress shown above, except in a pink/blush/champagne color. This sequin dress also works really well for maternity photo shoots. Women love this dress from Amazon. It looks like an expensive $200-300 dress, but it is under $100!
This velvet dress is perfect for winter parties. You can't go wrong with the red/burgundy or dark green version of this dress. It also works well for winter and Christmas maternity photo shoots!
This maternity dress is perfect for Christmas holiday parties and work holiday parties too.
This lace dress with a sweetheart neckline is so feminine and sweet looking. It's adorable!
This beautiful maternity dress also works really well for baby showers (buy it in light pink or a pastel color). It also works well for plus size pregnant women.
This chiffon off the shoulder dress is advertised as a wedding guest dress or a bridesmaid dress, but it works really well as an evening party dress for pregnant women too! Order a large and you'll be good to go!
This is THE go-to Christmas party dress if you are pregnant. The bright red is the perfect shade for Christmas.
Add a ribbon around the waist for a little extra glam for your holiday party and bright red lipstick (of course!).
This is a beautiful maternity dress! This dress works for winter weddings and for Christmas holiday parties.
Pair the dress with a pearl necklace, matte makeup, and loose curly hair for a glamorous look.
This is the best short and elegant maternity dress you'll find online. I love the velvet for winter, and this dress is so cute!
This dress also looks really good in purple, dark green, bright blue, pink, and gold. It comes in more than 15 colors on Amazon.
This lace maternity dress is great for Christmas, award dinners, weddings, and baby showers. It works for any occasion!
More Holiday Pajamas, Outfits, and Clothes for the Family
If you enjoyed this article, please give it 5 stars below and share it with a friend!
You may also be interested in these related holiday and Christmas articles by Very Easy Makeup.
Happy Holidays!
Connect with Very Easy Makeup
I'd love to connect with you!
Follow Very Easy Makeup on Facebook to get notified of new beauty, makeup, and fashion posts!
Please subscribe to the Very Easy Makeup YouTube channel. You'll find how-to tutorials for very easy makeup and bleaching hair blonde at home.
Sign up for the Very Easy Makeup Newsletter.
(This post contains affiliate links. View the disclosure here.)