15 Cutest Christmas Pajamas for Women
This post may contain affiliate links, which means I may earn a commission if you decide to make a purchase through our links, at no cost to you. You may view the disclosure here.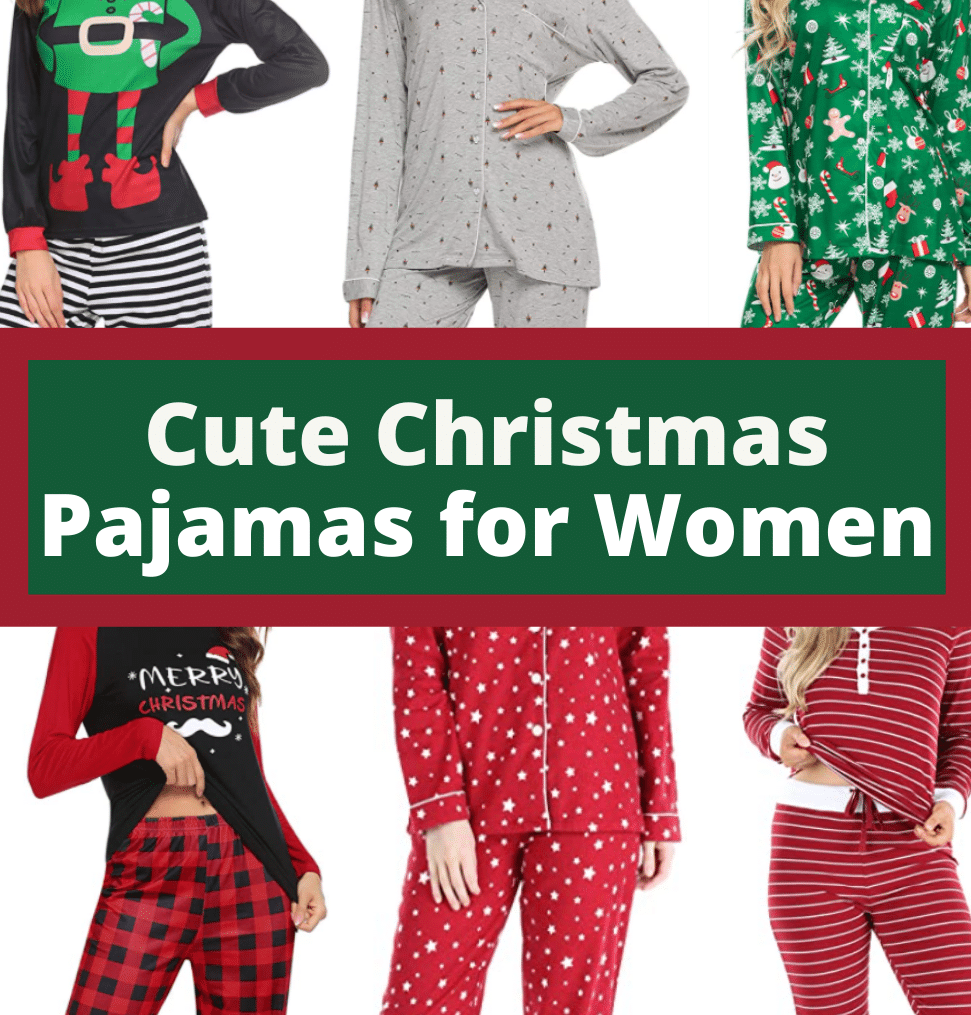 Want to get into the Christmas holiday spirit? Then it's time to buy yourself a pair of cozy and comfortable Christmas PJs!
Below are my 10 favorite and cutest Christmas pajamas for women. Many of these Christmas pajamas for women are on Amazon and are made by Ekouaer. Ekouaer is a pajama brand that gets AMAZING reviews online for its soft, comfortable, and good-fitting pajamas.
Let's get this Christmas party started!
Where to Shop for Cute Christmas Pajamas
Come early November, you can start shopping for so many cute Christmas pajamas online! Below are my top picks for where to find super cute Christmas pajamas for women!
Amazon
Amazon makes it so easy to shop for cute Christmas pajamas, and they have so many options!
JCPenney
JCPenney may not be the first place that comes to mind for shopping for clothes online, but it should be! The quality of the pajamas from JCPenney is amazing and they have GREAT deals on pajamas for women, and on matching family pajamas too!
Pink Lily
Pink Lily has cute snowflake pajamas, plaid satin pajamas, and Christmas tree pajamas for women. I absolutely LOVE the cute Christmas pajamas from Pink Lily, and Pink Lily has plus-size Christmas pajamas too!!
Cutest Christmas Pajamas for Women
Below are the cutest Christmas pajamas for women on Amazon and other popular retailers. Let's dive in!
1. Ekouaer Red and Black Plaid Christmas Pajamas
These red and black plaid Christmas pajamas are super comfortable and soft. I love the black and red plaid on the pajama pants.
2. Classic PJ Set by Show Me Your Mumu
These peppermint stripe pajamas are so, so cute!! These red and white striped pajamas are perfect for Christmas and come in sizes XS up to 3XL. This is one of my favorite plus size Christmas pajamas for women!
3. PajamaMania Flannel Pajamas with White Stars
These flannel Christmas pajamas will keep you warm. Women suggest sizing down a size for this pair of PJs.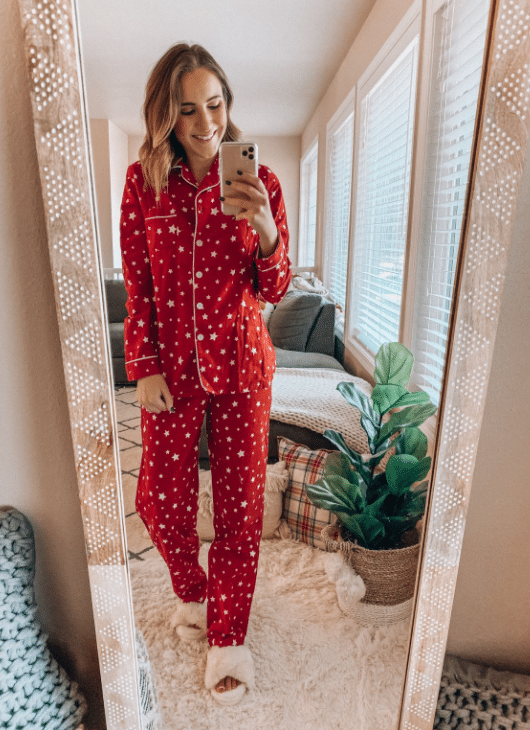 4. Ekouaer Christmas Elf Pajamas with Stripes
These elf Christmas pajamas are so cute! I love how the striped pajama bottoms look like joggers. The elf pajama top is super cute too!
These pajamas are light, not too warm, and super soft. This pajama set is also fun for Pajama Day at work.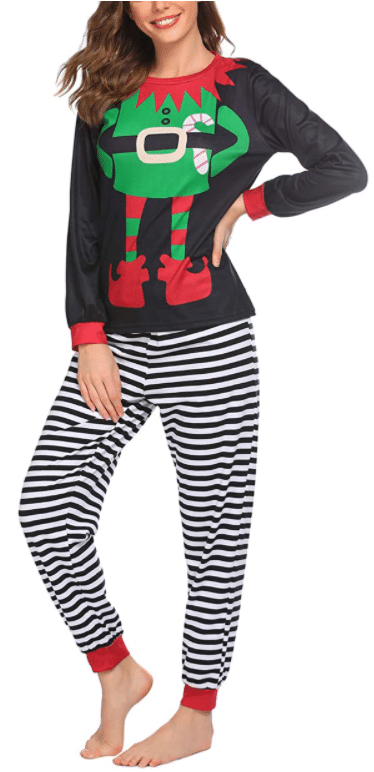 5. Ekouaer Red Christmas Pajamas with Snowmen
These cute Christmas pajamas for women include pockets!
Women loved these pajamas so much that many said they bought another pair on Amazon.
6. Ekouaer Classy Grey Pajamas with Christmas Trees
This classy Christmas pajama set is simple. If you don't want something that's over the top with Christmas patterns, go with this grey pajama set.
7. Women's Disney Toy Story Pajamas for Christmas
You need these pajamas if you love Disney and Toy Story.
This pair of Disney Christmas pajamas has Buzz Light Year, Woody, and the little aliens on it!
8. Sleepyheads Red and White Stripe Pajamas
This is my personal favorite set of PJs for Christmas. The red and white stripes are simple and cheerful, and I like the drawstring on the pajama bottoms.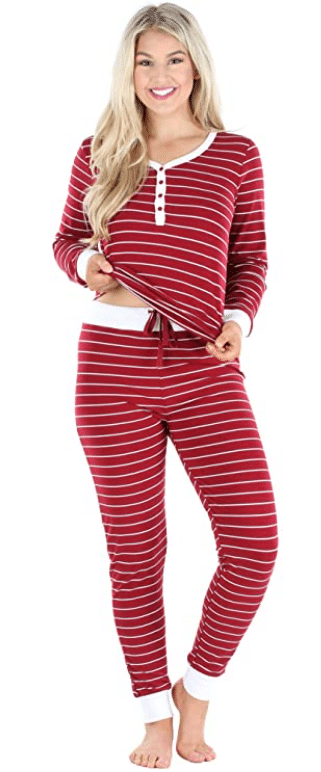 9. GIKING Off the Shoulder "Santa Baby" Christmas Pajamas
If you want something a little bit different, check out these cute and sexy Christmas pajamas. The off the shoulder "Santa Baby" shirt and red reindeer pants are fun!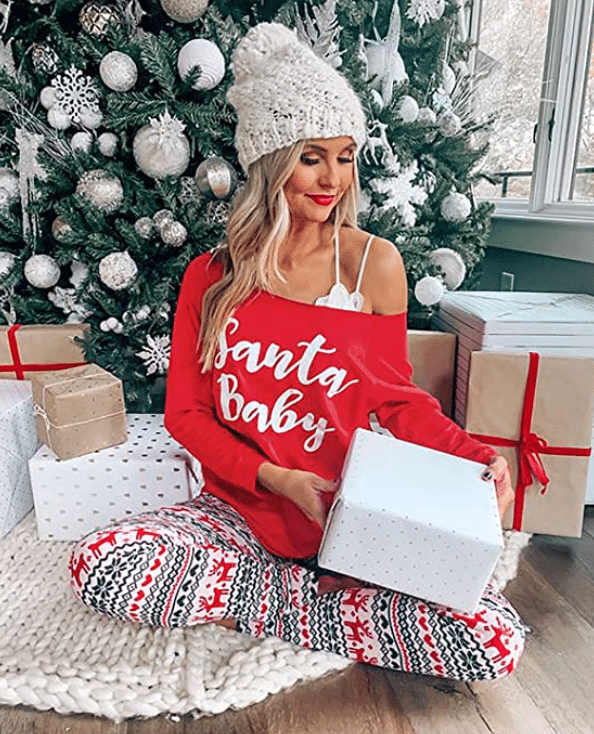 PS – Love the hat featured in the picture? Here's my go-to white hat for winter! I buy the C.C. hat made for your ponytail. Here's the one without the ponytail hole.
These red and green plaid Christmas pajamas have pockets and are very warm.
11. Red Christmas PJ Shorts Set with Polar Bears
Want a pair of Christmas pajamas with shorts? If so, then these cute Christmas pajamas with shorts are my recommendation!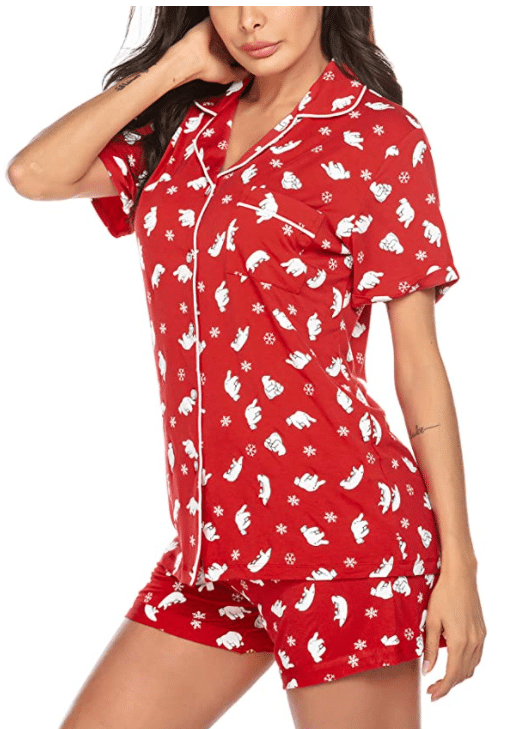 12. Red and White Striped Christmas Pajamas with Shorts
These red and white striped pajamas with shorts are perfect for Christmas! Check out more cute pajamas with shorts here.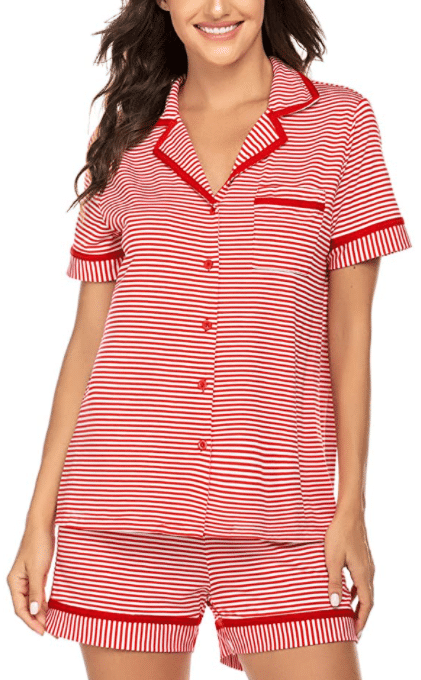 13. SweatyRocks Women's Sleepwear Plaid Pajama Set
These Christmas plaid shorts with a black tank top are cute for any season, including Christmas!
14. Frankie & Johnny Fleece Pajamas Set
These super warm fleece Christmas pajamas shout "Christmas spirit."
These Christmas pajamas have a hoodie, pockets, and a cute reindeer pattern in red and white.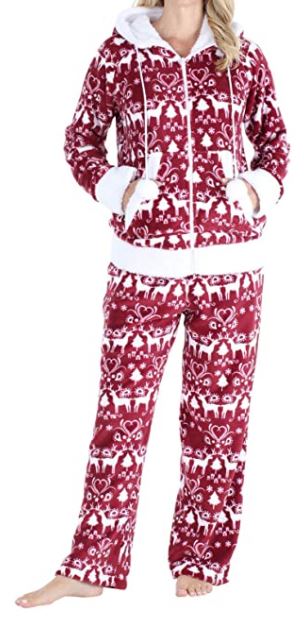 Slippers for the Holidays
If you want a cute pair of slippers for the winter-time, check out this pair by HALLUCI. These plush slippers are so cute!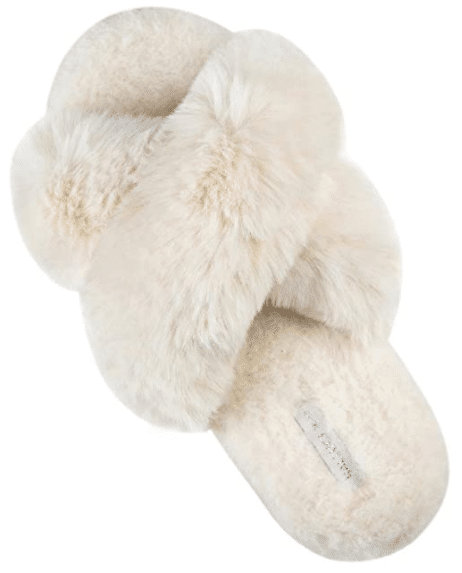 Fuzzy and Warm Socks for Christmas
I'm also obsessed with warm fleece socks with grippers! I have a pair of MUK LUKS from TJ Maxx but couldn't find them on Amazon. Here's a similar pair on Amazon.
More Christmas Guides
Cutest Christmas Sweaters for Women
Best Christmas Gifts for Teachers