Simier Fariry Dress: Great Amazon Midi Dress with Sleeves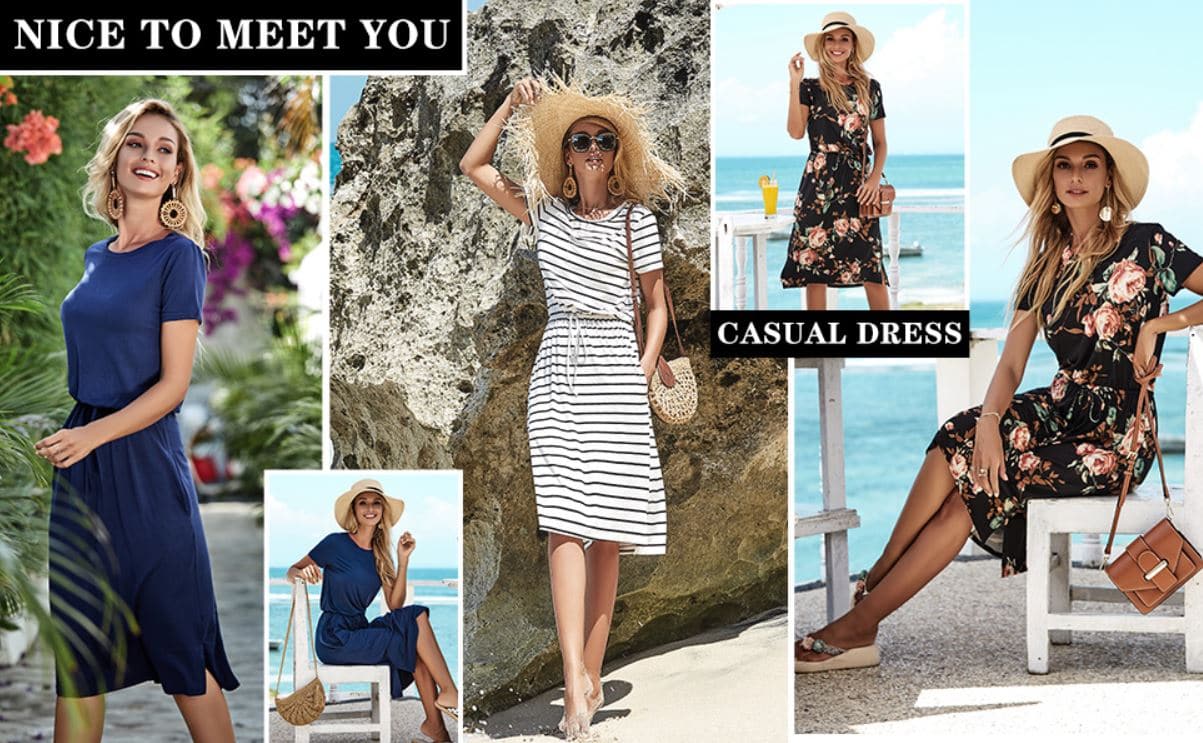 Who doesn't love a good lightweight, comfortable, and flattering dress?
The Simier Fariry dress is one of the BEST selling dresses on Amazon. It has buttery soft, stretchy material and side pockets. What's not to love?!
This Amazon women's fashion article has all the details about the Simier Fariry Women's Adjustable Waist Line Midi Dress with Pockets.
This post may contain affiliate links. View the disclosure here.
Patterns of the Simier Fariry Midi Dress with Pockets
The dress comes in solid colors, floral patterns, and stripes.
Occasions to Wear the Simier Fariry Midi Dress with Sleeves
Traveling
Easter dresses
Business casual work outfits
Summer outfits
Pregnant women
Awesome Features of the Simier Fariry Midi Dress with Sleeves on Amazon
Pockets
Short Sleeves
Super soft material
Elastic waist
Mid-length
Loose fitting
What Amazon Reviewers Say About the Simier Fariry Dress
Good for different body shapes.
Incredibly soft.
Flattering for just about everyone.
Great summer party dress.
The material is very soft and has a good stretch.
Great as a casual/business dress.
Images of the Simier Fariry Midi Dress with Pockets from Amazon Reviews
There's nothing like seeing what a dress looks like with an ACTUAL picture!
Accessories to Pair with the Simier Fariry Dress on Amazon
Not sure what to wear with the Simier Fariry dress with sleeves? I'd recommend sandals, a cute purse, and earrings. Here are my top picks!
I personally like the Steve Madden Donddi sandal. The strap makes the shoes stay on. (Perfect for a night out dancing!)
The brown rattan wicker purses are super in right now.
And I love this style of earrings! (Guys like them too!)
Dresses Similar to the Simier Fariry Midi Dress with Pockets
You may also love these similar dresses on Amazon.
More Outfit Ideas
You may enjoy these related pages by Very Easy Makeup.
Stitch Fix Pink and Grey Weekend Outfit
Stitch Fix Fall Athleisure Outfit with Yellow Sweater and Blue Jacket
Stitch Fix Coral Sweater and Pink Skirt Outfit
Related Fashion Articles by Very Easy Makeup
If you enjoyed this article, check out these similar articles and pages by Very Easy Makeup.
The 3 Most Comfortable Bras EVER
Loungewear Sets with Pants for Women
Cute Kids Pajamas for Christmas
Connect with Very Easy Makeup
I'd love to connect with you!
Follow Very Easy Makeup on Facebook to get notified of new beauty, makeup, and fashion posts!
Please subscribe to the Very Easy Makeup YouTube channel. You'll find how-to tutorials for very easy makeup and bleaching hair blonde at home.
Sign up for the Very Easy Makeup Newsletter.
(This post contains affiliate links. View the disclosure here.)