25 Warm Halloween Costume Ideas for Chilly Nights!
This post may contain affiliate links, which means I may earn a commission if you decide to make a purchase through our links, at no cost to you. You may view the disclosure here.
Warm Halloween Costumes
I'll admit it.
I LOVE Halloween and I always want to dress up in a cute, short dress and tights (like Tinker Bell!), but I get COLD.
If you are like me, you want a sexy, yet cute and warm!! costume for Halloween.
Below are the best warm Halloween costumes to wear this year. You won't be freezing off your tush in these warm Halloween costume ideas for women!
Best Warm Halloween Costumes for Women
Best of all, these Halloween costumes can be purchased on Amazon.
Talk about making a warm Halloween costume easy!
1. Sexy Cat Woman – Halloween Costume Idea with Pants and Gloves to Stay Warm
The great thing about dressing up as Cat Woman for Halloween is that the costume includes long pants and a long-sleeve shirt, plus a hat (depending on the costume) to keep you warm! Below is the Leg Avenue Cat Woman costume on Amazon, but Amazon also sells the Michelle Pfeiffer Catwoman costume, the Anne Hathaway Catwoman costume, the Julie Newmar Catwoman costume, and the new Catwoman costume with Zoe Kravitz.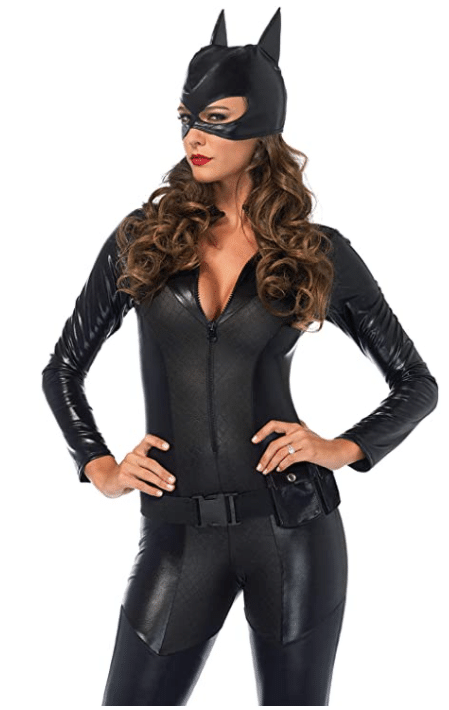 Whether you want to dress up as the NEW Catwoman costume from The Batman or the classic Catwoman, you have options!
2. Astronaut – Sexy and Warm Halloween Costume
Dressing up as an astronaut is both a sexy and a warm Halloween costume for women! You can wear black leggings (or even fleece leggings) under this costume and a long-sleeve shirt. If you really want to be warm, you can wear an astronaut helmet too!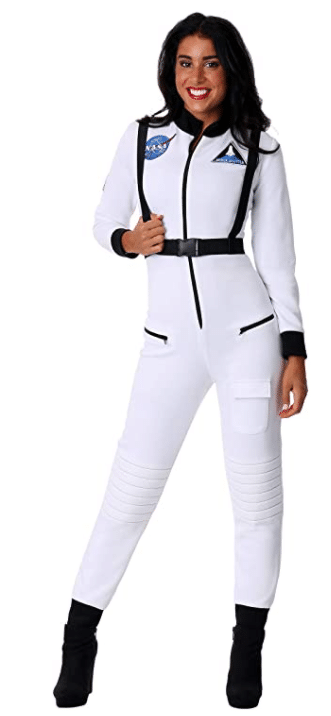 3. Little Red Riding Hood – Wear with a Red Cape to Stay Warm Halloween Night!
Little Red Riding Hood is such a cute (and sexy) Halloween costume. Pair with tights and a cape to stay warm on Halloween night. Amazon sells a super warm red poncho to wear with this costume to keep you warm!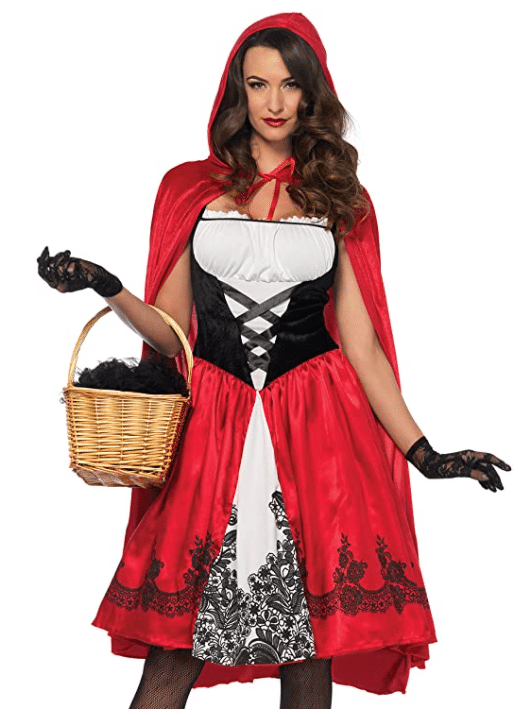 This Little Red Riding Hood costume comes in sizes 0-2 to 16-18, making it a great plus size Halloween costume that is warm!
Little Red Riding Hood Red Cape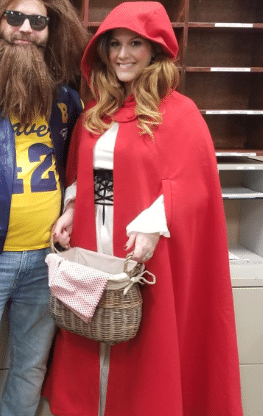 Little Red Riding Hood Costume Accessories
To complete this warm Halloween costume idea, don't forget these Little Red Riding Hood costume accessories!
Little Red Riding Hood Basket
Little Red Riding Hood Shoes
Alternative Little Red Riding Hood Halloween Costume on Amazon – Deluxe Edition
4. Disney Princess – Dress Up as Belle and Wear a Warm Blue Cape
Dressing up as Belle is a warm Halloween costume if you wear the blue Princess Belle dress with a blue cape.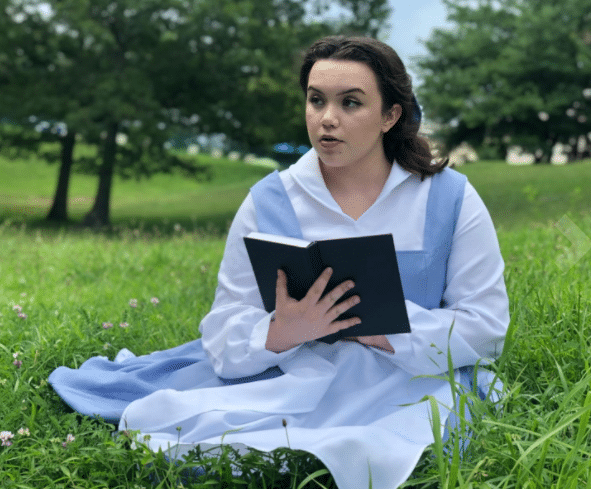 Below is the Princess Belle cape to keep you warm on Halloween night!
Blue Cape for Disney Princess Belle Costume
Dressing up as a Renaissance woman isn't just for Renaissance Festivals! The great thing about this Medieval costume is that you can wear tights underneath and add a cape to stay warm on Halloween night! Amazon has tons of Renaissance dresses for women. Below is one of my favorites.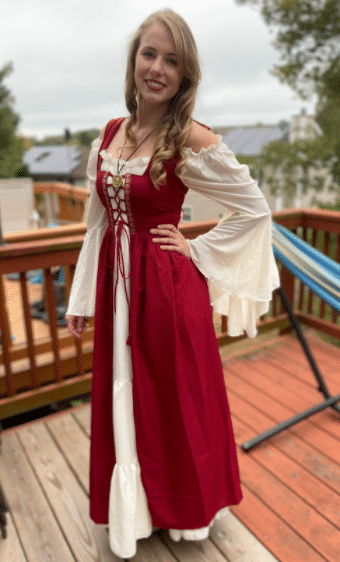 Velvet Medieval Renaissance Hooded Cape for Halloween Costume
6. Pirate or Captain Morgan Costume – The Long Sleeves and Pants Will Keep You Warm
I'm personally always cold on Halloween night, and dressing up as a pirate is my go-to costume! You can either buy a pirate costume with pants on Amazon or create your own DIY pirate costume. I personally always wear black jeans (or fleece-lined leggings), black boots, a white blouse with ruffles, a velvet jacket, and a pirate hat for my pirate costume! And of course...don't forget your pirate sword!
7. Sexy Snow Ski Bunny Halloween Costume – Perfect for Super Cold Halloween Nights!
Dressing up as a Snow Bunny for Halloween is both a cute and warm Halloween costume idea! For this warm costume idea, you'll want to wear ski pants (perfect if you live somewhere super cold!), cute snow boots, a beanie hat or cute earmuffs, and ski goggles! And of course, don't forget a cute ski jacket!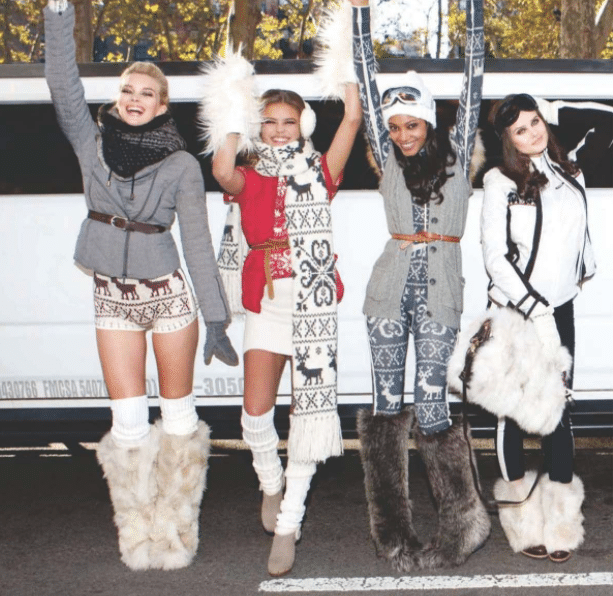 Check out this DIY Snow Bunny Ski Costume Guide to learn how to copy this warm Halloween costume idea.
8. Stitch from Disney's Lilo and Stitch
Just wear a onesie if you want a SUPER warm (and easy!) Halloween costume! This Lilo and Stitch onesie is super warm for Halloween, affordable, and an easy costume idea too! Plus, you can easily wear leggings and a long-sleeved shirt under this costume too!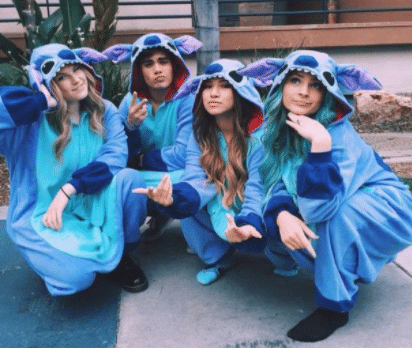 9. Cute Triceratops
This cute triceratops onesie is perfect for both men and women! The Halloween costume is super cozy, super comfortable, and absolutely adorable! Plus, you'll love the fun tail on this triceratops costume. This costume does tend to run large, so you may want to order down a size.
10. Sulley from Monster's Inc.
11. Cute Unicorn
12. Pikachu
13. Cow
14. Cute Kangaroo
15. Silly Monkey
DIY Warm Halloween Costume Ideas
Want to get creative this Halloween? These DIY Halloween costume ideas will keep you warm!
1. Fuzzy Wuzzy Werewolf
Transform into a cozy creature of the night with a werewolf costume made from soft faux fur. Don't forget those oversized paws for maximum snuggle factor!
2. Pumpkin Spice Latte Barista
Brew up some Halloween magic as a toasty-warm barista serving pumpkin spice lattes. Wrap yourself in a knitted scarf, and you're ready to sprinkle cinnamon on your spooky espresso!
3. Steaming Hot Cup of Cocoa
Embrace the cocoa craze by becoming a giant cup of hot chocolate. Pile on the marshmallow-like fluffiness, and you'll be the sweetest treat at the party.
4. Yeti on the Loose
Channel your inner abominable snowman with a DIY yeti costume. Wrap yourself in layers of white faux fur and stomp around in furry boots for an icy, yet toasty, adventure.
5. Taco 'bout Warmth
Tacos are delicious, and this Halloween, they're cozy too! Slip into a taco-shaped costume, complete with a plushy filling, and you'll be the life of the fiesta.
6. Viking of Valhalla
Sail into Halloween as a fierce Viking warrior, complete with a horned helmet and a fur-lined cloak. Not only will you be warm, but you'll also be ready for epic quests.
7. Toasty Campfire
Light up the night as a walking campfire! Craft a costume with flickering LED flames and bask in the warmth of your own fiery glow.
8. Waddling Penguin
Slide into Halloween as an adorable penguin. Your fluffy tuxedo and cozy body will keep you snug as you waddle through the chilly October air.
9. S'More Fun Together
Grab a couple of friends and become the ultimate s'mores trio! One as a marshmallow, one as chocolate, and one as a graham cracker, and you'll have a sweet, warm group costume.
10. Snug-as-a-Bug in a Sleeping Bag
Turn a sleeping bag into your costume! Add some fun details like a hood with a sleeping bag drawstring and leg holes for easy movement, and you'll be the comfiest critter on the block.
Conclusion
In conclusion, there are so many warm Halloween costume ideas to choose from! Whether you choose a costume that incorporates pants and long sleeves, buy a traditional costume and add a jacket/cape, or choose a onesie that is a cute animal for Halloween...the options are endless!
More Halloween Costume Ideas from Very Easy Makeup
DIY Elvira Hancock and Tony Montana Costume Ideas
Best Halloween Costumes for BFFs
See All Halloween Costume Ideas
More Halloween Costume Ideas (from Pinterest)
Want more fun Halloween costume ideas? Check out these related articles and Pinterest pages for more Halloween costumes!