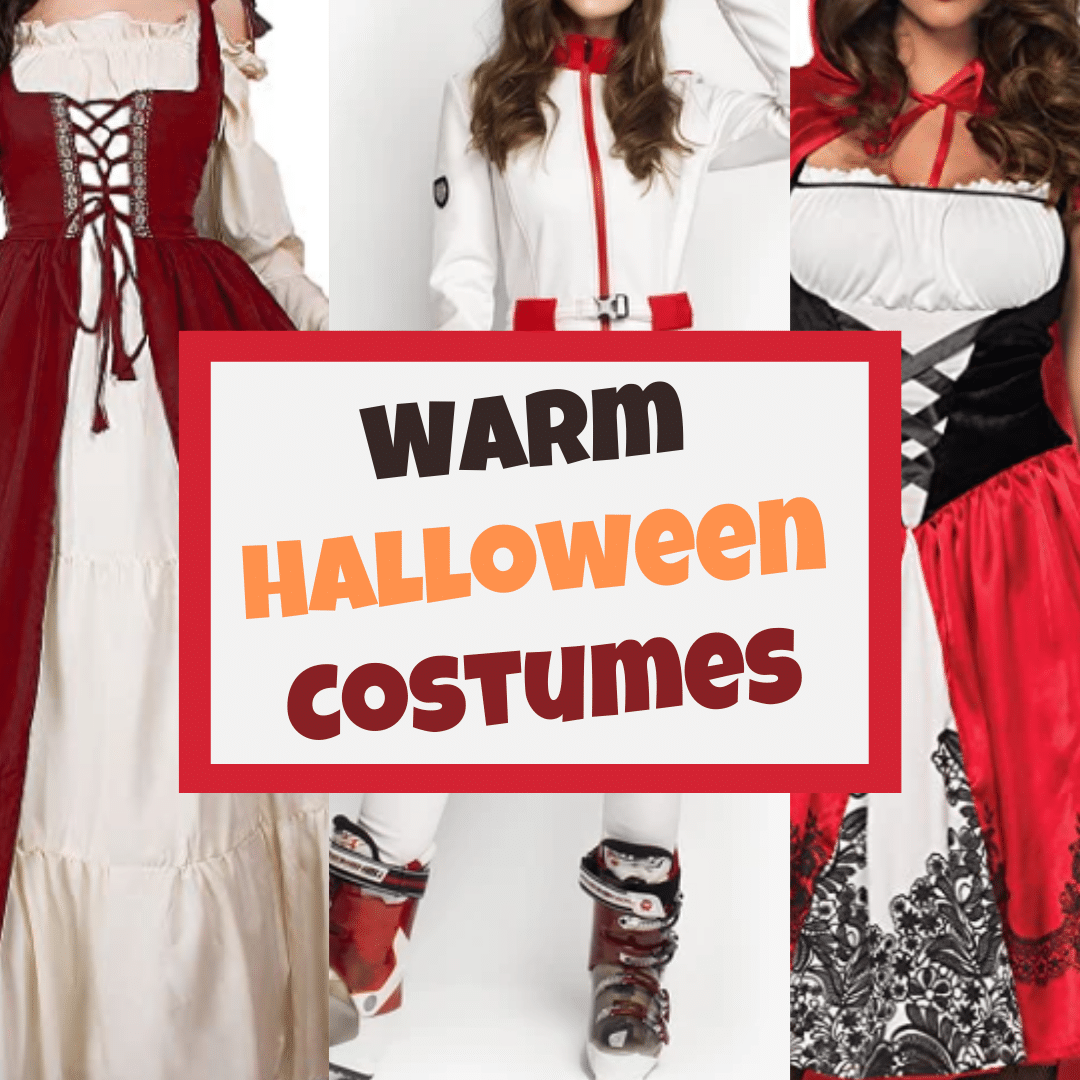 Warm Halloween Costume Ideas for Adults
I'll admit it. I LOVE Halloween and I always want to dress up in a cute, short dress and tights (like Tinker Bell!), but I get COLD.
If you are like me, you want a sexy, yet cute and warm!!, costume for Halloween.
Check out these five easy and WARM Halloween costume ideas for adults.
The 5 Best Warm Halloween Costumes for Women
Best of all, these Halloween costumes can be purchased on Amazon. Talk about making a Halloween costume easy!
1. Sexy Cat Woman – Halloween Costume Idea with Pants and Gloves to Stay Warm
2. Astronaut Costume – Sexy and Warm Halloween Costume
Little Red Riding Hood Red Cape
Little Red Riding Hood Costume Accessories
Little Red Riding Hood Basket
Little Red Riding Hood Shoes
Alternative Little Red Riding Hood Halloween Costume on Amazon – Deluxe Edition
Blue Cape for Disney Princess Belle Costume
6. Pirate or Captain Morgan Costume – The Long Sleeves and Pants Will Keep You Warm
7. Sexy Snow Ski Bunny Halloween Costume – Perfect for Super Cold Halloween Nights!
How to Create Your Own Snow Bunny Ski Costume
Buy these clothing items from Amazon to create your own warm Snow Bunny ski outfit and costume for Halloween.
Light-Weight Ski Jacket
Warm Ski Jacket
Adidas Sports Bra
Snow Goggles
White Ski Pants
Faux Fur Headband
Warm Beanie and Gloves
Super Warm Halloween Costumes – Wear a Onesie!
Just wear a onesie if you want a SUPER warm (and easy!) Halloween costume! Here are the cutest onesies from Amazon.
Halloween Onesie's Costumes
Stitch from Disney's Lilo & Stitch Onesie
Sulley from Disney's Monsters, Inc Onesie
Pink and White Unicorn Onesie
Cute Kangaroo Onesie Costume with Pouch
More Halloween Costumes for Adults
Want more fun Halloween costume ideas? Check out these related articles and Pinterest pages for more Halloween costumes!
Connect with Very Easy Makeup
Please subscribe to the Very Easy Makeup YouTube channel. You'll find how-to tutorials for very easy makeup and bleaching hair blonde at home.
Very Easy Makeup Newsletter
Sign up for the Very Easy Makeup Newsletter
Very Easy Makeup on Facebook
Give Very Easy Makeup a Like on Facebook
(This post contains affiliate links. View the disclosure here.)