10 Best Disney Dog Costumes for Halloween
This post may contain affiliate links, which means I may earn a commission if you decide to make a purchase through our links, at no cost to you. You may view the disclosure here.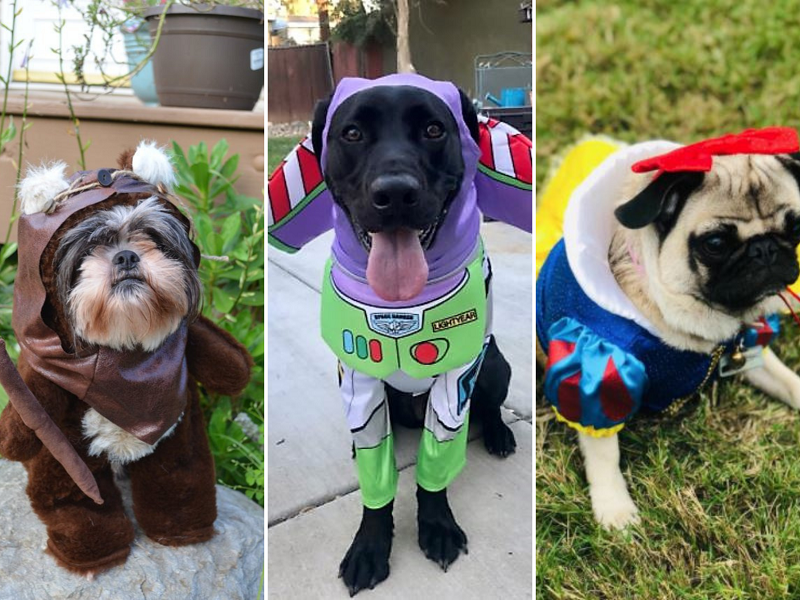 Disney Dog Costumes
Searching for the best Disney dog costumes?
Don't bother shopping from Disney.com.
Amazon sells really cute Disney dog costumes for MUCH less online.
Plus, you can see all the pictures to help you choose the best costume for your dog and get free shipping. 😊
This Disney dog Halloween costume guide includes:
The best Disney dog costumes
Disney dog costumes for small dogs
Disney dog costumes for large dogs
Disney Halloween costume ideas for dogs and their owner
The 10 Best Disney Dog Costumes
Here are the 10 BEST Disney costumes for dogs, according to Amazon reviews and the cute pictures of dogs in these Disney costumes on Amazon. 😊
Happy shopping!
1. Ewok from Star Wars
If you love all things Star Wars, then this Ewok dog costume is a must.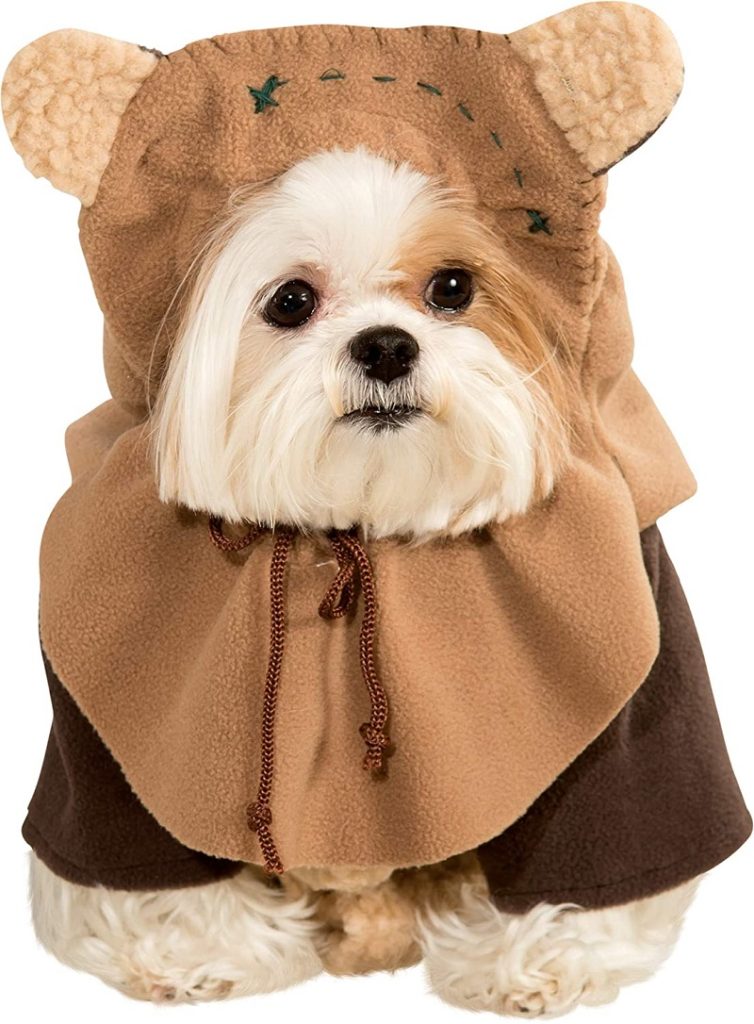 This Ewok costume is perfect for medium dogs and is so cute if your dog has a round face, like a Shih Tzu.
2. Woody from Toy Story
This Disney Toy Story dog costume is super cute!
This Disney dog costume works for smaller dogs (like a XX) and for bigger dogs (like a 55 lb. Australian Shepherd!).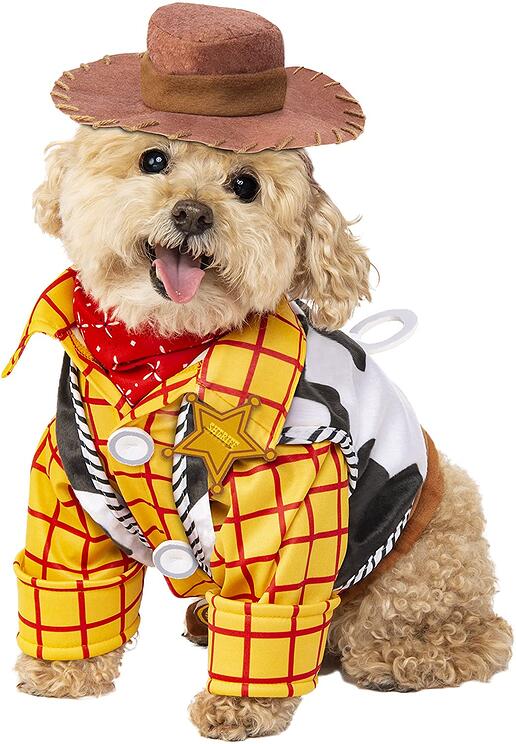 3. Show White
This Disney Snow White costume for dogs is so adorable! This Disney dog costume is perfect for smaller dogs, like Pugs.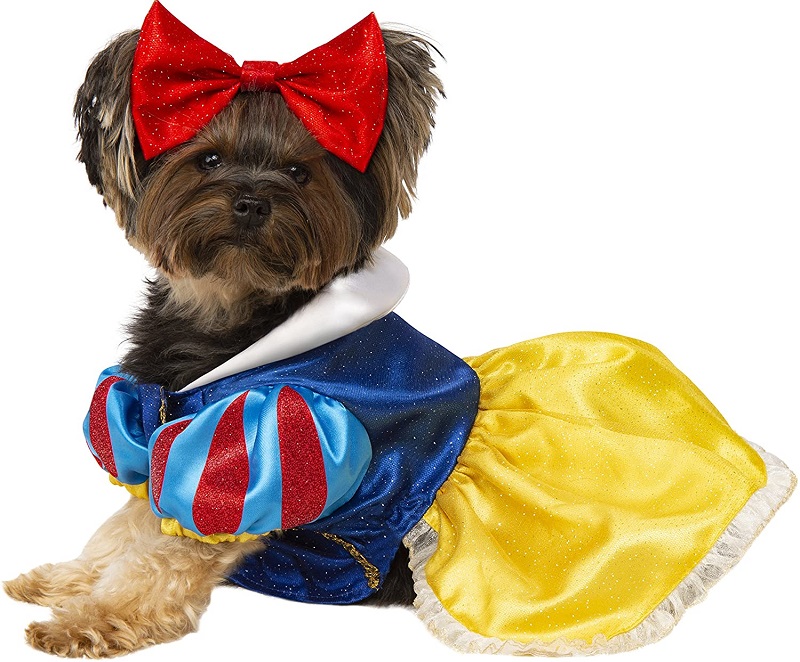 4. Minnie Mouse
Minnie Mouse is a classic Disney character. This Disney Minnie Mouse costume for dogs fits smaller dogs (under 20 lbs.) and larger dogs up to 60 lbs.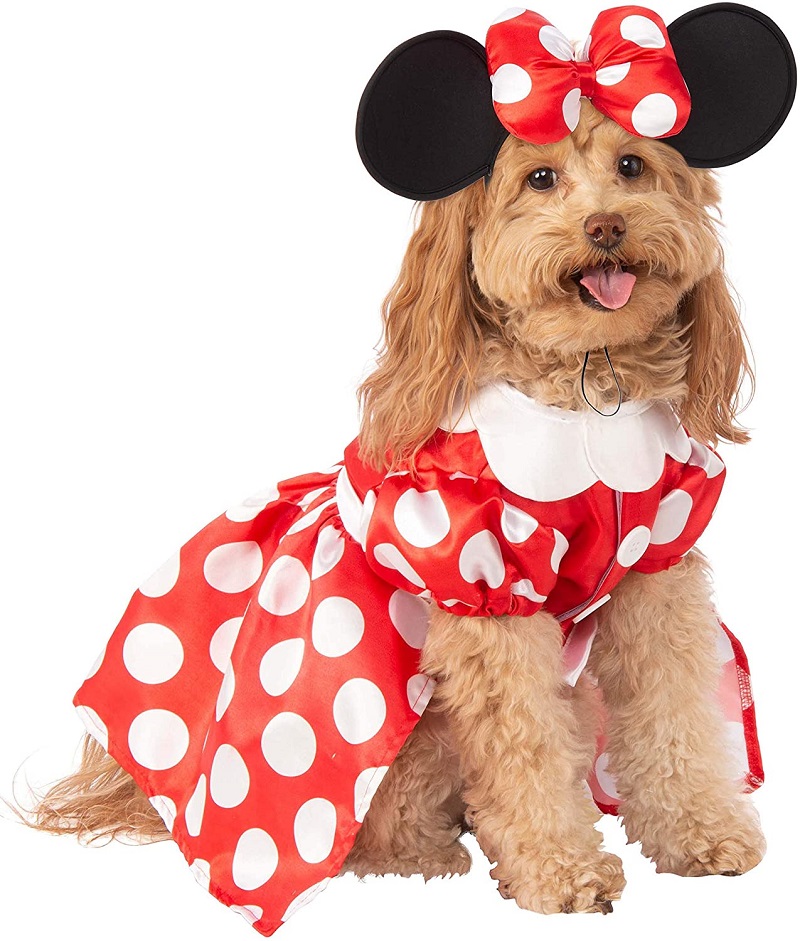 5. The Incredibles

This Disney The Incredibles costume for dogs fits smaller dogs (like a Chihuahua) and larger dogs (like a Lab). Dressing up as The Incredibles is also a great Disney costume idea for families.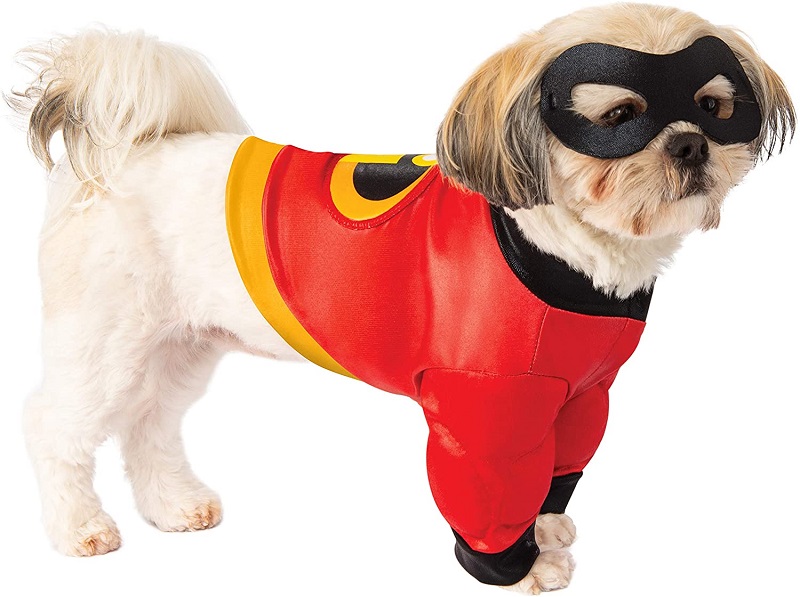 6. Buzz Lightyear from Disney's Toy Story
This Buzz Lightyear Disney costume for dogs is great for Labs and Golden Retrievers.
Order up a size to ensure this Disney dog costume fits well.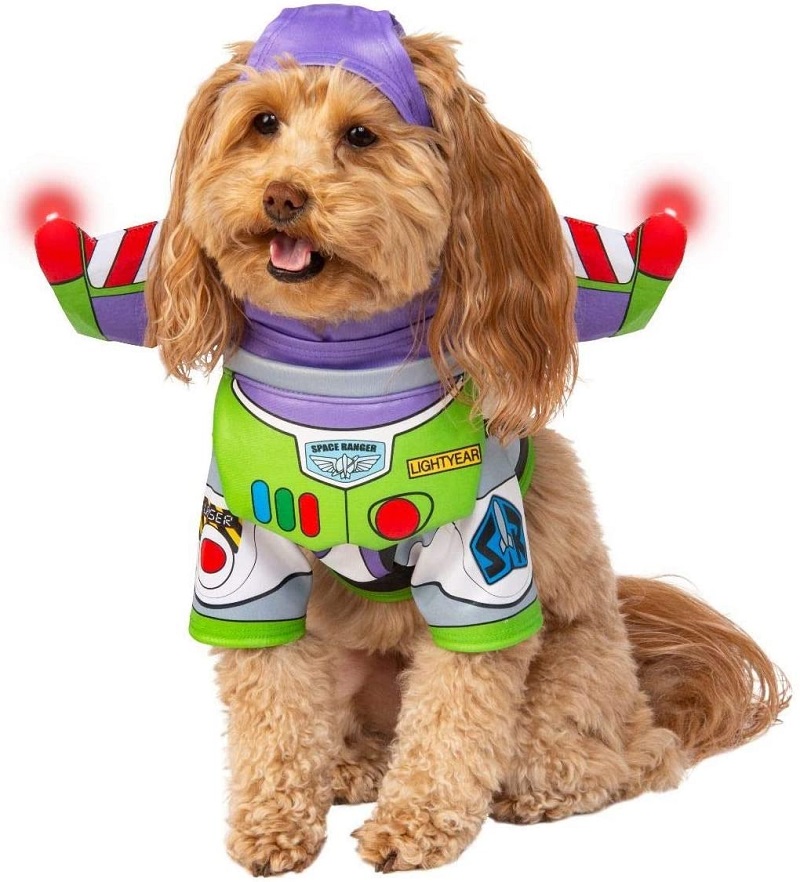 7. Stitch from Disney's Lilo & Stitch

These Stitch pajamas for dogs work well as a Disney costume for dogs too!
If you live somewhere cold, consider having your dog wear this Disney costume for Halloween (or fun Christmas photos for the family!).
8. Tinker Bell from Disney's Peter Pan
This Tinker Bell Disney costume for dogs is funny and cute, especially on Pugs!
This Disney costume for dogs on Amazon is the official Disney costume for dogs, but with free shipping on Amazon.
One dog owner said, "So freaking cute! This Tinkerbelle dog outfit is sooooo cute!!! I didn't realize it was the actual Disney costume." – Rebekah
9. Pooh Bear from Disney's Winnie the Pooh for Dogs
Pooh Bear from Winnie the Pooh is a cute Disney costume for dogs.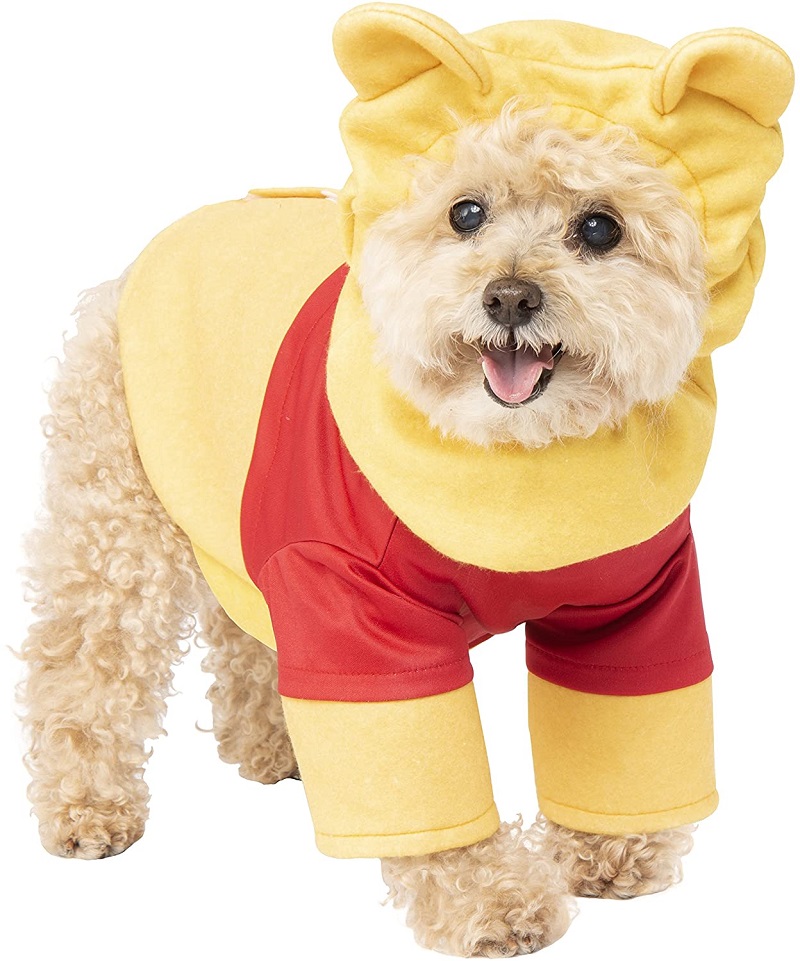 If you have two dogs, consider dressing them up as Piglet and Pooh for fun Disney costumes.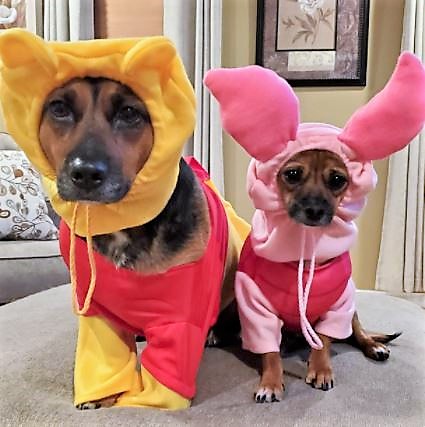 10. Cowardly Lion from Disney's The Wizard of Oz

This lion costume is one of the best-selling costumes for dogs on Amazon…it has over 5,000 reviews!
One Amazon reviewer said, "Loved it! I have never gotten so much attention for a costume before! People across the street came over to check my dog out. So many compliments! I loved the satin liner and the hidden drawstring, plus the coloring fit my dog perfectly." – Running Queen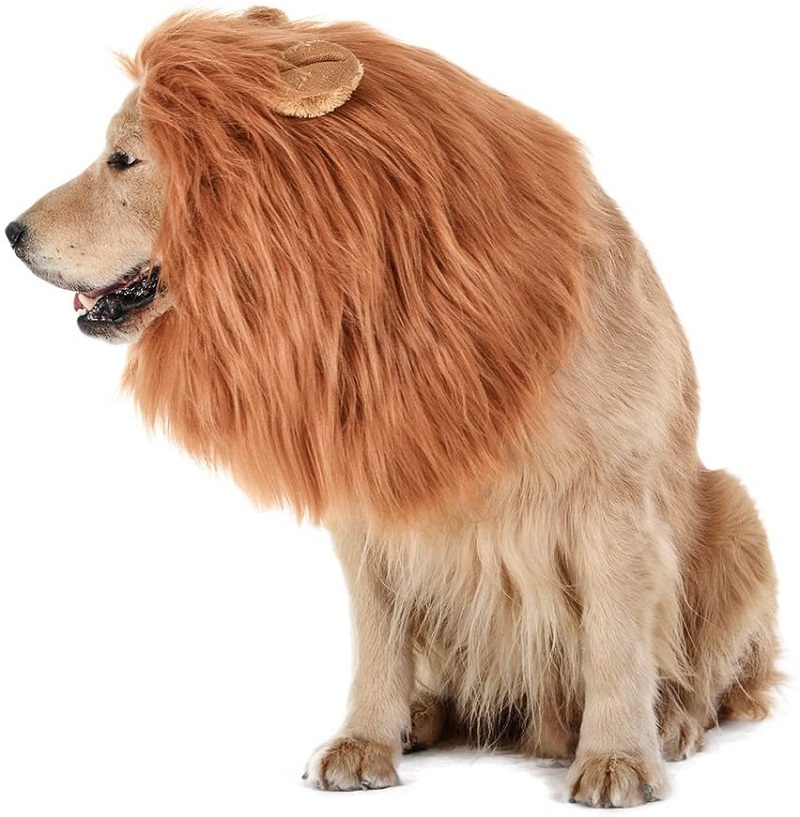 This lion costume for dogs works well as just a lion costume or as a lion for a family-themed The Wizard of Oz and the Cowardly Lion costume.
More Halloween Costume Ideas
Best Disney Halloween Costumes for Women
Best Disney Couples Costumes for Halloween
Best Disney Belle Costume for Adults