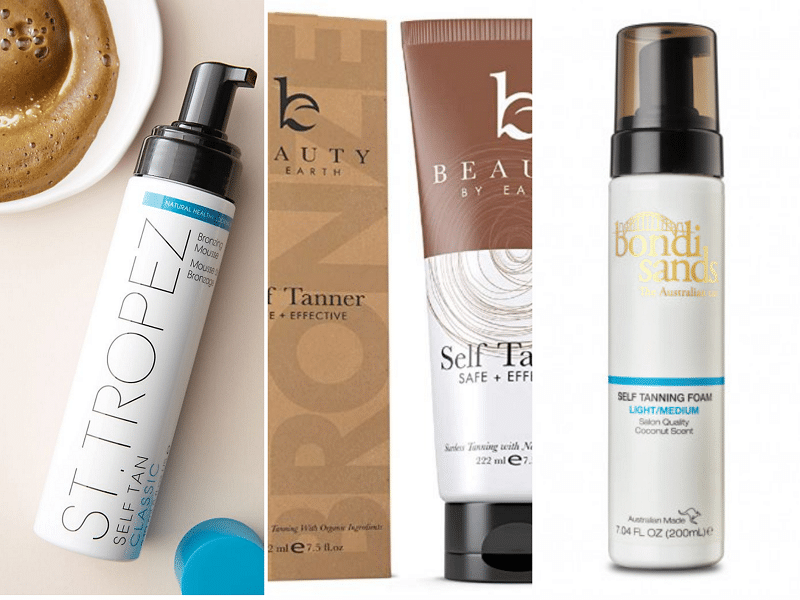 Best Self Tanners
Whether you have engagement photos, a college reunion, or a wedding coming up (or a girls' night out!), it can be a fun change to apply a self-tanning lotion to look tanner.
But if you have pale or fair skin you need to be careful. You don't want to look orange or too dark? So what are the best self tanners for pale skin?
If you have pale skin or fair skin, check out one of this list of the 5 best self self tanners for pale skin.
These self tanning lotions are all recommended by my circle of fair-skinned female friends.
This post may contain affiliate links. View the disclosure here.
7 Best Self Tanners for Pale Skin and Blondes
This list of the best self tanners for pale skin are ranked from most recommended to least.
1. Beauty by Earth Self Tanner
The Nu Skin Sunright Insta Glow got kicked off my top 5 list for 2021 and replaced with this self tanner for pale skin by Beauty by Earth.
Pale and fair-skin women say this self tanner has a great smell and is very natural looking.
2. Bondi Sands Light Tanning Foam for Fair Skin
According to my friend Rebecca, Bondi Sands looks natural and is less patchy than St. Tropez. It fades well and has a nice coconut scent.
3. St. Tropez Self Tan Bronzing Mousse
The St. Tropez tanning foam gets great reviews online and many of my friends use it too.
The St. Tropez bronzing mousse provides a natural-looking tan for women with pale or fair skin.
4. Isle of Paradise Self Tanning Drops
The Isle of Paradise self-tanning drops get great reviews by women on Amazon.
If you want a nice glow that looks natural, then you need to try the Isle of Paradise self tanner for fair skin.
Isle of Paradise is also buildable and great for the face or entire body.
5. Tanologist
If you want to save money, try the Tanologist Drops for face and body in "light."
Tanologist gets better reviews than Jergens Natural Glow (according to some).
6. TAN-LUXE Self Tanner for the Face
If you want a good self tanner for the face, go for the TAN-LUX the Face.
Apply the drops to your daily moisturizer and it will gradually tan your face and give it a natural glow. Plus, it doesn't clog pores and can be worn under makeup.
7. Jergens Natural Glow In-shower Lotion
More Beauty Guides
Best Trader Joe's Beauty Products
Tidal Brightening Cream Review
Connect with Very Easy Makeup
I'd love to connect with you!
Follow Very Easy Makeup on Facebook to get notified of new beauty, makeup, and fashion posts!
Please subscribe to the Very Easy Makeup YouTube channel. You'll find how-to tutorials for very easy makeup and bleaching hair blonde at home.
Sign up for the Very Easy Makeup Newsletter.
Enjoy your summertime look!
Christina Marie from Very Easy Makeup (just a girl who is passionate about beauty and fashion)