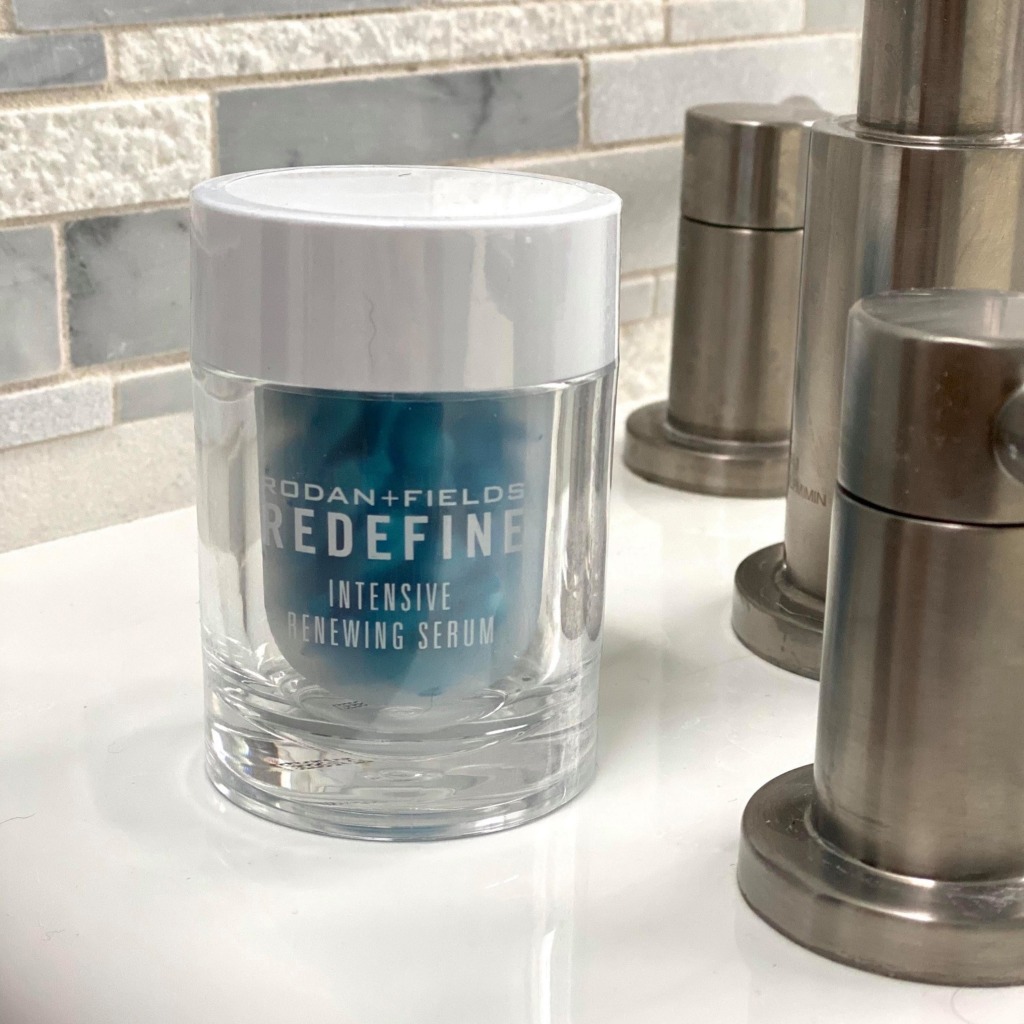 I've tried my share of $15 and under highly ranked serums, including Revitalist by L'Oreal, ROC Deep Wrinkle Serum, Cosmedica Pure Hyaluronic Acid Serum, and Advanced Clinicals Collagen Face Serum.
Each of these serums is highly ranked and praised for making sin more supple, smooth, and soft to the touch.
Recently I tried the RODAN + FIELDS Redefine Renewing Serum thanks to my friend Amanda. I have to admit. The Rodan and Fields Redefine serum is the best serum I've tried to date. At a price tag of $100+, it truly is better than the drugstore serums I've used historically.
Here's What I Love About the RODAN + FIELDS Redefine Serum
I'm in love with the Redefine Serum by Rodan and Fields.
6 Reasons to Love the Redefine Serum by RODAN + FIELDS
1. Texture
I love the texture in the Redefine serum. It has a velvety feel to it, and seeps easily into the skin.
2. Hydrating
This serum feels so hydrating. It has just the perfect amount of oil in it to add hydration without feeling greasy.
3. Not watery
The other serums I've tried, like the Pure Hyaluronic Acid Serum and Advanced Clinicals Collagen Face Serum, are a bit watery. The watery serums just don't leave my skin feeling supple and moisturized.
4. Reduces redness
The RODAN + FIELDS redefine serum magically made the redness in my face substantially reside. Much better than the Biossance with Squalane gel moisturizer to reduce redness, and not watery either.
5. Super soft skin
I loved touching my face after using this serum. My skin felt so soft! It was a new feeling to me.
6. Exact right amount
The serum comes in a small capsule. You twist open the blue capsule and apply it over your entire face. This ensures you don't use too much or too little.
Reasons the Rodan and Fields Serum may not be for you
1. Price
I'm all about finding affordable, yet quality beauty and makeup products. At the price of $100+ per bottle, it's hard for me to justify the price of this serum when there are so many $25 and under drugstore serums with the same active ingredients.
2. Smell
I like it when my beauty products have a pleasant smell to them. There's no smell associated with the Rodan and Fields serum. This is probably a good thing, but I would appreciate a scent.
How to Use Redefine Intensive Renewing Serum
Want to give the Rodan + Fields serum a try? The instructions for the Rodan and Fields Redefine Intensive Renewing serum are straightforward.
Directions for Redefine Serum
After cleansing (Redefine Daily Cleansing Mask) and toning, twist open the blue capsule and apply serum over the entire face (avoiding the eye area) to reduce the appearance of wrinkles and achieve fuller, firmer-looking skin.
What is a Serum Anyway?
I have a confession. I've been using serums for 3+ now, and I honestly didn't even know what a serum was until I sat down to write this blog post. Simply put, a serum is a mix between a lotion and a cream, and you should put it on after cleansing your face and before a moisturizer. Serums make your skin more radiant, reduce wrinkles, and act as a moisturizer to make your skin smoother. Lastly, serums help to brighten your skin and make you look more youthful.
Serum vs. Retinol
Retinol should be only once a week, whereas a serum should be used daily. Retinol is meant for treating dark spots, whereas serums are meant for increasing skin's suppleness.
Additionally, retinol should only be used at night. Retinol is great in that it helps to reduce wrinkles, but it also makes your skin more prone to sun damage.
To further complicate the terminology, there are retinol creams and retinol serums. If you are adding retinol to your skincare routine, use a retinol cream for dry skin and a retinol serum for oily skin.
Closing Thoughts – The RODAN + FIELDS Serum is Definitely Worth It If You Can Afford It
Overall I loved how the RODAN + FIELDS Serum made my skin feel. Like I said, the Redefine serum had a fantastic texture and made my skin feel super soft. But at $100+ per bottle, I'm not sure I'm ready to make this a regular part of my skincare routine.
Want to learn more about RODAN + FIELDS? Check out their website and my review on the Redefine daily cleansing mask. I'll also be adding a post with a review of the RODAN + FIELDS Redefine lip renewing serum soon.
Lots of love!
Christina Marie from Very Easy Makeup