9 Cutest Outfits for Epcot You'll Love!
This post may contain affiliate links, which means I may earn a commission if you decide to make a purchase through our links, at no cost to you. You may view the disclosure here.
Disney Outfits for Epcot
Epcot is my FAVORITE park at Disney.
It isn't as crowded as the Magic Kingdom, it has tasty food (I love the food in Norway and France!), and it still has cool rides (like Soar!).
When searching for cute outfits for Epcot, remember that you'll still be walking…a LOT. You may even want to walk around the world two or three times!
Wearing Minnie Mouse ears at Epcot isn't as popular/common as it is at the Magic Kingdom, but I'd still go ahead and wear them! You'll also want to have comfortable shoes for walking.
If you like dresses or skirts, Epcot is the park to wear them at…there are fewer rides so there's less of a chance of you flashing someone!
Plus, Epcot is a bit "classier" than the other parks. Think romantic strolls through Italy and sharing gelato at night while watching the fireworks…
Anyway…here are super cute outfits for Epcot and ideas on how to get the look on Etsy and Amazon!
This post may contain affiliate links. View the disclosure here.
9 Super Cute Outfits for Epcot
Determine which look you like most and then go ahead and treat yourself to a new outfit!
1. Cute Skirt and Disney T-Shirt
Cute, comfy shorts (or a skirt) with sandals and a fun girly t-shirt is a PERFECT outfit for Epcot.
2. Black Leggings and a Jean Jacket
I LOVE wearing leggings at Disney. They are so comfortable and practical. Get leggings with pockets for Epcot.
3. Fun Shorts and Fun T-Shirt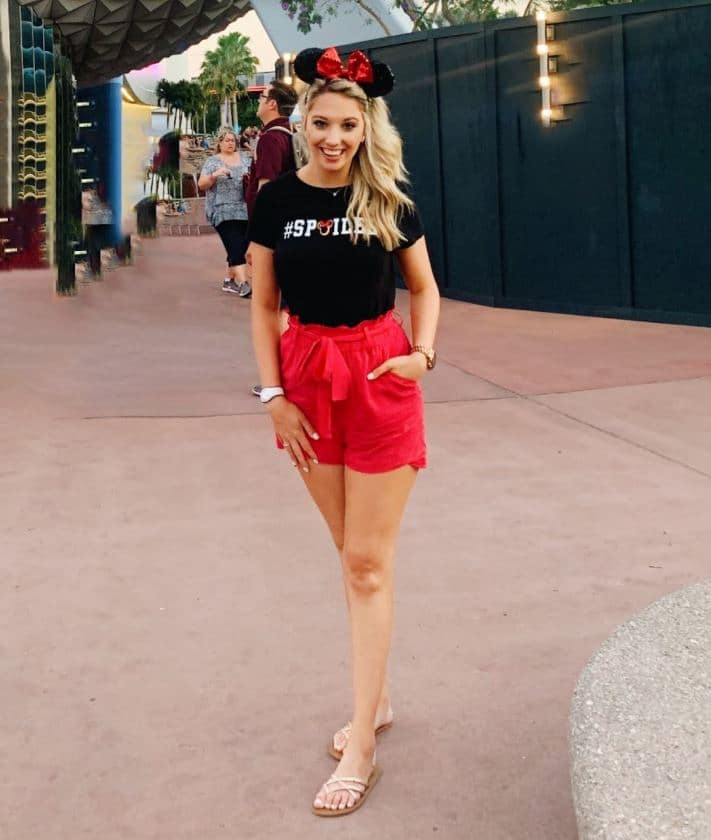 A girl can't say no to a comfortable, flattering pair of shorts with a fun t-shirt!
4. Black Jeans with Black T-Shirt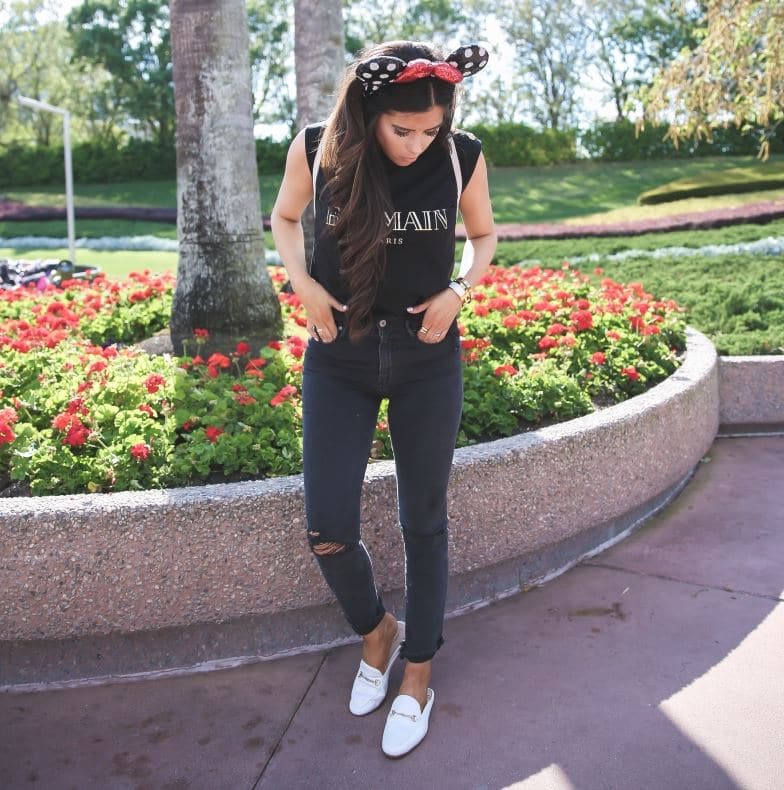 Black jeans are a GREAT option for fall and winter trips to Epcot.
5. Bright Red Romper and Minnie Ears
Rompers for women are so IN right now.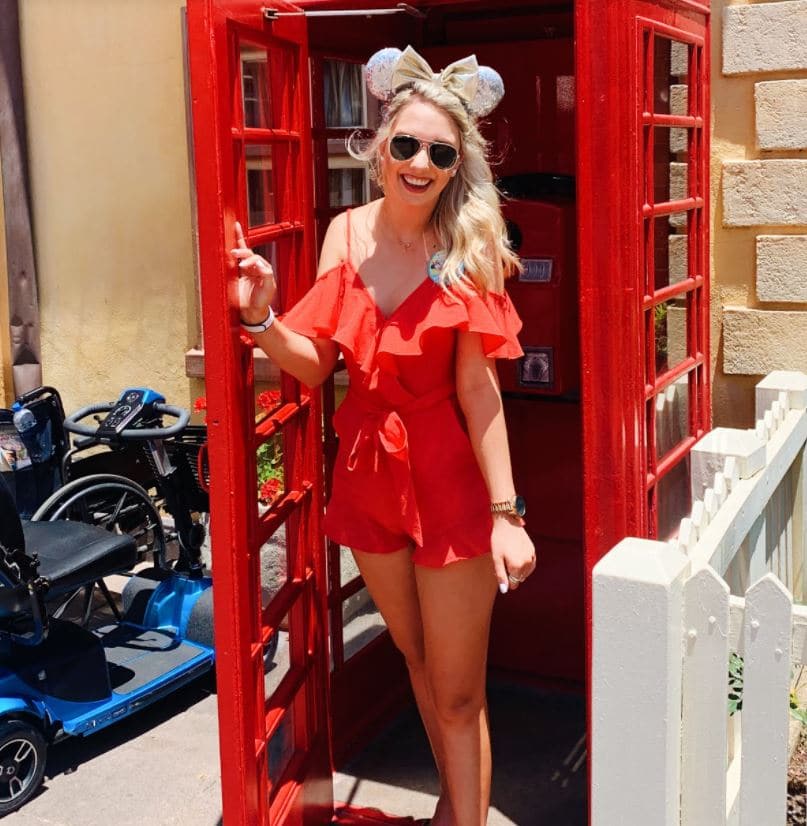 Rompers are so cute! Pair with fun Minnie Ears for your cute Epcot outfit.
6. Polka Dot Romper for Epcot at Disney World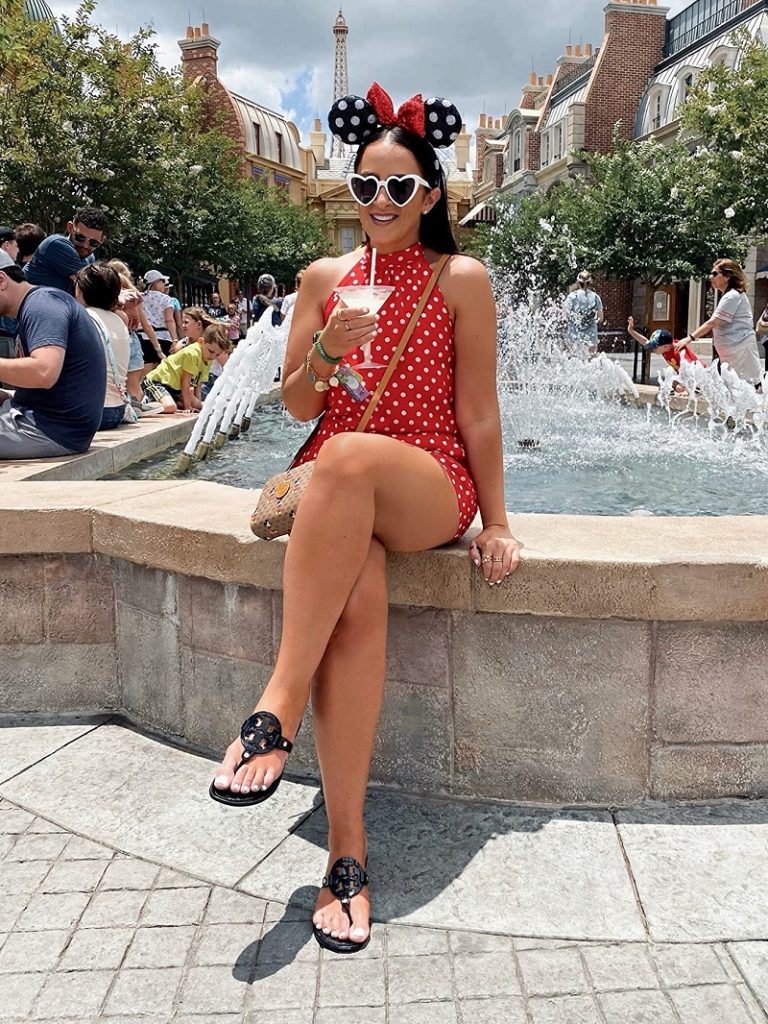 This is one of my favorite rompers for juniors.
Get This Cute Disney Epcot Outfit
7. Cute Spaceship Dress
This spaceship dress is perfect for wearing to Epcot!
8. Drinking Around the World T-Shirt with Shorts or Jeans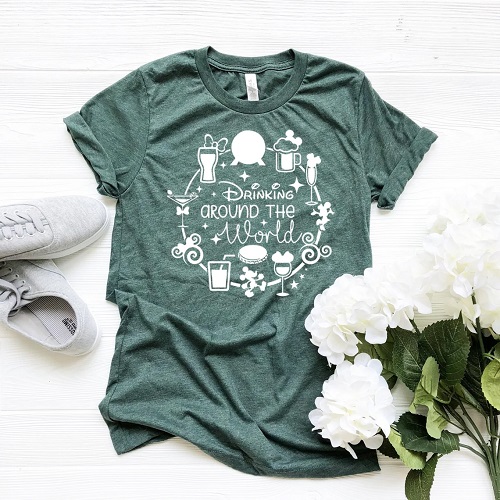 Drinking around the world is one of the most popular things to do at Epcot. Wear this t-shirt with shorts (or jeans) for the perfect Epcot outfit.
9. Cute Epcot T-Shirt with Matching Minnie Mouse Ears
One cute outfit idea for Epcot is to wear an Epcot t-shirt with Minnie Mouse Ears!
Backpacks to Wear with Your Cute Epcot Outfit
You DEFINITELY will want a backpack or a purse for Epcot.
Unlike the Magic Kingdom, you don't need to carry as much stuff around at Epcot…as you might not be there ALL Day.
Fun Minnie Ears to Wear with Cute Epcot Outfits
How many times will you have in your life where you can wear Minnie Mouse ears? If it's a cloudy day, go with the Minnie ears. If it's too sunny, stick with a cute hat!
Here are my favorite Minnie Ears on Amazon. These get the BEST ratings and are so cute!
Tip: Buy Minnie Ears BEFORE you go to Disney. Otherwise you'll end up paying more than $35!
Comfy Shoes to Wear with Your Cute Epcot Outfits
I personally like wearing sandals (with straps!) or cute athletic sneakers at Disney. White sneakers are super cute and bit classier than a running shoe.
Here are my top picks.
More Disney Outfit Ideas
Disney Outfit Ideas - Pinterest
Connect with Very Easy Makeup
I'd love to connect with you!
Follow Very Easy Makeup on Facebook to get notified of new beauty, makeup, and fashion posts!
Please subscribe to the Very Easy Makeup YouTube channel. You'll find how-to tutorials for very easy makeup and bleaching hair blonde at home.
Sign up for the Very Easy Makeup Newsletter.