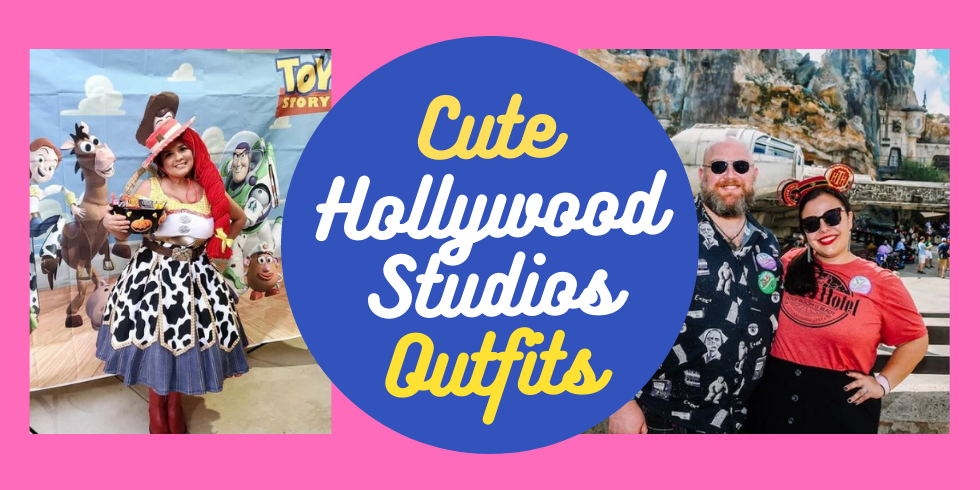 Cute Hollywood Studios Outfits
Are you heading off to Hollywood Studios at Disney World or Disney Land?
Hollywood Studios is one of the most popular parks at Disney World, now that Hollywood Studios has Star Wars Land and Toy Story Land.
The best outfits for wearing to Hollywood Studios include Star Wars-inspired outfits, cute Toy Story outfits, and cute dresses inspired by old Hollywood.
If you are searching for Hollywood Studio outfit inspiration, you have come to the right place. 😊
This post may contain affiliate links. View the disclosure here.
Cute Hollywood Studio Outfit Ideas
Below are a few Universal Studios Hollywood outfit ideas. I'll continue to add more cute outfits for Hollywood Studios later on. 😊
10 Cute Hollywood Studio Outfit Ideas
Alright, let's get right to it! You will love these Hollywood Studio outfits for summer, or any time of year!
1. Rey from Star Wars Outfit
This Rey from Star Wars dress is PERFECT for wearing around Hollywood Studios. It's also loose-fitting, comfortable, and cute!
2. Marvel Avengers T-Shirt with Jeans
A simple t-shirt (anything Disney-themed!) with jeans and sunglasses is an easy and cute outfit idea for Hollywood Studios.
3. Jessie from Toy Story
This Jessie from Toy Story dress is PERFECT for wearing at Hollywood Studios. This is also a great plus-size outfit for Hollywood Studios. This dress comes in sizes up to 3X-Large.
You can also buy a sleeveless dress for dressing up as Jessie!
4. Cute R2D2 Dress
This R2D2 dress is so cute!! This cute outfit for Hollywood Studios is perfect for summer when it is hot outside.
5. Polka Dot Dress with Minnie Mouse Ears
These polka dot dresses are perfect for going with the hold Hollywood these at Hollywood Studios.
Get these cute dresses for wearing at Hollywood Studios:
6. Tower of Terror Mickey Mouse Ears
I'll admit it. Tower of Terror is too much for me!! But these cute Tower of Terror mouse ears are just perfect for Hollywood Studios.
Don't forget to buy a matching Tower of Terror t-shirt too. A similar t-shirt would cost $45+ at Hollywood Studios vs. $15 on Etsy.
7. Hollywood Tower Hotel Shirt with Jeans
You can get this Disney Hollywood Studios outfit with the Hollywood Tower Hotel t-shirt and the matching Tower of Terror ears.
8. Cute 1950s Retro Dress with Polka Dots
This cute retro dress reminds me of Hollywood in the 50s. This cute dress comes in plus sizes up to 5X-Large and is such a cute outfit for Hollywood Studios!
9. Cute Jessie T-Shirt with Shorts
This Jessie t-shirt is so cute! Pair with shorts or jeans for a cute and easy Hollywood Studios Disney World outfit.
10. 1950s Retro Vintage Swing Dress
Wearing a retro dress is perfect for Hollywood Studios. This dress is also perfect for wearing to the Magic Kingdom or to Mickey's Very Scary Halloween party!
Accessories to Wear to Hollywood Studios
An outfit isn't complete without accessories!
1. Minnie Mouse Purse
2. Mickey Mouse Purse
Hollywood Studios Themed Minnie Mouse Ears
These mouse ears are perfect for wearing with your Hollywood Studios outfit!
Comfy Shoes to Wear with Your Cute Disney Outfits
I personally like wearing sandals (with straps!) or cute athletic sneakers at Disney. White sneakers are super cute and a bit classier than running shoes.
Here are my top picks.
More Disney Outfits and Disney Guides
You may also want to check out these related Disney posts!
Cute Outfits for Disney World and Disney Land
Best Disney Costumes for Women
Have a Question about Hollywood Studios? Leave a Comment 😊
Have a question about Hollywood Studios, visiting Disney, or staying at the hotels around Hollywood Studios?
Leave a comment below.
I visit Disney World a LOT...and I'd love to help you out!
Connect with Me
I'd love to connect with you!
Follow Very Easy Makeup on Facebook to get notified of new beauty, makeup, and fashion posts!
Please subscribe to the Very Easy Makeup YouTube channel. You'll find how-to tutorials for very easy makeup and bleaching hair blonde at home.
Sign up for the Very Easy Makeup Newsletter.