First Time Botox: How Many Units and What to Expect
This post may contain affiliate links, which means I may earn a commission if you decide to make a purchase through our links, at no cost to you. You may view the disclosure here.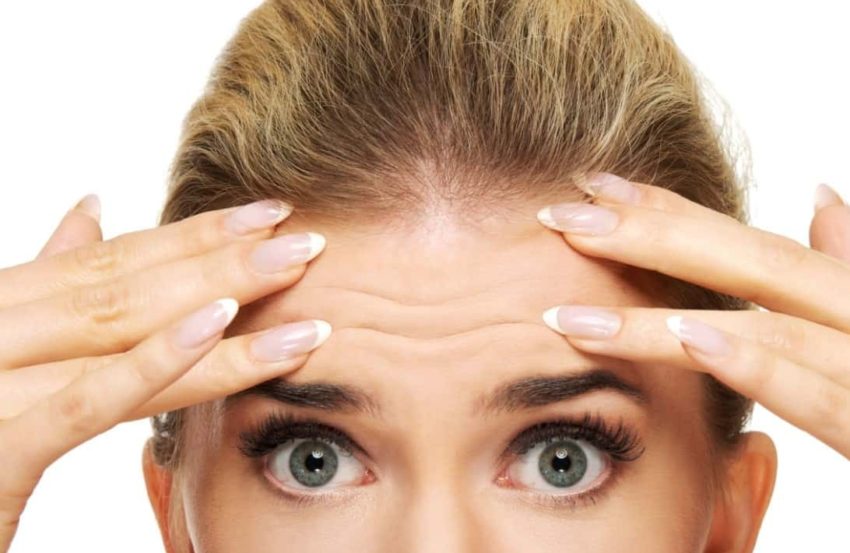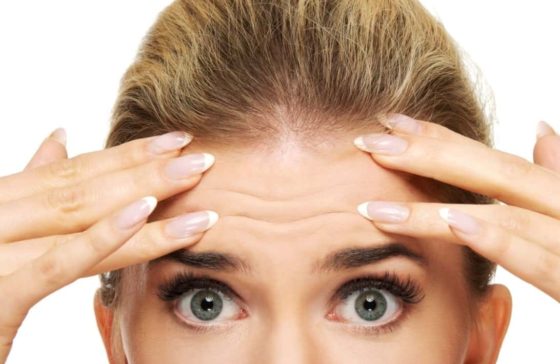 Why would a woman get Botox in her 30s?
Less than a year ago, I heard a woman talk about Botox, and thought it was slightly…I don't even know the word for it. Not egotistical. Not dangerous. Not vain. Just not something I would ever consider or do.
Now, less than a year later, I find myself loving the results of getting Botox in my early 30s.
After talking to coworkers and doing independent research, I decided to get Botox for the first time in my 30s.
Continue reading to learn why I decided to join the fan club and what my first Botox experience was like.
Why I Tried Botox for the First Time in My 30s
If you aren't a fan of Botox, no worries. I felt the same. Here's why I changed my mind in my home city of Atlanta, GA:
Botox is more common for young women than you may think.
I used to think Botox was rare. But – it's not! Depending on the study, 20-30% of women in their 30s get Botox. That's a lot!
When I complimented an attractive, 50+ year old female coworker, she admitted she gets Botox. Then, she informed me her daughter gets Botox, as well as two other power-house females in my office.
I've also randomly complimented attractive females in their late 30s, and straight out asked if they use Botox. (Horrible, I know. I have no shame in asking.) They use Botox.
When I realized Botox for women in their late 20s and 30s isn't rare, I become more open to the idea.
My Experience Getting Botox for the First Time
https://www.instagram.com/p/BJOxUfcBhZ4/?utm_source=ig_web_copy_link
Getting Botox for the first time was very quick and easy for me.
The first time I went to get Botox, Laura (my aesthetician) recommended 12 units of Botox. I was concerned about not being able to move my face, so I got 10 Botox units to start out. She had me lift my forehead a few times, and the whole process took about 5 minutes. That was it! No pain at all. No side effects. No bruises. Nothing. She suggested I come back in two weeks, to see how it goes.
Two weeks later, I came back and got 16 more units.
I wanted to have a vertical line in my forehead go away, and take Laura up on her offer to do an injection above one of my eyebrows to raise it slightly and make it even. (If you were unaware, most people's faces aren't symmetrical, and symmetry makes a person more attractive). I also wanted the units to be more focused on the furrows of my forehead, which is what my very red-headed, pale, attractive coworker recommended for me (and she's at least 50!).
After the second treatment of Botox, I can move my forehead, but I've definitely noticed the very fine line on my forehead go away, and no bad side effects what-so-ever.
Overall, my experience with Botox for the first time was a good one. Find a good aesthetician! In Atlanta, I went to LUX Med Spa.
First Time Getting Botox: Things to Know if You are Starting Botox
Here are a few first-time Botox tips and things to know.
Price for Botox: The average price, at least in Atlanta, is about $12 a unit. Assuming you need 15 units, that is $300.00.
Some places are $10 a unit for Botox.
Xeomin is slightly cheaper, at $8-10 a unit. Unlike Botox, Xeomin doesn't need to be kept at a certain temperature. My red-headed coworker swears by Xeomin, but I wanted to go with the tried and true botox my first time around.
Units of Botox needed first time: It seems like the average number of units can be anywhere from 20 to 35.
I'd start on the lower end like I did, and go back to the aesthetician in two weeks.
Since I was paying per unit, it didn't matter that I went two different times, versus just once.
Frequency/How Long Does botox Last: Most online research says that you will need Botox every 3-4 months.
My coworker who has been getting it for years informed me that she used to get it every 4 months, and now she goes every 6-8 months. The muscles weaken over time, so you need to go less often.
I personally plan on going every 4-6 months.
Post-Botox Care: After Botox, the key things are to 1) not do exercise for 24 hours and 2) not lie down for 4 hours, and 3) not scrub your face too hard. That's pretty easy.
My aesthetician said that she goes running the following day in the morning, and has had no problem – so the 24 hour rule may be a bit strict.
I usually work out in the morning, so I found it easy to get Botox on my lunch break. Then, I definitely won't be exercising until the following day, sleeping, or washing my face!
To tip or not: For this one, I wasn't sure. From speaking with folks, it seems like Botox is seen as a medical treatment, so tipping is not expected. Good to know!
When to Get Botox Again
I have a reminder on my calendar to get Botox again in late March. So about 3-4 months from now.
In the meantime, I'll continue with my normal skin-regimen routine to keep a youthful face – which includes retinol at night, sunblock every day, and a healthy diet with plenty of vitamins and water.
Is Botox Safe?
Botox has few side effects.
I used to worry that Botox would make your eyelids droopy, or that it would cause long-term problems down the road.
When I talked to females who were in their 60s with no negative long-term effects and did additional research online from health websites – I learned that it's been around a long time. So relatively low risk.
Or maybe it was my mother's approval. She's a doctor and is against so many things – piercings, motorcycles, fake sugar of any sort, plastic, and more…when she said, "Go for it!" – I had mom's stamp of approval.
Should you get Botox in your 20s or 30s?
My face is full of expression. Unfortunately, that means I can do a really strange wrinkle on my forehead that isn't just raising my eyebrows, but a full on art-piece of circles. With Botox, I can still move my forehead a lot and make expressions, but I've definitely noticed I don't move my forehead as much.
So if you grimace a lot, or one of those unfortunately women with resting bitch face – Botox may help you out.
Where should you go to get Botox?
I wanted to go somewhere good, where the aesthetician knew what she was doing. I found a good woman to go to, by searching on Facebook through a woman's group in Atlanta where we all share advice on everything and anything – and found a post on Botox. The woman I went to had multiple referrals and everyone loved her, so I felt comfortable seeing her.
If you are getting Botox injections for the first time, get a referral from a friend AND check the online review to find a good place to go for Botox.
Is Botox Expensive?
Botox isn't cheap but compared to how much women spend on hair and makeup – paying $200 for something that lasts 4-8 months seemed decent to me.
5 Tips for Botox First-Timers
Here are a few tips for getting Botox for the first time.
1. Go LOW on number of units
You can always get more Botox later. Ask the physician what they recommend, and then get less than that.
You can always go back later and get more!
2. Block enough time on your calendar
The Botox may only take 10 minutes, but you may be in the waiting room for 30 minutes.
3. Have the money in your account
Botox is expensive! Be prepared to fork out $100-$200 total.
4. Don't plan to exercise for 24 hours
Work out BEFORE you go to get Botox.
5. Get Botox in the afternoon or morning
You aren't supposed to lie down for 4 hours. Get Botox during the day.
FAQs about Botox
Have a question that's not answered below? Leave a comment and I'll help you out! 🙂
How many of units Botox should you get for your forehead the first time?
I recommend getting 20 units of Botox for the first time. It's enough that you will see a difference, but not too much.
How long does Botox last the first time?
Botox usually lasts about 3-4 months. I personally get Botox every 6 months.
How many units of Botox should you get the first time?
I recommend about 15-25 units of Botox the first time. If you get Botox around your crow's feet too, you may need 20-30 units.
You can always get more Botox the second time around.
I'd recommend asking the aesthetician what they recommend you get and then get 5-10 units less than that.
I personally get 31 units total. I get 6 units (technically it's Xeomin) in my forehead, 15 units near my brows, 8 units for crow's feet, and 2 units to raise one eyebrow.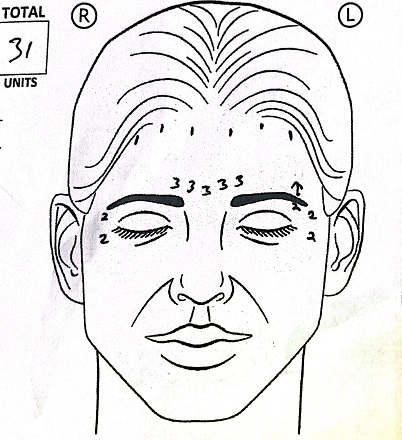 According to my aesthetician, 31 units is on the "low" end, but it works for me!
Does Botox cause bruising?
Botox shouldn't cause bruising, but sometimes it does.
To avoid bruising, you should avoid turmeric, pain medications like Advil or Aleve (Tylenol is okay), green tea, and fish oil before using Botox.
Can I exercise after Botox?
No, you should not exercise after Botox. You should wait at least 24 hours after getting Botox for it to work its full magic.
However, moderate exercise (like walking) is okay.
How long does it take to get Botox?
Botox is really quick! If your aesthetician is good, they should be done in about 5 minutes. Literally. It's fast.
Does Botox hurt?
Botox is kind of like getting the flu shot. It hurts a little bit, but not a lot.
How much does Botox cost?
Botox usually costs between $240 and $350. It depends on how many units of Botox you get and how much the place charges.
Most places charge $12-$15 per unit of Botox. Xeomin is usually a little bit cheaper.
Want an Alternative Way to Change Your Look?
Want an alternative, more affordable, easy way to change up your look?
Check out my review of the John Frieda Brilliant Brunette treatment I used to make my hair darker.
Related Articles
Learn about Xeomin vs. Botox. Xeomin is cheaper and it's what I now get on a regular basis. Learn more about Xeomin in this article.
Botox Post Treatment Instructions
Did you get just Botox (or Xeomin)? Then you'll want to read these post-Botox treatment instructions.
Not ready for Botox, but want to look younger? Then check out these top-rated Vitamin C serums that are the BEST serums...according to women in Atlanta.
Lots of love!
Christina Marie from Very Easy Makeup (offering skincare tips, skin care product reviews, and very easy makeup tips for women)