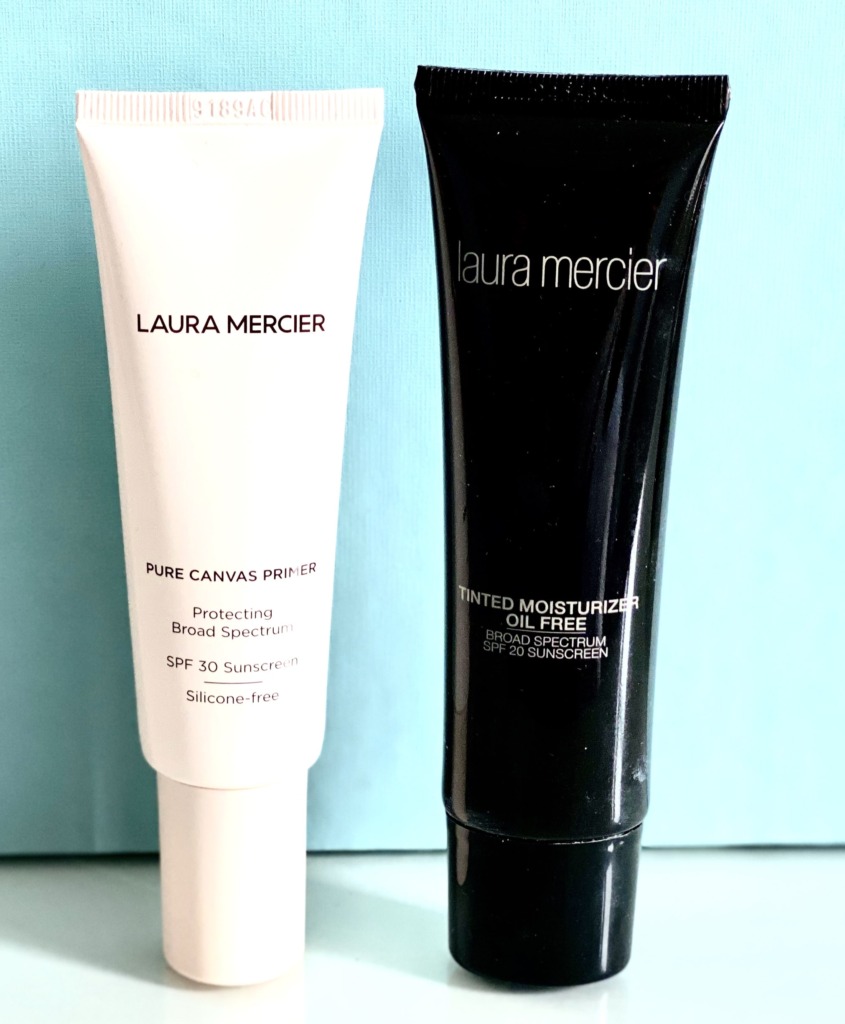 Best Primer + Foundation Combo!
Searching for the best primer and foundation for daily wear and combination skin?
Finding the right primer and foundation for your skin is overwhelming.
For primers, I'd often wonder:
Should I go with a drugstore primer, or splurge on the $50+ primer?
Should I get a primer for oily skin or combination skin?
Should buy a primer for mature skin?
And don't get me started on foundations. There's matte foundation, sheer foundation, and tinted moisturizer. Who came up with all of these names?!
If you want a very easy makeup routine to create a solid base for your makeup, I've got you covered. Look no further than Laura Mercier.
I use two basic products each day before I apply my eyeliner and mascara, blush, and lipstick.
Best Primer and Foundation for Daily Wear and Combination Skin: Laura Mercier
This post contains affiliate links. View the disclosure here.
Laura Mercier Primer and Tinted Moisturizer
Stick with the Laura Mercier primer and tinted moisturizer, and you can get your makeup and primer on in less than 1 minute.
The Best SPF Primer for Face: Laura Mercier Pure Canvas Primer
I LOVE this primer with SPF. It doesn't clog pores and it protects your skin from the sun.
When searching for a primer, I want a primer that isn't too sheer (it highlights your skin's imperfections), too watery (it never stays on!), doesn't irritate sensitive skin (no fun!), and has SPF. The Laura Mercier Pure Canvas Primer with SPF 30 fits the bill.
Price: For $38 on Amazon or at Sephora, it's not an inexpensive, drugstore primer, but it works well.
Daily wear: I use this primer every day, and love that it is not greasy and not shiny.
Area for improvement?
As much as I love the Laura Mercier primer, it isn't perfect. The Laura Mercier primer doesn't cover up all the pores in my nose and it doesn't reduce redness.
Foundation for Face: Laura Mercier Tinted Moisturizer Broad Spectrum SPF 20
I used to use the matte ULTRA LE TEINT foundation by Chanel, but they changed their formula years ago and it stopped working for me. Now, I swear by the Laura Mercier Tinted Moisturizer. It offers light coverage, has SPF, and matches my skin tone (I use the 101 Cameo).
I love tinted moisturizers instead of a thick foundation because tinted moisturizers are fool-proof. There's no need to use a foundation brush to create perfect coverage, and it won't be obvious if you miss a spot or don't blur the foundation perfectly.
I've tried other brands at Sephora like La Mer, Yves Saint Lauren, Bobbi Brown, Make Up For Ever, and MAC, but the colors just didn't work for me, or the foundations were too cakey and fake looking.
Alternative Primer to Try – Make Up Forever
If you want a solid, color-correcting primer, I'd recommend the Make Up Forever Primer in the green tube.
Runner Up for the Best Tinted Moisturizer
Seeking a runner-up tinted moisturizer as an alternative to Laura Mercier?
If you have clear skin and can afford a $50+ tinted moisturizer, I love the the Estee Lauder DayWear Anti-Oxidant Sheer Tint with SFP 15.
It's perfect for young women and for women age 50+ (my grandma swears by it!). It comes out of the tube in a gray-silver color, and then changes to color upon skin contact. The DayWear creates a radiant finish and matches to your skin tone, so you don't need to worry about picking the perfect color.
Looking for a Good Under Eye Treatment and Concealer?
Want bright and "awake-looking" eyes? I've got you covered.
I'd recommend the ROC eye treatment as the best under eye treatment for dark circles.
L'Oreal also has a great drugstore priced under eye concealer.
The Best Makeup Products
Check out the makeup products I'm loving now to get ready in the morning with my very easy makeup routine. Or, check out the Very Easy Makeup 3-minute tutorial on Youtube.
Lots of love!
Christina Marie from Very Easy Makeup (offering very easy makeup tips and very easy makeup tutorials for women)
Connect with Very Easy Makeup
Subscribe to my newsletter and YouTube channel to get notified when I post my upcoming article on the best under eye concealers. Because believe me, I've tried them all. I've had big circles under my eyes since I was 13 years old, and they never go away no matter how much sleep I get!
Please subscribe to the Very Easy Makeup YouTube channel. You'll find how-to tutorials for very easy makeup and bleaching hair blonde at home.
Sign up for the Very Easy Makeup Newsletter.